The sap is to a tree like blood is to a human. Sap carries the required nutrition from the roots to the far branches, leaves, and stems. When you cut a tree down, the sap will no longer flow just like what happens when the wood is still alive.
However, sap stays inside the wood. This can crystallize when wood is dried in a kiln but due to changes in temperature and humidity, it can ooze out of the wood even on wood that has been cut down for quite some time. And although this is a natural effect, you don't want to have sap coming out from wood. It can cause the smell, can leave a stain on wood and makes wood sticky or coarse as well.
So how do you remove sap from wood?

Removing sap from wood basics

Even if the wood has been kiln dried or air dried, there is a good chance that sap can melt inside the wood and ooze out. There are some people who report sap coming out of their wooden decks, wooden stairs and even fully finished wooden furniture. How to remove sap or at least how to prevent sap from oozing out of the wood will be discussed here.

Things you will need

Metal scraper
Soft brush
Wood chisel
Heat gun
Oil soap
Acetone
Sandpaper 220 and 240-grit
Handheld oscillating sander
Stain
Instructions

Removing fresh sap
Step 1
You must remove fresh, oozing sap because soon, this will become thicker and very hard to remove from the surface of the wood. So as soon as you see sap, use a paper towel to remove it at once.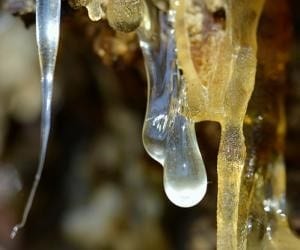 Source: http://remove-stain.com/remove-tree-sap
Step 2
When the sap hardens, use a metal scraper to remove as much of the sap from the surface.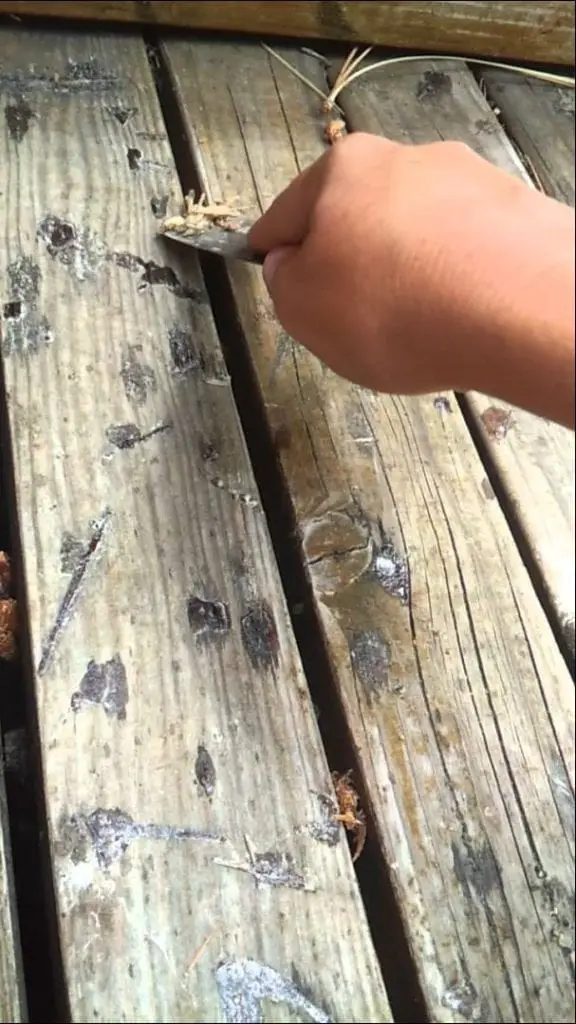 Step 3
Clean the surface with oil soap to remove any residue. Use oil soap according to the manufacturer's instructions. Apply the oil soap with a soft brush, undiluted and use the brush to scrub the surface really well. Rinse the area using warm water.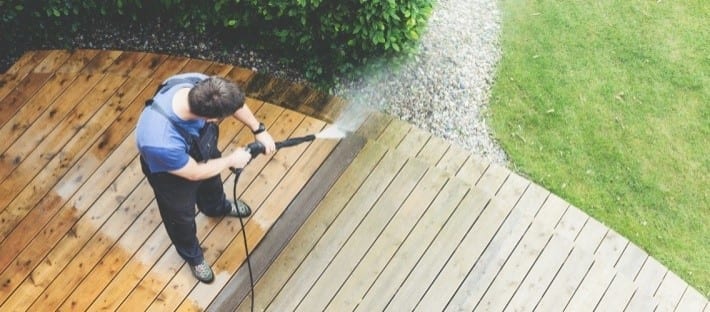 Source: https://cleanup.expert/info/how-to-clean-deck-with-a-pressure-washer/
Step 4
There will still be some sap residue remaining so use acetone to remove this from the surface of the wood.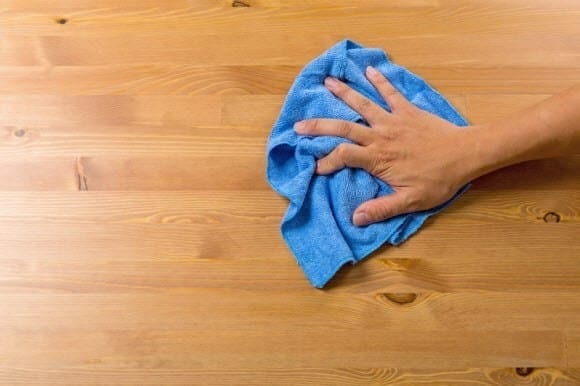 Source: http://www.howtocleanstuff.net/how-to-remove-furniture-polish-from-wood/

Removing sap that has already hardened
Step 1
Some woodworkers say that hardened sap is much easier to remove than soft or fresh sap. So allow the sap to set until it hardens completely. Check the sap out, it must be dry without any tackiness.
Source: https://www.today.com/home/how-remove-tree-sap-clothes-carpet-furniture-t108139
Step 2
When the sap dries, use a sharp wood chisel to remove it. Position the chisel so that the beveled edge is facing up and the flat side is against the face of the wood. Press the edge of the chisel on one edge of the sap until it is loose from the surface.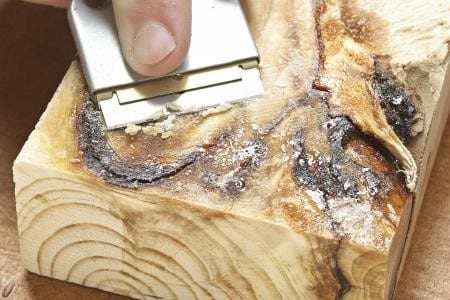 Source: https://www.woodmagazine.com/woodworking-ideas/flip-up-sanding-disc-caddy
Step 3
Use acetone to remove any remaining residue from the surface of the wood.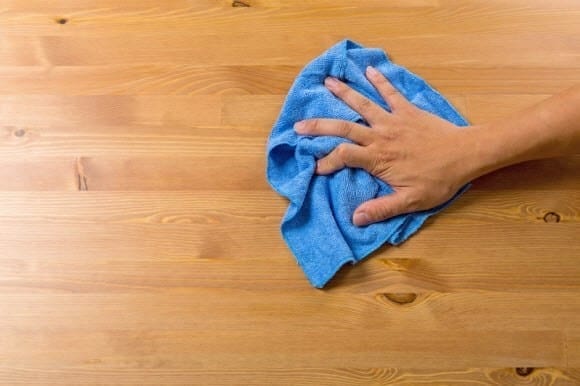 Source: http://www.howtocleanstuff.net/how-to-remove-furniture-polish-from-wood/

Crystallizing sap
Step 1
In preparing wood, kilns will crystallize the sap in the wood when the temperature reaches over 140 degrees Fahrenheit. Use a handheld heat gun to remove the sap. Power on a heat gun and place this on the highest setting. Aim the gun at the area where the sap is oozing. Don't just point the gun to the spot. Move it to avoid burning the wood. Keep the gun focused for at least five minutes but slowly move it back and forth so that wood can heat evenly.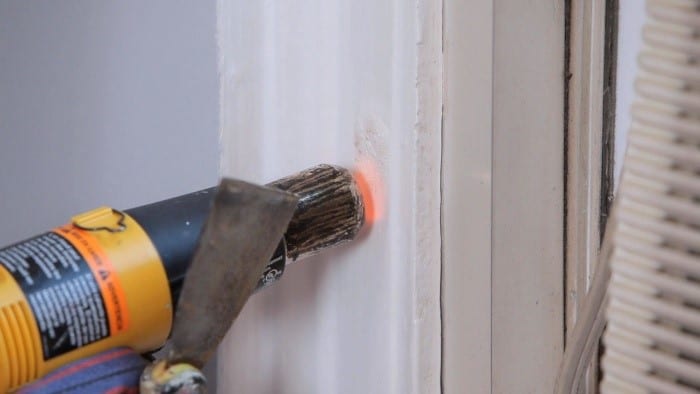 Step 2
You will notice that the sap will ooze and this is normal due to the reaction of sap due to heat. Eventually, this will harden and should be removed with a chisel and the residue removed with acetone.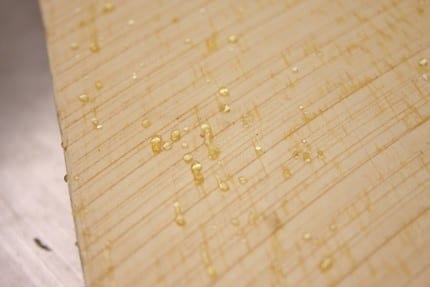 Source: https://www.finewoodworking.com/2011/10/14/how-to-set-wood-sap
Step 3
Soon, the interior sap will crystallize and harden similar to a rock. The temperature should remain constant otherwise; the sap will ooze once again.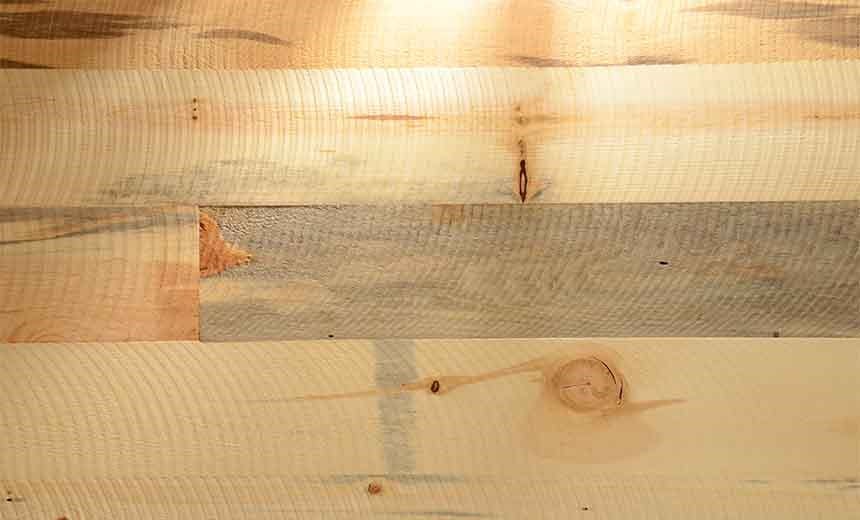 Source: https://yamsixteen.com/galery/rough-cut-lumber-flooring.html

Refinishing the surface
Step 1
Sand the wood with fine 220-grit sandpaper to even out the grain and remove crystallized sap. Sanding blocks will smooth out large, flat areas and will help refinish the surface.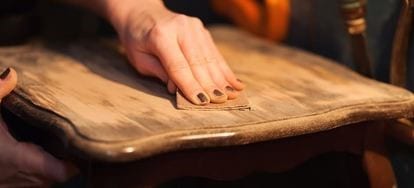 Source: https://www.doityourself.com/stry/wood-finish-repair-how-to-remove-shellac
Step 2
Aside from using sandpaper, you may use a handheld oscillating sander with 240-grit sandpaper that will smooth out the edging and corners.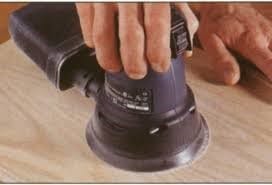 Source: https://www.woodmagazine.com/materials-guide/sanding/wet-sanding
Step 3
Use a tack cloth and remove the dust from the surface of the wood.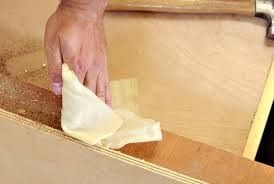 Source: https://www.hunker.com/13710395/what-is-a-tack-cloth-and-how-is-it-used
Step 4
Now you can apply a thin coat of stain and a clear finish and a matching coat of semigloss latex paint. Use any kind of paintbrush to apply the coats efficiently. Let the first coat of finish to completely dry. Now apply a second coat and if you wish, you can apply a third coat to match the original finish.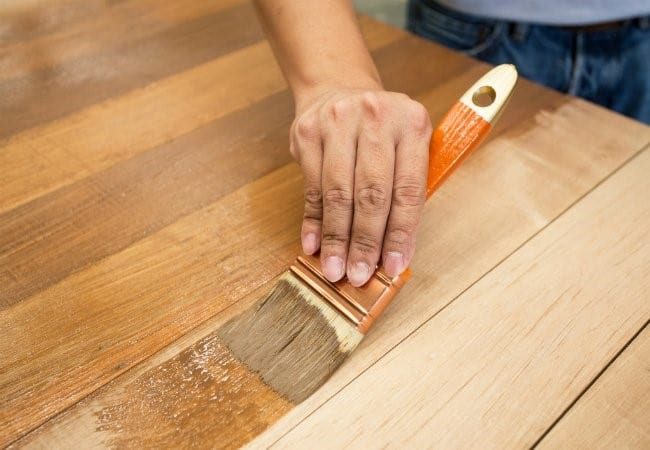 Source: https://www.bobvila.com/articles/gel-stain/
Conclusion

Removing sap is important because not only can sap harden like a rock, it can also cause stain and discoloration of the area. You must do all you can to remove the sap and to preserve your wooden furniture using a new stain.