One of the easiest and no doubt most fun ways to paint is using spray paint. It's easy to take anywhere, easy to use and is available in a variety of colors too. But one thing is certain, it's no fun when you are removing spray paint, especially on wood. It's hard to remove and mostly attaches to wood deeply making it hard to remove completely. This guide will show you how to remove spray paint on wood effortlessly.

Spray paint removal technique

To remove spray paint you will have to peel it layer by layer. When spraying paint, you tend to move the spray bottle up and down or from side to side to apply paint resulting in a layered application. You will be doing a lot of peeling and definitely scraping with this project.

Things you will need

Protective equipment (gloves, goggles, mask)
Heat gun
Scraper
Sandpaper (different grits/grades)
Paint stripper
Brush
Instructions

Removing latex paint using heat
Step 1
Wear your gloves, goggles, and mask when working with latex paint. Work in a well-ventilated room.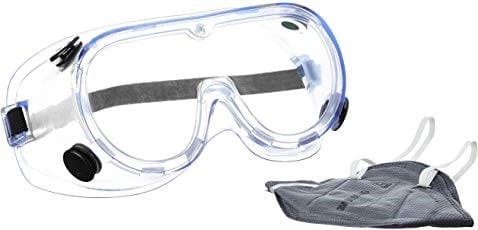 Source: https://www.amazon.com/Safety-Glasses/b?ie=UTF8&node=10290474031
Step 2
Remove latex paint with the use of a heat gun. Power the gun on and place it on top of the latex paint that you wish to remove from wood. Slowly the heat will start to soften the wood. Place the gun at least 6 to 8 inches above the surface. Move the heat gun over the painted surface with a side-to-side and up-and-down motion. Never let the heat gun stay in one spot because the painted are can catch fire.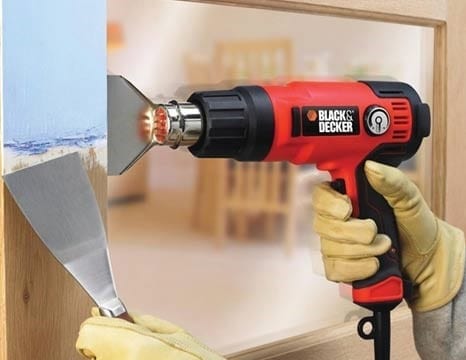 Source: https://www.diydoctor.org.uk/projects/using_a_heat_gun.htm
Step 3
When you notice any wrinkling or lifting of the paint, even on the edges, scrape it using a broad paint scraper. Continue heating the paint with the heat gun. You will be able to remove a single layer or many layers of paint this way if you are patient.
Source: https://www.imagenesmy.com/imagenes/paint-removal-with-heat-gun-ab.html

Removing dried latex paint with force
Step 1
Another way to remove latex paint is to sand it away using a coarse sandpaper. Sand with the grain instead of against it to get the best results.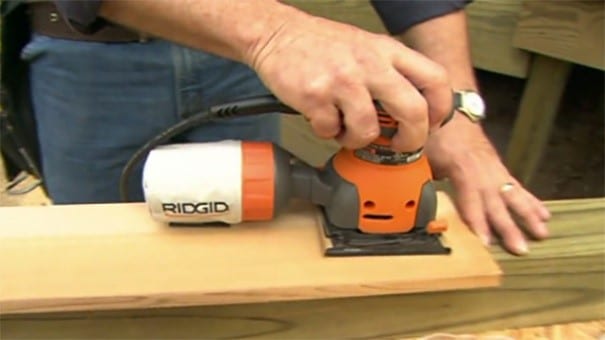 Source: https://www.todayshomeowner.com/video/how-to-choose-the-right-sandpaper-grit-for-the-job/
Step 2
Once wood peeks through your sanding work, you may now use a medium-grit sandpaper to work on the surface in a more efficient pace.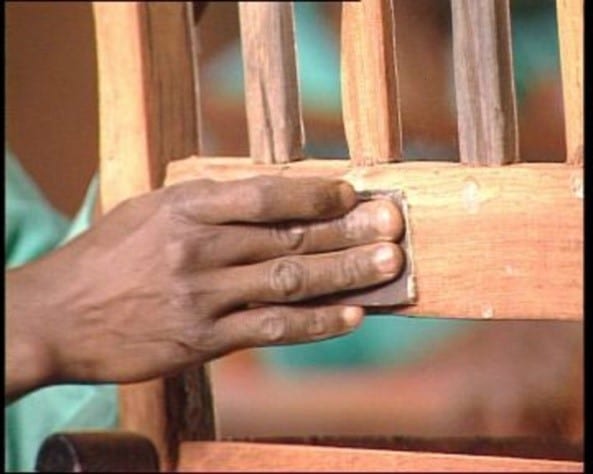 Source: http://www.ganjehardware.com/portfolios/blog-grid-3/item/knowing-the-right-sandpaper-to-use/71
Step 3
If you are working on larger sanding jobs, use a mechanical sander. This may be heavier but it gets the job done fast. And just like using sandpaper, sand with the grain and use a fine grain sandpaper once most of the latex paint has been removed.
Source: https://www.popularmechanics.com/home/tools/reviews/a3118/know-your-power-sanders-and-how-to-use-them-13314160/
Applying chemical strippers
Step 1
There are many kinds of strippers but generally, these fall into two categories: liquid-type and gel-type strippers. Liquid-type strippers are for horizontal wood surfaces while gel-type can be applied on vertical surfaces. It is also important to check instructions from the manufacturer before proceeding.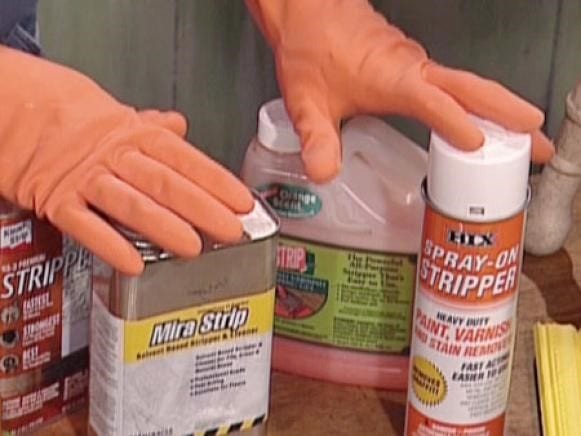 Source: https://www.diynetwork.com/how-to/skills-and-know-how/painting/paint-stripper-basics
Step 2
Use a broad flat paintbrush to apply the stripper. This way, you will be able to apply this evenly over the surface for the best coverage and the best effects. Brush the stripper in one direction only. Let this remain on the surface for 20 to 30 minutes. You will know that the stripper is working when you bubbling and warping of the paint.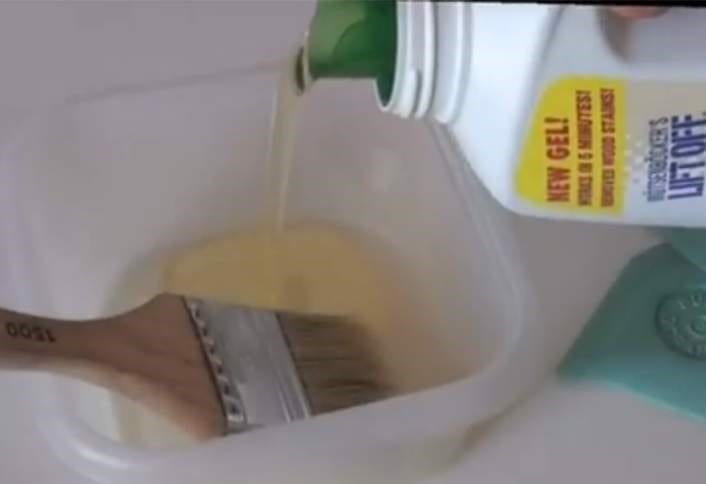 Source: https://www.homedepot.com/c/remove_paint_chemical_strippers_HT_PG_PA
Step 3
You are now ready to scrape the remaining paint off. Rub the blade of a paint scraper in a circular motion and once it has cut into the paint you are now ready to peel it. Use a metal scraper to scrape the paint. Glide this tool under the softened latex paint. Remove as much paint as you can.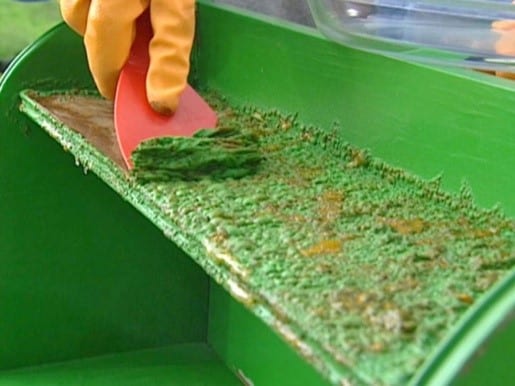 Source: https://www.diynetwork.com/how-to/skills-and-know-how/painting/how-to-remove-paint-with-chemical-strippers
Step 4
Aside from using a scraper, you can also use steel wool soaked in the stripper. This will help you remove every bit of paint residue that may be left in the wood. Soak medium-grade steel wool in a small amount stripper and use this in hard to reach areas. Old rags or abrasive scouring pads are also great alternatives.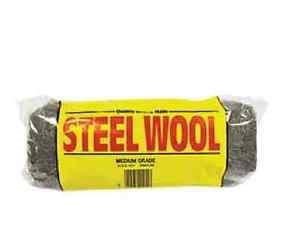 Source: https://www.ebay.co.uk/itm/Steel-Wool-Medium-Grade-170g-Cleaning-of-Copper-Pipes-Paint-Removal-/272027734025
Conclusion

Removing dried latex paint requires patience and the use of the best techniques and materials. It is hard to remove latex paint but not impossible. Whatever happens, never work too hard or scrape too hard risking damage to your furniture polish.