When I was finally done staining my awesome pallet mini-bar, I thought that all the hard work is already behind my back. However, I was terribly wrong. I suddenly realized that I am not sure how to seal wood without changing color.
For me, the hardest part came from the fact that I intended to use my mini bar both outdoors and indoors.
With this in mind, I had to find a suitable sealer which will offer protection against UV rays while also limiting the build-up of dirt and grime.
Meanwhile, this same sealer had to come up with a nice and smooth, non-plastic, and non-artificial looks, not altering the amazing natural color of the wood.
Do you want to learn how I managed to succeed in my mission? Let's dive in!
What You Will Need To Follow This Tutorial
Natural bristle paint brush
Water-based polyurethane / Acrylic lacquer
220-grit sandpaper
Scrap pieces of wood
Container/ Paint tray
Pro Tips
1 – Look for a suitable water-white sealer
A water-based polyurethane finish will work great for sealing wood without altering the color. An acrylic lacquer is also a good option. All in all, it's mostly a matter of personal preferences. But whichever of these products you choose, you want to look for a white-water one. White water or water white stands for a category of sealers which are as colorless as possible. White water sealers are designed specifically for the purpose of only enhancing the natural grain.
2 – Avoid oil-based finishes, except for walnut wood
We do not recommend using an oil-based sealer (such as oil-based polyurethane) because it adds an amber-golden, shiny, glossy finish on the wood. And high gloss wood is unlikely to look natural.
However, a thin layer of oil-based sealer can accentuate wonderfully walnut (without altering the authentic looks of the wood). Walnut has a naturally cold nuance which becomes warmer thanks to an oil-based finish. Thus, the grain pattern stands out while still looking natural.
Step by Step Instructions for Sealing Wood Without Changing Color
Step 1 – Make sure the final layer of stain/paint is completely dry and start applying the sealer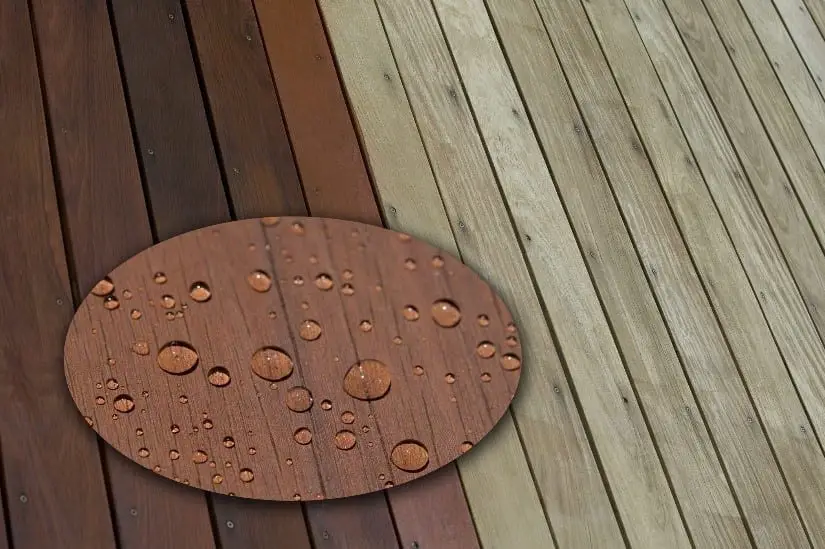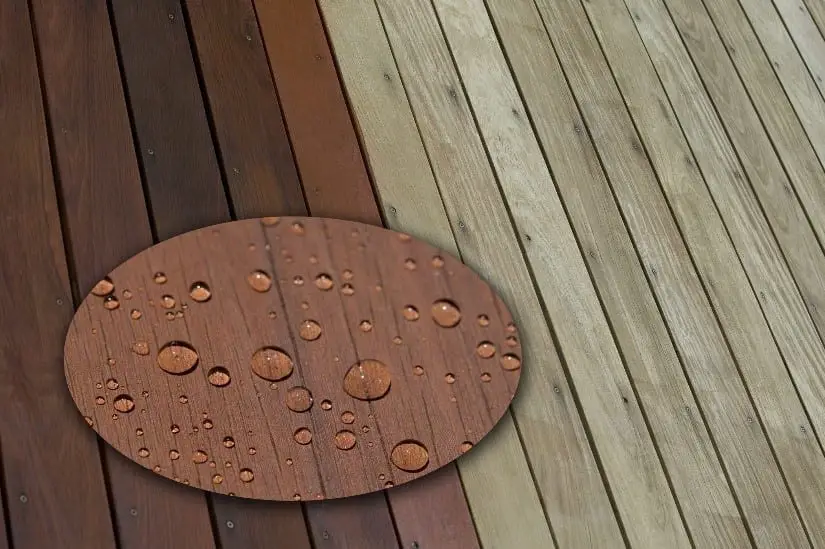 Image Credit: sealwizecoastal.com
Regardless of whether you will go for a water-based polyurethane finish or an acrylic lacquer finish, it's a must to allow the stain or paint to dry out thoroughly.
Water-based polyurethane is more delicate to work with. If you stir this type of sealer too vigorously before application, the bubble may form and spell disaster for your project.
When applying water-based polyurethane, you want to squeeze any excess amount of the brush. For this purpose, press the brush next to the edge of the container/paint tray where you have poured some of the sealers to work with.
Aim for the firm, controlled, long strokes.
Do not go over the same area twice before it dries out well.
Acrylic lacquer is less delicate to work with. It also dries faster and makes up for fewer bubbles forming on the surface. However, avoid going through the same area twice before it has dried completely.
Step 2 – Wait for the first coat of sealer to dry and apply another one if desired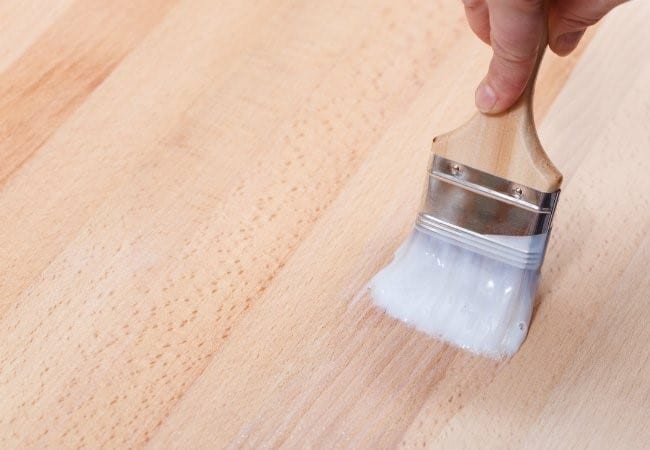 Image Credit: bobvila.com
The major difference between a water-based polyurethane sealer and an acrylic lacquer is sanding. A water-based polyurethane finish will require a gentle, light, and careful sanding of the surface of the wood between each coat. On the other hand, an acrylic lacquer will not require any sanding before applying another layer of the solution.
In all cases, do not rush to apply another coat before the first one has dried out thoroughly. Even though water-based polyurethane and acrylic lacquer sealers make up for a natural look without changing the color of the wood, too many layers can ruin the effect you want to achieve.
What a fantastic ride! We sincerely hope that you had a wonderful time reading this tutorial. Moreover, if we have helped you figure out how to seal wood without changing the color easily, then our efforts were worth the time.
Do you know that you can help us spread the love for all things DIY and woodworking related? Just hit the Like and Share button to make this article reach out to more people out there. If you have anything you wish to add, we welcome your tips or questions in the comment section below.