21) Mini Pallet Bar Design
This pallet bar is quite a stunner! It looks classy as it is lovely and easy to build. The rack is moderately-sized with a lot of space to hold eight bottles of wine as well as several glasses of wine.
You can see that this rack was painted a dark color which accents the light wall. There are other ways to finish this pallet bar like staining or varnishing and torching but these will bring out a different effect.
And what more can you do to upgrade this classy design? You can make this wine rack larger, longer and wider. You can paint this any color or stain it if this would complement your room décor. Any which way, this is a good design to follow especially if you have only a small space to work with.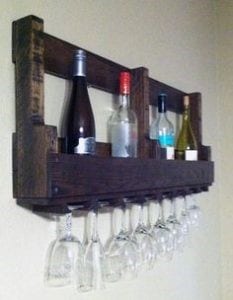 22) Vintage Wine Rack Made of Pallets
This pallet wine rack is a lovely sight in any wall. Just take a look at its cute design, engraved lettering at the front and wine glass holder at the bottom part of the rack. It also looks simple to make and according to its plans, it is!
This can hold up to four bottles of wine as well as four wine glasses as the bottom rack. This holds the bottles well and keeps it from moving. You can hang this on the wall of your kitchen, dining area or living room 
And this wine rack makes a good first-time project for a novice woodworker. You don't really need to be an expert to build this lovely wine rack project.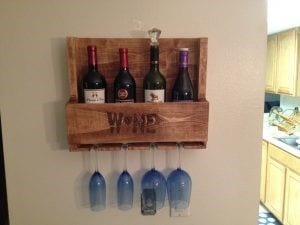 http://diy-vintage-chic.blogspot.in/2015/11/pallet-wine-rack.html
23) Vertical Wine Rack
Is this a wine rack or an art piece because it looks very creative! Would you believe that this unique wine rack can hold about five wine bottles without toppling over?  This creative design calls for only a few pieces of pallet wood and an open mind! It just shows that you can stay balanced and focused even if you drink with friends.
The plans to make this vertical wine rack are actually easy to follow and give you a list of everything you need as well as a step by step process so you can start right away. You can place this interesting piece on top of a bar, the kitchen counter or kitchen island and be the envy of all your friends and guests.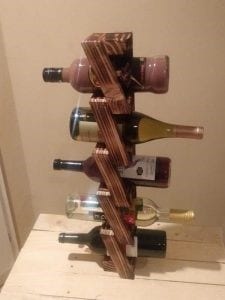 https://www.1001pallets.com/2018/02/modern-twist-wall-mount-wine-rack-made-using-pallets/
24) DIY Pallet Wine Rack
This is a pallet wine rack that looks so easy to make. It has a traditional wine rack design with lots of space for a number of wine bottles and at the same time, it can hold several wine glasses. This design is perfect as your own personal wine rack/bar or as a family wine rack for people who love to wine and dine.
The design is actually very simple you can build this even if you are a beginner woodworker. It won't take too long to build too so this is a good project for a special event happening soon.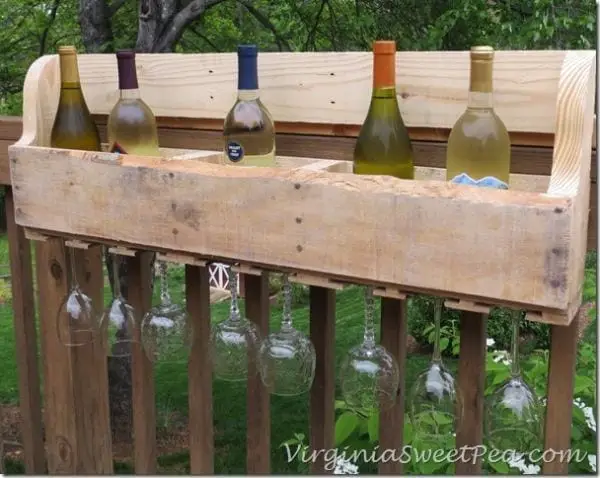 https://www.virginiasweetpea.com/diy-pallet-wine-rack/
25) Upcycled Pallet Wine Rack
This is another artistic wine rack that will leave you speechless! This rack has a pallet body that is sturdy and ready to handle three bottles of wine. You might say that this is very inefficient! But wait and see how it holds the bottles in place….
The bottles seem to be held by their necks with this very light pallet rack! It is actually not magic at all but this rack merely balances the bottles from its balance point! The builder used this fact and created a balanced wine rack system. Be careful though because you cannot balance a full bottle using this rack! It must be at least 1/3 full.
https://www.pinterest.com/pin/294704369337918267/
26) Wine Rack Made of Recycled Wood Pallets
Now here is another unique wine rack idea. The pallet wine rack holds the bottles from their necks! You will store bottles of wine from the neck through holes made through the pallet rack. This seems to be simple enough but when the rack is full, this creates a fantastic sight!
The pallet wine rack is moderately-sized with plenty of room for wine bottles of a certain size only. The bottom part of this rack is where you can place wine glasses so you can be ready to serve your drinks.
And of course, there is nothing like making your own pallet wine rack. This one is quite easy to make just make sure to have a hole cutter or a jigsaw handy as you work. And if you have more wine bottles and you want to display them all, you can make this larger to occupy more inverted wine bottles. You may also paint this any color you want.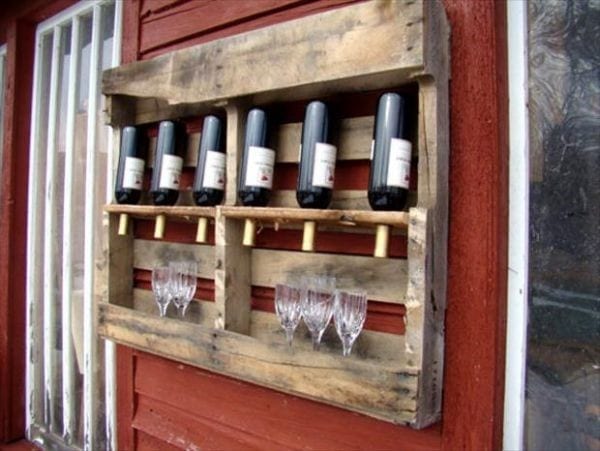 https://www.pinterest.com/pin/176484879120892468/?lp=true
27) Hanging Pallet Wine Rack
This is a nice way to dry your wine glasses and to decorate your bar at home. This one is actually made of less than six pallet wood pieces and was hung from the ceiling using metal chains. The wine bottles rest on top of the hanging pallet while the glasses hang from the structure.
Although this is very easy to build, it is the most convenient design and not the safest either; it is certainly worth checking out. You must use a strong pallet frame to build this project because you will be hanging the frame and using it as support for wine bottles and glasses. It is a unique design so you must be very careful about installing this in any room.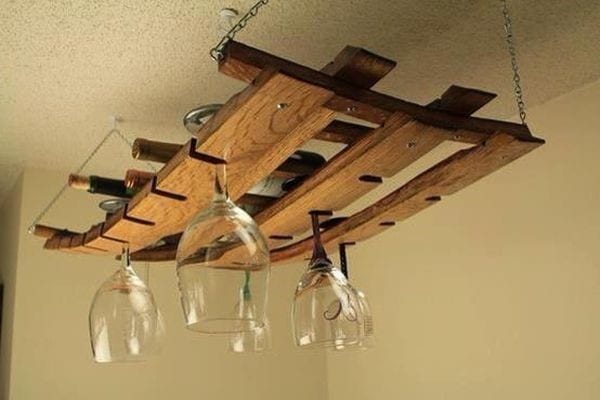 https://www.pinterest.com/pin/375276581430438842/?lp=true
28) DIY Pallet Wine Shelf 2
Now, this is more than just a wine rack but rather a wine rack and a wine shelf. This is attached to the wall and has room for items you need for serving drinks to your guests. The wine bottles are at the top while the middle sections are occupied by wine glasses, accessories and more.
And despite looking complicated, this is a very easy project, especially for beginner woodworkers. Simply follow the DIY plans that come with this wine shelf and you got a versatile storage solution. Make sure that you need very strong wood and you will be attaching this on a very sturdy wall as well. Overall, this is a very easy build that will only take you a weekend to complete.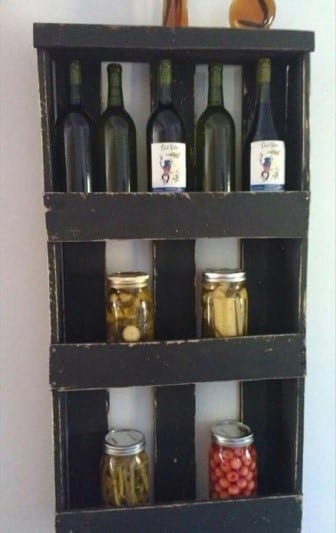 https://www.pinterest.com/rlcarriers/creative-uses-for-freight-pallets/
29) Holes In Pallet Wine Rack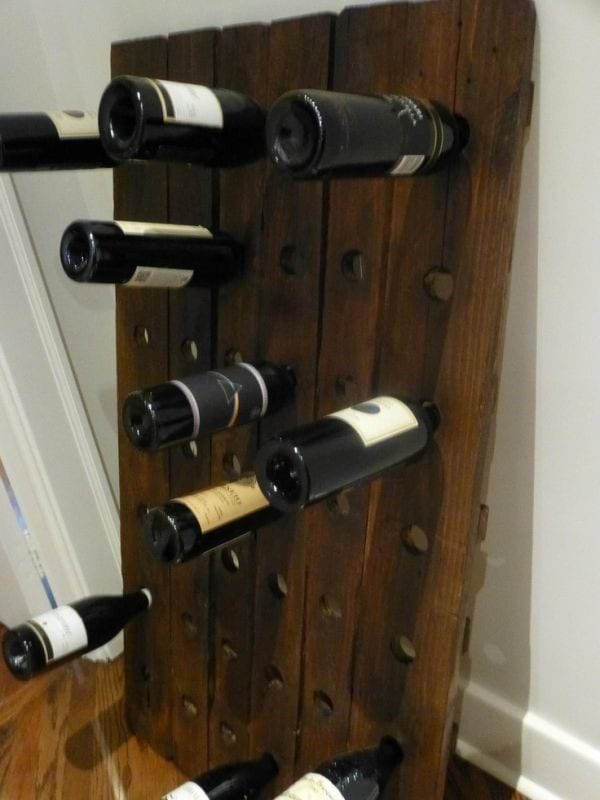 https://www.pinterest.co.uk/pin/176484879121794176/
30) Wine Rack and Glass Rack Made from Pallet Wood
This is a grand wine and glass rack made entirely of pallet wood. It is unsure where this pallet wine rack made but I am sure that this has some kind of Asian influence because of this very dramatic and very opulent design. It is actually very hard to choose where to start describing this pallet piece!
This majestic wine rack has three sections: the first section closest to the ground is where bottles of fine quality wine are kept and this section can accommodate more than eight bottles.
The middle section or the second one houses the most special and the highest of all the collections. This section can accommodate up to eight but usually, this section is uncrowded. The topmost section is where you can find wine glasses arranged dramatically.
The wood in this creation was made from strong and warm-colored pallet wood. And due to the intricateness of this design, it is not hung on the wall but rather it remains on a table only.
Making this wine rack may be too complicated because of its appearance but this design plan will help you construct it piece by piece. Let this pallet wine rack serve as an inspiration to your next projects in the future.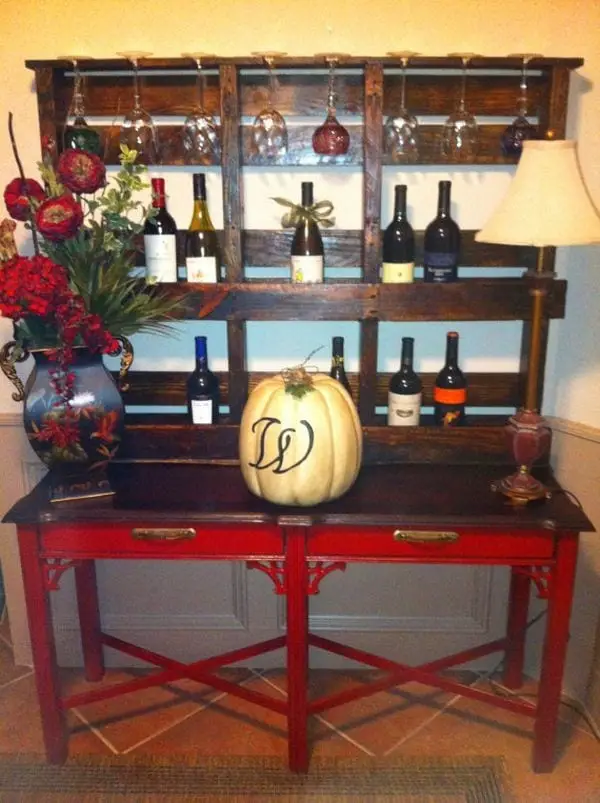 https://www.etsy.com/listing/117333806/wine-rack-made-from-a-grass-pallet