Wood is such a versatile material. You can cut, shape and form wood to make different kinds of furniture and decorative products.
And when it comes to cutting wood for a hobby or for manufacturing all kinds of wooden items, most woodworkers use a router. It is an indispensable power cutting tool that makes grooves out of wood easily and perfectly.
Cutting a groove basics
Before using a router to cut grooves, a respectable woodworker does it by hand. With simple tools like a hammer, chisel and saw, you can cut grooves perfectly and on different kinds of wood too. It may be time-consuming to make but no doubt that it will get the job done perfectly.
Things you will need
Wood to cut
Spare wood to make spacers
Pencil
Router
Chisel
Hammer
Instructions
1) Make a spacer for the groove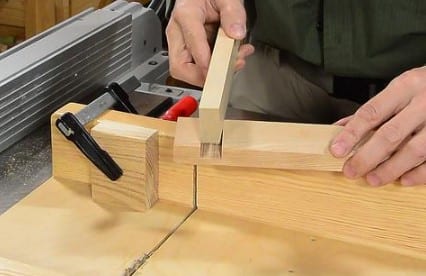 Source: https://woodgears.ca/shop-tricks/dado_spacer.html
A spacer is just a scrap piece of wood that is used to limit the movement of the saw. The spacer will allow you to make perfect grooves and reduce wastage. Cut a blade's thickness wood while keeping the depth of 1″. You will be making a cut at around 1″ above the surface.
2) Place marks on the wood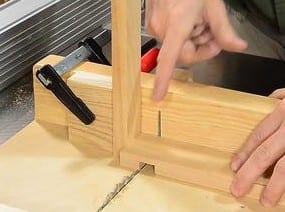 Source: https://woodgears.ca/shop-tricks/dado_spacer.html
You must always make sure that you know where to cut. To do this, you can use a sharp thick pencil and finish off with a sharp craft knife. The blade depth should match the depth of the groove but should not be more than 1/3rd of the complete stock.
Take time measuring and marking the area where you need to cut because this is a crucial part of making any kind of groove or cut. If you are cutting through dark pieces of wood, use a masking tape to identify the area where you need to cut.
3) Make the initial cut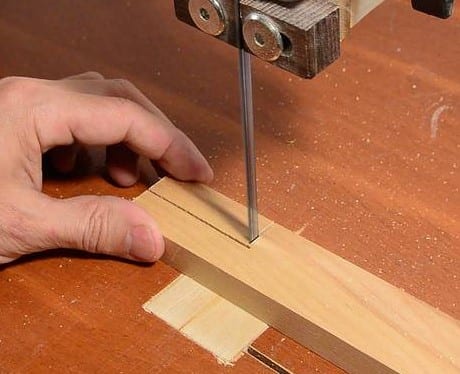 Source: https://woodgears.ca/shop-tricks/dado_spacer.html
Now that you have made marks on your wood, you will now make the first cut. Adjust your fence to align the blade with the marked grooves. Lock the stock on your working table to keep it from moving.
The spacer should be outside the fenced area and with the clamp, keep the complete set blocked and secure. Use a handsaw to make the first cut.
4) Make the second cut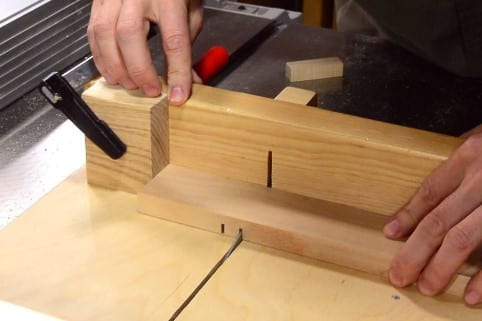 Source: https://woodgears.ca/shop-tricks/dado_spacer.html
When the first cut is finished create the second cut. For the second cut, remove the spacer and place the fence against the stop block. Make similar cuts continuously for a smooth and flawless finish. When you are done, you may now finish your work.
5) Time to finish your work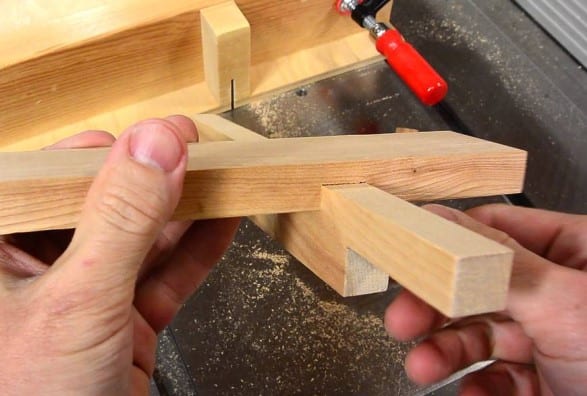 Source: https://woodgears.ca/shop-tricks/dado_spacer.html
When you are done with making a groove, finish your work. You need to smoothen out any imperfections using a chisel and hammer. You can use a large-grit sandpaper to get rid of any ridges or imperfections found along the bottom side of the groove.
6) Make rabbets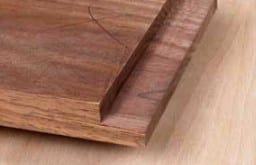 Source: http://www.woodworkersjournal.com/making-rabbet-joints-router/
Because this is a very easy technique you may now make rabbets or one-sided grooves. These rabbets will now be easy to make now that you know how to make easy grooves.
7) Be sure to select your blades wisely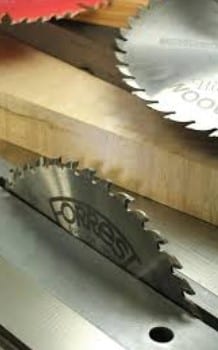 Source: https://www.canadianwoodworking.com/tools/selecting-and-using-saw-blade
This is surely an easy way to cut a groove and a good technique without using any kind of power tool or router. It is important to use a rip blade compared to a combination blade when you cut grooves.
Creating grooves with a router
A router will let you cut grooves fast and in repeated motions. You can make grooves of varying depths and lengths using the router's different attachments. There are a number of router models to choose from. Routers come with varying motor capacities, speed controls, and attachments.
And as you find out how to make grooves without using a router, you will also learn all about other wood species especially the right type of wood for woodworking.
There are many different types of wood that can be used in woodworking and corresponding tools to use to make different cuts and grooves. You must get to know your design well to prevent any mistakes and any material wastage.
Conclusion
Grooves can be easily done with a router but you can also use basic tools like a hammer and a chisel. There are a number of ways to make a groove but using a router is faster and certainly more efficient than using basic hand tools.