Trick or treat! Halloween is just around the corner and my head is starting to fill with crafty ideas for making treat-or-treaters happy. For the last several years, I've been experimenting with Halloween tombstones because I know 1 thing for sure: kids are crazy about these tombstones! And is there anything better than seeing the glow in their eyes?
I began my experiments with making Halloween tombstones out of Styrofoam. Afterward, I tried out cardboard instead. And even though both of these methods worked fine, I was eager to learn how to make Halloween tombstones out of wood.
Like any DIYer, my workshop is choke-full with scrap pieces of wood. So it's a fantastic idea to make use of these leftovers. Below, we are revealing the easiest way to make your very own wood tombstones.
What You Will Need To Follow This Tutorial
Scrap lumber (about 1 inch should do just fine)
Handheld cutting tool (or a band saw)
Razor knife
Pencil
Masking tape
1 1/2 –inch wood screws
Spray paint (stone-textured)
Black paint
Template (optional)
Quick Pro Tip
The traditional shape of a tombstone is easy to draw over the piece of scrap wood (even if you weren't the type of A+ student when it comes to drawing). All you have to do is to draw a rectangle with a rounded top.
However, if you want to make Halloween tombstones which are more playful and out-of-the-box (such as a spooky ghost-shaped one), just opt for a template. Place the template over the surface of the wood and follow the lines with a pencil copy the image on the surface of the wood.
Step by Step Instructions for Making Halloween Tombstones Out Of Wood
Step 1 – Cut the Halloween tombstone
First things first, you want to draw the shape of your Halloween tombstone on the wood. Next, you need to cut it out. You can use a handheld cutting tool (such as a jigsaw) or you can cut it out on a band saw.
Cut out a stake which you can place into the ground to provide stability for the tombstones without having to damage the grass in the yard. For this purpose, simply cut a rectangle out of 1-inch thick lumber. Then position the rectangle at the back of the tombstone and attach it using the 1 1/2-inch screws. It's important that the stake is overhanging from the bottom (about 6 inches).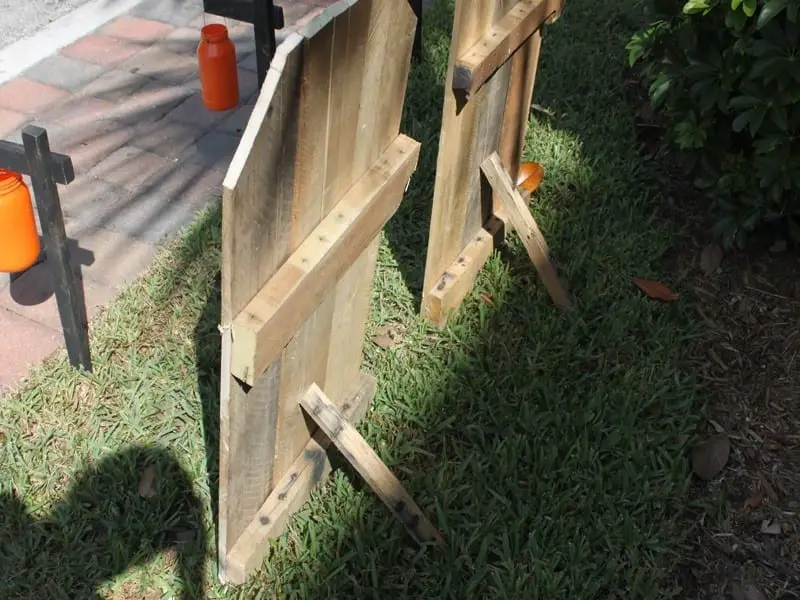 Image Courtesy of inhabitat.com
Step 2 – Paint the tombstone to make wood look like real stone
Image Credit: dappercadavar.com
In order to make the wood tombstone look authentic, you want to start by painting it with black paint. Let the paint dry out completely. Afterward, it's time to write up the scary epitaphs on your tombstone. Use masking tape to draw each letter with a pencil. Next, simply cut the letters with a razor knife. Remove the excess masking tape and proceed with spraying the tombstone with a stone-textured paint spray.
Are you ready to turn your backyard into the scariest, spookiest, craziest graveyard in the neighborhood for Halloween? Then there is no time to waste! Get down to making these awesome Halloween tombstones out of wood asap.
And, of course, let your imagination run wild.
Cover the tombstones with fluorescent spray paint, fake spider web and/or homemade slime.
Did you enjoy this tutorial? Your support means a lot to us! Share and like this article to help us spread the spooky vibes. Don't hesitate to drop us a line in the comment section below, too.