There are so many ways to give wood that heart-warming, eye-catching distressed look! If you happen to be an aficionado of the weathered wood appeal, then I bet you have already tried numerous aging techniques. But do you know how to make wood look old with white paint?
What's more, do you want to find the easiest, cheapest tutorial on that note? Then we welcome you on board! Head straight to the step by step guide to making wood look sensually rustic.
We are revealing everything you need to no minus the fluff. The practical and useful instructions we are revealing below are also suitable for beginners. No more excuses or time to waste, please! Let's get down to the fun part.
What You Will Need To Follow This Tutorial
Wood stain
Sponge brush (optional)
Rags
Paper towel (optional)
Paintbrush
220-grit sandpaper
Polyurethane (optional)
White paint
Pro Tips
1 – Make sure you pick a matching wood stain
Many of my fellows DIYers have been asking for my help when choosing a suitable wood stain. Sure, if you work with bare wood choosing wood stain is easier. But if you're dealing with a wood surface which has already been treated before and you need to add another layer of wood stain, it can be tricky. However, it's not much of a big fuss either. For best results, use a finisher's color wheel to determine the most suitable shade.
2 – Rub in and wipe the wood stain instead of brushing it on
Yep, as easy as it sounds – you don't have to apply wood stain using a brush. Just go over the surface of the wood with a rag, dipped in wood stain and then wipe it off with another clean rag. If you do wish to work with a brush, a sponge brush works best. After applying the wood stain with a sponge brush, simply wipe off the excess with a dry paper towel.
Step by Step Instructions for Making Wood Look Old With White Paint
Step 1 – Apply the wood stain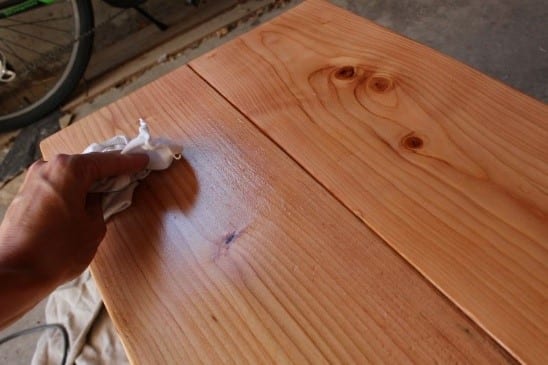 Image Credit: homedit.com
Check the surface of the wood for uneven patches you may want to smooth out. Personally, I skip this step as I enjoy the authentic rustic appeal cast by tiny cracks and perfectly imperfect areas where the rough edges only add more charm to the weathered effect. Next, apply a single coat of wood stain by using the rag or the sponge brush method we discussed in the Pro Tips section.
Step 2 – Apply a coat of white paint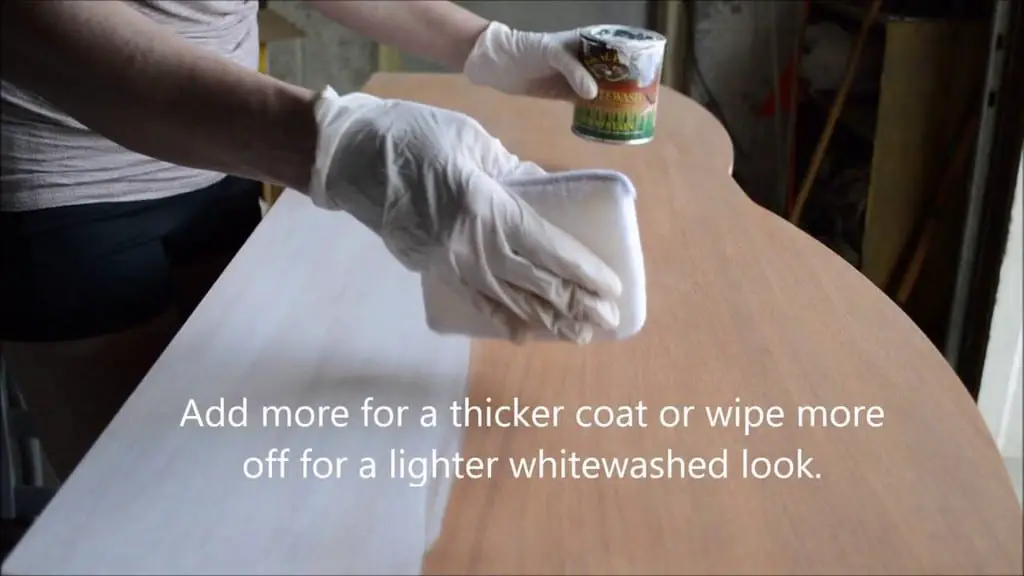 Image Credit: youtube.com
Don't wait for the coat of wood stain to dry out! You need to apply a layer of white paint immediately. Use a semi-dry paint brush for best results. Wait until the paint is almost (but not thoroughly) dry.
Next, apply another layer of wood stain and wipe off the excess amount.
Keep alternating the application of wood stain and white paint until you achieve the final effect you are aiming for. Layering is fun but doesn't underestimate the process and be precise.
Lastly, you can sand off the corners and edges of the wood to give it a more realistic weathered look.
However, this step is only optional. Also, you can choose to apply a protective coat of oil-based or water-based polyurethane depending on your personal preferences.
I must admit that I enjoy any type of DIY hacks which are related to applying layering techniques. I love the freedom which layering gives us as DIYers. If you ask 2 different people to follow this 'How to make wood look old with white paint tutorial', you will get 2 (totally) different masterpieces.
How about you? Are you already in the mood to try out our cheat sheet? Or maybe you have something valuable to share? Don't be shy!
Join us in the comment section below. By giving this article thumbs up and/or by sharing this content, you can help us succeed on our mission to spread easy, affordable, and enjoyable DIY hacks and tutorials globally!