Are you sick of the bitterly nostalgic looks of the wood paneling in your house?
Do you want to learn how to make wood paneling look like drywall?
You are at the right place! We have compiled a step by step guide to making the old paneling look like brand new drywall.
Plus, the instructions we are sharing below are beginner-friendly. Nevertheless, by refreshing the outdated wood paneling yourself, you will also save money.
And as DIYers, we know that a dollar saved is a dollar spent on something we love. We're ready to dive in! And what about you? Keep reading and let's get down to work.
What You Will Need To Follow This Tutorial
Spackling compound
Dust mask
Fine-grit sandpaper
Putty knife
Paint tray
Primer
Paint roller
Drop cloth
Latex paint
Step By Step Instructions For Making Wood Paneling Look Like Drywall
Step 1 – Prepare the room for the wood paneling makeover and start filling the seams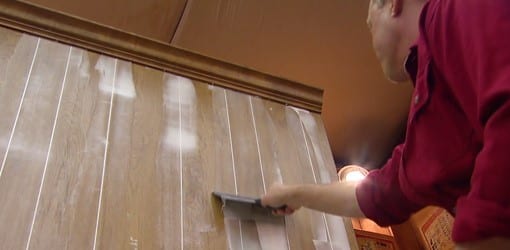 Image Credit: todayshomeowners.com
Use a drop cloth to protect the floors. Remove any furniture close to the wood paneling or cover it with plastic sheets. Start filling the seams with spackling compound. Spread the compound evenly using a putty knife. Strive for piling up the spackling compound as it will flatten a bit while drying out.
Step 2 – Repeat the process of filling the seams if needed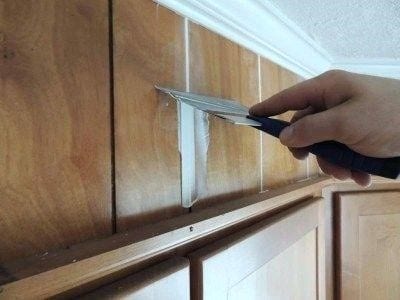 Image Credit: electricistamurcia.info
Once the drying time has passed, according to the instructions on the label of the spackling compound, proceed with sanding the surface. Use fine-grit sandpaper and once done, check out for any imperfections. You want a perfectly smooth surface. Thus, you may need to apply another coat of spackling compound and repeat the process of sanding.
Step 3 – Apply a primer, wait until it is dry, and finish with latex paint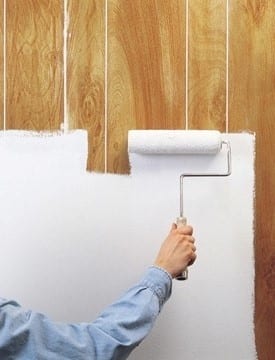 Image Credit: decorsnob.com
Pour the primer into a painting tray and apply it using a paint roller. As you are making your way through, check out if the seams are covered completely. In the case you notice any uneven patches, you can refill the seams again with the spackling compound and add another layer of primer.
Finish the makeover by adding 2 coats of high-quality latex paint. Make sure you allow the first coat time to dry before applying the last one.
Finally, after you have read this tutorial, we hope that you know how to make wood paneling look like drywall without much of a fuss. This is a fairly simple task to accomplish. Just make sure you follow each step and don't be afraid of the possible trials and errors.
The spackling compound may take longer to dry than what you expected or you may need to put some extra effort into sanding the wood paneling than what you imagined.
However, all is well when it ends well, right? If you find this article useful, help us spread the good vibes and the practical guidelines with more DIYers by sharing and liking this content.
Don't hesitate to let us know what you think in the comment section below.