Whittling is simply playing with wood with a knife. It's cutting a small piece of wood to make anything. You can whittle small toys, trinkets, souvenirs and more. You don't need a lot of tools to whittle wood. All you need is a sharp pocket knife. This guide will show you how to whittle wood to make a simple project.
Whittling wood basics
Whittling can be an enjoyable way to make a quick project. Just let your creative juices flow and you can use whittling to make works of art. If you are new to whittling, the best project to start with is making simple wooden shapes. Where can you whittle wood? Anywhere! You can whittle at home, at work or at the park. Just make sure that a sharp object like a pocket knife is allowed to carry.
Things you'll need
A small piece of wood (softwood)
Sharp pocket knife
Fine sandpaper
Paint
Paintbrush
Instructions
1) Drawing on pencil
Draw the figure or shape that you want to carve on wood. Some skip this step and just go whittling away. But as a beginner, you should have at least an image of what you want to do. If you want to whittle a small figure like Snoopy, for instance, draw the character's prominent head and then the body and limbs. Choose very simple figures for now and when you have mastered whittling curved pieces like Snoopy's head and body, you can move on to many complicated shapes.
2) Select the best wood for whittling
Source: https://campwildfire.co.uk/lineup/wood-whittling
Choose a piece of wood that can work with the figure you want to whittle. For Snoopy, a small 3" x 2" block would work fine. Use a good wood species to work with. The wood must not be too soft or too hard and of course, it should be dried really well since you want to retain the shape and figure of your work for years.
3) Prepare your whittling knife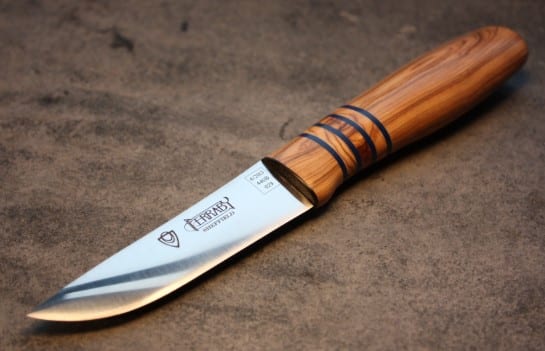 Source: https://www.flickr.com/photos/ferrabyknives/9191713643
Prepare your whittling knife. Sharpen it to perfection and learn to hold it well. Keep a sanding block or a sharpening stone handy so you can sharpen it when it dulls in the middle of the project.
4) Start whittling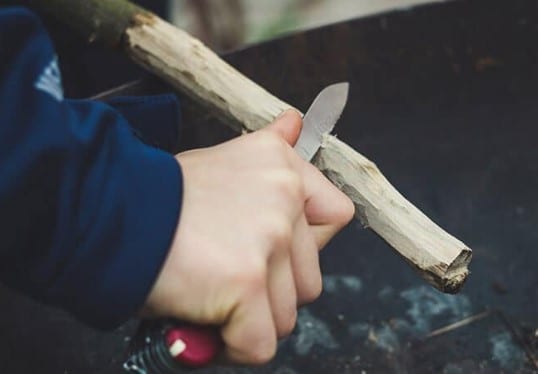 Source: https://ogoutdoors.com/best-whittling-knives/
Hold the wood with your non-dominant hand. Hold it comfortably but safely.
You can trace on wood with a pencil to guide you at first. So for Snoopy, trace the head, the snout, the body and limbs on a side of the wood. When you are used to whittling, you will soon find this unnecessary.
Start cutting, slicing wood according to the pattern or shape. Cut slowly if you are new to whittling to avoid mistakes and to stay safe. Hold the knife well.
Work your way cutting the contours of your figure. After successfully whittling the contours of Snoopy's head, you can now proceed to the body. Work well and slowly because you will be cutting smaller parts now.
5) Sanding and finishing your work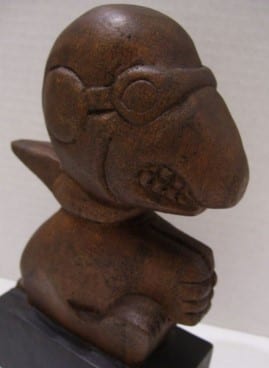 Source: https://www.pinterest.com/pin/398005685800716336/
When you are done with the contours, start finishing your work. Aside from working with a knife, you can use sandpaper to finish your work. Sand the figure's head, body and arms to create a smooth and even finish.
You may opt to paint your figure or varnish it, whatever suits your work. For Snoopy, painting the entire body white and using black paint for detailing is all you need. Snoopy has black droopy ears, a black nose, and slits for eyes. Use a fine tipped watercolor brush to brush in the details. Varnish your work if you want.
Add a chain so you can use your work as a keepsake or keychain
Other whittling project ideas
There are a lot of whittling projects to check out. A flying propeller is a simple project doesn't take a long time to finish. You can make this out of any stick of wood and the best part is you can play with it right away. You can use wood as Ponderosa Pine, spruce, or basswood. Avoid really hardwoods or wood that split easily.
Once you are used to carving larger and more intricate shapes and patterns, you can now proceed to make little people. You can take inspiration from books, stories, and movies too. Whittling is a great pastime that will also enhance your fine motor skills and carving skills. This can also be a good way to meditate and to channel your thoughts as well.
Conclusion
You can start learning how to whittle wood anytime. It is a satisfying way to make small trinkets, toys, and souvenirs. It can also be used as a meditative activity, a fun pastime, and excellent training to learn proper knife handling techniques.