Have you ever wondered how to make money when it comes to woodworking? There is no doubt that you can turn a woodworking hobby as a full-time business. There is a huge market for crafts and homemade items. With the right tools and mastering basic woodworking techniques, you will be able to hone your talents and woodworking skills to make excellent woodworking projects, interesting enough to sell to customers.
This is a guide that will help you, inspire you , on ways that you can make money out of woodworking. Understand that just like any business, you need to have a keen understanding of your market and the latest trends that customers love. You will also have to have at least basic knowledge of how to run a business, even a small at-home business so you can manage a woodworking business.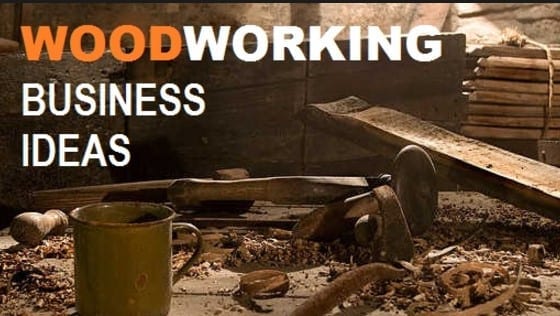 Why engage in a woodworking business?
If you are confident that your work has amazing quality and have received great admiration from people who have seen your work then there is no doubt that you can make it. If you have recently had offers from people or people coming up to you to ask if you are selling your work then why not give it a try? Many accomplished businessmen and women engaged in woodworking started this way and it all began when they have had small offers for their work.
You should try woodworking as a business if you are really passionate about it. If you have that deep passion about woodworking, you love wood or you just want to spread the love about wood then there is no doubt that this is a good business lead for you. Some say that you can truly say that you have found the best job when you love what you do. Therefore if you love woodworking then this should be a good earning opportunity to indulge in.
Woodworking is a fantastic earning opportunity and this is because it has a high demand locally and even internationally. A good example would be IKEA which has a large number of wooden furniture pieces, toys, shelving and storage pieces. Crafts published in Etsy also get a large number of views which all the more reason to try woodworking as a business.
Finally, there is no doubt that woodworking crafts and projects make excellent souvenirs and personalized gifts for special occasions. You can create woodworking souvenirs for an event and guarantee good reviews if you do a good job. And of course good news spreads fast. You will surely find orders lining up for more events and special occasions.
So still in doubt that woodworking could make an excellent business venture? Here are some good ideas that could help you start.
Personalized Book Shelves
Despite the onslaught of gadgets and mobile devices, there are people who still have a genuine love for books. And with this interest, it is completely understandable that the demand for book shelves has never failed. And this is not just about making wooden book shelves for individual clients. You can also make shelves for schools, daycare centers, preschool centers, libraries and offices. Personalized book shelves can be in any shape, form or design. You will also find book shelves of different capacities. New bookshelf ideas are all around the web and the following could inspire you.
Wooden bookshelves with cartoon character designs for a child's room
Wooden bookshelves with artistic designs for living rooms and bedrooms
Wooden bookshelves with ergonomic designs
Wooden bookshelves with multi-function uses
Wooden bookshelves with unique designs
Made to order bookshelves for homes and offices
Do you take interest in making bookshelves? Then this could be the best business idea for you. What you can do for now is to collect photos of the book shelf projects you have done before. Check out shelving inspiration online or offline. Ask around for book shelf businesses that are already settled. Check out the products that they offer and how they do business with their customers. All these could give you first-hand information on what a wooden bookshelf business.
Wooden promotional and corporate gifts
When businesses gift their clients and customers they really mean business. And even with electronic gadgets and modern personalized gifts in the market nothing beats the charm of wooden promotional gift items. Just some of the most popular corporate gifts made of wood are:
Wooden key chains
Wooden USBs
Wooden pens
Wooden coasters
Wooden pen holders
Wooden clocks
Wooden calendars
Wooden lighters
Wooden tea light holders
Wooden mini games
As with wooden bookshelves, you must research your target market really well. What are very popular wooden corporate and promotional items? What could make my products stand out? How much do they charge per 100 orders? For 200, 500 or more? Some companies who make wooden corporate gifts advertise additional services to stand out. Just some of the most common perks are free computerized printing, free deliveries, free handling and bonus items.
Creative cutting boards
Yes, there are different cutting board designs and shapes other than the rectangular ones you have in your kitchen and these unique cutting boards are selling hot like pancakes. There are cutting boards shaped like animals, flowers, leaves and toys. You can even find cutting boards with cartoon characters and popular characters from children's shows. There are even wooden cutting boards that are not used as cutting boards but rather display boards and stands. These are novelty items and gift items especially for Christmas and Thanksgiving. You will find a large number of people collecting these pieces too making it all the more to start a cutting board business.
Cutting boards are very easy to make and require very simple cutting and shaping techniques as well. Even if you are not an experienced woodworker, you will surely be able to make cutting boards of different styles and designs perfectly when you have the best tools.
Find out what the local market wants when it comes to creative cutting boards. Have a clear idea of the latest trends that are used as cutting board designs and of course the cost of materials in your area. Once you have a clear idea of these things, you can proceed with planning our own cutting board business from where you are.
Device stands and display blocks
There are many display stands and blocks in the market these days however, none can compare with the beauty and value of a wooden stand or display stand. Wood is not just versatile but is also strong and efficient. There are many types of display stand materials like wood, plastic and rubber but wood is strong, elegant and is perfect for any kind of device and electronic gadget. So far, a number of wood device and display stands seem to stand out
Device stands made of a single wood slice
Device stand and watch display nooks
Key holder with device stand and watch holder
Jewelry holder and watch holders
Tablet holder and mobile phone charging docks
Display stands and blocks for stores, shops and retail outlets
If you think that making stands and display blocks is the best business to start then you are at the right track. Make sure that you understand the latest trend, visit actual stores and shops that use wooden stands. A good understanding about the newest display block ideas can help you start your plan.
Wooden jewelry box
Nothing beats the classic wooden jewelry box. And somehow, despite new and modern materials, the demand of wooden boxes to store watches and jewelry have increased. There are now wooden jewelry cases with unique lids, with mirror covers, with removable spaces and more. There are a lot of inspiring designs as well and you can find hand-painted boxes in a variety of colors.
You can make your own jewelry box design and sell them. You can add a unique feature on the jewelry box that you have designed to make customers want you r product more. Consider getting more exposure for your products when you join trade shows, conferences and business events.
Picture frames
Nothing could be as charming as a wooden picture frames. And despite frames made of metal and plastic have gone popular, wooden pieces are still chosen for their versatility, charm and cool designs. Picture frames are popular for almost all occasions and this is despite storing images and photographs in a digital storage device. Cool new picture fame ideas include:
Wooden digital frames
Wooden frames for portraits
Wooden frames for commercial establishments
Wooden frames for corporate gifts
You must have a clear understanding about the demand for picture frames from where you are located. Offer your services together with some kind of bonus or discount offers. You can offer free deliveries, guarantees, the use of computer printing and more. Getting to know your competition is also very important. Check out products that they offer, their pricing and new technologies and more.
Creative planter boxes
Are you into gardening and woodworking as well? You can make lovely planter boxes that are worthy of display. These planters can do more than just hold plants and are too pretty to keep out in the sun as well. You can make these planter boxes and sell them. Just some of the most interesting planter ideas include
Planters in the shape of animals like ducks, chickens, cats and dogs
Planters with wheels
Planters for a small urban garden
Planters for flowers
Planters for herbs
Planters for produce
Planters for cacti and more.
You can even have made-to-order planter boxes and personalized items as well. Planter boxes are very easy to make and can be made from scraps of wood or discarded wood so there is no need for a huge capital. You will find that this will be a worthwhile business venture in no time.
Wooden toys and puzzles
There are countless wooden toys and puzzles to play with and thee have become more popular throughout the years. You can choose wooden games like jenga, tic tac toe, chess and more. and for as long as there are kids and kids at heart, you won't run out of customers. Just some of the timeless wooden toys and puzzles that kids love are
Wooden animals
Wooden toy puppets
Doll houses
Wooden wheelbarrows
Wooden doll furniture
Wooden cars and trucks
Wooden towns, trains and tracks
Wooden beads and strings
Wooden counting toys and alphabet toys
Wooden shape toys and more.
Surely you still remember the overwhelming fun you have experienced when playing with wooden toys. And there is no doubt that there are parents that want this amazing feeling back despite the age where digital gaming, remote control toys and gaming gadgets are very popular. Your goal before you even start planning for this venture is to learn about the popular wooden toys according to your customers. You must learn all you can about the best techniques in making toys and even marketing techniques as well. You must also study your opponent well and find out about his products and strategies to prepare yourself for more updated project designs.
Aside from the mentioned woodworking projects, popular pieces like wall art, clocks and mirrors storage bins and boxes and wooden seats are growing trends. The key is to stay hip, trendy and creative. Remember, the more you create unique and interesting products the more customers you will attract.
Marketing your woodworking projects
Yes you may have great woodworking product ideas and have a lot of skill and good techniques but how do you plan to get your products out there? The only way to get more people to like your products is to offer products that they will like. You will find it hard to offer products that people won't find interesting. People are always looking for that "what's in it for me" factor which could make or break your product.
Consider making products that will bring value to your customers
So instead of just making fun wooden toys, make products that are educational. Parents will be more likely to choose toys that will have more educational rewards compared to just something that offers fun, fun , fun.
Use the right channels for your products
This is all about using various channels to take your products out there. Consider using social media such as Facebook , Twitter, Pinterest and YouTube to show off your products. Get people to follow you , like your posts and want more. write articles, create blogs and make websites that will showcase your products to your future customers.
Join tradeshows and fairs
Take your products to people, let them sit on it, use it, play with it or have fun with it in trade shows and fairs. Give customers a treat and let them know where they can place their order right away.
Update your contact details
Do not forget to update your contact details as necessary. Let people know where they can talk to you about anything about your products. Your website as well as all materials for your woodworking business like pamphlets and fliers should also contain correct information.
Conclusion
Woodworking is a great hobby and nonetheless a great way to earn money as well. Because of a steady demand for woodworking crafts and products there is no doubt that this is still a good venture. It is a matter of having a good working knowledge of woodworking strategies, the use of basic tools and good business practices, make a regular woodworker a successful businessman.
Do you have woodworking business ideas of your own? Let us know by dropping a comment below. And don't forget to share our article to people who have the same woodworking passion as you do if you like this post.
​