Throughout the course of history, people all over the globe have used available materials such as stone and wood to express their most sacred beliefs. Thus, century after century art has kept blooming, marked by the delicate concepts that carry the traditions of our ancestors. Below we have compiled a list of the most famous wood sculptures in the world with a mind to share the beauty, wisdom, and talent incorporated by the gifted master wood sculptors.
Above all, it is impossible to put art into strict frames. Hence, we truly believe that our carefully curated compilation is an inspiration for those who want to explore the path of wood sculpting art and feast their eyes. But certainly, we know that as the time keeps passing, this compilation is bound to keep expanding and evolving.
"The greatest artist does not have any concept

Which a single piece of marble does not itself contain

Within its excess, though only

A hand that obeys the intellect can discover it."

– Michelangelo Buonarroti, I Sonetti Di Michelangelo
No matter how many years come and go, Michelangelo's words will keep being relevant, for art knows no limits and is capable of transmuting the immortal wisdom of the Universe through time and space.
Now, let's delve into the gemstones of contemporary wood sculpting artwork that vivid the imagination and sparkle the flame of creativity by extending the boundaries of our perceptions.
1) Ben Butler's Abstract Wood Sculptures Art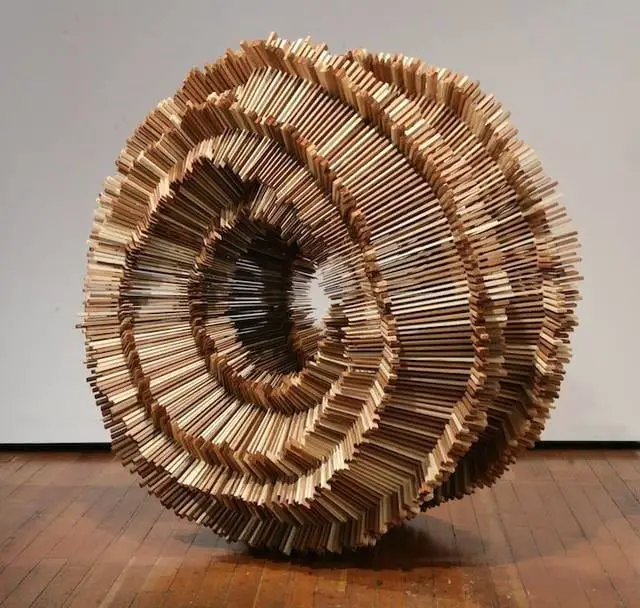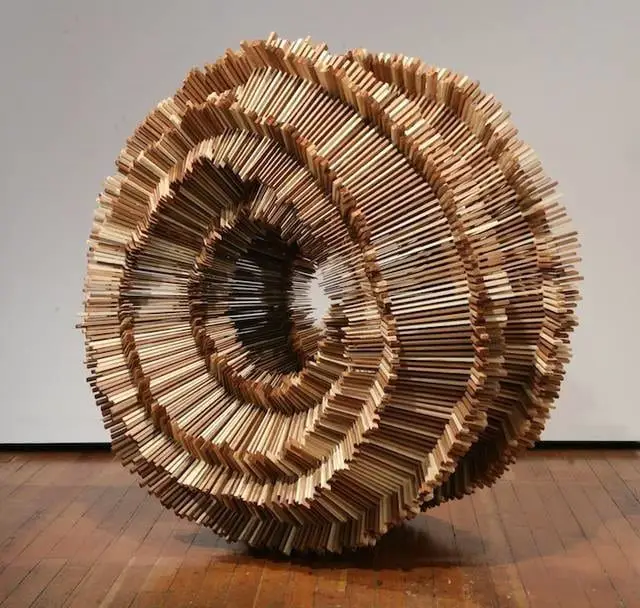 Ben Butler is an award-winning wood sculpting artist whose talent brings life to installations that look more like extraterrestrial masterpieces than anything made by a human's hand.
Once Ben Butler graduated the New York School of Visual Arts in 1998, he received a B.A. in Visual Arts from Bowdoin College, Brunswick, Maine, with high honors. It was in 2003 that Ben Butler got his M.F.A. in Sculpture from the School of Art Institute in Chicago.
What's more, he was an Assistant Professor of Art in the Rhodes College, Memphis, Tennessee from 2008 to 2015.
"My work rarely begins with drawings or preconceived images. I tend to approach materials directly, playing for an extended period, and discovering previously unforeseen possibilities for a system of construction,"

Ben Butler
Ben Butler shared in an interview for Rice Gallery about one of his mind-blowing installations – Unbounded.
2) Aron Demetz' Contemporary Wood Sculptures Art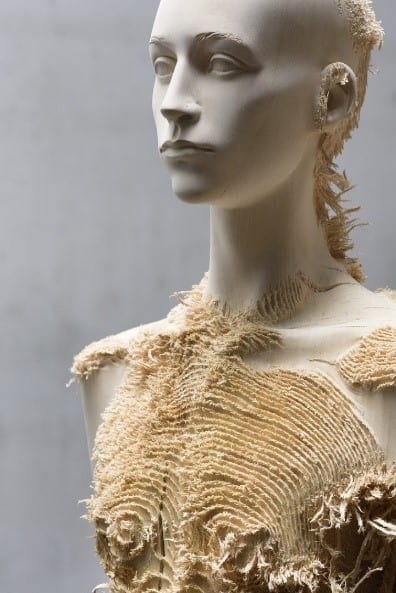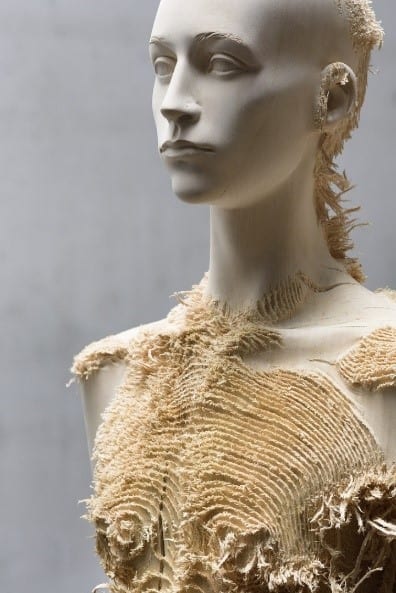 Aron Demetz was born and raised in Italy, where he was first introduced, and subsequently, enchanted by the traditional wood carving techniques. His incredible wood sculptors artwork has been exhibited in various galleries around the world, some of which include –
Red Desert, Artvera's Art Gallery, Geneva
Barbara Paci Art Gallery, Pietrasanta (Lucca)
Terreno Baldío, Mexico City
Inspired by the sacred connection between people and nature, Aron Demetz creates mesmerizing human figure sculptures.
Using resin has become a distinct part of his artwork. As if to highlight the fragility of humans, his sculptures called Untitled Group, showcased in the Barbara Paci Art Gallery feature a symbiosis of smooth and rough surfaces.
3) Donald Hess' Wood Sculptures Collection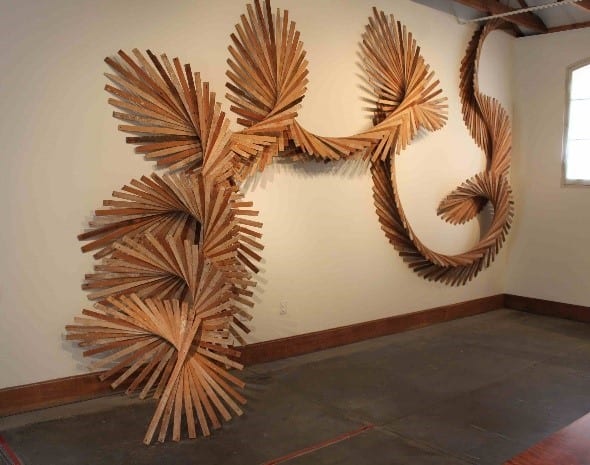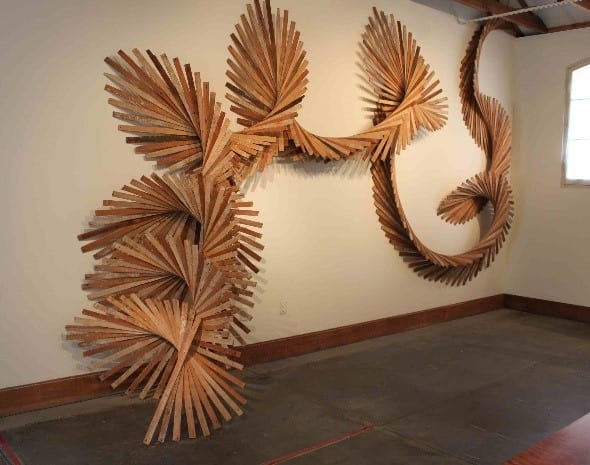 Donald Hess' journey through the world of art started when he was just a kid.
Donald was 12 years old – still a step away from entering his teen years when an incredible flame sparkled his imagination.
It was a seemingly ordinary day when Donald decided to ask his father an extraordinary question.
While spending time in his family home in Switzerland, Hess approached his father with the question why is there no art in the house? The traditional Swiss home of the Hess family had an impressing history of being 700 years old. However, the walls in the house were white and empty – something that made young Hess wonder what it feels like if art was part of their life.
Little did he know that years later he was about to become one of the most legendary art collectors in the world, gathering masterpieces for over 4 decades. Nowadays, his incredible collection of wood sculptures artwork (and more!) can be seen in the Hess Art Museum.
4) Hsu Tung Han's Stunning "Pixelated" Wood Sculptures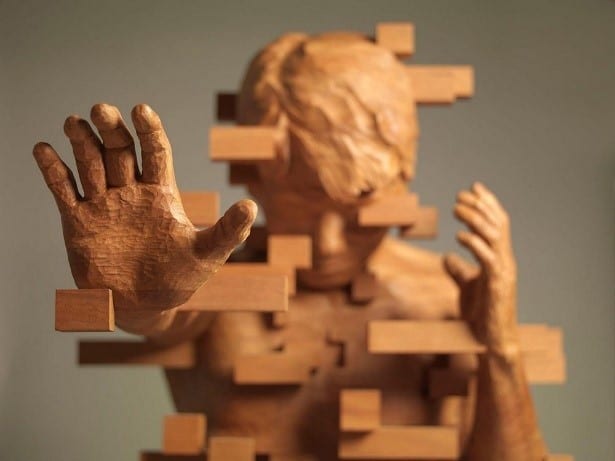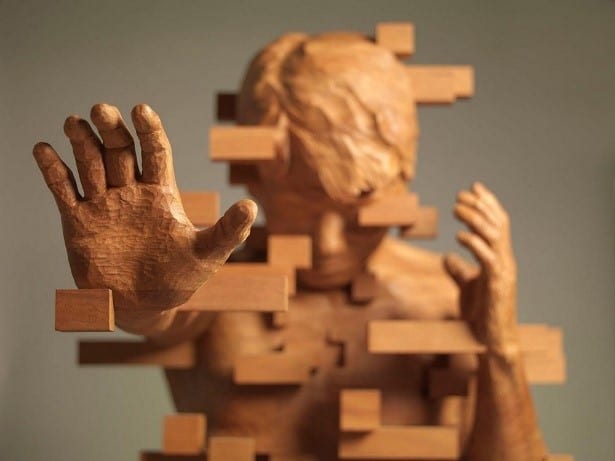 Hsu Tung Han is a contemporary artist who comes from Taiwan. His artwork has no equivalent globally, as he merges the past and the present into a multidimensional exhibition.
What's more, his wood sculptures highlight the thin thread that separates using technologies for progress vs. being enslaved by the technologies.
As if the concept of time travels through space and consciousness while gazing at Hsu Tang Han's wood sculptures, the contemplators are encouraged to self-reflect on the present, past, and future of humankind.
Certainly, Hsu Tang Han's artwork requires a unique approach to working with wood in order to achieve the mind-blowing "pixelated" effect.
For this purpose, he always starts with detailed sketches and clay models. Next, he proceeds with bringing the dynamic motion into his masterpieces by using only a single piece of wood.
His favorite materials include wooden blocks that come from African wax wood, teak, or walnut.
5) Maskull Lasserre's Wood Sculptures Masterpieces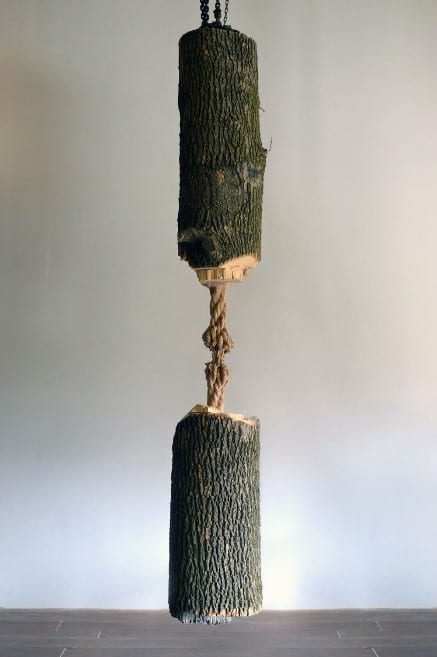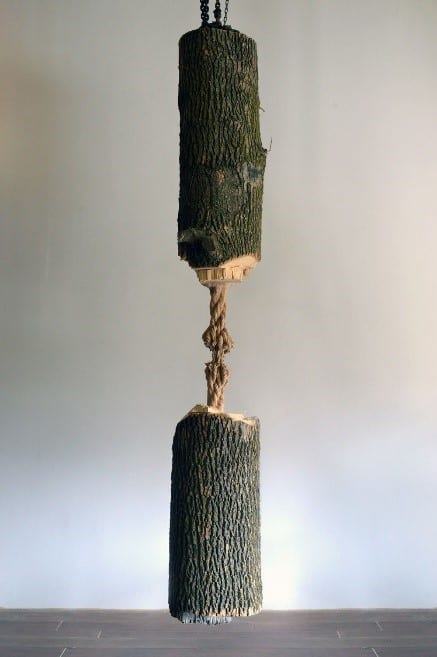 Maskull Lasserre's artwork objects "[]… are designed to pause at the brink of completion; to preserve a mystery, to hold a choice, and in so doing avert the stagnation that belongs to the fully-real… []"
Just like the carved log he created to look as if held by a rope that is actually carved from the wood, bringing together tension and a great curiosity to the contemplators.
But what's more, the artist states that he designs his work to project him "beyond the comfort of what I already know."
Certainly, this approach has helped him keep expanding his talents throughout the years. And indeed, it didn't take long before his artwork received the global recognition it deserves.
Up-to-date, Maskull Lasserre's artwork has been featured in various selected exhibitions such as the GRASSI Museum in Leipzig, Germany, as well as the Museum of Art and Design in New York, among others. Nevertheless, his masterpieces have become part of several selected collections, one of which is included in the National Bank of Canada, Toronto.
Maskull Lasserre obtained a BFA degree in Visual Art and Philosophy from Mount Allison University. Interestingly, he finished his formative school education in South Africa before returning to his home country – Canada.
6) Henrique Oliveira's Award-Winning Wooden Sculptures "Paintings"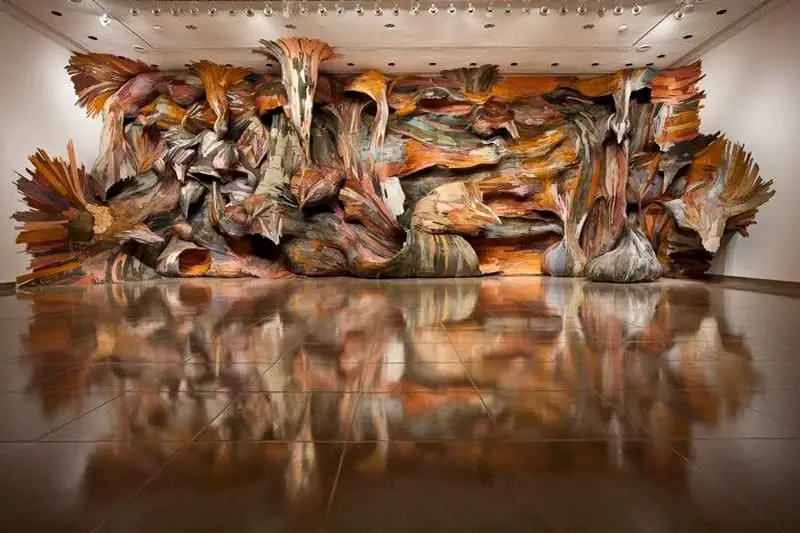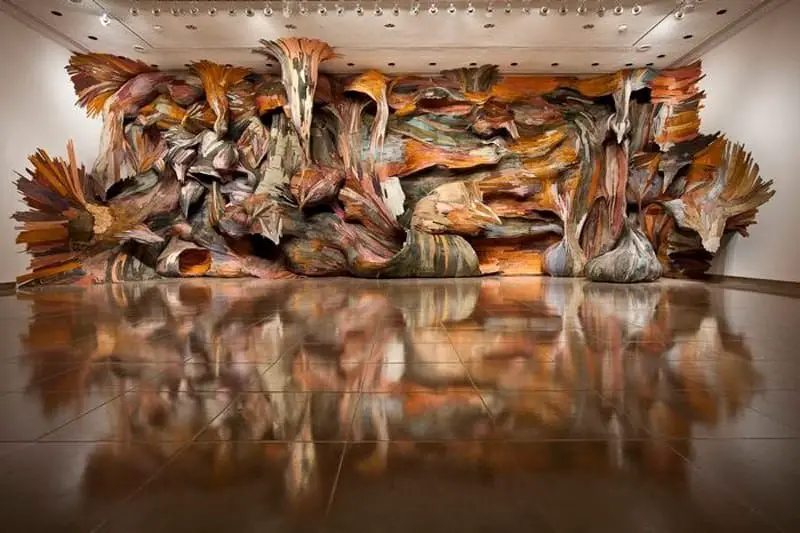 Henrique Oliviera's artwork is truly one-of-a-kind, just like his journey to discovering the beauty of working with wood to create his amazing wooden sculptures installations.
Shortly after he finished his study in social media in Sao Paolo, Henrique Oliviera opened a small studio right next to his father's woodworking shop that was "kind of abandoned" at this time.
Interestingly, Henrique Oliviera took the time to self-reflect on the meaning of art. Thus, little by little, he started exploring the potential of wood as a suitable material to incorporate into his paintings.
At the very start, though, he would merely focus on painting his artwork on canvas. Initially, he began to use wood scraps that served to "lend color" to his paintings.
Thus, mesmerizing amoeba-like wooden sculptures installations were born, merging large twists and curves to create what the artist refers to as "deconstruction of the form."
Wood gave Henrique Oliviera's paintings texture, escaping the typical flatness of the canvas. Moreover, carrying the "discoloration of time," Henrique Oliviera's wooden sculptures artwork is far away from anything conventional.
7) Jurgen Lingl-Rebetz' Lifelike Wooden Sculptures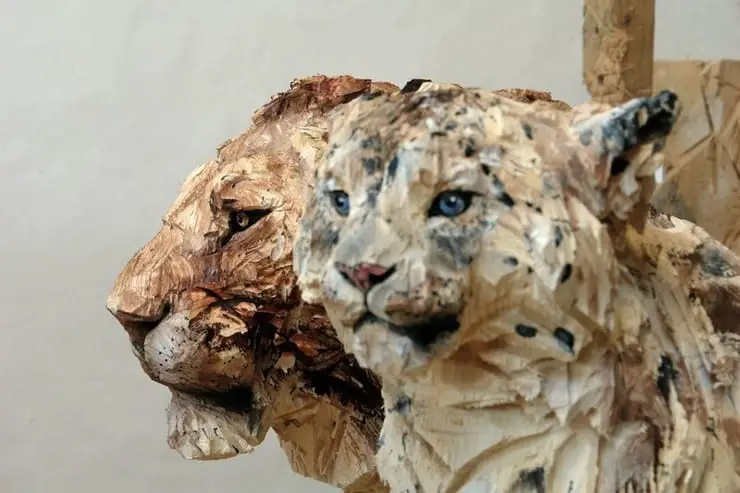 Jurgen Lingl-Rebetz was born and raised in Germany, and his passion for art has accompanied him ever since being just a little boy.
In his biography, Jurgen Lingl-Rebetz shares that as a kid he used to draw and paint everything that caught his curious eyes – from landscapes through people and animals.
When graduating from his apprenticeship with Master sculptor Hans-Joachim Seitfudem, his submission won the first prize in Munich and Bavaria.
However, it wasn't before 1996 that Jurgen Lingl-Rebetz moved to Switzerland and became an independent artist working with his chainsaw to create incredible, life-like sculptures.
From private to public collections, Jurgen Lingl-Rebetz' artwork is highly valued for its ingenious creativity that pushes the boundaries of three-dimensional chainsaw carving even further, thanks to the finishing touches with pencil and color.
8) Sergei Bobkov's Wooden Sculptures Artwork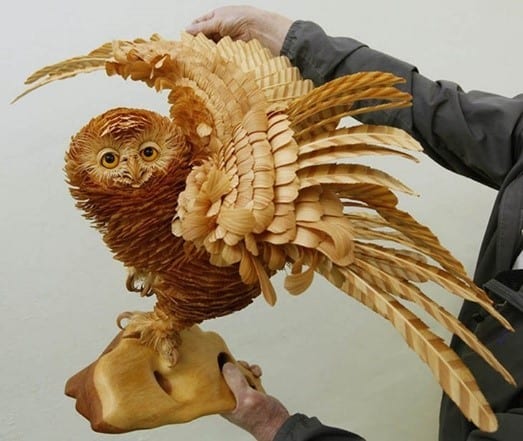 Sergey Bobkov was born and raised in Russia.
Surrounded and inspired by the beautiful nature of his home country where wood is a highly valuable material that has been used for centuries, Sergey Bobkov's wood sculptures have earned global recognition for the detailed, unique carving masterfulness.
Bobkov shares that he spends hours in research before he starts to work on the sculptures of particular animals in order to understand better the behavior and traits of the species.
Interestingly, he typically soaks the cedar wood in water at the very beginning of the carving process. Bobkov stays true to his claim that "It's not too interesting to do what others can," spending months of meticulous work to accomplish his ingenious, amazingly detailed wood carved sculptures.
9) Lutz Hornischer' Sculptures Made out of Reclaimed Wood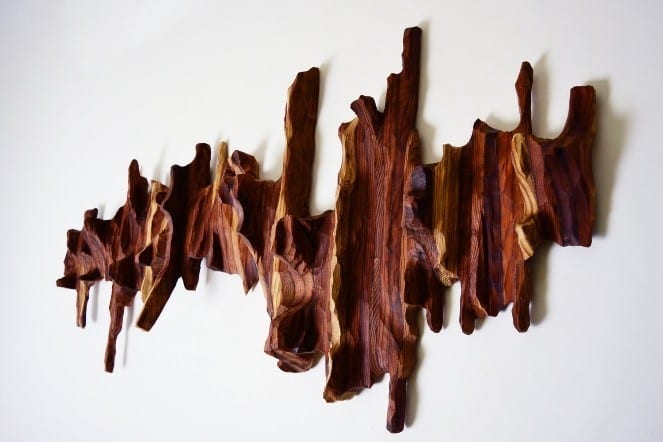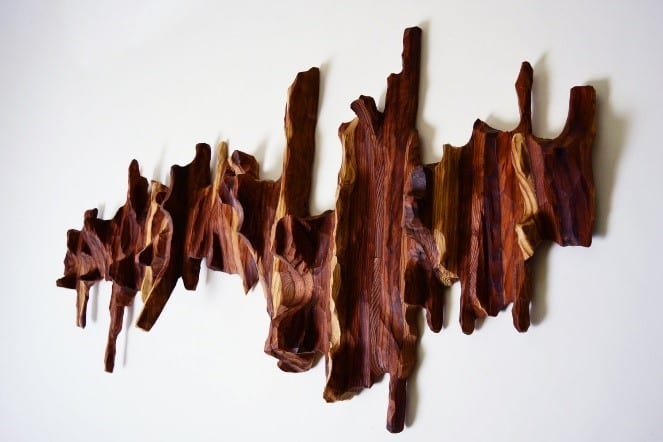 Lutz Hornischer's journey into the world of art started back in his childhood years. However, just like many other children, he was advised to get a "real job."
Although Lutz Hornischer did follow this advice and graduated with a Master's Degree in Business and Engineering, his passion for art did not come to an end even after working dedicatedly with high-tech business companies for years.
While reflecting back to his true purpose in his mid-life years. Lutz Hornischer decided it's time to pursue his dream career as an artist.
Thus, reclaimed wood became his inspiration.
"I prefer old reclaimed wood, mostly redwood. Old wood is to me like turning 40 or 50 – you have some dents, scratches, and cracks, you have seen a lot, enjoyed being around, withstood some hardship, but there is more to experience, new things to do and new adventures ahead,"

Lutz Hornischer
His wood sculptures artwork is set into 3 different series, namely Nature, Flow, and Energy.
Each of the series is guided by different idea dynamos, such as mountains and plants for the Nature collection, and the uniqueness and "flow of the grain" for the Flow collection.
While there are many wood sculptures that have received world recognition and exhibition in various collections and museums, Litz Hoirnischer creates his artwork with a mind for bringing the beauty and wisdom of the wood sculpting craft into the homes of people around the globe.
10) Tim Byrns' Wood Sculptures Artwork with a Tribute to Mother Nature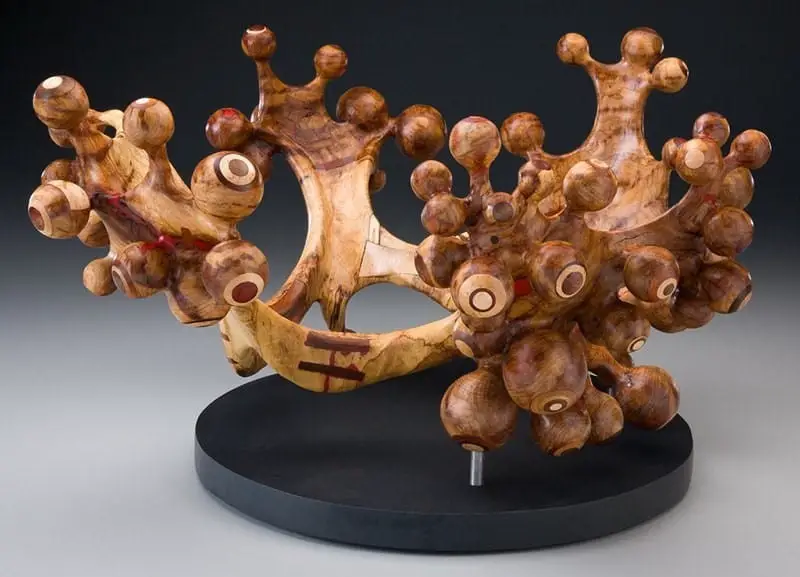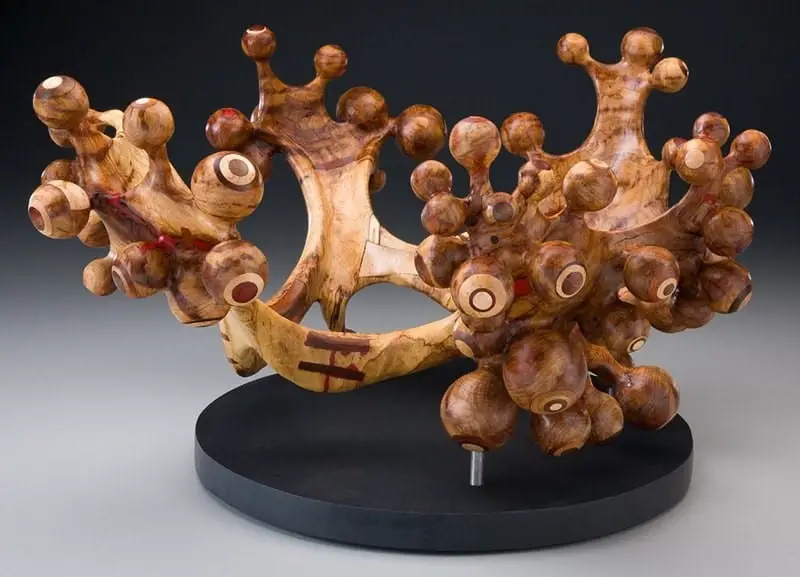 Tim Byrns wood sculptures bring a unique sense of environmental awareness to the contemplators.
It is through sculpting bizarre, rare creations depicting some of the most curious forms of life on the planet, such as jungle fungi and mesmerizing sea creatures that Tim Byrns manages to represent the power of Mother Nature.
And indeed, nature is the greatest artist, bringing creativity to unseen dimensions that keep enchanting the minds of people all over the world.
Through his wood sculptures artwork, Tim Byrns aims to put a focus on the constant cycle of renewal in nature. Since destruction is also a part of this cycle, Tim Byrns often lets cracks and other damage of the wood material to be left visible in order to convey the true message of the artist.
11) Gabriel Schama's Laser Cut Wood Sculptures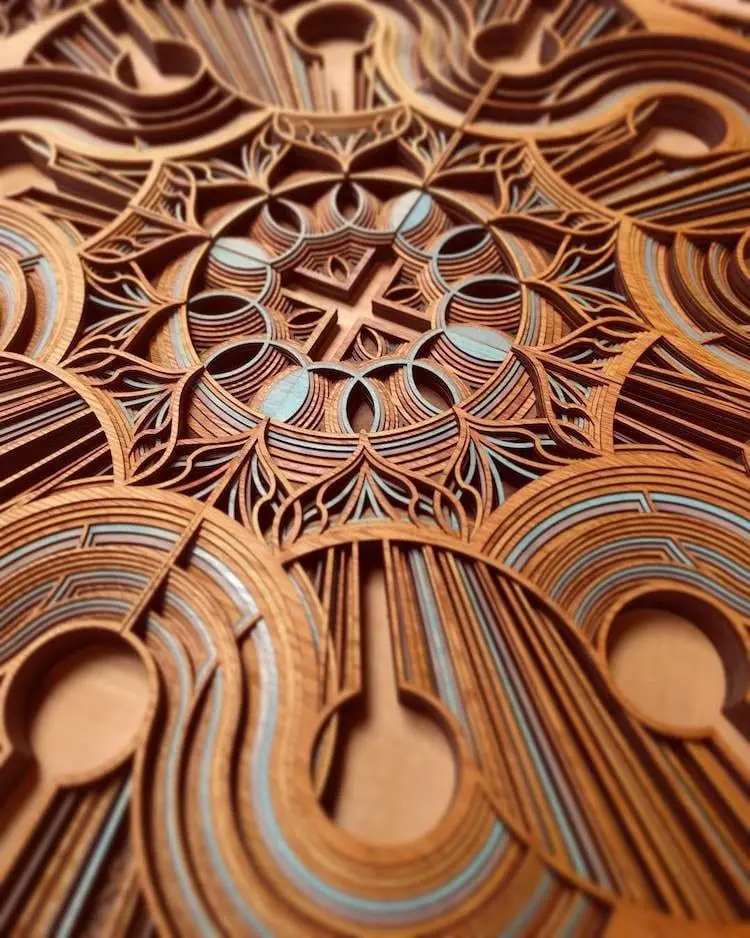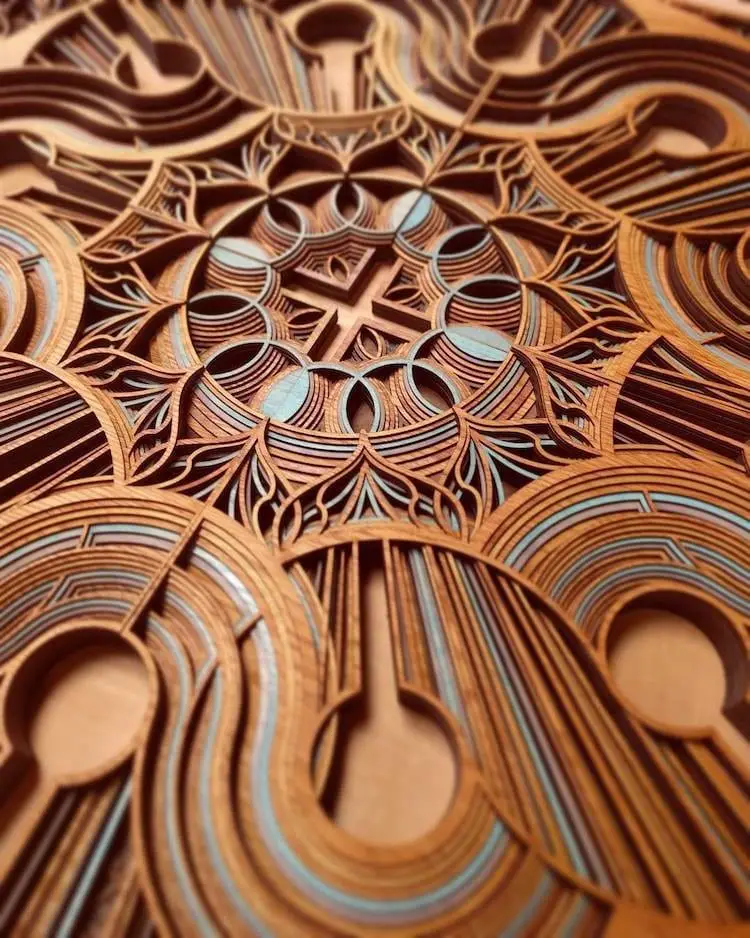 Gabriel Schama's unique artwork has managed to grab the hearts and attention of thousands of people around the globe. And indeed, Gabriel Schama's style cannot be possibly mistaken with that of any other artist.
Using thin layers of plywood, he creates geometrical shapes and patterns that twist into a 3-dimensional perspective.
As if hypnotized, the contemplator can lose track of the time that passes by while admiring the detailed sculptures.
Since 2016, Gabriel Schama has upgraded his unique style even further by playing with color to bring the swirling abstract masterpieces to the next level.
12) Dorit Schwartz' Reclaimed Wood and Crystals Sculptures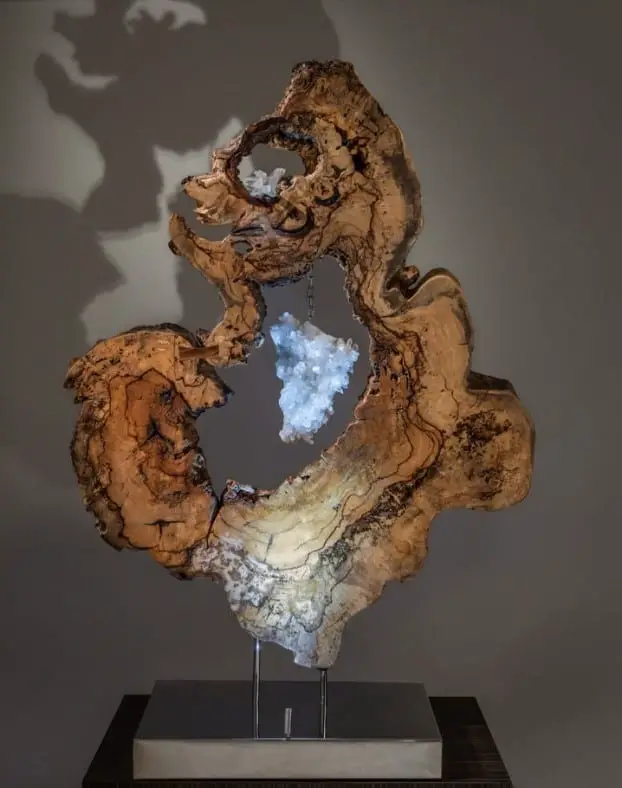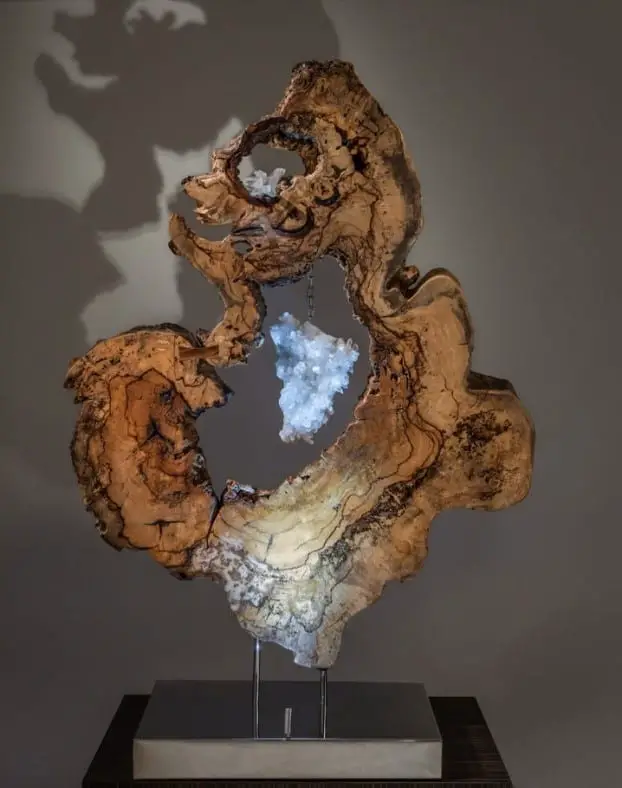 Dorit Schwartz' wood sculptures artwork brings together the beauty of wood and crystals into a poetic fairytale. Beautifully, Dorit Schwartz' journey into the world of art started from a very early age when she was "intrigued by the diversity of nature."
After finishing her studies in Fine Arts at the Wizo Art School in Tel Aviv, 17-year-old Dorit moved to LA, California.
Throughout her career, she has never stopped exploring the beauty of diversity. Thus, she has worked with clay before moving to marble carving, and later on focusing on crystals and wood.
"Art is a bridge to the human spirit. My sculptural work exists to evoke feelings, to awaken people; to dive straight into the depths of human strength and fragility,"

Dorit Schwart
Schwartz shares in her artist's statement.
13) Willy Verginer's Ingenious Wood Sculptures Artwork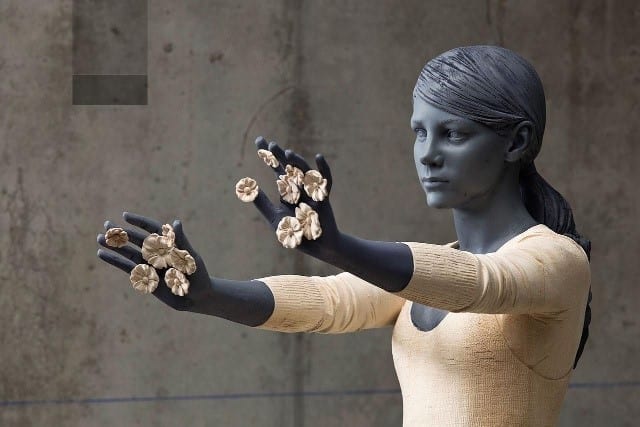 Willy Verginer is an Italian artist based in South Tyrol. His incredible wood sculptures have been in the spotlights of numerous international galleries and collections.
It is no wonder how Willy Verginer's art has managed to reach out to such a wide audience globally because of the distinct style of the wood virtuoso. At the very first sight, one can easily think that the surrealistic sculptures are made out of stone.
By adding color to his finished wood sculptures masterpieces, Verginer manages to further allure the senses of the contemplators into another dimension where boundaries simply disappear.
14) Chris Isner's Ayahuasca Inspired Wooden Sculptures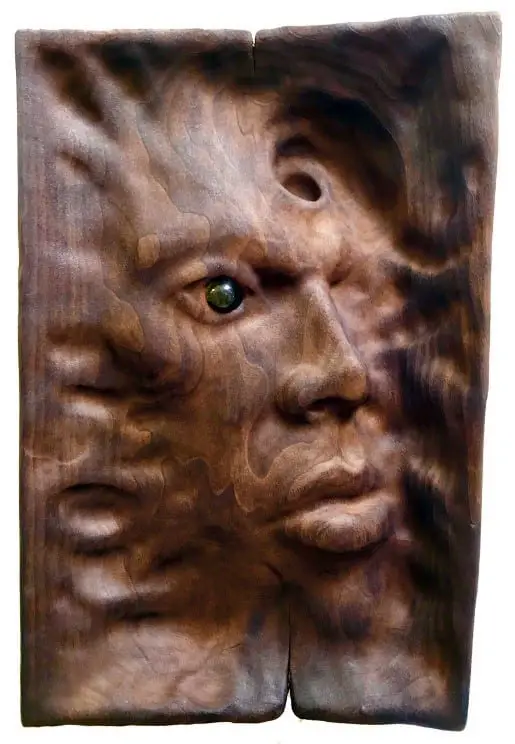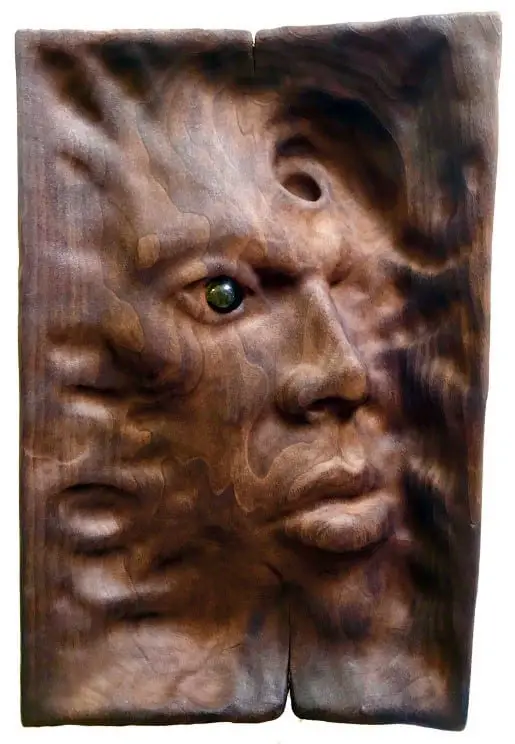 Chris Isner is the type of artist who proves that talent flows through the veins, hearts, and minds of the gifted masters to bring the ancient wisdom of the Universe to the contemplators.
"If you want to see reality, close your eyes and look,"

Chris Isner
Amazingly, Chris Isnar was introduced to the ancient woodworking technique he uses in the creation of his unique sculptures after his Ayahuasca trip to the inner realms of Universal Consciousness.
Moreover, Chris Isner has embraced the mission to teach kids in the jungles where his journey as an artist began. Thus, he helps to preserve the ancient woodworking techniques but also helps kids learn how to sustain themselves through creating art.
The Bottom Line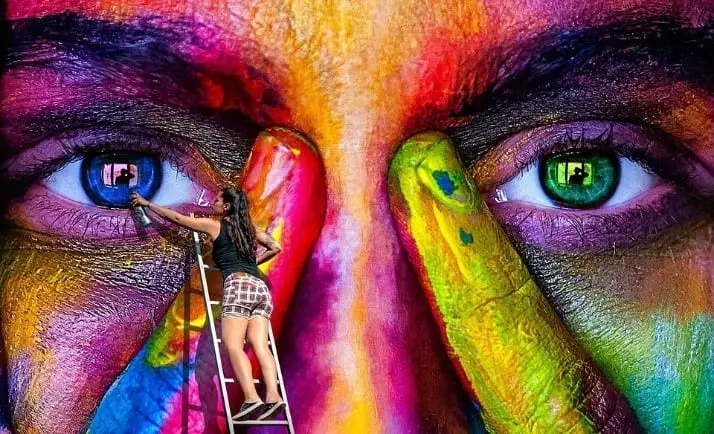 "Art enables us to find ourselves and lose ourselves at the same time."

Thomas Merton
This beautiful quote by Thomas Merton applies equally well to the art of wood sculpting.
We hope that the list of the most famous wood sculptures in the world has helped you get lost and found, or may be found and lost over and over again up to a point when the worries and stress from daily life vanish to give way to a higher awareness of the amazing journey we call Life.