Are you looking for a way to freshen up the already existing finish of wood furniture? I feel you! Just about a year ago, I felt trapped in the misconception that you cannot possibly revive the surface of wood which has a topcoat without first stripping off the basic layer.
However, there is an alternative. In the case the topcoat is still in good shape, you can simply go over the surface with the gel stain with no need to remove the old topcoat before applying a new one. Still with me? Check out how to apply a gel stain to the finished wood.
What You Will Need To Follow This Tutorial
A clean piece of cloth
Dry and damp paper towels
320 grit sandpaper
400 grit sandpaper
Sanding block/sponge
Water
Gel stain
Gloves
A brush
Staining pads
Topcoat
A Quick Pro Tip
If you check out the instructions on the label of most gel stain products, you will notice that the recommended time for curing by the manufacturers is estimated at approximately 6 – 10 hours.
However, based on my personal experience working with gel stain, you will want to (at least) double the drying time for best results. That means letting the gel stain cure for a good 18 – 24 hours.
Step By Step Tutorial: Applying Gel Stain To Wood On (Already) Existing Finish
Step 1 – Clean and sand the wood carefully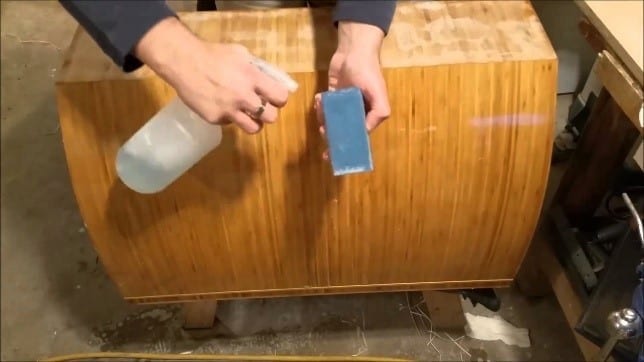 Image Credit: youtube.com
First things first, before you get down to sanding the wood you want to wipe the surface with a clean piece of cloth in order to remove any traces of dirt. Dip the cloth in clean water and gently swipe it over the wood. Don't waste much time cleaning the surface, though.
What follows is wet sanding. Wet sanding will help you avoid causing harm to the previous finish.
Also, make sure to wrap the 320 grit sandpaper to a sanding block or opt for a sanding sponge. Doing so eliminates the pressure put on the already existing topcoat. Thus, once you are done, there will be no blotchy spots due to aggressively harming the upper layer of the finish.
Afterward, go through the surface of the wood with a clean, dry cloth. Wait until the area is completely moisture-free before you proceed with the next step.
Step 2 – Time for some more sanding
Now, you don't want to repeat the process of wet sanding. Instead, wrap the 400 grit sandpaper around a sanding block and simply go through the dry wood surface once again.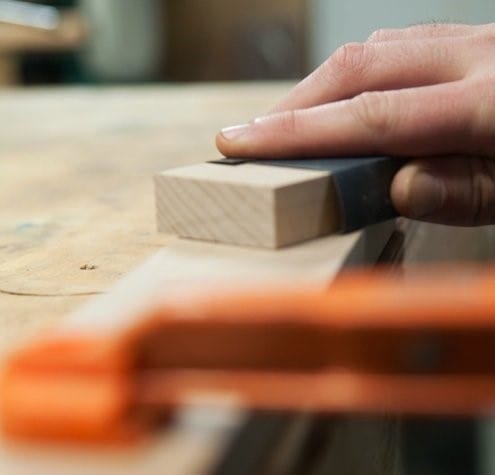 Image Credit: bobvila.com

Use a light hand and don't apply too much pressure. Finally, get rid of any remaining particles with a combination of damp and dry paper towels. Let the surface rest and dry out thoroughly within the following 30 minutes.
Step 3 – Apply the gel stain
Before you start with applying the gel stain, don't forget to put on your gloves. The stain is sure to get all over your hands so there is no other way to stay clean but to protect yourself with suitable gloves.
Image Credit: bobvila.com
Next, get down to gel staining! With a brush, apply a thick layer to the wood surface (a foam brush works best but any other will do). Once done, proceed with wiping off the excess quantity with a staining pad. You may need to go through the treated surface more than a few times before you can finally see there are no traces of the stain left behind (including all corners and tiny edges).
All that's left to do is to cure the stained piece of wood. Don't forget to keep in mind the pro tip we listed above. Proper curing will reward you with better final results. Lastly, simply apply the topcoat of your choice and enjoy your creation!
Well, it wasn't much of a big deal to refresh the existing finish of the wood surface with gel stain, don't you agree? Personally, I was pleasantly surprised by the ease of the entire process.
Although, admittedly, I neglected the importance of using protection gloves during my very first trial. Anyways, being a DIYer is about embracing trials and errors, right?
If you had a good time reading this article, we'll be happy to hear more of you in the comment section below. Show us some support by hitting the Like and Share button!