If you are willing to learn how to make wood joints, then I'd like to congratulate you for the deep passion and enthusiasm you carry in your veins as a woodworker!
It has been several years ago when I took the first leap towards making wood joints. Indeed, the process takes a lot of efforts, willingness to swallow the trials and errors, and nevertheless – a genuine desire to become better with all things woodworking related.
The good news is that nobody gets born a perfect wood joints master. One of the most important things you need to remember is that you can't make it without constantly upgrading your arsenal of tools. Plus, the more you practice, the sweeter the rewards.
Check out the tutorial we have compiled for you. We will go through the simplest but most popular types of wood joints. We are listing the essential tips you want to know in order to pick and make the most suitable joints for your next DIY masterpiece.
What You Will Need To Follow This Tutorial
Mind that you will not need all of these tools in order to make wood joints. However, as the different types of wood joints will require different instruments, we are compiling all of these in the neat cheat sheet below.
Screws/nails
Glue
Biscuit joiner (aka Plate joiner)
Dowel kit
Mitre biscuit jig
Dowel mitre
Speed square/ Combination square
Mitre saw
Table saw
Router table
Route cutter
Marking gauge
Chisel
Mallet
Marking knife
Pencil
G Clamp
F Clamp
Quick Pro Tip
In order to master joinery techniques, you need to focus on planning and researching properly. Does this sound way too fluffy? Maybe. But the truth is, taking the time to research and pick the most suitable joinery techniques for your project makes the biggest difference between amateurs and pros.
Step by Step Instructions for Making Wood Joints
1 – Butt Joints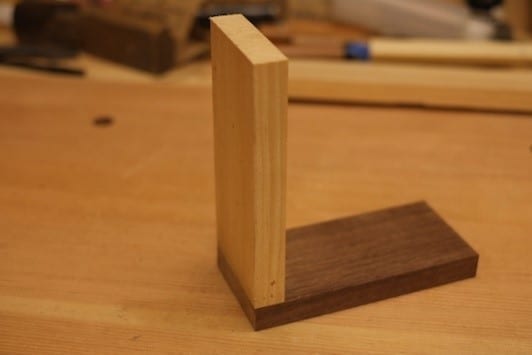 Image Credit: woodworkingempire.com
Usage: Frames for cabinets; door frames
Difficulty: Easy (butt joints are among the simplest wood joints you can make)
Strength: Weak
Tools you will need: Glue, nails/screws
Tips for making butt joints:
use long screws to increase the lateral strength
use a Biscuit joiner or a Dowel kit to reinforce butt joints and make them more durable and stronger (in such case you will create the so-called Dowel joints and/or Biscuit joints)
insert the butt joints through pocket holes to make the joinery invisible on the outside


2 – Mitre Joints
Image Credit: startwoodworking.com
Usage: Moulded frames around doorways and/or windows; picture frames
Difficulty: Easy to intermediate
Strength: Weak
Tools you will need: Mitre saw/table saw, measuring tool; Dowel mitre/Mitre biscuit joint
Tips for making Mitre joints:

the 45 degree is your top target when making Mitre joints. Even a small degree of error (such as cutting at 45.2 degrees) can spell disaster so be calm and precise
you can strengthen Mitre joints with the help of dowels, biscuits or splines
3 – Half Lap Joints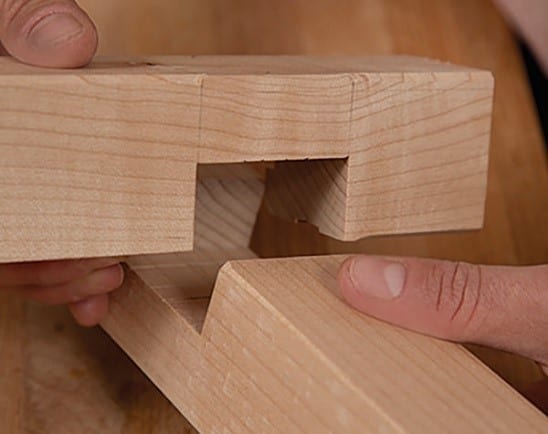 Image Credit: woodworkersjournal.com
Half Lap Joints are also known as Halving, Lapped or Halved joints.
Usage: Half lap joints provide a 2 strong surface of the join
Difficulty: Easy to Intermediate
Strength: Weak to medium
Tools you will need: router cutter, router table, router, rule, marking knife, pencil, F clamp and G clamp, mallet, chisel, square, bench hook, marking gauge, saw
Tips for making Half Lap Joints:
it's crucial to saw cuts perfectly inside the lines. Doing so will help you to finish exactly on the line with a chisel
you can screw or nail Half Lap joints for extra strength

While we focused on some of the easiest and most commonly spread types of wood joints, there is much more to explore when it comes to timber joinery techniques. Even though these are only the basic woodworking joints, you will most certainly need them in your life as a woodworker.
If you want to find out more about the strongest wood joints, then you need to get familiar with Dovetail Joints.
Did you learn something useful from this article? Your support keeps us going! We'd love to see your thumbs ups and shares to help us spread the good vibes. Don't be shy and join us in the comment section below at any time.