There are things that you need to consider once you will be planning to conserve an unfinished wood. One of the things that you need to look at is the surface that it has. See to it that it really needs a cleaning. It is important to consider if the surface is stable. It is also crucial to know if there are powdering, flaking, or if the surface is actually fragile.
If you are planning to clean unfinished wood to also see if there are any patina present or any remains of surface coating on it. If you think that the space that the wood has is unstable or has historic deposits then you will need to refer the cleaning to the professional. If it doesn't have any of these issues then cleaning it yourself is always possible.

What you need to have:

Soft brush
Vacuum cleaner
Smoke or chemical sponge
Erasing compound
Adhesive rubber
Absorbent cotton
Applicator stick
Ways to clean an unfinished wood
1) Soft brush and vacuum cleaner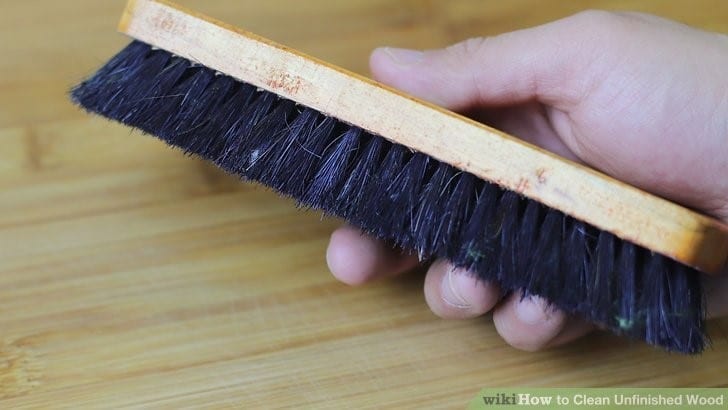 Image credit: wikiHow
Once you will have a surface that is stable then it can be safely cleaned of loose dirt by using a paintbrush and a vacuum cleaner. If you have a brush that has a metal component on it then see to it that you will wrap it with masking tape to prevent scratching the surface of your wood. By using a gentle flicking motion, brush the dust from the surface and lead it into the vacuum cleaner nozzle. You need to cover the nozzle with a finer mesh filter. You need to use a vacuum cleaner that has a speed controller to regulate the suction power that it has. If there is a powdery surface then you can still use a soft brush to clean it but do not include the vacuum cleaner.
2) Smoke or chemical sponge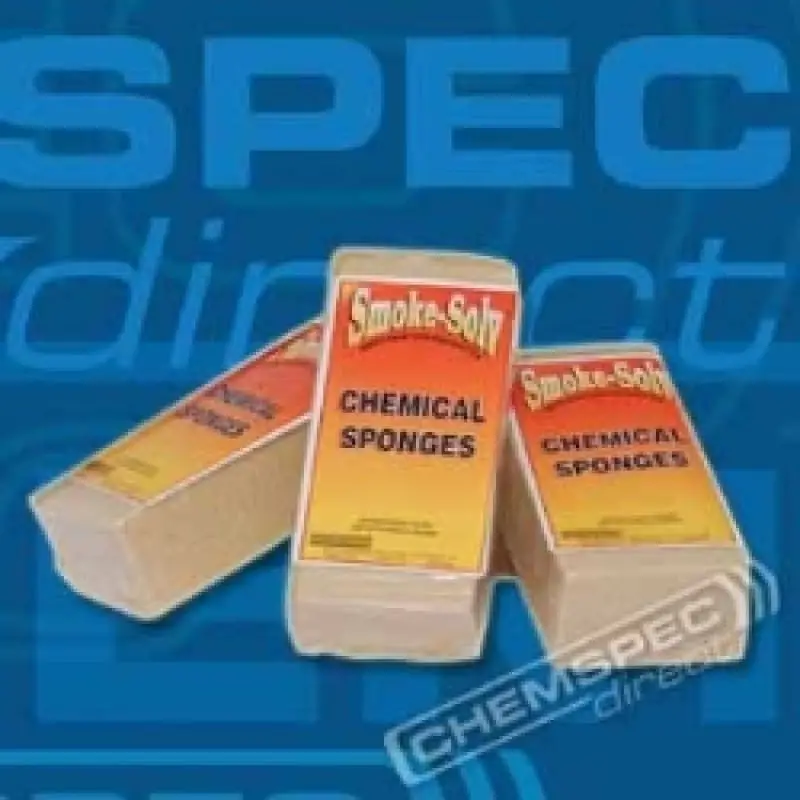 Image credit: Chemspec Direct
This is known as dry cleaning or soot sponges. It is a material can be used with detergent and is effective in picking up the dirt from the bare wood surface. You can do this by gently pressing the sponge or roll it over the surface. You need to remember that pressing firmly is not to be done as this can loosen the embedded particles in the surface. Once the sponge becomes soiled then you can opt to cut it away to reveal a fresh surface and continue with the cleaning.
3) Erasing compounds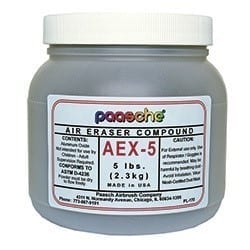 Image credit: Colours Artist Supplies
Also known as an eraser crumb, it is an effective and gentle method of removing dirt from a bare wood. There are several types of erasing compounds that you can find in the market with various grind size. You have to use the erasing compound together with an absorbent cotton. Gently rub the surface in a circular motion. You need to avoid doing hard rubbing. Once you will see that the rising compound becomes grey with dirt then they are no longer useful. You need to know though that removing dirt using this material can be challenging. You will experience this one once you will have an uneven surface.
4) Adhesive rubber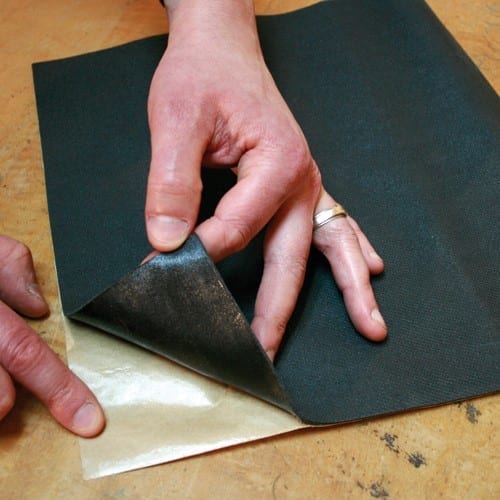 Image credit: Eagle America

Adhesive rubber or also known as groom or stick is a natural rubber material that is needed on the surface. It is sticky and attracts dirt. If you plan on cleaning the wood surface using this material then you will need to press it on the surface and to rub it. You can also choose to attach a small portion of the material on an applicator stick and gently roll it across the surface.
If you want to clean areas where you have limited access then this material is very effective. Once the material becomes dirty then you can tear it open to reveal a fresh and tacky surface that you can work with it again. The aim when cleaning with this material is to have consistency in appearance. You should avoid over cleaning since this material is already efficient enough.

Conclusion

Once you will pan to clean an unfinished wood then always determine if it really needs cleaning. You need to remember that cleaning techniques have the potential to damage the bare wood surface and will alter it to some degree.
If you have any unfinished wood then you need to make sure that you will do conservation method to avoid the need for cleaning.
If you have unfinished wood artifacts then you must use gloves and dry hand when handling them. If you are storing them on the other hand, covering it with cloth is helpful to prevent spoiling.