Drying wood is necessary to make it more efficient. There are many ways to dry or season wood for construction and for heating. You can try the most common air dry technique but this takes a very long time to do.
There are quicker ways to do it like in a kiln or conventional oven. This is mostly used by lumber manufacturers to dry wood quicker and in a more efficient manner.
This guide will walk you through the most popular drying technique, especially for wood slices.
The different drying techniques
The time it would take for the wood slices to dry depends on the type of wood where it came from, its moisture level, the thickness of the wood and any processing technique used on wood.
The most important thing to remember is that you cannot rush the drying process. You will reduce the chances of cracking or splitting the wood when you do this slowly.
Things you will need
Sealant (Anchorseal, melted wax, varnish or oil-based enamel paint)
Large paint brush
Conventional oven
1) End grain preparation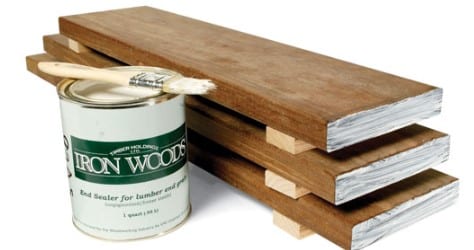 Source: https://www.popularwoodworking.com/techniques/ipe-wood-or-metal/
Sealing the end grain will slow down the drying process which is actually an important thing to consider. This reduces cracking of wood. There are many commercial products to use like Anchorseal.
Follow the manufacturer's instructions on how to use this product. You can also use melted wax. Any type of wax can do for as long as it is enough to cover the end grain of the wood.
You can use varnish or any oil-based enamel paint. This kind of pain will work as a water barrier. Never use latex paint because this will become porous when dried. Keep in mind that the thicker the coat, the better the drying. It is definitely a good idea to completely or heavily seal the end grain.
2) Using a conventional oven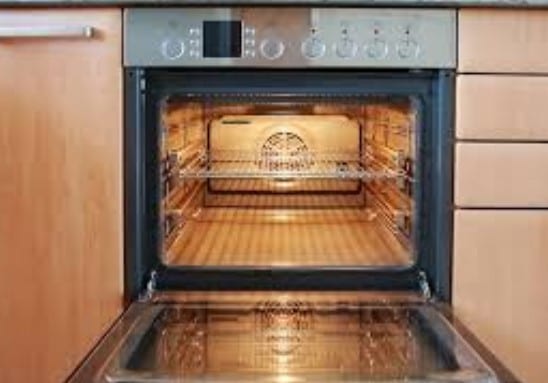 Source: http://www.absoluteappliancesrepair.com/conventional-vs-convection/
Set the oven temperature to 215 degrees Fahrenheit. When the oven is ready, place the pieces of wood on the oven racks. "Cook" slowly at least for over 24 hours for effective results. The number of hours it would take to dry wood in a conventional oven depends on the wood's initial moisture level. You should aim for at least 24 hours in the oven. Measure moisture levels every hour using a moisture meter.
3) Stacking wood
Source: https://www.wisegeek.com/what-is-kiln-dried-lumber.htm
Air drying or stacking wood is a slow but sure process in drying wood. The trick here is to allow air flow in and around all sides of each piece. The more air you allow, the quicker your wood will be able to dry.
You can successfully dry wood using this method by putting spacers horizontally between layers of wood, and allowing space between each wood piece for easy air movement. Place your pile of wood in a well-ventilated area to improve airflow and therefore improve drying time and success.
You can also use this method indoors so that wood may be sheltered from the rain. But when storing indoors, use a fan to circulate air through the room which will help increase the air flow and thus shortening drying time.
You may also place your pile of wood under an overhang outside. Never cover the wood because it defeats the purpose of allowing air to flow through the pile.
Dealing with thermostats
A common issue that you may encounter when using a conventional oven is thermostat inaccuracies. Ovens may not be able to maintain high temperatures; even the top oven brands may have temperature inaccuracies. You cannot always rely on oven thermostats; if this fails even for a few minutes, this can negatively impact the drying of wood.
One way to remedy this is to use a heat sink within the oven. This will ensure the area remains heated to a certain temperature level. Aside from conventional ovens, you may also try microwaving. This is a good idea, especially for small wood slices. You may only need to heat wood for 10-20 seconds and then repeat the process every 2 minutes.
Conclusion
Drying wood slices can be done using an air drying or stacking method and also by using a conventional oven. The drying rate depends on the type of wood, the thickness of the wood, the level of moisture and any other techniques used to prepare the wood. Considering all these factors will help dry wood better and quicker.