Learning how to get nail polish off wood should be very easy if you follow these guidelines. Spilled nail polish can ruin the beauty of your wood furniture.
It is essential that you know what you are doing when getting rid of nail polish. You want to make sure that you don't do damage to the wood.
And before we proceed with the instruction, it is important that we gather all the materials that we need.
Materials Needed
Cotton
Tissues
Soft cloth
Rubbing or denatured alcohol
Nail polish remover
Detergent and warm water
Sponge
Step-By-Step Instructions
Step #1
After we collect all the materials that we need in order to get rid of nail polish off wood, the next thing that we need to do is to assess the wood item or furniture.
You need to make sure first the quality of your wood. Check whether or not the wood that you have is very porous. Different woods have different porous qualities.
Image Credit: i.pinimg.com
Step #2
If the nail polish on the wood is still wet, then it is necessary that you apply even pressure to the stain. You can use cotton, tissue, or soft cloth. It is essential that you apply gentle pressure during the removing process.
Some experts suggest that you use a rubbing or denatured alcohol, but you have to be very careful when using these kinds of solutions. Always try to go in the direction of the grain.
Again, it is essential that you only apply light pressure and that you do not rub the nail polish aggressively. Rubbing it harshly can damage the wood.
Image Credit: wikiHow
Step #3
After rubbing the alcohol on the wood, you need to lightly scrub it after a few minutes. You need to check whether or not the nail paint is coming right off. Wait for the alcohol to dry and then rub it again.
Always use a clean cloth when scrubbing nail polish off the wood. You can also use nail polish remover aside from using rubbing or denatured alcohol. It is vital that the nail polish remover that you are going to use is top quality.
Always check whether or not it is safe for your wood items. Avoid those nail polish removers that contain strong and harmful chemicals. Again, always check the solution or check the manufacturer.
There are some wood experts out there who suggest that you don't use nail polish remover since it will likely do more harm than good since it leaves unwanted color.
Before you use nail polish remover, you have to check and test it to other wood first.
Image Credit: biohomecares.com
Step #4
It is also advisable that you use detergent and warm water when removing nail polish off the wood. What you need to do is mix the detergent with hot water and then put it inside a sprayer or mister.
The detergent solution should be able to get rid of the nail polish. You will then get a sponge and then try to rub the area while spraying the detergent mixture.
After rubbing the area, spray it again and then let it sit for about 20 to 30 seconds. Don't rub it yet.
Image Credit: Reader's Digest
Step #5
After allowing the detergent solution to sit, you will then clean the area with the sponge. Make sure that you are using a clean and soft sponge. Repeat the process if the nail polish is still there.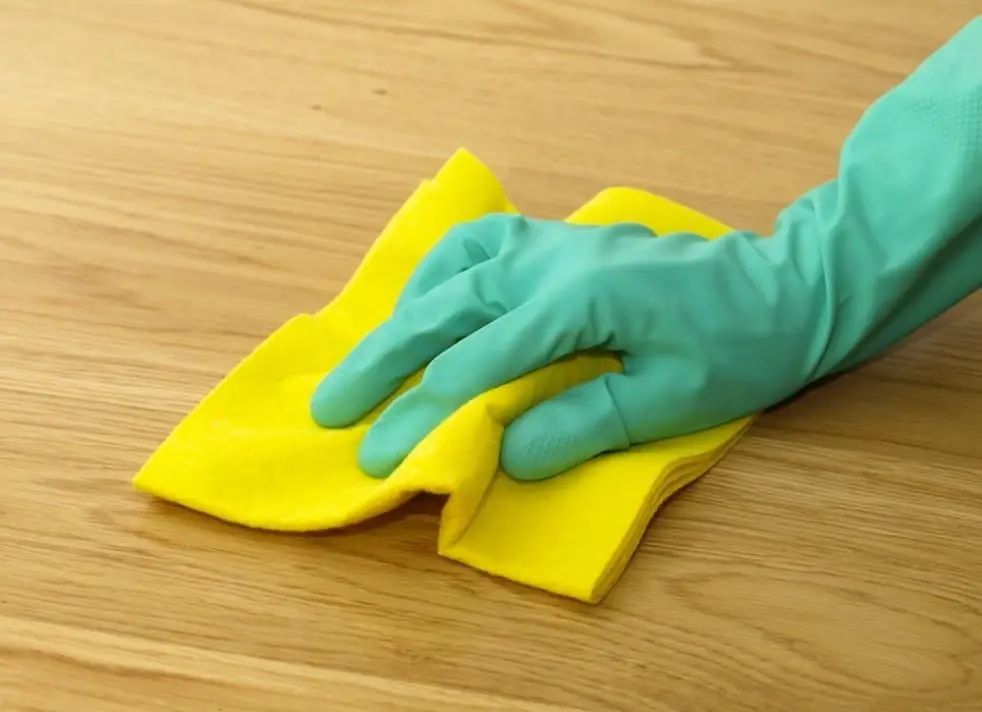 Image Credit: bles.com
Conclusion
You have to be very careful when rubbing your wood with certain solutions or chemicals. Your goal is not only to get rid of nail polish off the wood, but it should also be your goal to make sure that the quality and appearance of your wood item or furniture is preserved.
Asking recommendations or pieces of advice from individuals who have tried getting rid of nail polish of their wood item or furniture is also a wise thing to do.