Getting vinyl to stick to wood could be a challenge because wood is actually not the best choice for this material. Unsealed wood, plywood, and painted plywood are not good substrates for vinyl.
Vinyl is an adhesive-backed film that is expected to last for years indoors or even outdoors in all kinds of weather. Special techniques can be used to get vinyl to stick to wood, even course, and untreated wood.
Sticking vinyl to wood basics
To make vinyl stick to wood is done by using the right adhesive, the ideal wood treatment and by using the correct substrate material. Here are some pointers to follow.
Things you will need
Vinyl piece
Sandpaper
Solvent adhesive
Clean cloth
Instructions
Step #1 – Choosing the ideal substrate
To make vinyl stick to the substrate longer, you need to choose the ideal substrate material. Take note that this is the most crucial part of sticking vinyl on wood so take your time. The adhesive must have a firm bond with the substrate, therefore, you need a very smooth substrate.
Rough surfaces like unfinished wood will not provide a sufficient bond with adhesives used on vinyl. The vinyl may stick initially but most likely it is going to come off.
Step #2 – Heavier substrates for larger vinyl pieces
If you are placing large vinyl graphics on wood, choose heavier substrates. The most compatible options will be aluminum composite materials which are products made from a sheet of aluminum laminated to a thick and strong core made of a corrugated composite or plastic product.
If you really must use unsealed wood for your vinyl graphic, souvenir or any small wooden trinket then you must sand it first to get a smooth surface.
Step #3 – How about painted substrates
There are painted substrates available. But watch out for porous paints that won't create a good seal with vinyl adhesive and also with the uncured paint. You must use paints that were developed for sign making, like 1 Shot brand. If this is not available, you can use enamel paint.
Step #4 – Make sure paint over the substrate is completely cured
If you are going to stick vinyl on a painted surface the paint should be completely cured. Fresh paint gives off dangerous VOCs which can react chemically with the adhesive and degrade it eventually.
When this happens, there will only be an adhesive failure even hours after you initially apply the vinyl. VOCs can also cause bubbles to appear under the vinyl and eventually this will cause failure.
Step #5 – Acrylic or solvent-based adhesives
Acrylic and solvent-based adhesives are not really the same. Learning the difference between the two will help you find the best choice for your project. Solvent-based adhesives are more effective on porous materials or surfaces like wood and stainless steel. This is, therefore, a good kind of adhesive to use if you want success in sticking vinyl on wood.
Special tips for applying vinyl to wood
Here are more tips on how to apply vinyl on wood.
Tip #1
If the wood is rough or porous you must sand it so that the surface will feel smoother to the touch. Use a moderately-fine grit of sandpaper to sand off the surface. If you have a router, sand the wood using this tool.
Make sure there's no sawdust or residue on the wood before applying the vinyl. You must wipe all the nearby surfaces with a wet rag to capture all the dust that has accumulated.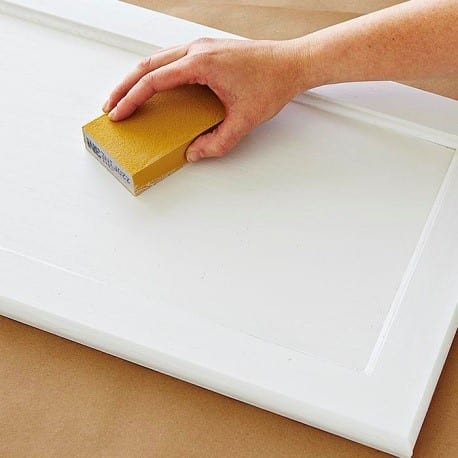 Source: https://www.diynetwork.com/how-to/skills-and-know-how/painting/sanding-and-preparing-wood-before-staining
Tip #2
If the wood has been painted or sealed, allow a few weeks for the paint or sealant to completely dry before applying vinyl.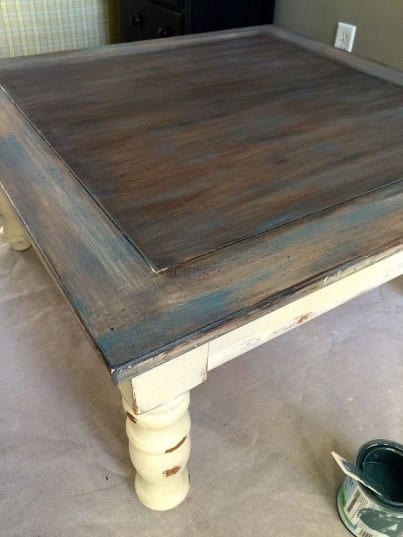 Source: https://www.pinterest.com/pin/22588435610637275/?lp=true
Tip #3
If you can choose the right paint, use 1 Shot or enamel paint. You must use only a vinyl with a solvent adhesive.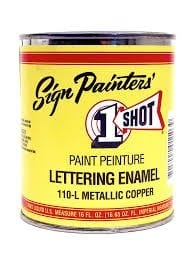 Source: https://www.misterart.com/painting/enamels/1-shot-lettering-enamel.html
Tip #4
In case the vinyl letters are coming up with the transfer tape when you apply it on the surface, give it some time to stick. You can moisten the tape to remove the letters and let it transfer to the wooden surface.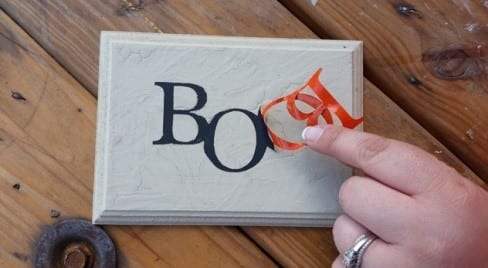 Source: http://www.freshstylemag.com/spooky-signage-chalk-paint-diy/
Conclusion
Vinyl is a good alternative to a natural wood finish and will last for a long time too for as long as it is applied to a substrate in the most efficient manner. Considering the substrate and the adhesive to be used will ensure that vinyl sticks to wood.