Grey washed wood looks amazing indoors or outdoors. What's the secret to this kind of wood? What makes grey washed wood awesome and how it's made will be discussed in this very helpful guide.
Grey wash wood steps
You can depict the appearance of lovely grey washed wood by using the following technique to distress wood. These techniques will transform an ordinary wooden wall into a grey washed the wall.
Things you will need
Wood you will be working on
Plastic, painter's tape
Putty
Grey paint
Paintbrush
100 grit sandpaper
Rags
Instructions
1) Prepare the area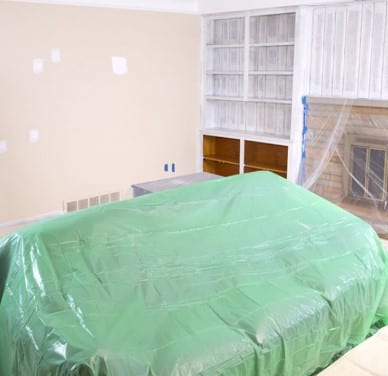 Source: https://www.lowes.com/projects/paint-stain-and-wallpaper/paint-a-room/project
Remove your furniture away from the walls. Cover heavy furniture with plastic. Use painter's tape to secure the plastic to the furniture and finally, cover the floor with plastic. Use painter's tape to tape the plastic to the bottom of the wall.
2) Prepping the paneling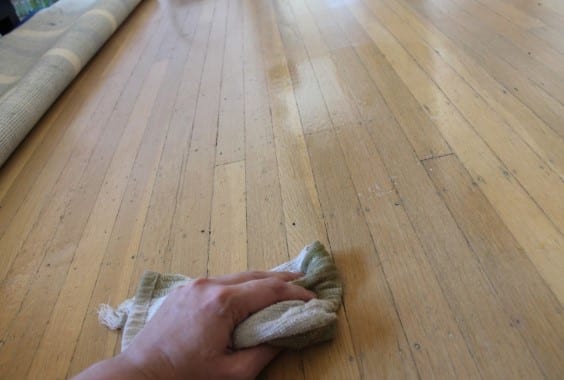 Source: https://beccapiastrelli.com/diy-wood-floor-polish/
Clean the wood paneling. Use a wet rag to wipe them down if your walls have very little dirt and grime. Apply a mild dishwashing detergent to remove minor dirt and dust. For grease, grime, and other problem stains use a heavy-duty cleaner. Let the walls dry thoroughly after cleaning them.
When using TSP, wear gloves, goggles, and a mask. Open windows to let the air flow. Wipe your walls down with a damp rag after using TSP. You can buy TSP online or from your local hardware store. Follow the guidelines on how to use this product according to the instructions on the bottle.
3) Repair and sand surface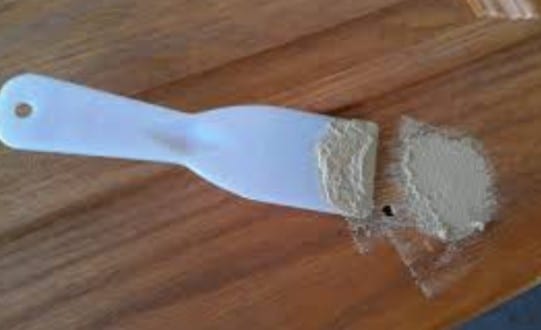 Source: https://www.instructables.com/id/DIY-Fill-a-Hole-in-Wood/
Repair any nail holes by using putty or a spackling compound. Fill the holes with a small amount of putty and let this dry completely before you start sanding. If you want to grey wash within a day or two a quick-drying putty is the best choice. Putty and spackling compounds are available from your local hardware store.
Sand the paneling with the use of a 100-grit sandpaper. You may also use a pole sander or a sanding block to lightly sand the wood paneling. But do not over sand the wood. Sand just enough to remove the finish. For thick wood panels use 200 to 220-grit sandpaper.
4) Painting the wood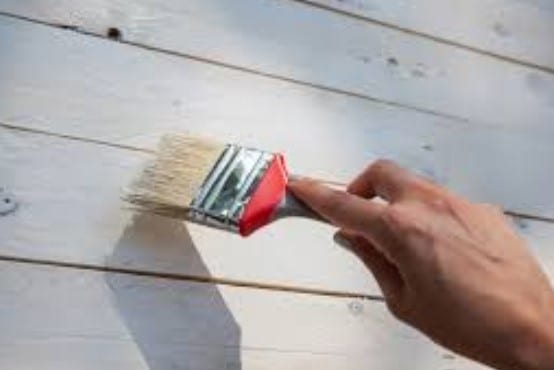 Source: http://www.wjcomponents.co.uk/painting-pressure-treated-wood
Mix a solution of paint and water. Using a five-gallon paint bucket, mix a 1:1 ratio of grey paint to water. The consistency should be something like runny pancake batter. Remember that the more water you have in your mixture, the more coats it will take to paint your walls.
Paint samples can lead you to the right color shade. Pick two or three free samples of grey paint from your local hardware store. Test the paint in a small, inconspicuous spot on the wall. Apply the paint samples mixed with the appropriate amount of water. Let the paint set and then wipe it with a clean, dry rag.
5) Select the best grey color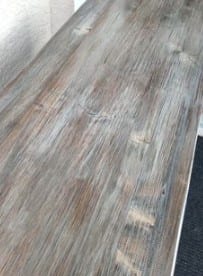 Source: https://www.pinterest.com/pin/218846863123319364/?lp=true
Select the color of grey you like best and use this to paint the rest of your walls in your room. Apply the paint by dipping a clean paintbrush into the paint. Apply in small 1×1 foot (.3x.3 meter) sections and start painting your walls from the top down. You must start in the top left or right corner of the wall. After you paint each section, wipe the paint with a clean, dry cloth. Ideally, its best to use scraps of the flannel sheet.
However, you may also use a cotton cloth. As you paint and wipe, make sure to step back to assess the wall for consistency. If a section is too dark, then wipe it with a damp cloth to lighten it. If a section of the wall is too light, then apply more paint and wipe with a dry cloth.
Continue painting and wiping until you are done. You may need to apply a second coat for more coverage. But make sure to let the walls dry completely at least overnight before applying another coat of paint. Let the walls dry completely.
Let these dry overnight. Once the walls are dry, remove the painter's tape and plastic on your furniture. Vacuum the floors, wipe furniture surfaces and place your furniture back in their previous position.
Conclusion
Using a grey wash technique allows you to distress your walls for that quaint and dramatic effect. The technique to grey wash walls is very easy and you can actually complete this in a weekend as long as you have all the materials and tools ready.