I bet you can remember the fun times you had with slime as a kid! Well, at least I do. But I also have this picture in my head of all of my friends from the neighborhood participating in the best slime autumn competition. I am not sure who came up with this fantastic idea but it was sure lots of fun!
It's funny that slime hasn't lost much of its glorious 80s fame, don't you agree? And since you are reading these lines, I also dare to assume that your kids would love to play with their own slime.
Do you want to learn how to make slime with wood glue? We are revealing our team's favorite slime recipe listed in a step by step tutorial below.
What You Will Need To Follow This Tutorial
White wood glue
Bowl
Tablespoon and teaspoon (feel free to substitute the teaspoon with any other suitable spoon for stirring the wood glue slime)
Food coloring
Plastic bag
Liquid detergent
Quick Pro Tip
Avoid wood glue slime recipes with Borax
Borax and wood glue make an amazing combination for homemade slime. However, Borax can lead to an allergic reaction. The allergic reaction to Borax doesn't necessarily show off immediately. Instead, it is the extended exposure (or contact) with Borax which can lead to temporary health problems, such as blisters on the hands.
Step by Step Instructions for Making Slime With Wood Glue
Step 1 – Pour white wood glue into a bowl, add food coloring and liquid detergent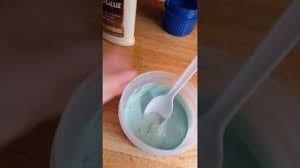 Image Credit: mycrafts.com
Pour 3-4 full tablespoons of wood glue in a bowl. Next, add 5-6 drops of food coloring to the wood glue.
Mix well until the food coloring is completely dissolved and the color becomes uniform.
Afterward, add 1 full tablespoon of liquid detergent.
It's time to stir very energetically now (when we say stirring energetically, we mean it!). The vigorous stirring as soon as you have added the liquid detergent is the secret of an ooey gooey perfect slime!
Step 2 – Knead and add more liquid detergent if needed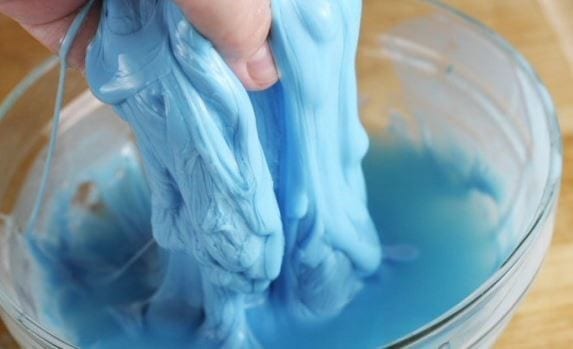 Image Credit: seanncook.blogspot.com
After stirring energetically for less than a minute or so, you will notice that the slime's texture has changed from the addition of the liquid detergent.
It will become more rubbery and stirring will get harder. Mind that the slime mixture should not feel too solid. You may need to add another spoon of the liquid detergent.
Once you reach the right texture, you know it's time for kneading the slime manually. Yep, just as if you are kneading the dough. Place the slime on an old plastic bag and use your hands to knead it well.
However, you may continue directly with stretching the slime as if you are stretching a chewing gum, instead of kneading it. Good job!
At the end of this tutorial, we hope to have inspired you that making slime with wood glue is an easy and enjoyable tiny DIY craft. Have fun by involving your kids in the process, too. Just make sure you instruct your kids to wash their hands thoroughly and avoid swallowing any of the slimes.
Do you want to see more articles like this one? If you had such a good time going through our step by step instructions as we did while compiling the tutorial, don't forget to show some love by hitting the Like and Share buttons. Or come and join us in the comment section below!