Do you feel out of ideas when thinking how to make wood paneling look modern? Are you stuck in the middle of nowhere with your wood paneling redesign plan? How about some inspiration? We're here to help you!
It has been more than 2 years since I finally managed to make peace of mind with the outdated wood paneling in our family house. The funny thing is, now I think wood paneling looks amazing (and you can bet I wouldn't want it any other way!)
So what's the secret ingredient to brightening and updating the looks of wood paneling? Head to our tutorial below.
What You Will Need To Follow This Tutorial
A coffee table
3 old logs
3 cushions (optional)
Comix magazines (optional)
Craft spray paint
A hammock (optional)
A Quick Pro Tip
It (almost) goes without saying that painting wood paneling is one of the best ways to achieve a modern look. However, we will skip on this step as we want to focus on providing you with some fresh and easy DIY wood paneling room design ideas to start the flow.
In the case, you don't want to spend a fortune on purchasing a coffee table you can make your own even if you are still a beginner DIYer. Plus, it will only take you a few hours (or less!).
Step By Step Instructions For Making Wood Paneling Look Modern
Step 1 – Remove all distractions
Image Credit: consciouslivingtv.com
Before you get rid of the dull, outdated, and choked by the wood paneling atmosphere in a room, you need to take a pause. You want to find the style which inspires you the most and which will help you create a masterpiece.
Remove all the distractions from your mind and think about the final design you want to achieve as it has to be something which matches your unique taste, right?
Step 2 – Start decorating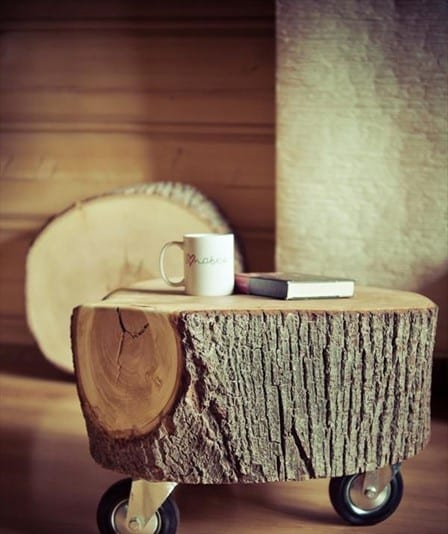 Image Credit: Pinterest.com
Place the coffee table and proceed with placing the logs. Some may prefer the natural looks of the wood. However, in the case you find the logs by yourself while hiking, you need to put a layer of gel stain over the wood surface. Carpenters who sell logs may have done some of the painting and staining in advance.
If you wish to bring more color you can paint the logs with spray paint easily. There's no need to spray over the entire surface but merely accentuate it if this matches your taste. Large logs can be useful to actually sit on but this is not the point. The aim is to play with the visual appeal of the interior.
Step 3 – Take a step further
We promised to help you make wood paneling look modern, right? If you achieve an eye-catching effect of the room décor then even the oldest wood paneling can look exciting! So here is where the bold hearts can go to the next level.
Once you have placed the tiny coffee table surrounded by (colorful) logs, place a hammock right above the mini coffee break spot you have assembled. The hammock's function is solely decorative so you can attach it by using simple adhesive stripes or hooks if you don't wish to nail it over the wood paneling.
Image Credit: @thegrahamandco
Place 2 favorite pictures of commix magazine at the corners of the hammock by attaching these to the adhesive stripes/ hooks or with the use of finish nails.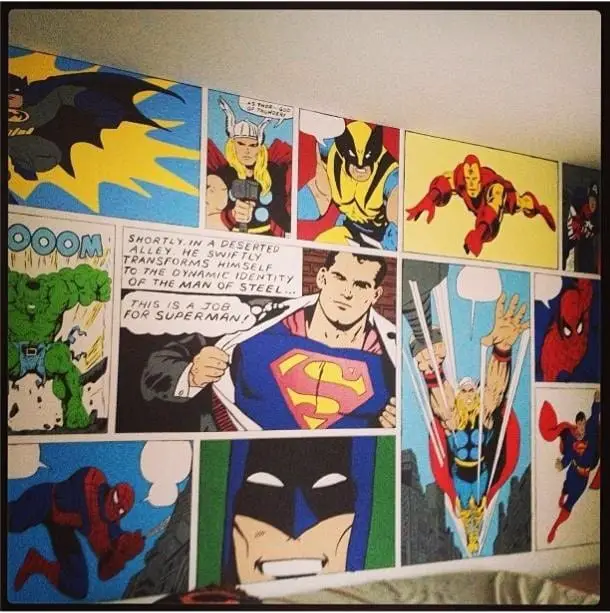 Image Credit: geeksaresexy.net
Who says wood paneling can't look modern? We dare to believe that wood paneling can only serve as the pearl in the crown of modern-day interior design. Do you know why? Because the opposition of the bittersweet nostalgia transmuted by wood paneling makes any bold, colorful accent stand out amazingly!
So what are you waiting for? Put that charming smile on your face and make wood paneling look modern once again. It's all in your hands. Do you agree? We're excited to hear more from you. Comment, like, and share this article to help us reach more souls who are hungry for inspiration.