The adhesive is what makes tapes sticky. Without adhesive backing, masking tapes, packaging tapes, duct tapes, and even Band-Aids won't stick to any surface. But as the efficient adhesive is, it is difficult to remove from different surfaces especially on wood. Adhesive, especially old and dry adhesive can be hard to remove and may collect dust and hair throughout the years. So how do you remove adhesive efficiently from wood? This guide will show you how.

Removing adhesive from wood basics

Before tape adhesive becomes hard, you need to remove it at once. But if for any reason you were not able to pick up adhesive backing from wood, you can use the following to remove it.

Things you'll need

Protective gear (gloves, goggles, and mask)
Acetone
Commercial glue remover
Sandpaper
Homemade techniques (vinegar, mayonnaise, orange peels,
Scraper
Clean cloth
Instructions

Chemical adhesive removers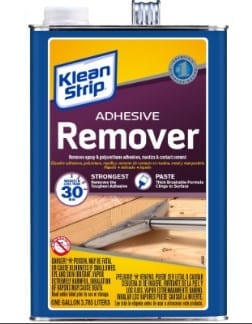 Source: https://www.homedepot.com/p/Klean-Strip-128-oz-Adhesive-Remover-GKAS94325/100271088

Wear protective gear when working with acetone so you won't inhale the fumes. You must open your door or windows to remove dangerous air from the room.

Remove adhesive on wood by using acetone but this can only be used on unfinished wood because this can damage paint and varnish. To prevent acetone leaking into the wood, place tape around the glue. Wet a clean cloth with a small amount of acetone and place this on the glue. Let the acetone remain on the adhesive to be removed for a minute and then use a soft cloth to gently remove the glue.

You can also use a commercial glue remover especially on hard to remove glue spots. Place a small amount of the glue remover on a clean cloth and rub it on the adhesive. Once the glue has softened, remove the glue with a clean cloth. The remover must break down the glue so it is easy to remove.
When it comes to using commercial glue removers, always follow the instructions on the label and do not apply more than recommended. Do not place the paint remover on wood, just on the glue. This can damage the finish on wood.

Using natural alternatives
Step 1
Apply white vinegar to soften the adhesive residue. Soak a clean rag in 1⁄2 cup white vinegar and wring this out. Dab the glue in small amounts with this rag. Apply this on the residue until this is soft and loose. Use your fingers to roll off the glue.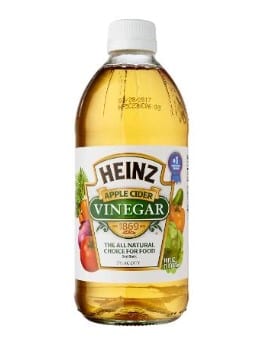 Source: https://redmart.com/product/heinz-apple-cider-vinegar
Step 2
Soften adhesive spots with mayonnaise. The oil found in mayonnaise can soften the glue to make it easier for the residue to come off. Use your fingers to rub a small amount of mayonnaise on the glue. Let this sit for 15 minutes and then wipe the mayo and the glue off using a clean cloth. Repeat when needed.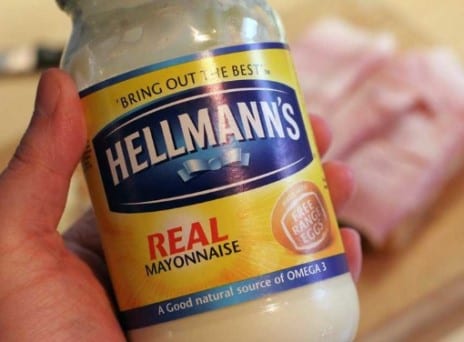 Source: https://www.businessinsider.com/things-to-do-with-mayonnaise-2015-6
Step 3
You can also use orange peels on small spots of adhesive to break these down. What makes orange peels effective is the acid in the peel. So peel an orange and place these over the glue. Let this sit for 10 minutes and afterwards, remove the peel and use a cloth to wipe off the glue.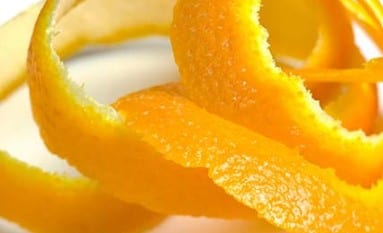 Source: https://www.rd.com/advice/saving-money/orange-peel-uses/

Sanding off large and stubborn adhesive spots
Step 1
Use a small piece of 600-grit sandpaper, just enough to cover the adhesive. Sand until the glue adhesive is removed from wood. Use light back and forth motions with medium pressure to the area. You may switch to 1200-grit sandpaper and remove the remaining glue if a large amount of glue was removed by the 600-grit paper. Sand the remaining glue and make sure you do not sand the finish or paint on wood and only the glue.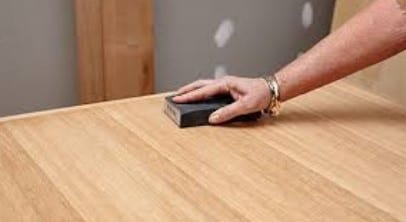 Source: https://www.bunnings.com.au/diy-advice/home-improvement/tools-and-skills/how-to-restore-wooden-furniture
Step 2
Use a soft cloth to wipe the area clean. You need to remove all the dust and residue from the surface of the wood before you apply the finish.
Source: https://www.thespruce.com/get-a-flawless-paint-job-with-tack-cloth-1822686
Step 3
Use a wood finish to restore wood. If the glue has removed some of the finish or sanded the wood a bit, apply a finish that is similar to the original finish. You may also use wood polish to make the area shiny and to remove the dullness.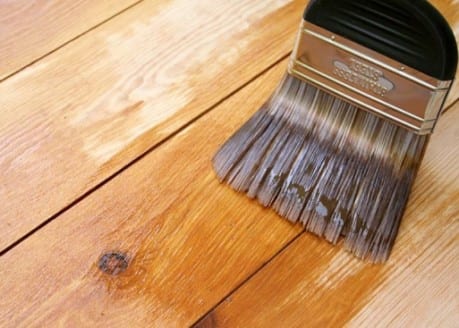 Source: http://tupintasmucho.com/2015/05/07/barnices-larga-vida-a-la-madera/

Conclusion

To remove adhesive from wood, you must carefully and patiently remove only the adhesive residue and not the wood finish. There are chemical and natural ways to remove adhesive but you must always remember to remove only the adhesive and take care not to scratch the lovely wood underneath.