Paint does wonders to wood. It can become any color, any shade and anything that will match other elements in a home or office. Paint covers protect and keep wood perfect for years to come. Which is why most woodworkers take a lot of time working with paint until their projects look amazing inside and out. As important as applying paint is removing paint.
You need to remove all paint residue to be able to paint or stain wood all over again. This guide will show you the techniques to remove paint in a more effective manner.

Dried paint removal techniques

Peeling paint, especially old paint is hard to work. You need to follow a process to completely and efficiently rid paint from wood. You need to start peeling from the top and down into the wood grain. You will do a lot of peeling and scraping, however, you must remember not to peel and scrape too much to remove the surface of the piece you are working on. Paint removal takes time but amazing rewards will be waiting for you in the end as you repaint and refinish your work.

Safety in paint removal

Before we discuss different paint removal techniques, you must keep in mind that you will not just be scraping and peeling but you will need to use chemicals to remove paint. This technique has been used for generations and is part and parcel of any woodworker's techniques. Paint removal using chemicals speeds up the process and will guarantee great results.

However, all chemical strippers contain volatile and toxic compounds that can cause dizziness, fainting and even death if you are not careful! If you are removing paint in a closed room, you might end up fainting because of the powerful fumes that can be emitted when the chemicals mix with paint.
This is why you must wear protective gear at all cost when removing paint.
You must use a face mask to prevent inhalation of toxic fumes and inhaling dangerous residue and dust that are produced when sanding and finishing a wooden piece. You must have a pair of goggles to protect your eyes from dust, residue, and fumes. You must wear gloves to protect your hands since some chemicals can adhere to skin and cause burning.

Working in a well-ventilated room

There is no doubt that you need to be in a well-ventilated area when working with chemical strippers. You must have all the windows and doors open. You must use a fan or better yet, two fans to create a cross breeze. One fan will bring fresh air in and another one will remove toxic air out. Overall, it would be better to work outdoors where you don't need to worry about ventilation. But when working outside, choose a non-windy, at least partially-sunny day.

Things you will need

Protective equipment (gloves, goggles, mask)
Heat gun
Scraper
Sandpaper (different grits/grades)
Paint stripper
Brush
Using heat

Paint is mostly applied in layers with the finish or varnish at the top. These layers can be very hard to remove and are usually fused to the wood. But there is one tried and tested a way to remove paint in layers or even in a single layer and that is through heat application.
Woodworkers and contractors use a heat gun which can fire enough heat to peel paint off, varnish and all. But despite the power of heat guns, it can only go as far as the paint layer. It will not damage the wood grain as long as you keep it at a distance.

But if you don't have a heat gun handy, as this is a very expensive contractor's tool, you can also use heat emitting devices at home. Just some of the things you can use are hairdryers and hairdryers.
Just remember general and electrical safety precautions especially when you are working with heat-emitting devices.
Never use a blowtorch because this is applying fire or flame directly to the wooden surface. You may risk burning the wood and even burning your home if you are not careful so doesn't use a blowtorch or flame torch.
Step 1
Wear protective gear before removing dried paint on wood using heat.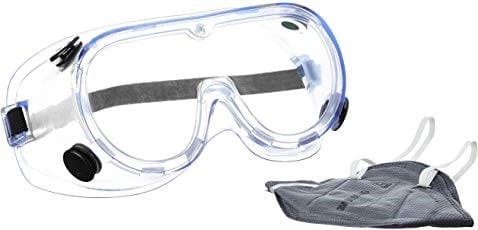 Source: https://www.amazon.com/Safety-Glasses/b?ie=UTF8&node=10290474031
Step 2
Use an electric heat gun but if you don't have one, a hairdryer would suffice. Power it on and place it near the area where of paint you want to remove.
Source: https://thewirecutter.com/reviews/the-best-hair-dryer/
Step 3
Position the hairdryer about 6 to 8 inches above the surface. You must maintain this position to prevent overheating the wood and warping the wood underneath because of extreme heat. Slowly move the hairdryer over the painted surface. Move the hairdryer from side to side and up and down.
Step 4
Do not let the hairdryer remain in one area for a long period of time because it can melt the paint and varnish and even cause burning of the wood if you are not careful. Never leave a hairdryer powered on at any time.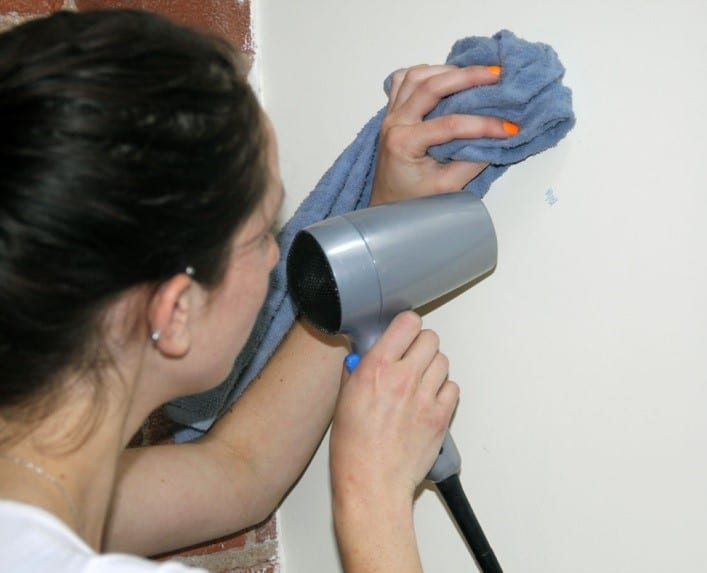 Source: https://www.instructables.com/id/13-Unusual-Uses-for-a-Hair-Dryer/
Step 5
Power off the hairdryer after working on the area for five minutes. Inspect the wood for any peeling, wrinkling or warping. Wrinkling, especially along the edges means that the paint is slowly lifting from the wood. When the wood surface shows negative signs of wrinkling and peeling then this means you need to heat it up some more.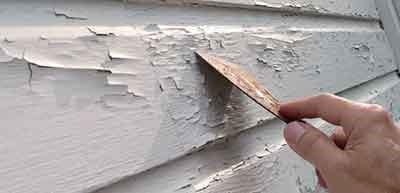 Source: https://lmats.com.au/services/chemical-testing/chemical-analysis/lead-paint-analysis
Step 6
You will soon see peeling and wrinkling and this means you are ready to scrape. Use a broad paint scraper to cover more area for larger surfaces. Use a smaller scraper or a putty knife for a smaller area. Continue to heat the paint with the heat gun as you scrape up wrinkling paint. Work with the hair dryer on one hand and the scraper on the other. You will soon be able to remove all the paint and the wood will be ready and free from old paint.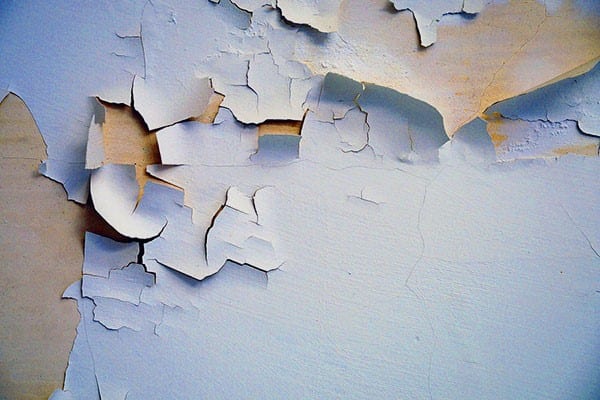 Source: https://lmats.com.au/services/chemical-testing/chemical-analysis/lead-paint-analysis
Step 7
Remove all residue and dried paint peelings on your workstation. Remember that this paint is highly flammable. Pick every piece up and place these in a garbage bag. Seal it and throw these away in the proper garbage bin.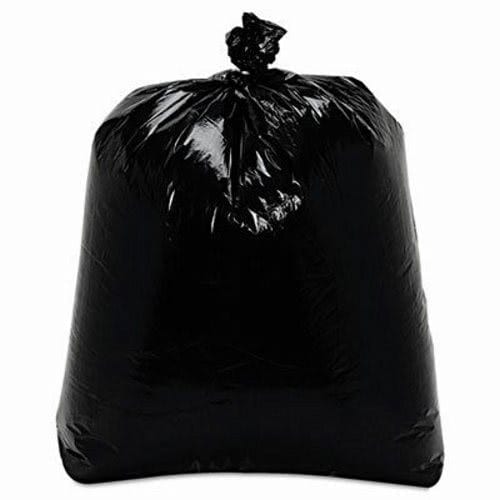 Source: https://www.cleanitsupply.com/p-5103/16-gallon-black-garbage-bags-24×32-07mil-500-bags-trn-ml2432.aspx

Using force

Usually, after using chemical treatments, heat or any other paint removal technique, you will need to sand the area. Removing paint by sanding or by force is an SOP for all paint jobs because sanding creates an easy surface that will be able to absorb pain well.
There are many grits or grades of sandpaper; from fine to coarse and with moderate grades in between.
Usually, coarse-grained sandpaper is used on unfinished wood and for wood with very thick paint layers and varnish.
Fine-grained sandpaper is for touch-ups and for light sanding work. Sand in a steady pattern. You can use large circular patterns to sand large areas and use small circular movements for small wooden projects.
Step 1
Use sandpaper to remove dried paint using coarse, open-coat sandpaper. Always sand with the grain of the wood instead of against it. You may move on to a medium grit paper once you can see the grain of the wood through the paint.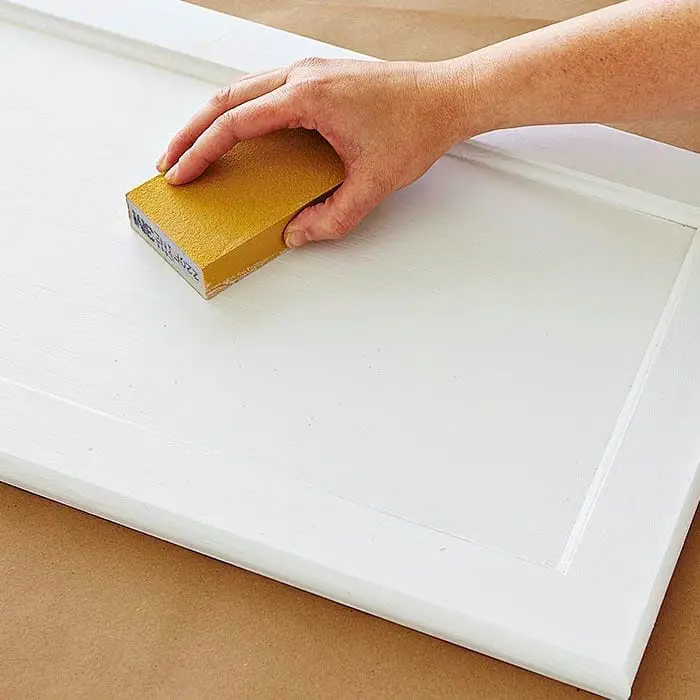 Source: https://www.lowes.com/projects/woodworking-and-crafts/sandpaper-buying-guide/project
Step 2
If you are working in a larger area like a dining table or for larger sanding jobs, use a mechanical sander. Choose between a mechanical hand sander and a power sander.
A hand sander is easier to handle and is lighter while a power sander will finish the job faster but is heavier. Just like sanding by sandpaper, sand with the grain of the wood and never sand against it.
You will risk damaging the surface of the wood when you sand against it, resulting in splinters and marks that will eventually show up when you repaint and re-varnish it later. Switch to a fine grain sandpaper when most of the dried paint has been removed by the coarse grit sandpaper.
Source: https://www.diynetwork.com/how-to/skills-and-know-how/carpentry-and-woodworking/painting-kitchen-cabinets
Step 3
Remove all fine dust and residue in the room. Use a rag or a damp cloth to completely remove everything. You may also use a shop vacuum to remove even the smallest dust in the many crevices of wood.
Source: https://www.diynetwork.com/how-to/skills-and-know-how/painting/sanding-and-preparing-wood-before-staining

Using chemical strippers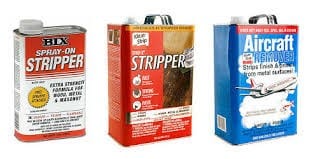 Source: http://hersite.info/what-we-are-not-being-told-about-furniture-strippers/

Chemical strippers are the hallmark of paint removal. There are different types of strippers available but these have the same effect: these will remove paint just by the application. Some paint strippers are liquid and runny and these are meant for flat surfaces. A liquid type paint stripper can be brushed directly on a flat surface using a brush and will be able to stay on the surface and remove paint and varnish.

Gel-type strippers, on the other hand, are meant for inclined or vertical surfaces. You can strip walls, stairways, banisters, balusters, and ramps with a gel-type paint stripper. But no matter what kind of paint stripper you use, be sure to exercise extreme caution because this type of chemical can even sting skin and can cause extreme burns. Never touch or hold strippers on your hand. Always use a brush or a paint roller to apply it and never with a sponge or a small rag which can increase your risk of holding the stripper.
Step 1
Choose from a liquid or gel-type chemical stripper to apply to your wooden piece. No matter what type of stripper you use, read the instructions carefully before you use the product.

Usually, the manufacturer provides information about the application steps and the waiting times for the product so you must take your time checking the directions before using. The application is the same for most products but still, check instructions from the manufacturer.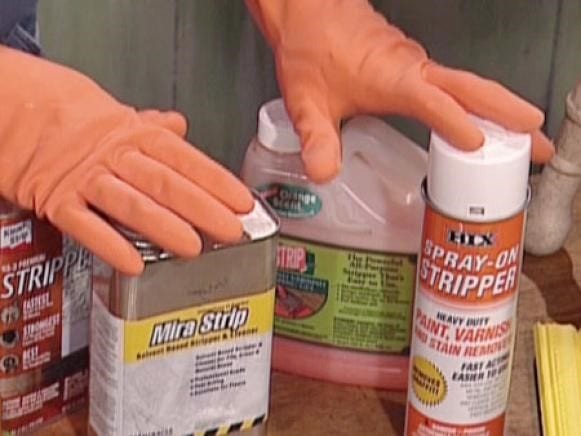 Source: https://www.diynetwork.com/how-to/skills-and-know-how/painting/paint-stripper-basics
Step 2
How much paint stripper do you need for a project? This depends on the size of the surface you need to strip. Remember that the surface should be completely drenched with the chemical. You need estimate how many strippers your project would need just make sure you have enough and not lacking that you will end up applying a very thin layer of stripping chemical.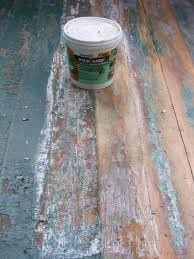 Source: http://www.dohiy.com/2013/10/03/relaxing-on-the-front-porch-were-doing-it-wrong/
Step 3
Brush the chemical stripper with a broad flat paint brush. Applying a chemical stripper with a broad paintbrush lets you distribute the chemical all over the area even on inclined and vertical surfaces. Remember to brush the paint stripper in one direction only.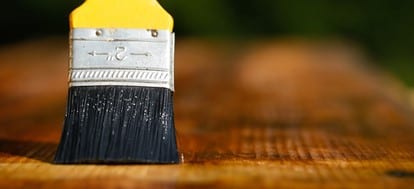 Source: https://www.doityourself.com/stry/how-to-remove-finishes-from-wood
Step 4
Let the paint stripper sit on the surface for 20 to 30 minutes. The waiting time may also depend on the manufacturer so check the instructions on the product label. You will see bubbling and warping of the paint on the surface and this means that the paint is starting to come off the wood.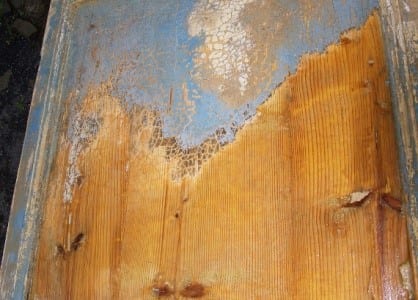 Source: http://premiumdoorstripping.co.uk/different-types-of-chemical-wood-stripper/
Step 5
You can now use the scraper to remove the paint. Rub the blade of a paint scraper in a circular motion to stimulate the paint to peel off. Once the blade of the scraper has cut into the paint, it is now ready to be removed.

Now that the paint is very loose, scrape the paint off with a metal scraper. Glide it underneath the softened paint to remove it completely. Remove as much paint as you can with the first few passes of the scraper. Work efficiently and diligently but still be patient and don't rush stubborn paint.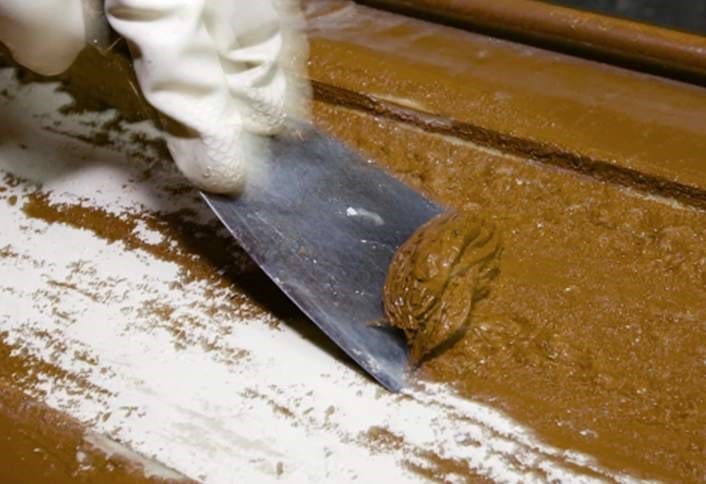 Source: https://www.homedepot.com/c/remove_paint_chemical_strippers_HT_PG_PA
Step 6
Use stripper- soaked steel wool to remove any paint that still remains on the surface. Soak medium-grade steel wool in a small amount of paint stripper and use this to effectively reach paint from nooks, crannies and hard to reach areas of your furniture. You may also use old rags or abrasive scouring pads to remove paint found in very hard areas.
Source: http://www.steelwool.biz/Steel_Wool_Stuff_to_know1.htm
Step 7
After using chemical strippers, remove residue paint by using sandpaper. Start with a medium-grit sandpaper to scour the area and remove remaining paint.
Source: http://www.kleanstrip.com/diyers/diy-projects/strip-stubborn-paint

What about removing lead paint from wood?

The Environmental Protection Agency (EPA) has tested DIY testing kits for lead and has approved only two brands: LeadCheck and DLead. You must always read the manufacturer's instructions on how to use these products. Test strips change color when it comes in contact with chemicals in wood.
You must consider hiring a certified professional to test and remove lead paint in wood. Professionals may use different techniques and the most common is x-ray fluorescence technology to determine if the paint contains lead. Once the lead paint is identified a professional will help you create the ideal lead paint removal technique for your home, office or property.

Removing lead paint

Lead is dangerous and it can cause severe medical conditions especially when exposed to lead for a long time. You can suffer from anemia, weakness, brain damage, kidney damage, and death. Lead is very toxic especially to children and has life-threatening effects even to adults. Most old buildings still have lead paint. If you live in a home or building with old paint, you may be exposing yourself and your family and even your pets to lead.

Removing lead paint from wood

There are ways to remove led paint from wood. But before any technique, have your home or office tested for lead. Wear protective clothing like masks, gloves, and goggles when you are working with lead paint.
Step 1
Wet down all interior surfaces that contain lead paint. Use a water-filled spray bottle to wet the area completely. Scrape lead paint using a 2-inch scraper or a sturdy wire brush. Scrape off flaking paint and wrinkling paint. Wipe water, dirt, sludge and paint flakes while you work.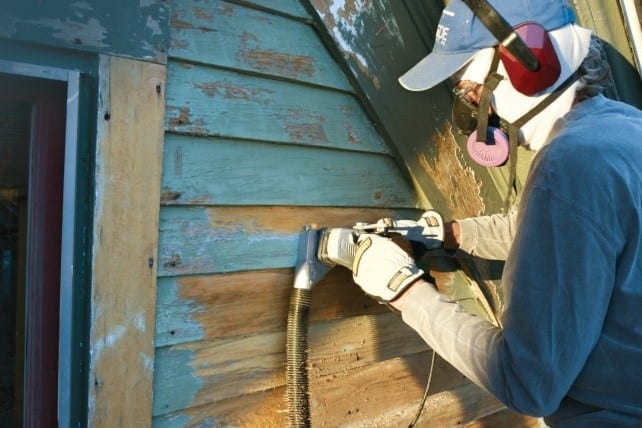 Source: https://www.toolsofthetrade.net/power-tools/dust-extraction-tools/tools-for-lead-safe-paint-removal_o
Step 2
Sand any remaining paint using moderate-grit sandpaper.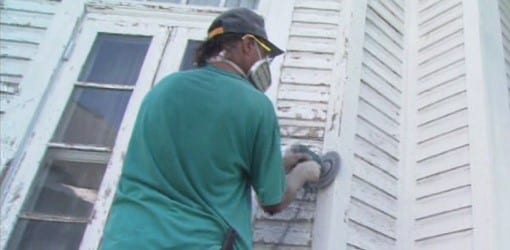 Source: http://pornici.me/2018/01/31/scraping-lead-paint-exterior/scraping-lead-paint-exterior-dasmu-us/
Step 3
Use liquid paint removers on small areas with paint such as windowsills, doors, and delicate woodwork. You must read the warning labels and follow the instructions carefully.

Remove all residue and dust by using a HEPA vacuum. Use the vacuum to pick up as much of the paint and dust in the area.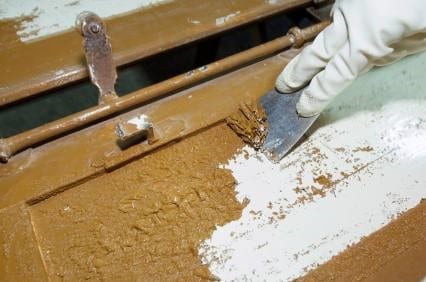 Source: http://halvorsonhouse.com/wood-paint-remover/remove-paint-from-furniture-without-chemicals-step-step-wood-paint-remover/
Step 4
Wipe all the surfaces down with equal parts of regular detergent cleaner and water. Place this in a spray bottle. Soak a paper towel with the detergent and water solution and wipe the surface. When the paper towel surface becomes dirty, use a new one.

Rinse the surface using clean water. Place water in a bucket and dip a clean cloth and start wiping everything down. Start from the top and working your way down. Rinse and wring the clean cloth often. Change the water in the bucket as often as you can.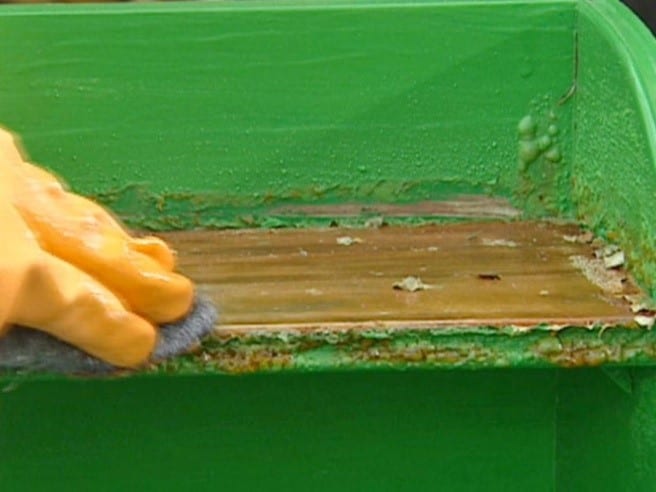 Source: https://www.diynetwork.com/how-to/skills-and-know-how/painting/how-to-remove-paint-with-chemical-strippers
Step 5
Vacuum the floor with a HEPA vacuum to suck up debris in the nooks and crannies where the paint residue and the dust usually hide. Double-bag debris and paint chips and throw these in the proper waste disposal bin.
Source: https://evacuumstore.com/p-2510-dustless-hepa-wet-dry-vacuum.aspx
Conclusion

Removing paint to refinish or refurbish wooden furniture and walls is an important step in refinishing and refurbishing wood. You must remove paint completely so you can create a smooth and effortless surface to work on. This is sometimes difficult because dried paint can become stuck deeply into the wood. It also becomes harder when you are removing lead paint which is highly toxic. But completely following all the important steps in lead paint removal, you will be able to get rid of this toxic paint in no time.