As DIYers, we can't get enough of working with pallets! Yes, we adore pallets for the affordability, multifunctional character, ease of use, and that's just to name a few of the many things which make us fall in love with DIY pallet projects every day.
So how about staining wood pallets? Do you know how to stain pallet wood like a pro? And since we mention staining like a pro, we mean staining quickly, easily, and efficiently. Well, who doesn't want that?! Check out the tutorial we have compiled for you below and learn everything you need to know (no nonsense, no fluff).
Warning! Personally, I underestimate the process of staining pallet wood carefully during my very first trial. Don't make the same mistake.
However effortless this task is, there are certain tips and tricks which will shoot you out of the amateur's league (and make your life as a DIYer more enjoyable and peaceful!)
What You Will Need To Follow This Tutorial
Wood stain
Paintbrush
Clean rags
Thinner
Wood conditioner
Top coat of your choice (polyurethane works like charm)
Coarse-grit, medium-grit and/or fine-grit sandpaper
Sander (optional)
Tack cloth
Wooden stirrer
Container/ Paint tray
Pro Tips
1 – Stain the pallet wood only when it's perfectly dry
Staining a humid pallet wood will spell disaster for your project. Moisture is damaging as it causes the wood to flake off gradually. Thus, you need to make sure you are staining a pallet wood which is thoroughly dry. Also, avoid staining on wet days at any cost.
2 – Choose a suitable stain carefully
Some wood stains are not compatible with particular finishing products, such as the top coat of sealer you are about to apply. For best results, always read the label of the wood stain you choose in advance to make sure it will couple great with the rest of the products you are about to utilize.
3 – Always test if the stain color matches your expectations on a scrap piece of pallet wood
A suitable wood stain will complement the looks of pallet wood beautifully. However, in order to avoid disappointments, it's crucial to test the color of the stain on a scrap piece of the same pallet wood you are about to treat. Nevertheless, allow the stain time to fully dry before you examine the color, as it will change a lot from the very first moment of application.
Step by Step Instructions for Staining Pallet Wood
Step 1 – Prep the wood pallet for staining and apply wood primer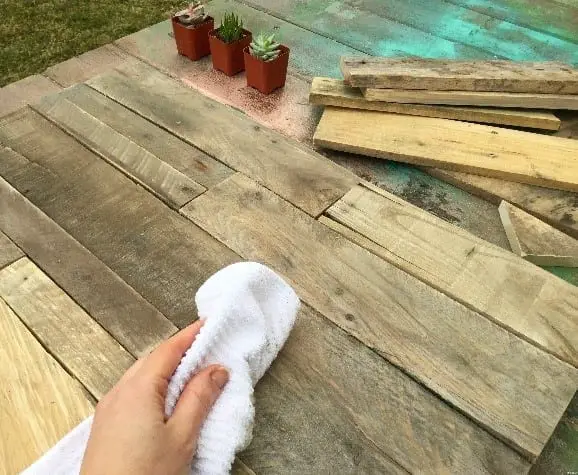 Image Credit: blog.minwax.com
In some cases, you can choose to skip sanding the pallet wood. For example, if you want to achieve a light color by staining, feel free to apply the wood stain without smoothing the surface in advance. However, it's extremely important to wash the pallets carefully, as many are being treated with chemicals.
Next, dismantle the pallet if needed and proceed with sanding.
Follow the grain of the wood because you don't want to scratch the surface and make it look ugly. Choose the grit of sandpaper according to the smoothness you wish to achieve. Remove all the dust left behind with a tack cloth. Apply a wood conditioner to help the stain seal well and last long.
Step 2 – Stain the pallet wood and finish with a suitable top coat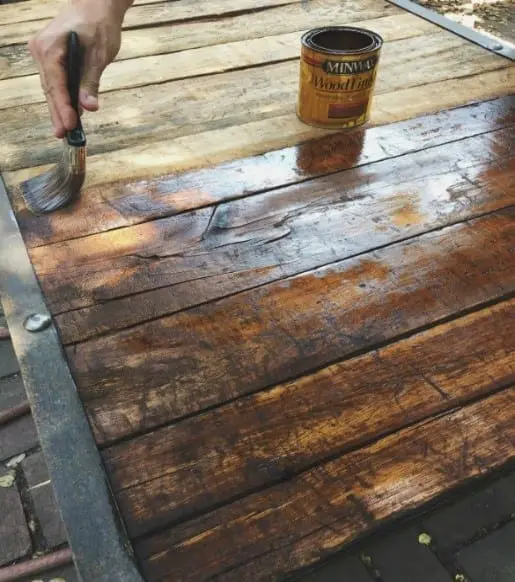 Image Credit: ftblog.info
Start staining the pallet wood using a paint brush. Take advantage of a wooden stirrer to help the pigments of the stain mix well but don't stir too energetically or bubbles will form. Stain along the grain of the wood and don't stain over the same area twice. You can always apply a second coat later. Although it's only optional, sealing the stain with a top coat will increase the durability and offer extra protection from damage.
With so many wonderful DIY pallet project ideas out there, it's hard (if possible at all!) to get bored of repurposing pallets. From farmhouse coffee tables, awesome sofas and patios, vertical herb gardens, to DIY lamps and wall decorations – pallets are cheap, versatile, and fun to utilize.
Once you learn how to stain pallet wood, you can give your projects a touch of authenticity, exquisiteness, or one-of-a-kind rustic appeal if you wish to.
Did we manage to inspire you and help you on your quest through this tutorial? We're always happy to hear back from you. Join us in the comment section below. You can help us spread the love for DIY crafts, tips, and tricks by sharing and liking this article.