When I first started looking for detailed guidelines on how to steam bend wood, I felt very lost. In fact, I was so confused, that I began searching for the best wood for bending without steam. For sure, there's nothing wrong with shortcuts, don't you agree?
But the truth is, bending wood without steam can't give off the same results you wish to achieve. But where to start from? Will you need special equipment in order to steam bend wood? Does this mean you will have to spend a fortune?
The good news is that anyone can figure out the steam bending process after going through the expert tips and tricks we are listing below. So what are you waiting for? Toss away any excuses and dive in!
What You Will Need To Follow This Tutorial
Wallpaper steamer
Leather builder gloves
Timer
Quick Pro Tip
You can also build a DIY wood steamer and bender
First off, the wallpaper steamer method remains my favorite option for steam bending wood at home. I find it an easy, affordable, and beginner-friendly solution.
However, depending on how often you need to bend wood for your DIY projects (as well as your level of experience working with wood), you may benefit from building a relatively simple DIY wood steamer and bender.
Although this process will take some time and efforts, the final result is a sturdy and always ready for exploitation steamer. Once set up, you can keep it handy in your workshop.
Step by Step Instructions for Steam Bending Wood
Step 1 – Place the pieces of wood in the wallpaper steamer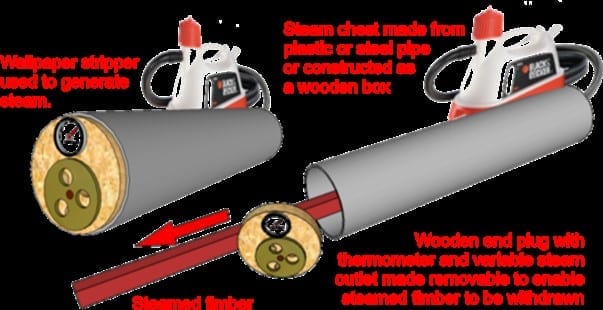 Image Courtesy of wiki.dtonline.org
First things first, you need to load the wallpaper steamer with hot water. Next, you have to place 2 pieces of wood inside the steamer's chamber. Once you have inserted the wood, turn on the wallpaper steamer.
Keep in mind that the thicker the piece of wood you want to bend, the longer it will take. As a rule of thumbs, the wallpaper steamer method requires approximately 2 hours to bend wood with a thickness of 5 cm. That means wood which has a thickness of 1 – 2.5 cm will take about an hour to bend.
Step 2 – Remove condensed water from time to time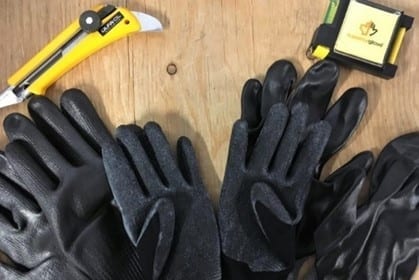 Image Courtesy of superiorglove.com
The wallpaper steamer's chambers are manufactured to seal quite tightly. However, while you are steaming wood, the hot steam will inevitably condense at some point and turn into water. Thus, you need to remove the condensed water from time to time for best results.
All you have to do is to turn the chamber facing the ground downwards. Doing so will force all the water away. Check out your timer regularly, and when the estimated time depending on the thickness of the wood has passed, you're almost done.
Finally, open the wallpaper steamer wearing leather builder gloves to protect your hands from the hot steam. It's time to bend the wood now!
There are multiple ways you can bend wood. Some people prefer the cold bending wood method, while others opt for bending wood with ammonia. I've also tried out bending wood with fabric softener, and I have also spent tons of my free time looking for wood steam box plans.
However, from all of the possible methods for steam bending wood, I find the wallpaper steamer technique to be the most convenient (and well-working, too).
What about you? We'd be happy to learn from your experience. Don't hesitate to join us in the comment section below. By liking and sharing this article, you will help us spread the positive vibes and our passion for woodworking made easy with the world!