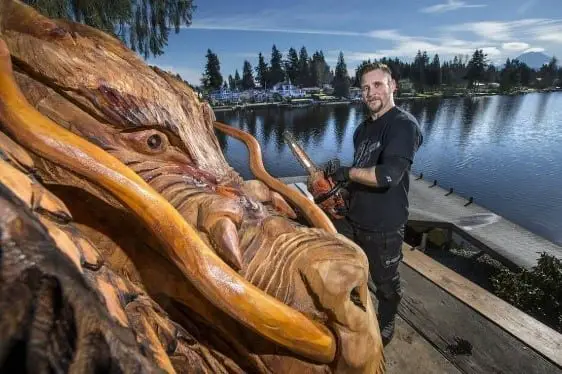 There's a special kind of magic that embraces our senses as we look at the stunning tree carving art from around the world.
On the one hand, they manage to inspire us through their talent. On the other hand, acknowledging the fact that a tree "smiles" knowing there's life after death is purely mesmerizing.
And indeed, many trees fall victims of storms, harsh weather, as well as age. Little by little, they start to deteriorate.
Nevertheless, many of these trees are being removed by the officials in order to ensure that no accidents occur.
But then again, the creativity of humankind proves to know no limits. And isn't it simply amazing what we are capable of achieving once we open our hearts and minds?
Using our imagination to bring happiness to others is not merely a talent. Instead, it is a conscious choice and a virtue that has been carefully nurtured through time.
If only we learn to apply the same beautiful approach to any of the challenges we face in our daily life – well, the world would most certainly become a better place!
Now, let's feast our eyes and feed our souls with the magic of these stunning tree carving from around the world we have compiled with love!
1) Chris Foltz, World Champion of Wood and Ice Power Sculpting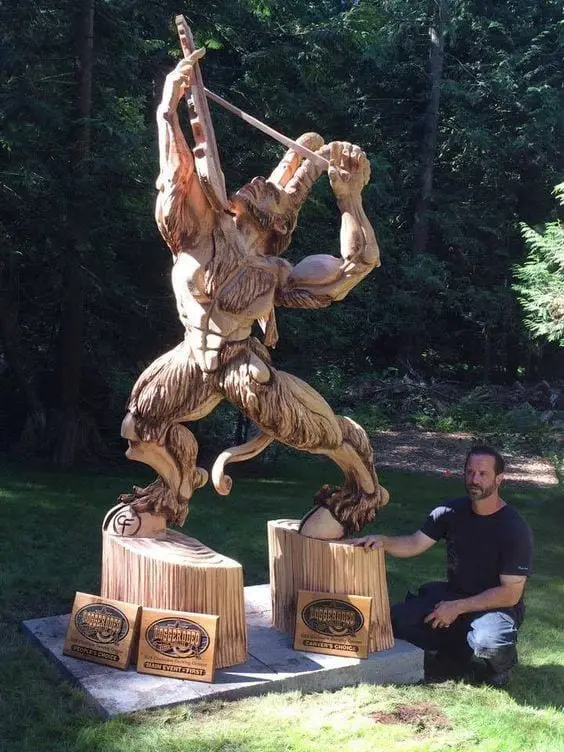 The story of Chris Foltz is a true inspiration for all of us who are still searching for their passion and purpose in life. Amazingly, Chris used to work as a chef, starting his cooking career being only 15 years old.
However, while he was still a chef at a casino he was drawn to the magic of carving, and suddenly discovered his deep love for the art of working with wood to create fantabulous sculptors.
After taking 3 days of professional instructions by Mike Vosburg, he stepped out of the cooking scene just 3 months later.
And that's exactly when he won his first carving award – "rookie" of the year, after attending the Oregon Divisional Chainsaw Sculpting Championship in Reedsport. Moreover, Chris became the only professional sculptor who competes at both wood and ice sculpting events.
2) The Avenue of Honor, Dartmoor Memorial Hall Tree Carvings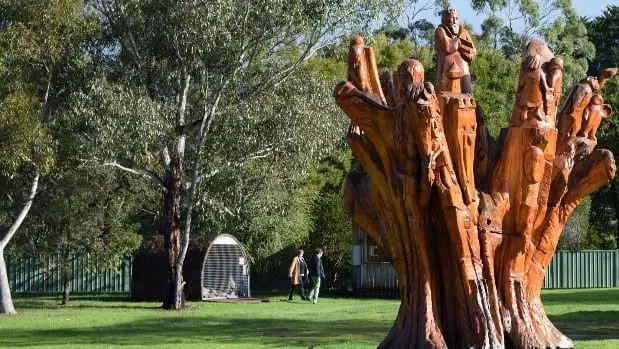 The incredible tree carving art that can be seen outside the Dartmoor Memorial Hall is not merely beautiful but it is also conveying the message of respect and love for those who sacrificed their own lives for the sake the bright future of others.
Thus, the idea to create tree carvings that can reflect the experiences of the local war veterans was born.
It was in September 1918 that 10 Atlantic Cedar trees were turned into a unique commemoration to sixty nurses and servicemen who put all their hard work and efforts to help people during World War One. What's more, the finely carved Atlantic Cedar trees do not solely reflect the experiences but also the images of the veterans who deserve our deepest respect.
3) Shane Christensen – Tree Carving Master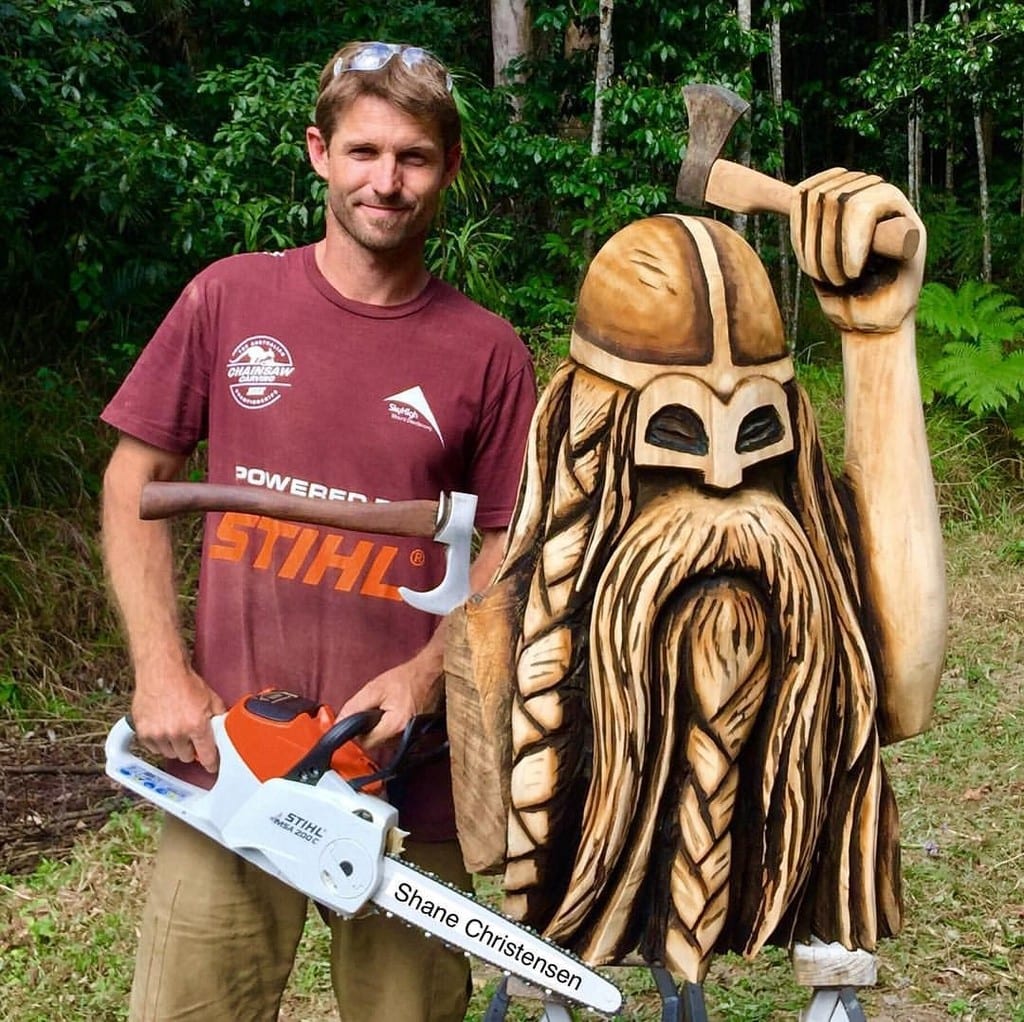 Shane Christensen is based in Eumundi, Queensland, Australia, where he brings new life to trees from various size and age through his spectacular skills.
On the one hand, Shane uses chainsaws to sculpt the wood into mesmerizing shapes. On the other hand, he also relies on traditional wood carving techniques, and he also believes that nature is one of the greatest inspirations for an artist.
In December 7th and 8th, 2017, Shane Christensen turned the carving of one of his latest projects back then – the Tree Spirit – into open-air, free entry event at the Sunspace Café corner.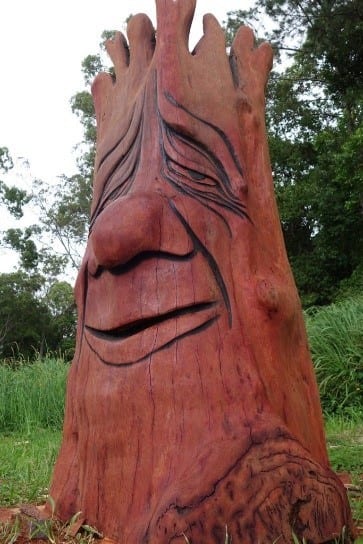 The Tree Spirit by Shane Christensen – Image Source
Carved from a Tree Palace tree, "Tree Spirit" project reflected Shane's tribute to the ancient connection of people and tree spirits that are capable of bringing life to an old log together. Phenomenally, he also added a Native Stingless Bees Hive to his masterpiece.
Video by Sarah Hamilton – Bee Yourself – Native Stingless Bee Hives
Source: youtube.com
4) Simon O'Rourke – Tree Carving Artist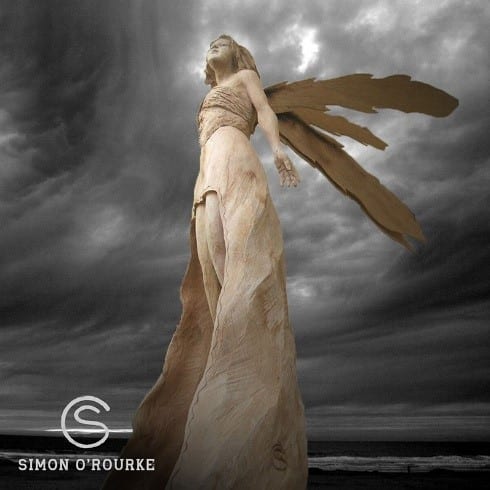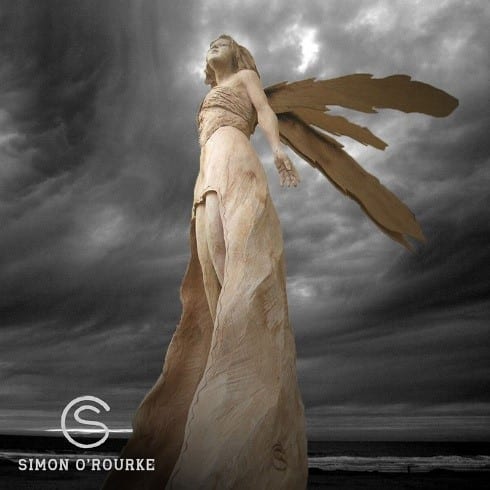 Fantasy wood carving by Simon O'Rourke – Image Source
From forest animals through fantasy creatures and superhero characters such as Batman, Simon O'Rourke's tree carvings can touch every corner of the souls of the contemplators.
Amazingly, Simon O'Rourke did not discover his carving talent before he first obtained his degree with honors after specializing Children's Book Illustrations. Thankfully, he gained the courage to try his gifted hands at the art of wood carving. He has been now carving for 17 years.
Although the wood virtuoso lives in North Wales, he has traveled the world while attending various chainsaw sculpting competitions. When it comes to the type of materials Simon O'Rourke uses in his artwork, he opts for standing stumps, as well as waste lumber, embracing an environmental-friendly attitude.
Video by STIHL GB – Simon O'Rourke Chainsaw Wood Carver
Source: youtube.com
5) Lueb – Colorado Tree Carving and Sculpting Master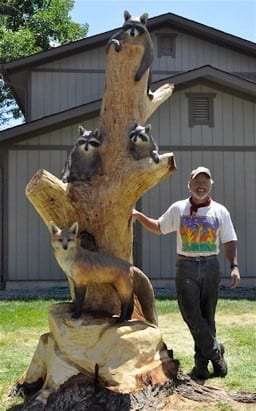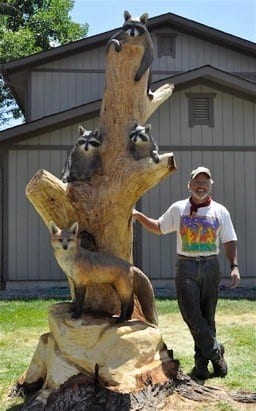 Lueb right next to his tree carving masterpiece titled Fox & Racoon Family – Image Source
Lueb Popoff is the living proof that it's never too late to embrace your hidden talents and turn your passion into a way of living. He graduated the University of Colorado in 1986, obtaining a degree in Molecular Biology.
Soon afterward, he chose to follow a career in cooking. Initially, he spent 6 years working as a Sous Chef.
Little did he know that his destiny was about to take another direction when he accidentally stumbled across a carving of a raccoon and bear in front of a local café in Colorado. Thus, he decided to simply have some fun by using his already available chainsaw in order to carve something different than firewood.
It took him several years of gathering inspiration and motivation before he finally decided to leave his cooking career behind. As a result, Lueb Popoff and his wife Annie started their mutual project – the Hollow Log Tree Carving in 2000.
6) Richie Clark Log Tree Carving Art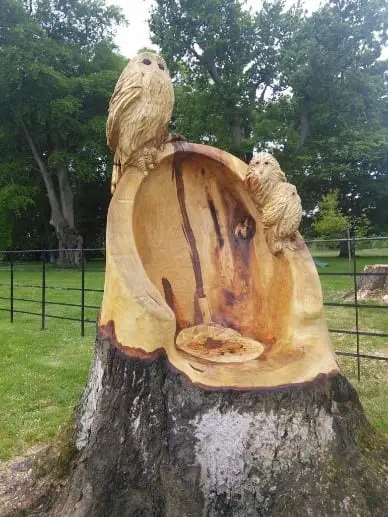 Richie Clark's log carving titled "Owl Seat" – Image Source
Richie Clark shares that he has always been attracted to the art of wood carving for as long as he can remember his childhood spent in the outdoor playing grounds of his home country – Ireland.
Amazingly, he also admits that he is mostly self-taught, although he is grateful for being able to learn invaluable lessons from the master woodcarver Chris Pye.
On another note, Richie Clark says that his work is highly influenced by the Irish folklore, as well as the Celtic mythology.
Video by The Exploring Series – Exploring Celtic Mythology: Creatures in Celtic Mythology
Source: youtube.com
He is passionate about spreading the message of rebirth, wisdom, and the green energy of trees through his artwork. He also believes that tree carving helps to bring new life to large trees that were topped or simply fell due to age, accidents, or age-related damage.
Always inspired by the beauty and power of nature, Richie Clarks continues his quest to explore the boundaries of imagination and creativity for more than 20 years.
7) Justin Gordon Architectural and Fine Tree Carvings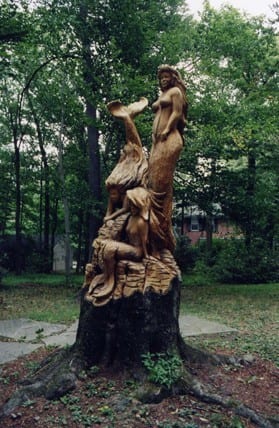 "Mermaids" by Justin Gordon – Image Source
The amazing story of Justin Gordon's path to wood carving is one that conveys the message of "it's written in the stars," or maybe it was written as deep as the blood in his veins flows.
He admits that his talent for building sand castles drove huge waves of attention ever since he was just a child, playing on the beach happy and carefree.
However, he had little plans of exploring the path of sculpting and making a living out of his artistic flair. Instead, he obtained a degree in Mechanical Engineering after graduating from the University of Massachusetts in 1983. But in 1991, Justin Gordon received what he refers to as a "boot in the ass" when he was laid off his missile business career.
Next, he started traveling the globe and making sand sculptures. Little by little, his talents and horizons expanded. Thus, Justin Gordon specialized in the sculpting of eight different mediums, namely snow, sand, clay, ice, foam, wax, stone, and nonetheless – wood!
Video by Viral Maniacs – AMAZING Time Lapse SAND SCULPTING Videos – 3D Art Sand Sculptures – Talented Street Artists
Source: youtube.com
8) Jacob Lucas Chainsaw Tree Carving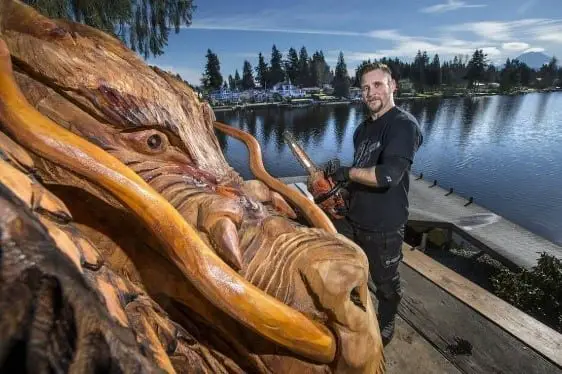 Jacob Lucas resides in Bonney Lake, Washington. His dream of becoming a wood carver dated back to his childhood years when his grandmother used to buy him cute bears carved out of wood at the local fair.
Initially, he saved money to buy his first saw at the fragile age of 13, after working at a lawnmower repair shop.
Unfortunately, his joy was rather brief as his saw was stolen away from his family garage. Jacob admits that the theft of his saw was very discouraging to his dreams of pursuing a carving career.
But then again, his grandmother played a key role eleven years after the misfortunate situation with Jacob's first saw. She read an article in the newspaper about a carver, and it was then that Jacob Lukas' dream was reborn.
Gradually, he started carving full-time back in 2004. In 2016, he transformed a towering 48-year-old redwood tree that was struck by a lightning into a stunning dragon tree carving masterpiece.
9) Mark Colp "The Carver King"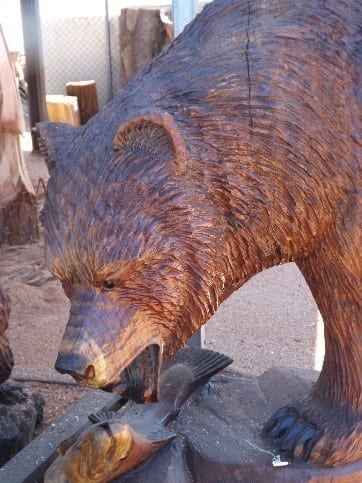 Mark Colp's story of getting into the art of tree carving differs from the rest of the talented carvers we have included in this article, mostly because Mark had little doubt about turning the art of wood sculpting and carving into a career.
But what's more, Mark Colp beautifully shares that wood sculpting is actually much more than merely a career path as he believes that wood sculpting is his life.
Born in Alberta, Canada, Mark Colp started sculpting wood professionally straight after graduating high school. Up-to-date, Mark Colp is proud to have competed in numerous carving event and championships.
He has won multiple awards, such as climbing the first place at the Reedsport Oregon in 2002. It was in 2015 that Canada piloted a reality show called Carver Kings, and Mark Colp was extremely happy to be one of the participants in the first on-air episodes of the TV show.
In the Chainsaw Competition in Hope, British Columbia 2017, Mark Colp won third place, sharing the success with Jacob Lucas (2nd place), and Chris Foltz (1st place).
Video by Chainsaw Competition in Hope, BC, 2017
Source: youtube.com
The Bottom Line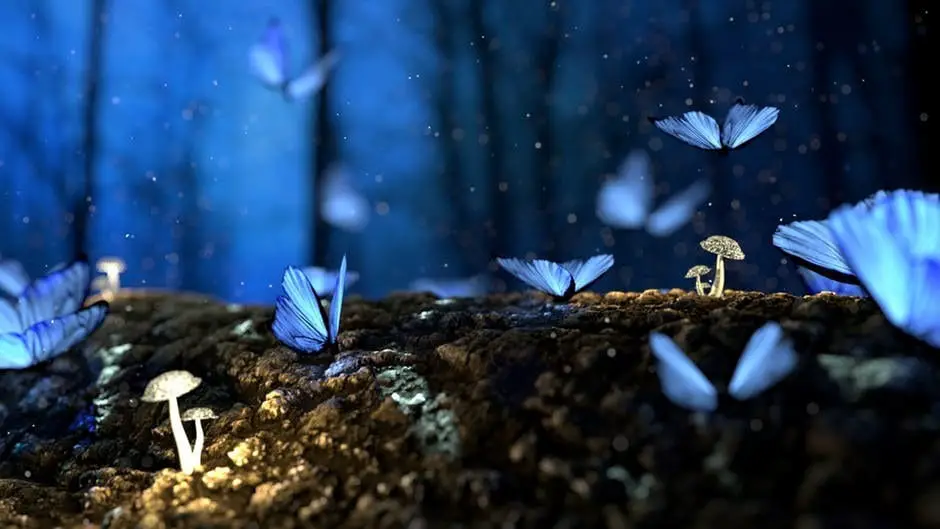 Image Courtesy of pexels.com
According to anthropologist Augustin Fuentes, the leading factors that contributed to the evolution of humankind are none others but creativity and cooperation.
In his book The Creative Spark: How Imagination Made Humans Exceptional, Fuentes gathered and explored studies and data based on the latest findings combining biology, archeology, and evolution. He also highlights the dire need of embracing an open-minded outlook on life and all the people around the globe, referring to a phenomenon called "new tribalism" that is flaring up conflicts because of creating faulty images of separation between the nations.
In a world that is faced with the tragic consequences of climate changes caused by our negligence to Nature, art becomes a weapon against violence and irresponsibility, leading us to the Universal truth that Planet Earth is a place we all call HOME.
" … [] Wood supplies a soothing warmth that no other fuel can provide, encouraging family and friends to gather around a roaring fire for pleasant conversation. Many romances have blossomed in front of a flickering fireplace — just one more wonderful way that wood warms you… []"

Tim Clark, The Old Farmer's Almanac 2015
If we managed to inspire you with the compilation of stunning tree carving from around the world, share this article with friends and family, and let's make this world a better place together.