Nowadays, there are multiple stunning alternatives to the outdated 70s style wood paneling. Fortunately, even if you are feeling annoyed by the wood paneling in your living room, you can easily change the entire atmosphere with some simple interior decorations.
Nevertheless, those of you who do enjoy the wood paneling in their homes can also benefit from the tutorial we are listing below. After all, who doesn't appreciate a healthy gulp of inspiration?
What You Will Need To Follow This Tutorial
Cushions
Rugs
Flower Vases
Sculptures
Eye-catching art
A Quick Pro Tip
You don't need to use all of the items we have just listed above in order to decorate your living room.
The goal is to accentuate on something which will drive the attention away from the wood paneling itself or it will complement the looks of the wood paneling to match your unique style.
Plus, we'll give you some extra tips on how to create some of these items by yourself.
Step By Step Instructions For Decorating A Living Room With Wood Paneling
Step 1 – Cushions and rugs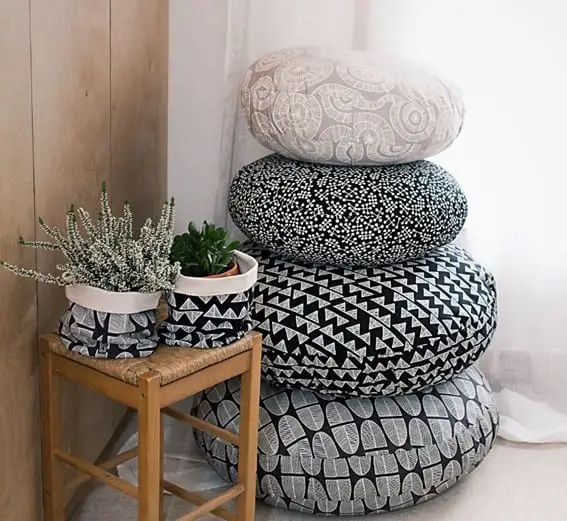 Image Credit: artisanlifestyle.co.uk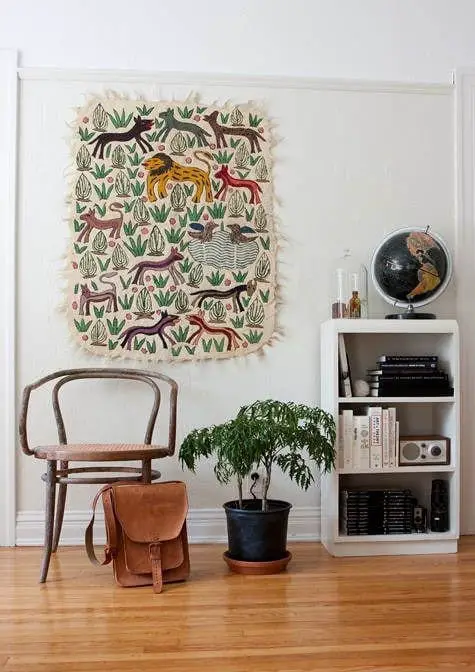 Image Credit: josephcarinicarpets.com
Something as simple as throwing a few fancy cushions and/or a rug (or several rugs) with an attitude can change the interior design of your living room completely.
When choosing pillow cases, go for colors which add vibrancy. Suitable color combinations you can consider include:
Avocado green + Deep purple
Navy blue + Apple green
Lemon + Raspberry red
Blackcurrant + Silver gray
Black + White (a cult classic!)
Stay away from brown nuances as these will fail to stand out. Who says you can place pillows only on the sofa or the couch? Floor pillows are the new gig.
Plus, you can hardly get bored with the interior since pillowcases are easy to change whenever you feel like it.
You can hang rugs on the walls or position these on the floor. You don't need full-sizes rags but only small to medium-sized ones.
Step 2 – Vases and Sculptures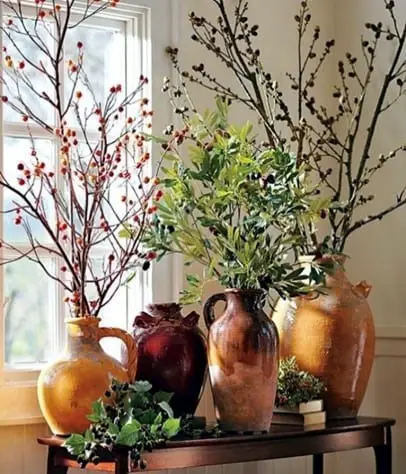 Image Credit: ofdesign.net
Both vases and sculptures can liven up the room amazingly. Instead of filling the vases with flowers which you will need to change regularly, think out-of-the-box and try assembling a miniature forest in a vase.
For this purpose, you want to fill a big vase with old branches. Add character to the branches by coloring these or by applying aging techniques. You can also hang various decorations on the branches. For example, string LED lights work fantastic.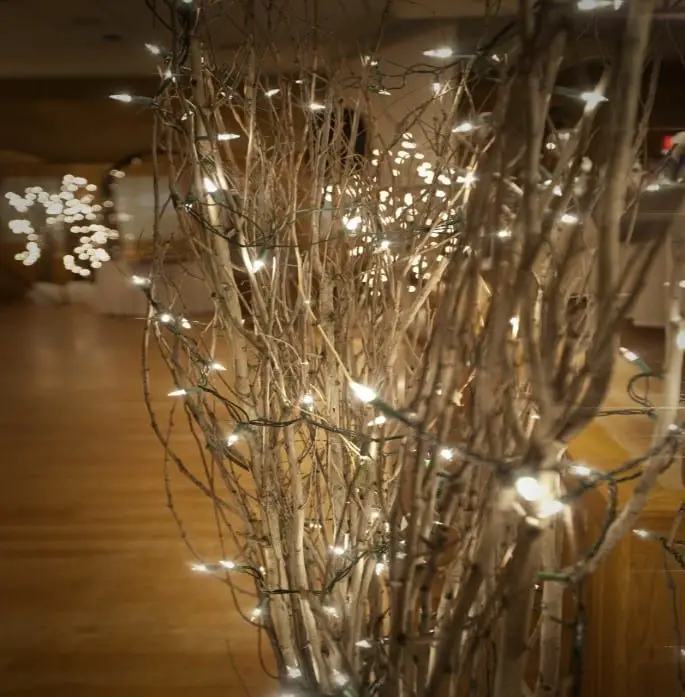 Image Credit: deavita.com
Much like with cushions and rags, vases and sculptures can draw most (if not all) of the attention towards themselves rather than to the wood paneling.
Image Credit: Pinterest
Pick a theme which matches all the items instead of causing a mess.
Step 3 – Hanging art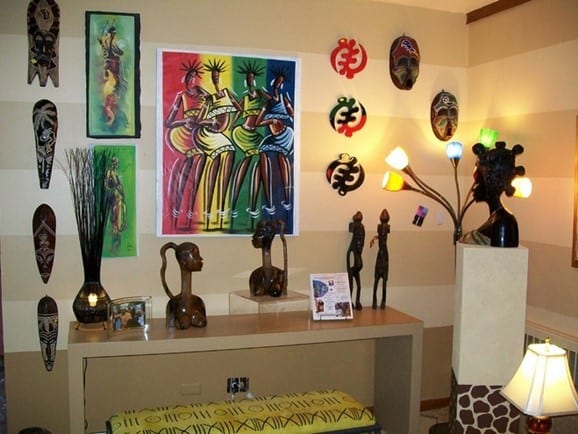 Image Credit: decolover.net [African themed living room with multiple sculptures]
When we mention the term hanging art, we mean a very wide category of items which can be placed over the walls and complement wood paneling in the best way. What's more, hanging art allows you to put your artistic flair on a plate.
For instance, totems and/or abstract pictures can add an exotic touch to the living room.
On another note, the increasingly popular pop-up art can truly invigorate the living room with colorfulness and playfulness.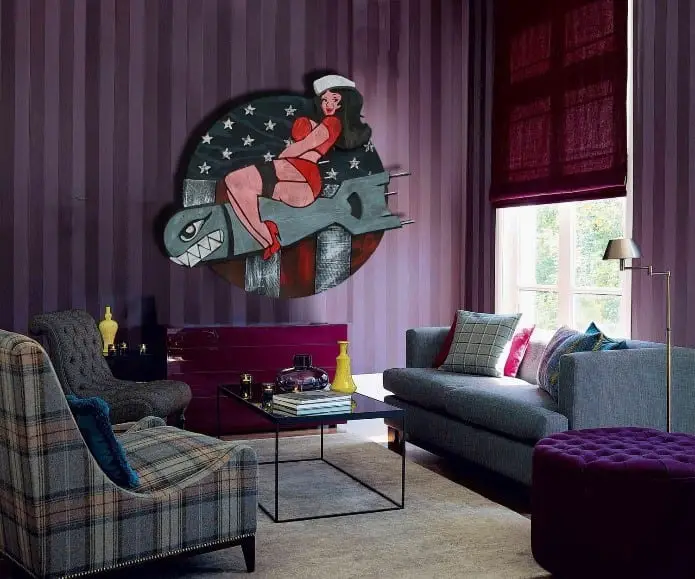 Image Credit: chrisknightcreations.com
If you're looking for something eye-grabbing you can do yourself, try creating hanging wall art out of old tyres.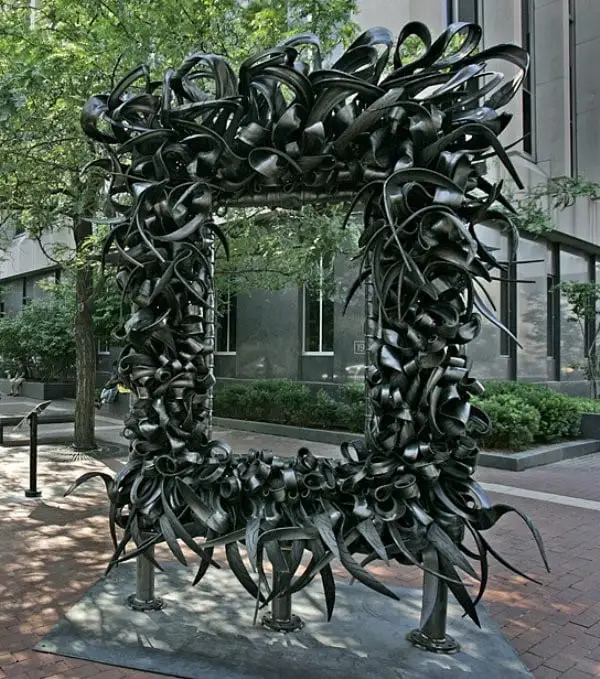 Image Credit: insteading.com
Wood paneling can work in your favor as long as you are not afraid to experiment. In fact, the opposition of classic wood paneling and modern, abstract art and/or items can be simply mesmerizing. Nevertheless, futuristic wood paneling installations give you all the freedom to turn a living room into a masterpiece.
What do you think about the simple ideas we shared above? Did we manage to help you out on brainstorming how to decorate a living room with wood paneling? Let us know in the comment section below!
If you want to read more articles like this, we'd love to have your support! Like and share this piece to help inspire more of our fellows DIYers and the aficionados of interior design to have some fun while decorating.