If you'd love to try an all-natural, non-toxic, super-easy way to stain wood, then you want to learn how to stain wood with coffee. Yep, that's right. Just plain coffee grounds mixed with water, and you have it.
Of course, for best results, you also need to know the right recipe for the coffee staining solution. Plus, a couple of tips to give you a kick-start as a coffee wood stain master. Keep in mind that coffee can deepen the nuances of all types of wood, which makes staining with coffee a quite versatile technique.
What You Will Need To Follow This Tutorial
Coffee
Water
Foam brush
Big bowl/ Plastic bottle (or any other suitable container to mix the coffee and water solution)
Pro Tips
1 – The golden rule: 1 part of coffee + 1 part of the water
Whatever the size of the surface you want to stain, just remember you want to mix 1 part of water with 1 part of stain. That makes up for the full dissolving of the coffee grounds at an optimal concentration of the coloring pigments.
2 – Let the coffee grounds dissolve in hot water thoroughly
You can proceed with applying the coffee solution as soon as you have mixed the coffee grounds with hot water. However, it's best to let the coffee dissolve properly for a good 30 minutes (but no more than an hour). You can also stir occasionally.
3 – Don't shy off from experimenting!
I bet you also have some other natural wood stain ingredients handy right now. Or you may at least get inspired to try them out. How about beetroot wood stain for a magnificently purple-hued wood?
Step by Step Instructions for Staining Wood With Coffee
Step 1 – Mix your coffee staining solution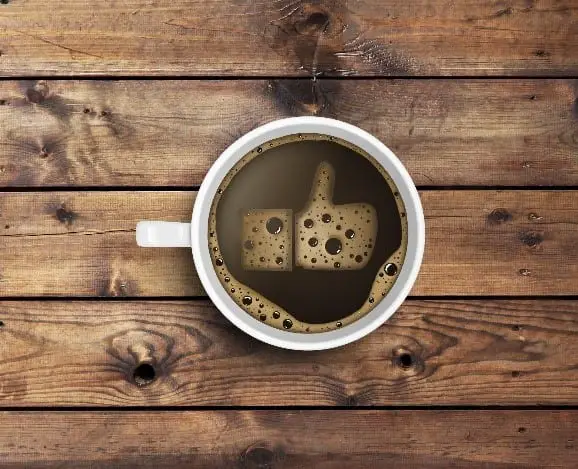 Image Credit: calusacoffeeroasters.com
Combine coffee grounds and hot (boiling) water in a suitable container. The quantity of coffee and water you mix will depend on the size of the surface you want to cover.
A 6-inch x 6-inch wooden board will take up approximately 2 tablespoons of coffee grounds x 2 tablespoons of water for staining.
Step 2 – Apply the coffee-water mix (apply up to 4 coats)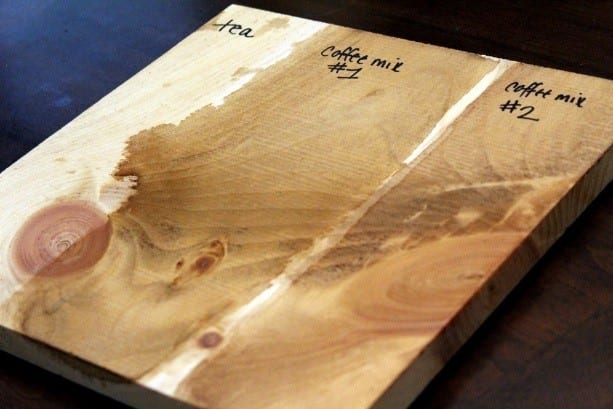 Image Credit: justmeasuringup.com
Using a foam brush is a perfect idea if you are working on a relatively small surface of the wood. For bigger objects, such as massive furniture, it's better to work with a paint brush. Some also recommend spilling the mixture directly on the object, as if bathing it with the coffee solution.
Allow each layer to dry off thoroughly before applying another one. The time for drying will depend on the size of the wood you are dealing with, so there are no strict regulations. Just check if the wood feels dry to the touch.
If you want to speed up the drying process, you can use a hairdryer and blow directly against the wood.
Have you tried staining wood with coffee? Do you know that you can also stain wood with black tea? Have you tried any of these methods before? Psst, can we share one more trick for staining wood naturally? We also love the steel wool and vinegar staining solution. What's your favorite?
We'll be happy to hear from you with your personal impressions, experience, or questions. Would you like to help us spread the positive vibes? Like and share this article to help more fellows DIYers join the community.