Transitioning between two different wood floors is relatively easy when it comes to meeting at a narrow doorway.
However, it gets a little tricky when you are looking on keeping an open floor plan for either a residential or commercial space more cohesive.
In this article, you will learn how to transition between two different wood floors, so you'll have an idea of how to proceed on your next project with full confidence.
What You'll Need to Follow This Tutorial
The basic materials you'll need for this woodwork project include wood board or panels, saw, T-molding, hammer, tiles, grout, tile adhesive, glue, nails, and measuring tools.
Techniques in Wood Floor Transition
Technique #1
Making the design irregular. Rather than a right-angled and straight design, you can make transitioning more interesting by designing your floor using an irregular pattern such as a curved, shaped, or diagonal line.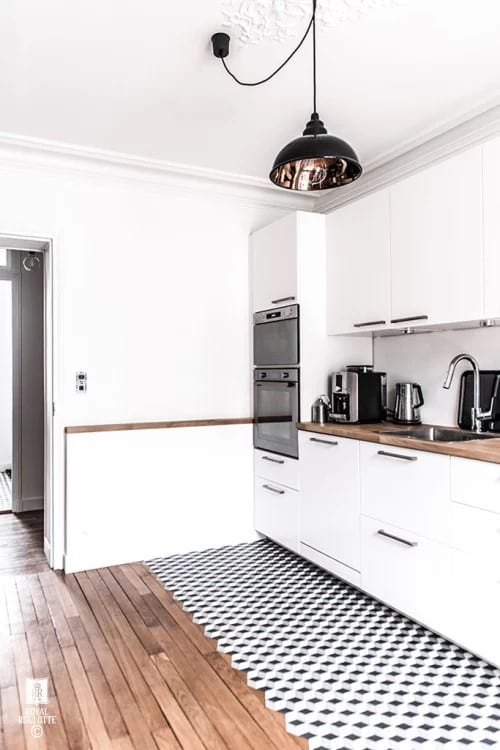 Image Source: http://royalroulotte.com/
Technique #2
Pushing boundaries is a good idea to help your flooring transition professionally. This is done by intentionally extending one covering as well as past the point where they are expected to meet. The tile in this example of a one-wall kitchen extends to the doorway, and it stops short.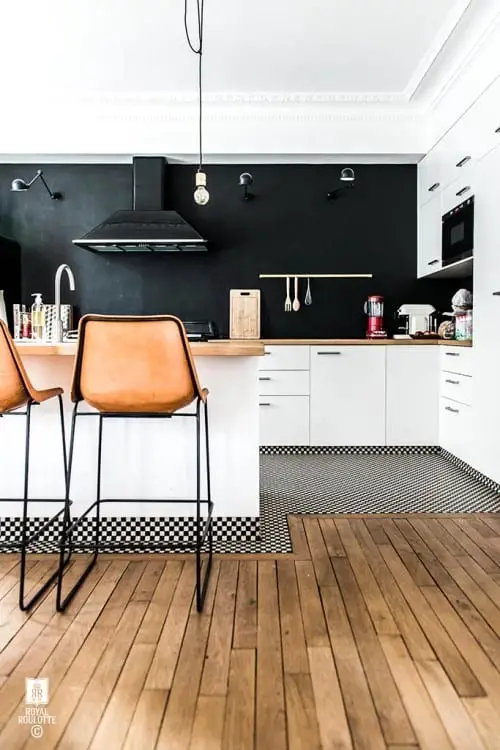 Image Source: http://royalroulotte.com/
Technique #3
Carrying the border across. Your flooring that requires to end at an island or wall can obtain a style boost if you add a thin border used in surrounding the feature.
In the photo below, the toe kick tile and floor of this kitchen extend around the island, and the wood edge creates an interesting zig-zag border.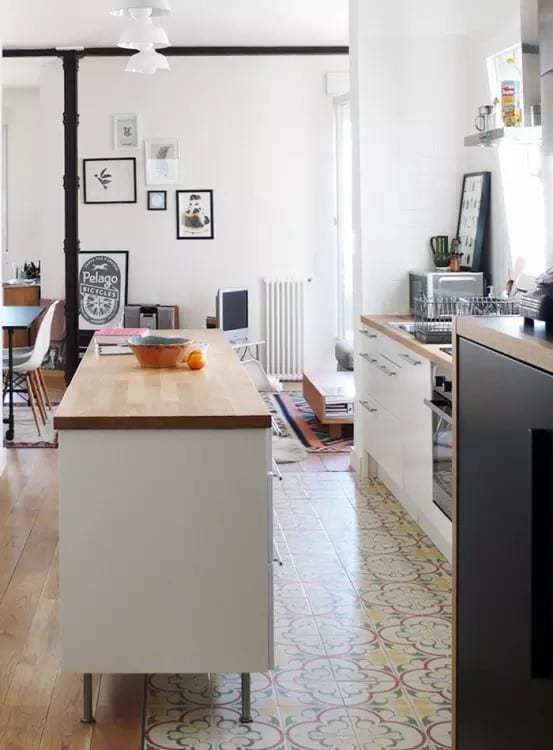 Image Source: https://www.instagram.com/farrettgleming/
Technique #4
Splitting the line is another clever idea, wherein it involves interrupting the space where two-floor treatments meet. This is done by placing a piece of furniture or a feature right on top of it. This can be done when transitioning between two different wood floors.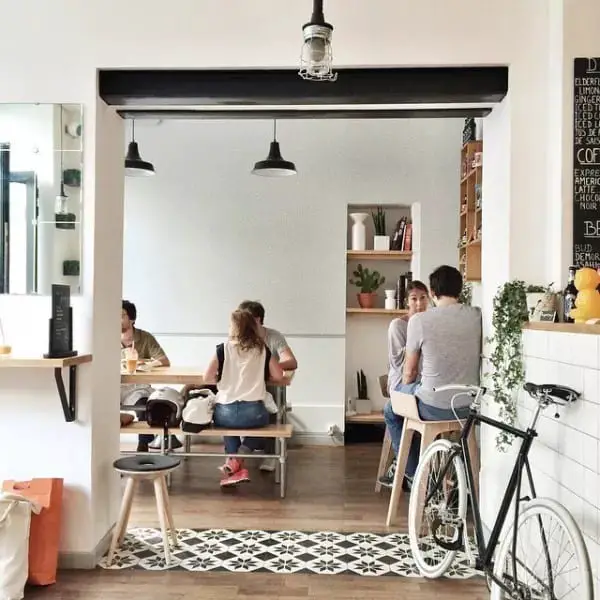 Image Source: http://www.cupofcouple.com/paper-boy/
Technique #5
Adding a buffer zone is suitable for two different shades or types of hardwood floors, you may consider a buffer zone like an accent tile in-between. The tile buffer in this image eases a transition between two floors that clash.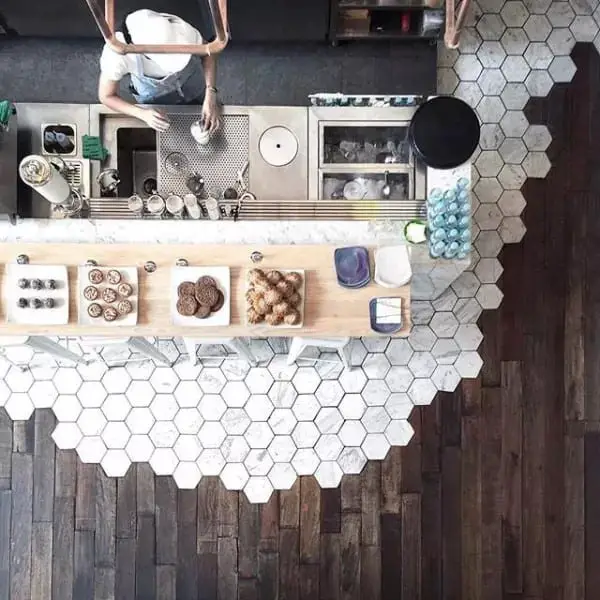 Image Source: https://www.instagram.com/p/6hyC0ik03K/
Tips and Tricks When Transitioning Two Wood Floors
While it is true that using the same type of flooring creates a sense of space throughout your home, it is not necessarily the only way to make the most out of every individual room.
For example, dark wood floors, like mahogany or Brazilian walnut, work well in large rooms and both south-facing rooms. Also smaller rooms can benefit from wood flooring with lighter tones such as maple, white oak, or ash.
Yes, you can combine different types of wood for the flooring of your home, and you can mix and match woods elsewhere, like cabinets and other furniture pieces.
1) Contrast
Make sure that the different woods are distinctly different in one area because combining woods with too similar colors can appear as simply having a mistake.
For instance, you can combine a dark wood color on the stairs, doors, and stair rails with a lighter color on the floor of the hallway.
If you're going to lay a darker color of the wood floor of the kitchen or any room of the hallway, you should match the color of the floor in the hallway with the darker wood.
Match the color of your kitchen cabinets with the hallway's lighter tones. This is to maintain a sense of cohesion in all areas around the home.
2) Laying the Floor
When it comes to a narrow area, do not lay the flooring that it runs parallel to space's length because it will just reinforce lack of width and the sense of length which creates a bowling alley effect.
3) Transition
The transition between different types of wood flooring in two adjoining rooms occurs in a straight line within the threshold of the room. An easy and quick way to transition neatly is using a piece of T-molding. It creates a T shape, wherein the lower part slots that are located between the two floors and the top section creates a nice and smooth transition.
Conclusion
Transitioning two different types of wood is made easier by keeping all these tips and tricks in mind. You cause tiles, furniture, T-molding, and other techniques that are proven effective for the best results. Share this post and leave a comment to share your thoughts now!