31) Eco-Friendly Wine Rack Design
This is a wine rack worthy of your attention. Not only is this made from recycled pallet wood but it is also a sight to behold. The wood used to put this all together was from recycled pallets. And if this was the case, this pallet wine rack costs absolutely nothing.
The rack can hold four upright bottles and four horizontally-arranged bottles. The lower part is for holding wine glasses, ready to pour you a drink.
Now if you were to use recycled pallets, there are a few things that you must consider. First, your pallets must be strong despite being reused pallets. These should be free from rot, insects, and mold. Add support for your pallets for additional safety.
Finally, this design may be quite difficult to look at but rest assured that it is very easy to follow. You can actually build this wine rack from scratch in just a few hours because it is so easy to make.
https://www.etsy.com/listing/154669051/
32) Modern Minimalist Pallet Wine Rack
This looks awesome in a modern minimalist home. The rack itself was made from strong pallet wood and has several levels, each level holding a bottle of a type of wine. There is a space for reds, whites, chardonnay wine and more. And possibly the most amazing thing about this rack is that it costs only $15 to make.
You can also use recycled or upcycled pallet wood so you can make a rack that costs almost nothing. All in all, this is easy to make, cheap and no less beautiful especially when this is in your kitchen or dining room wall tonight.

https://www.pinterest.com/pin/502010689707787572/
33) Pallet Wine Rock from Etsy
Have you ever wanted to show off your wine collection to guest but can't afford a full sized bar? Show off the best of the best with this pallet wine rack found on Etsy. This is a lovely wine rack with a warm wooden glow. The wood used for this rack was obviously treated with a lovely coat of varnish.
This can accommodate up to 8 bottles of wine and a number of wine glasses which were fitted at the bottom of the wine rack. The rack was obviously from the bottom half of the pallet frame and therefore you can count on this to be a very easy design. And even if you have never worked with wood you will find this project very basic but nonetheless lovely to have in your home.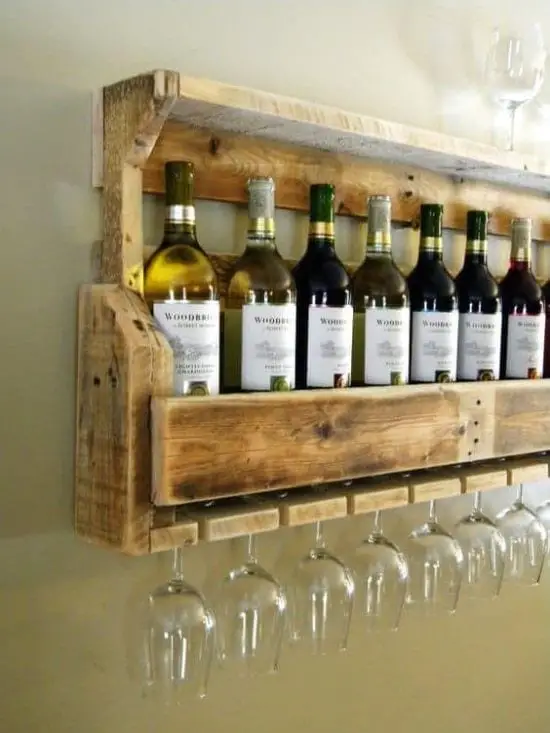 https://www.etsy.com/listing/130842055/wine-rack-wine-wine-bottle-holder
34) Home Stratosphere Pallet Wine Rack
This wine rack is very festive and was made by cutting the lower portion of a pallet wood frame. This is a wine rack that can accommodate about six wine bottles without spilling a single drop. The lower half of this rack hangs wine glasses which will always be ready to hand you a drink. This very impressive pallet rack has been stained or varnished to age.
Strong and dark varnish has been applied to the pallet wood used for this wire rack. The varnish was able to bring out the natural beauty of the pallet wood and at the same time protect the wood from water.
This is a project that is easy to make and won't take much of your time to do. If you are looking for a new project to renovate your home then this could be the one for you. Check out its complete plans right away. 
35) DIY Home Projects Pallet Wine Rack
This is a small wine rack that may lack appeal to many but actually, this is a wine rack with a promising design. This is made from only a few pieces of pallet wood but no doubt that it can hold wine bottles, even full wine bottles safely and efficiently.
There are no racks to hold glasses and accessories but it's not a worry at all. What's important is that you have everything you need with you and you have your favorite wines handy and within reach.
How to improve this design? You can make this wine rack larger to accommodate more bottles. You can install a rack at the bottom for glasses. Finally, you can paint this according to the color you wish. You can stain it, or apply varnish any which way you think would complement your wall color and other color accents in the room.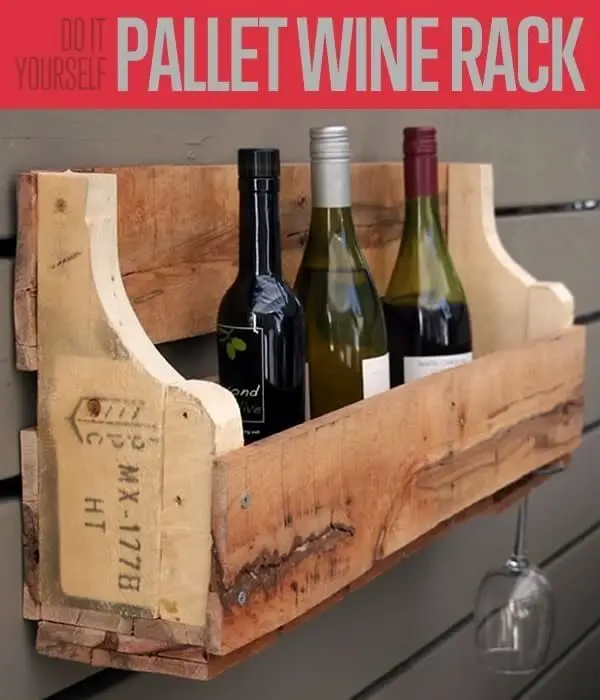 https://diyprojects.com/diy-pallet-wine-rack-cool-upcycled-furniture-ideas/
36) Wine and Glass Wood Stand
This has got to be one of the oddest wine racks of all! Well, it is not actually a rack that can hold a lot of bottles but a single pallet piece rack that holds two wine glasses instead. Share this bottle of wine with someone you love and see the sparks fly.
This wine and glass wood stand seems to be in a state of perfect balance as the bottle carries the weight of both glasses. The wood is just a small piece of the pallet and was simply cut using a hole cutter and a jigsaw to make the holes for the glass and bottle.
There is no doubt that this is a very easy project and something that you can build in just a few minutes. You can make a dozen of these and use this to serve your guests on your next party.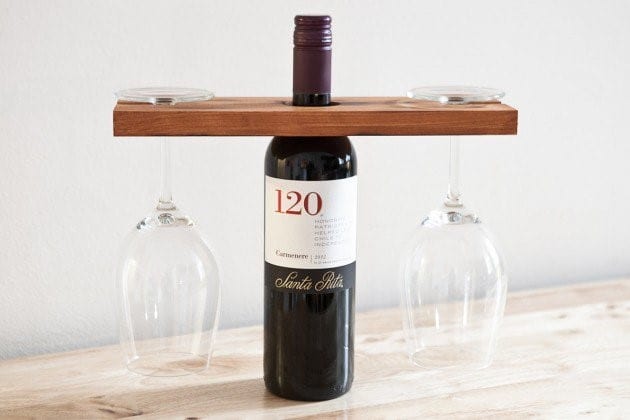 https://www.etsy.com/listing/180914374/?zanpid=10690_1533893719_de0a4c87ab3928449877542e8a278904
37) Unique Reclaimed Pallet Wine Rack Design
If you have empty wooden boxes like this one then you now know what to do with them. There's no need to cut the box or dismantle the pallets; simply make a hole a larger size than a wine bottle neck and voila! The hole at the bottom holds the bottle in place from its neck. Have five or more of these lined up and you got yourself a large wine rack.
As you can see there are sections made for wine glasses as well. Take two long pallet box side and jigsaw some grooves for the glasses to side on and you are set. In this design, the builder chose to go natural but you can stain this according to your preference or paint it any color you want as well. 
Another version of this easy pallet wine rack is displaying the bottle right side up and just placing a piece of wood for every box to hold it. But this won't be as fun right?
This reclaimed pallet wine rack is very easy to build and you can certainly make this project in just a few minutes. 
https://www.etsy.com/listing/179981774/unique-reclaimed-pallet-wine-rack?zanpid=10690_1533893797_45ebb0b88ceaff636acf9c82c36e6c15
38) Unique Wine Rack
This one is a unique and cool wine rack that seems to suspend the bottles carelessly in thin air. What's another great thing about this design is that it has used only a few pieces of pallet wood which means you will do less cutting, assembly and finishing.
Now this rack was made from several pieces of pallet woodcut in a diagonal pattern. A number of wooden pegs were placed in an ascending order and these pegs will hold the wine bottle safely.
This wine rack may be used as a fully-functioning wine storage system but it is not encouraged. You might just consider displaying empty wine bottles here just in case… But all in all, this is a very interesting wine rack and sure to be something that will "break the ice."
You can make this safer by improving the design of the pegs that hold the bottles. And because you are working with wood, you can stain it, apply varnish or paint it according to the color you want. 
https://www.etsy.com/listing/154512721/unique-wine-rack?zanpid=10690_1533893860_c340bcac9c14ae2292026df9db81a6db
39) Upcycled Wine Rack
This is a rustic wine rack design made from pieces of pallet wood. The back of the rack was made from pieces of pallet wood with irregular sizes and shapes. Different kinds of hardware like hooks and screws were used to hold the bottles in place and this is definitely something unique.
You can see that the pallets were painted in a dark shade which was done to complement the light wall at the back. The designer has made it seem like the bottles were suspended in air because you can hardly see the screws and hooks that hold the bottles in place.
The design is very simple but can you really imagine using this as a regular wine rack or something you would use every day? This could be a good way to mount a very rare bottle or a souvenir piece instead.
You can make this wine holder/wine rack in just a few minutes as long as you have all the materials and tools with you.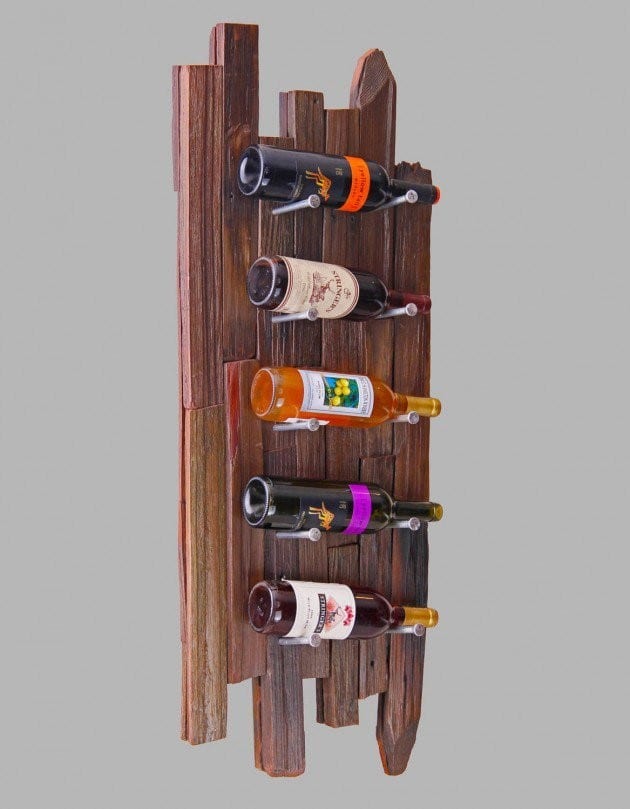 https://www.etsy.com/listing/157931477/redwood-wine-rack-napa-valley-wood-rack?zanpid=10690_1533893943_db09962fab7a6fb5b80336e0b59dd139
40) Pallet Wine Rack
This wine rack has a traditional design and can hold up to five of your top wines. The rack looks rustic, uses large pieces of pallet wood to hold the bottles and keep them safe and secure on any wall of your home.
The rack uses huge pieces of pallet wood, the ones found at the edge of pallet frames. It may look awkward because these pieces are large on each end but still these did their job of holding the rack together. There are wine glass holders at the bottom of the rack which makes it inviting; ready to offer you a drink when you get home.
No doubt that this design is very simple and could be done in just a few minutes. You can stain your wooden pallets to any shade you want as long as you let the natural beauty of pallet wood shine through. Staining and varnishing your wood can protect it so it's really a good idea especially if these are for building wine racks.