Introduction
Miter saws or chop saws can make woodworking jobs easier especially when you are working on miters, frames, and molding. It is basically a spinning circular saw with an 8 to 12 -inch base that drops down and chops of a piece in the desired angle.
I love my old miter saw. Without it, I would have never made frames, cabinets, and molding that perfects most woodworking projects I have made before. I have an old saw that still works like brand new. But if I were to purchase a new one I would surely be choosing between a Ridged Miter Saw and a Hitachi Miter Saw. I have heard so much about these awesome power tools that I have decided to compare this two point per point.
The Ridgid Miter Saw is known for its updated features and precision cuts. The most popular dual bevel sliding miter saw can handle any kind of project. It features a 0-70-degree miter range with 70 degrees to the left and to the right. It has a dual-bevel design with crown molding that lets you move the saw head instead of the material for utmost convenience. It boasts a 15-amp motor that easily handles the toughest of materials.
On the other hand, the Hitachi compound miter saw has a 15 amp motor giving you intense power for the best cutting jobs. This has Hitachi's exclusive Laser Marker System that will improve cutting accuracy. It can make the difficult cuts and keep you from making mistakes and wasting materials. This has a lot more amazing features that could make your next miter saw for your woodworking needs.
Ridgid Miter Saw vs Hitachi Miter Saw
| Product Details | Ridgid Miter SawRidgid 15-Amp Dual Bevel Sliding Miter Saw | Hitachi Miter SawHitachi Compound Miter Saw |
| --- | --- | --- |
| Product Dimensions | 31.1 x 17.2 x 21.6 inches | 20.2 x 16.2 x 13.8 inches |
| Weight | 52.3 pounds | 34 pounds |
| Motor Power | 120 volts | 120 volts |
| Accessories | Saw blade, box wrench | Saw blade, extended fence, dust bag, vice assembly, box wrench and hex bar wrench |
| Ratings | 8 out of 10 | 9 out of 10 |
| Price | Check Lowest Price | Check Lowest Price |
Buyer's Guide
How to choose the right product
If you are looking for a good miter saw for home or worksite use, you need to keep in mind some important parameters so you could purchase the right kind for your needs. Think of a miter saw as a small investment. You have to place quality above everything else. Check the following pointers:
A 10-inch saw vs a 12-inch saw?
Miter saw are generally grouped in two: 10-inch or 12-inch miter saws. The ideal saw depends on the project at hand. If you are new to using a miter saw, a saw with a 10-inch blade is a good tool to start.
A 10-inch miter saw is meant for beginners. This has fewer teeth and is less costly to sharpen. It has a smaller blade radius which allows the blade to spin faster. When the blades spin fast because of its lightweight, it will use less electricity. On the other hand, a 12-inch saw is for cutting material which is used to build decks and flooring or for projects that need thicker and larger materials. A miter saw with a large blade also allows you to cut more complicated materials which could be impossible to do with a 10-inch saw.
Find special features of miter saws
Miter saws have completely evolved over the years and each time, a new feature is added to improve usability. The most popular is the miter saw laser cutting guide. This is a good feature which will give you accurate cuts. This is a good idea if your project needs very accurate cuts. Lasers built in the saw body create guide marks where the blades will cut into when the saw is lowered. With a laser guide, you will be able to know where the blade will cut as it comes in contact with the material. This will reduce error and prevents wastage of materials.
A sliding miter saw vs a compound miter saw?
If you need to make angled cuts to make picture frames or crown molding then a compound miter saw is the right saw for you. This saw can pivot left to right and can create a compound cut with just one pass. Meanwhile, a sliding miter saw can move forward and backward so you can easily improve the length of the cut especially when you are cutting large materials. Sliding miter saws will be able to cut logs, lumber or boards.
Look for complete miter saw accessories
The miter saw you must choose should have complete accessories. A tool with complete accessories allows you to operate the saw as soon as you get it out of the box. The most common accessories that you should expect with miter saws include blades, bevel or miter guide, wrenches, guards and a bag or carrying case to take the saw anywhere.
How do we compare Ridgid Miter Saw vs Hitachi Miter Saw?
Both miter saws are updated and the latest models. Both show good quality when it comes to power with their strong motors and good cutting features. Both are made from tough materials so there is no doubt that you will be able to enjoy using these saws for many more projects to come. The Ridgid miter saw boasts an adjustable laser guide which makes it easier to make cuts in a variety of angles. The Hitachi also has a Laser Marker System to improve accuracy. However, the Ridgid saw boasts of a larger base and cutting area compared to the Hitachi and this may affect the size of material that could fit the base.
The Hitachi miter saw has a 10-inch circular blade which can eat through a variety of materials. It can work with wood, metal, aluminum, acrylic, plastic or tile. On the other hand, the Ridgid miter saw has a 12-inch blade which can take any kind of material, not just wood. It can be used to make cuts for a variety of applications.
The Hitachi miter saw is a whopping 34-pound tool. It is heavy because of its steady base made of tough metal which keeps your cuts precise and perfect. Meanwhile, the Ridgid miter saw is a heavyweight at 52.3 pounds and again this is so heavy because of its metal table or base. This stands proud and steady to prevent any accidents and mistakes and will help you create perfect cuts each time you use it.
1) Ridgid Miter Saw
Why Use the Ridgid Miter Saw and Who Is It For?
The Ridgid miter saw is for people who want perfect miter cuts all the time. It is for anyone who works with creating trims and miters. This powerful saw can save you a lot of time and effort compared to measuring and cutting miters by hand.
Review
The most updated Ridgid saw is a 12-inch dual bevel compound miter saw that has an adjustable miter table so you can make a variety of cuts and use it for a variety of applications. It comes with a powerful 15 amp motor that can eat through almost any kind of material. It has a dual bevel with 0 to 48-degree adjustments, left and right. A crown molding controls the bevel so you can move the saw head and not the material. The rotation of the bevel stops at 0, 33.9, 45 and 48 degrees either left or the right. It comes with a unique adjustable laser guide so you can accurately align the blades. The laser light does not require additional batteries to operate. This Ridgid miter saw also has a fixed dust port to maintain optimal position and good dust collection while you work. It also comes with a sliding miter fence, quick release lock, ergonomic handles for maximum grip and zero clearance throat plate. With the Ridgid miter saw, you can conquer almost all kinds of woodworking projects in no time.
Main Features
Heavy-duty 15-amp motor
With bevel at 0 to 48 degrees left and right
With crown molding stops
With an adjustable laser guide
With a fixed dust port
With sliding miter fences
With an ergonomic D handle
Comes with a 1-year warranty
Q&As
Do you need the training to use the Ridgid miter saw?
Not at all. But you can learn how to work this miter saw by watching videos or instructional articles online. You may also contact customer service in case you have questions about your Ridgid miter saw.
Where do you buy blades if these are worn out?
You can purchase blades from an online site that sells Ridgid power saws and accessories or you can purchase these from a local distributor.
How do you keep a Ridgid miter saw in tip-top shape?
You can keep your saw in great shape by making sure that the blade is sharp and ready. Clean the saw body and table with a clean dry cloth. Follow any instructional tips on how to maintain this power saw from the manufacturer.
Pros
This is completely adjustable.
This has an adjustable laser guide.
This ergonomic features.
Cons
This is very heavy to lift.
Does not come with extra blades.
2) Hitachi Miter Saw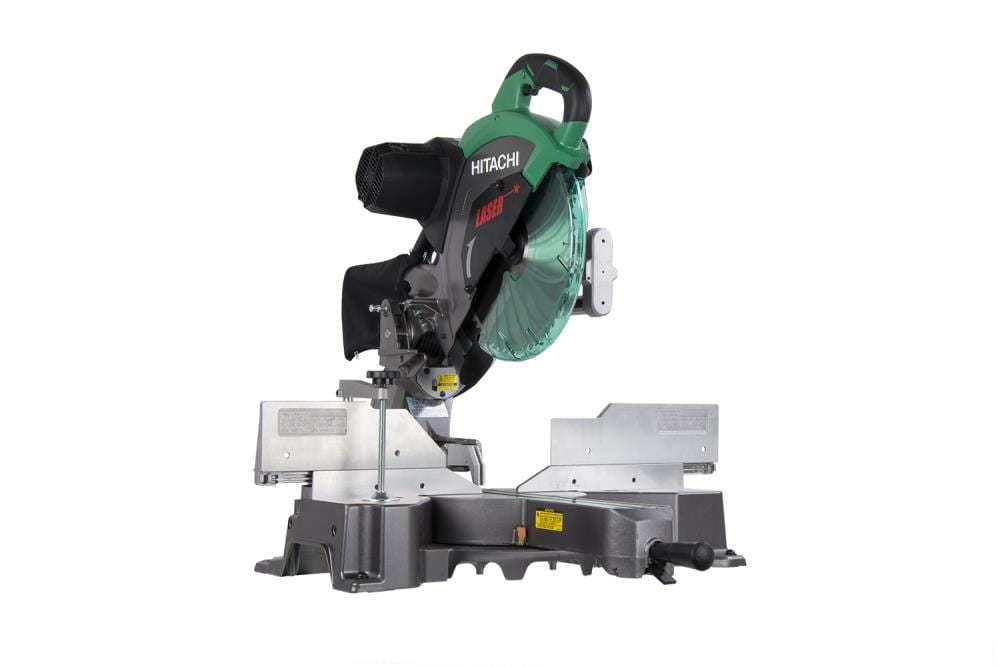 Why Use the Hitachi Miter Saw and Who Is It For?
The Hitachi Miter Saw is for people who want to create precise cuts using an updated and efficient cutting tool. It is less heavy than the Ridgid model which makes it a good power tool to take to the worksite.
Review
The latest Hitachi miter saw is a 10-inch compound miter saw that is equipped with a Laser Marker. This can make smooth, accurate and easy miters to be used for a variety of applications. It can cut through wood, plywood, decorative panels, hardboard, aluminum and more. It comes with flexible miter angles and compound cutting abilities make it one of the most versatile miter saws. This Hitachi miter saw has a thumb-actuated positive miter that will stop to let you adjust from 0 to 52 degrees. You can easily switch from one angle to another to create miters in crown molding and in many other applications. This has a comfortable horizontal angle that is covered with vibration-resistant Elastomer. It has a clamping system to hold the workpiece as well. This also comes with a dust collector system so you can see your work minus sawdust and other debris. This weighs only 26.3 pounds so you will be able to take this to the worksite and not just keep it in your workspace.
Main Features
With a Laser Marker
Can work with wood, decorative panels, fiberboard, hardboard and aluminum sashes.
With a flexible miter angle and compound cutting
Miter adjusts from 0 to 52 degrees right and left
With a heavy and sturdy table
With a 15-amp motor
With a horizontal handle with vibration-reducing elastomer grip
With a clamping system for the workpiece
Weighs just 26 pounds
Backed with a 5-year warranty
Comes with a 10-inch saw blade, dust bag, vise assembly, box wrench and hex bar wrench
Q&As
Can you cut just about any kind of material using this miter saw?
You can cut a variety of materials like wood, wooden panels, acrylic, fiberboard, aluminum, hardboard and so much more.
Can you have this service for repairs anywhere?
If your power saw is still under warranty, check the warranty card or guarantee information for instructions on where to send or take your saw. There are accredited repair shops for this power saw. If your miter saw is no longer in warranty, take it to the nearest authorized repair center.
Where do you purchase accessories of the Hitachi miter saw?
You can purchase Hitachi miter saw accessories and parts online from their official site. You can also buy these from a local distributor that sells Hitachi power saws.
Pros
Comes with a wide range of miter adjustments.
With a convenient laser system
With a clamping system to steady the workpiece.
Cons
This is heavy at 26 pounds.
Has a smaller working table or working surface
The Final Cut
For a miter saw with a larger working area despite its weight, the updated Ridgid miter saw wins. It has a heavy base at 52 pounds however this steadies the saw and helps you make precise cuts all the time.
Meanwhile, the Hitachi power miter saw is lighter at 26 pounds but has a smaller table compared to the Ridgid saw.