Introduction
Miter saws are considered as a handy and versatile power tool for anybody who is interested in completing any project work, whether for serious workers, or DIYers. If you are planning to complete wood crafts, smaller saws are adequate enough to complete the tasks. However, if you are planning to work on a more robust woodworking project which requires more than basic angles, a miter saw is the right tool for you.
In the world of Miter Saws, different brands are currently available. Two of the most prominent ones are Kobalt and Hitachi. If you are planning to purchase a Miter Saw and are torn between these two brands, you are in the right place. Let us consider some factors that will help you make a good purchasing decision.
Kobalt Miter Saw vs Hitachi Miter Saw
| Product Details | Kobalt Miter Saw | Hitachi Miter Saw |
| --- | --- | --- |
| Year Founded | 1988 | 1910 |
| Price | Depending on the model | Depending on the model |
| Quality | High | High |
| Types of Miter Saw | Compound Miter Saw; Sliding Compound Laser Miter Saw | Sliding Compound Miter Saw; Single Bevel Compound Miter Saw |
| Price | Check Lowest Price | Check Lowest Price |
Buyer's Guide
How to pick the right product
When it comes to selecting the best miter saw for your needs, there are some factors that you need to take into consideration. Here are some of them:
It is important to start with determining the size of saw that you need, whether a 10 inch saw or 12-inch saw is a good option. Blades usually come in sizes of 10 or 12 inches. Your choice depends on the purpose of use. Unless you need a bigger 12-inch blade, a safer option is purchasing a 10-inch blade.

The 10-inch blade is generally less costly. Also, fewer teeth of these blades mean that they are less costly to sharpen. The smaller radius of the miter saw also allows the blades to spin faster with just fewer amps, thus cutting down electricity costs.

On the other hand, a 12-inch miter saw can offer longer cuts. As such, they are a perfect option for projects such as deck building, or those that need to cut thicker material. These saws also assure sharper and cleaner cuts.
How do we compare Kobalt Miter Saw vs Hitachi Miter Saw?
The Kobalt miter saw usually includes a taller fence. However, the placement of the safety switch makes cutting using the left-hand difficult. Also, when the dust bag is almost full, it has the tendency to jam against the carrying handle, thus making crosscuts difficult. This problem may be fixed by removing the handle. On the other hand, the Hitachi brand is known to have excellent blades. They manufactured one of the very first sliding miter saws. The saws run smoothly, with some nice rails and bearings, thus making good quality cuts. The only issue is that other features on this saw seem outdated. For example, they make saws with vertical handles that may not feel comfortable compared to horizontal handles found in other saws.
In terms of price, Kobalt is the more affordable option overall. However, since there are different models under this category, the prices may still depend on according to some factors, such as the blade size, and the features included.
Among the most common sizes of blades for miter saws are 10-inch and 12-inch blade sizes. These sizes are available in both Kobalt and Hitachi miter saws.
One thing that stands out in terms of weight is that Hitachi miter saws are generally huge. Whether you are getting a Kobalt or a Hitachi miter saw, it all depends on your purpose of use and readiness to use a bigger saw.
1) Kobalt Miter Saw
Why Use Kobalt Miter Saw and Who is it For?
This model is ideal for both DIYers, as well as serious woodworkers. One thing that a lot of woodworkers love about Kobalt models is that they offer real power, making the tools highly ideal for processes which include molding and framing cuts.
Main Features
4,800 RPM, accepting 10-in blades for molding and framing cuts
00-500 right and left miter range
Tall sliding fence
Spindle lock for quick and easy blade changes
Vertically mounted laser guide
2-1/2 inches dust collection vacuum port
Quick release extension wings
Cord wrap hooks
Q&As
Does this saw come with a brake?
The manual explains that this saw comes with a brake.
Is there an available depth of cut adjustment using this saw?
Yes, a depth adjustment is available. This makes possible for adjusting the depth easier and comes with a metal plate which swings out of the way in order to disengage the depth while still keeping your setting, and then swinging the plate back to renegade the stop of the depth.
Is it possible to use this miter saw for cutting metal?
This miter saw can be used to cut aluminum diamond plate, as well as other aluminum pieces and strips. It is recommended to avoid cutting steel, and use a chop saw instead.
Pros
Easy and quick blade changes
The cord is kept in place
3-year limited warranty
Tall sliding fence
Accurate placement of angles
Cons
Some issues with a dust collector
Bevel locking handle is located on the backside
2) Hitachi Miter Saw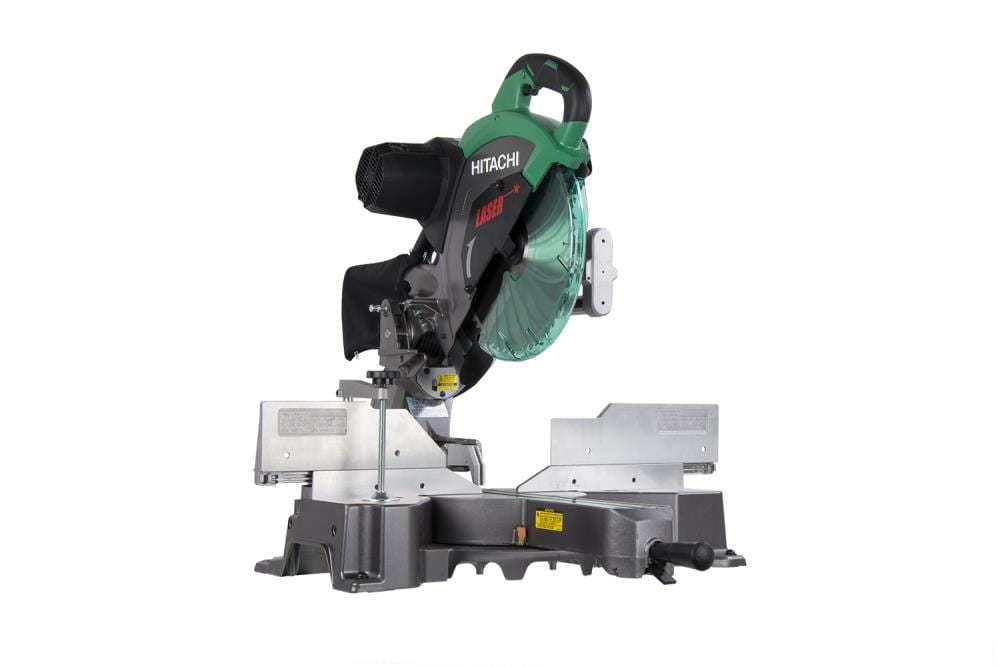 Why Use Hitachi Miter Saw and Who is it For?
Since we used a sliding compound miter saw for comparison from the Kobalt brand, we will also compare it with a similar feature under the Hitachi brand and look at its features. This is ideal for those who need a bigger 12-inch wood cutting capacity for different projects.
Main Features
Sliding system
15-amp belt-driven motor
Adjustable laser line
Dual bevel
Miter positive stops
Q&As
Does this miter saw have an adjustable laser?
A knob is included to adjust the laser. As such, you can adjust the laser to either side of the kerf.
Are all parts included in this model?
This model comes with dust bag, blade, hold downs, and all other parts included in the description.
Is the blade included with this model?
Yes.
Pros
Large crosscut capacity
Power for cutting through hardwoods
Dual bevel
Accurate miter system
Accurate laser system
Cons
The Final Cut
Overall, in terms of features, the Hitachi brand offers better functionality. This is also agreed by some feedbacks from other actual users. The only issue about this model is that it is a beast, heavy to say the least. Still, this is to be expected because of its size, though the design of its sliding system may be a factor that contributed to its weight. In the world of miter saws, weight is often a sign of good quality and platform stability.