Wood is not like any other material you can work with. Because of the fact that it is a part of Mother Nature itself, wood has been cherished for centuries by the ancient folks.
Isn't it inspiring that the farmhouse table plans available nowadays make it possible to keep the traditions of working with wood alive?
What's more, anyone can create a masterpiece all by himself thanks to the boom of free videos and instructions.
And to make your mission even easier, we have compiled a list of some of the best and latest Farmhouse table DIY designs.
All the information you need on the tip of your finger, how great is that?
Well, all that's left to do is to delve and get the fun started!
1) Beginner-Friendly & Affordable Elegant DIY Farmhouse Table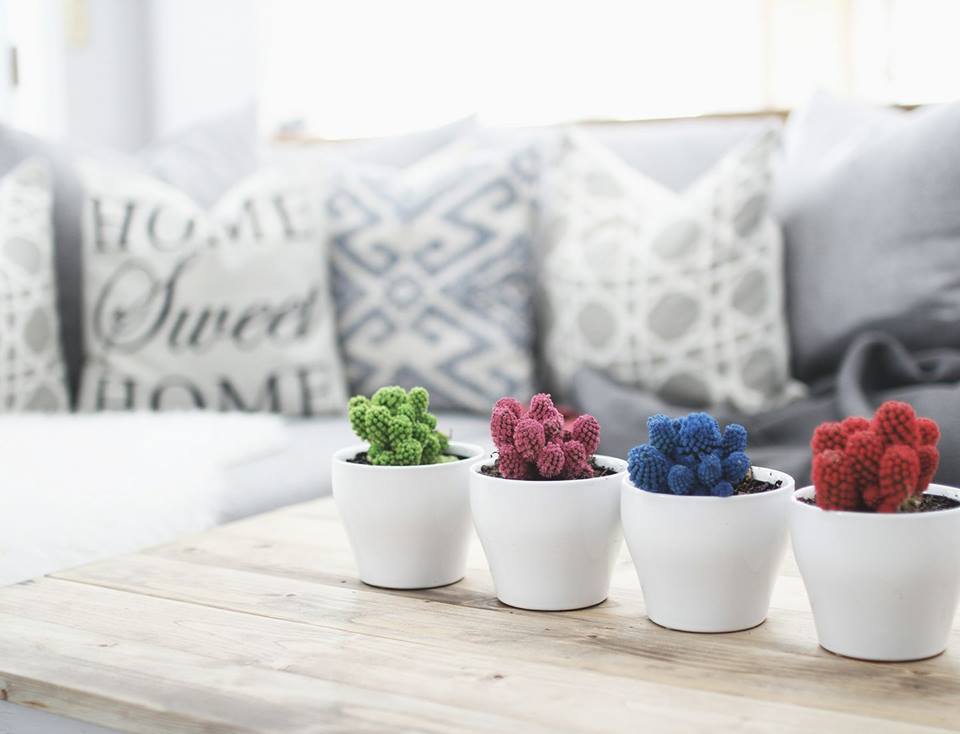 For sure, not all of us can brag about their DIY skills, and especially when it comes to working with a delicate material, such as wood. 

But does this mean you should just give up on the idea of creating your very own, beautiful farmhouse table?

Freedom is the #1 top reason why I personally enjoy working with wood so much. 

When you are free to express yourself, working with the wood material, you are able to bring life into the object that you are creating. And thus, it becomes an object with history, and not merely just another soulless thing you have in your house. 

Just check out the easy-peasy, less than 5 minutes video tutorial below and you'll see for yourself that making this farmhouse table can be done by anyone (even if this is your first time testing your woodworking skills!).

2) Less than 200$ DIY Farmhouse Table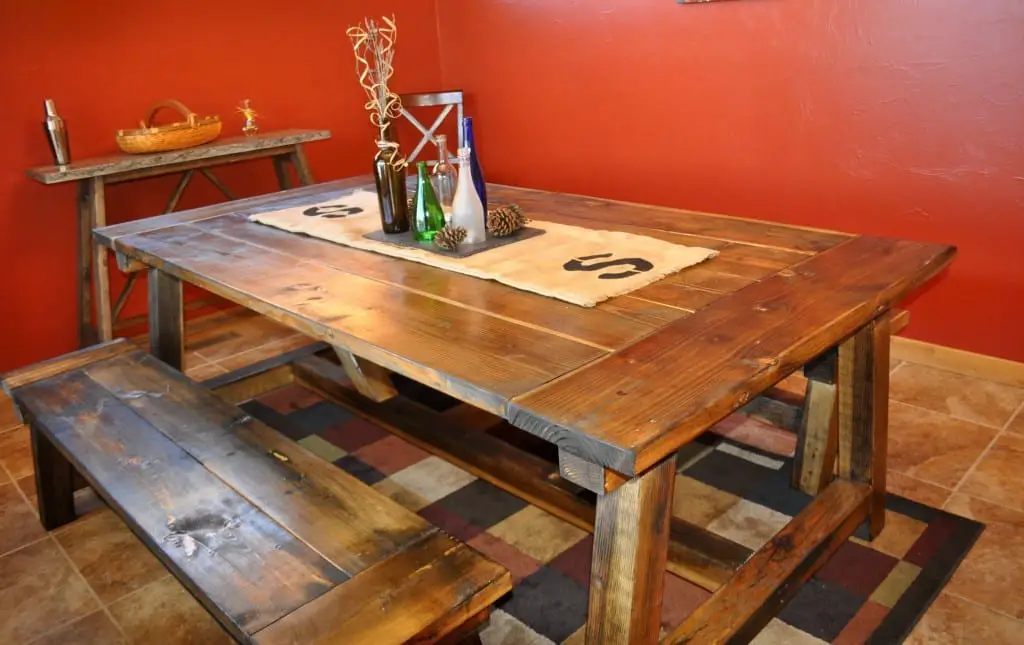 The DIY farmhouse table plan by DIYPETE is definitely better-suited for those who have at least some prior experience working with wood.

With that in mind, this plan can work great if you have a reliable partner to join you on your DIY quest. Or at least this is what I did after falling in love with this comfortable and classically designed table.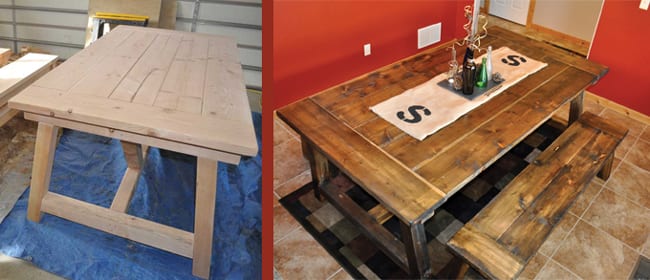 Since I am a woman, admittedly, drilling and cutting sometimes feel as if entering an unknown universe. 

But after all, the video tutorial and full list of equipment, as well as practical guidance and additional beginner-friendly tips by DIY Pete, are extremely useful. 

The final result is a stable and solid farmhouse table perfect for all those happy family gatherings. Cheers to that!
3) Husky Modern Farmhouse Table/Dining Table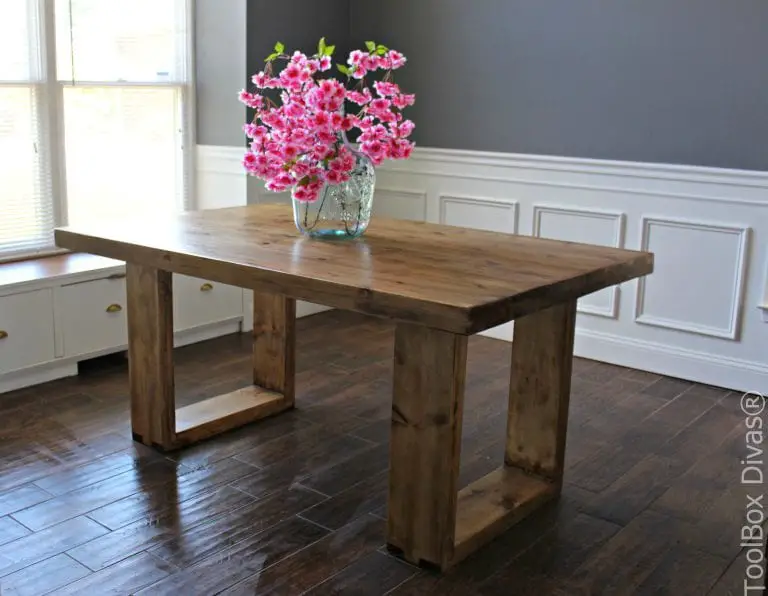 What made me go in an AWW after checking out this stylish dining table by ToolBox Divas is the clean and minimalistic design.

There's no complicated curves or anything too fancy about this table but that's exactly where its beauty is hidden. 

And best of all – it is not impossible to make your own one, even if you lack sufficient experience working with wood. 

However, you will still need some basic tools and equipment, that's for sure. But the full list of instruments required for making this table is simple and also very affordable. 

Is there anything you could possibly not love about an elegant farmhouse table which will cost you just about 120 bucks?!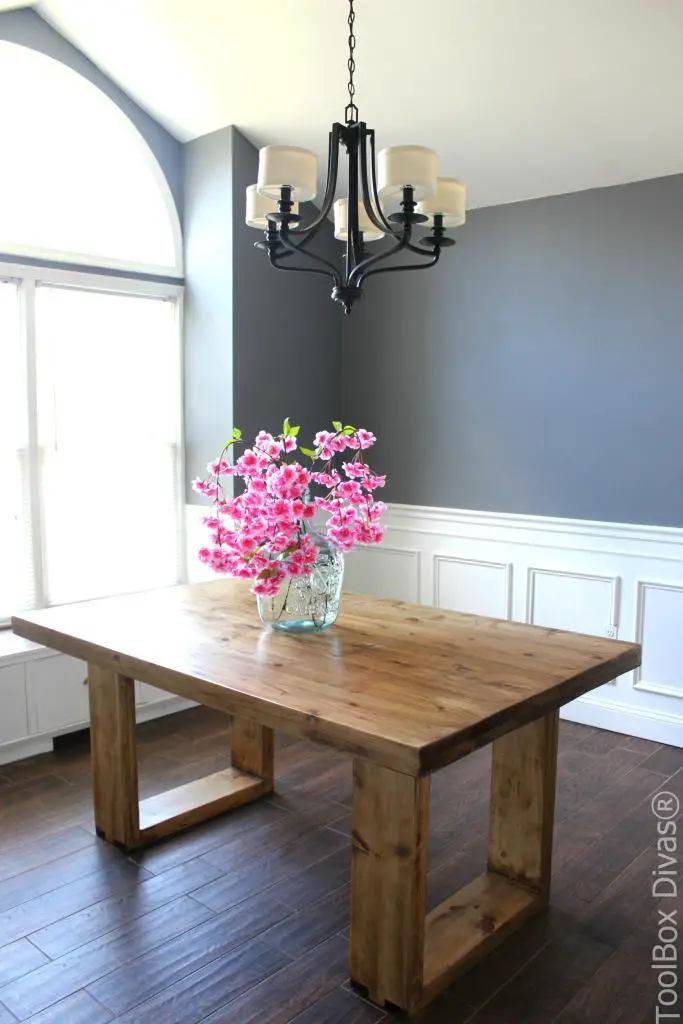 ​Check out the video tutorial below for more details on how to make this classy dining (or why not brunch?) farmhouse table.

The window flower box design will provide a touch of beautiful simplicity in your home. Above all else, the flowers attached closer to your private space are proven to effectively pass on positive energies you can greatly benefit from.
Take a look at this related link for more DIY ideas: https://www.diynetwork.com/how-to/outdoors/gardening/how-to-build-a-window-box
4) Walnut Farmhouse Table with Breadboard Ends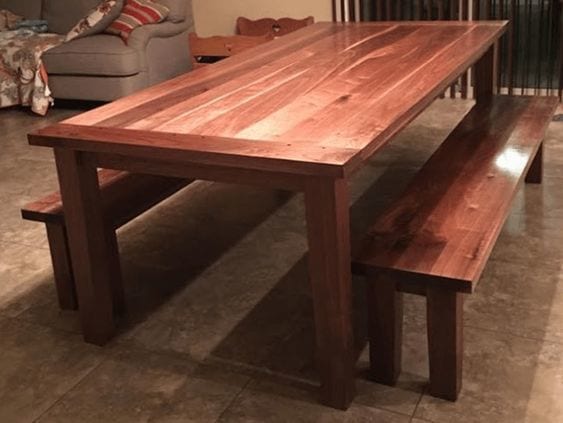 When I first saw the picture of this walnut farmhouse table, I must admit I did not seem to be very impressed. 

However, as it turned out after I took the time to watch the full video tutorial provided by Ty Moser (designer and creator of the table), I quickly changed my mind. 

This is, indeed, a very solid and comfortable farmhouse table, which is perfect for those happy family weekends. The table top is 42-inches by 90-inches, and the table itself is 30 inches tall.  

These dimensions indicate that there will be quite some work to be done, which will require lifting long pieces of wood and then assemble these the right way. 

That makes this particular table not the most beginner-friendly one; however, on the other hand, the detailed guidance provided in the video tutorial is excellent even for those who are still not quite convinced in their woodworking skills, so I bet you would love to check this one out.


5) Pew Bench Farmhouse DIY Table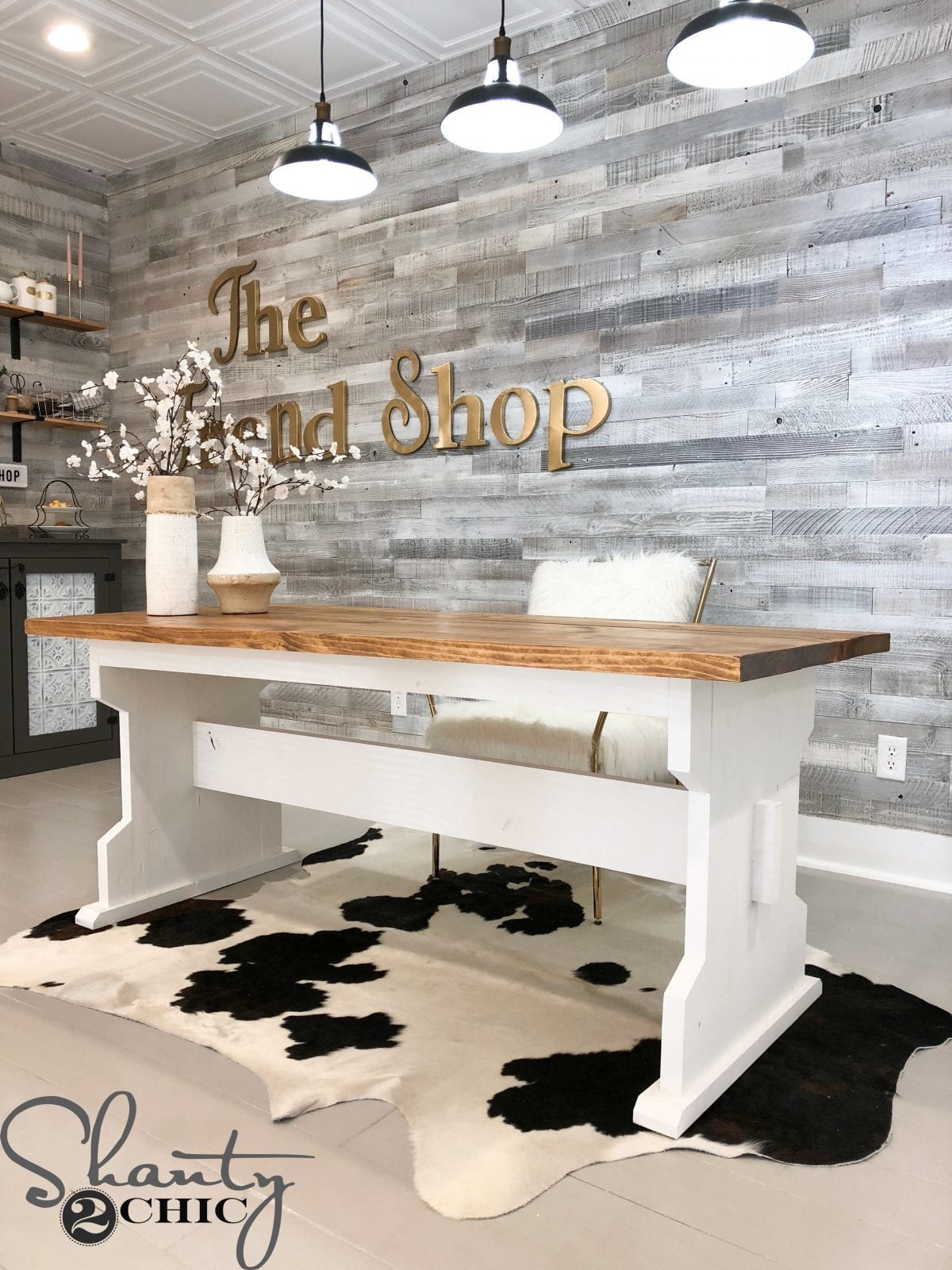 As you take a look at this elegant pew bench farmhouse table, you can barely believe it will cost you less than 65$ on an average!

Yep, you read this right! And while your mind is struggling thinking how come these same tables can cost a fortune in the store – I have a better idea for you. 

Instead of spending time wondering if you should go and throw your hard-earned money instead of putting your time and efforts into building this table on your own – why don't you check out the video tutorial for some inspiration?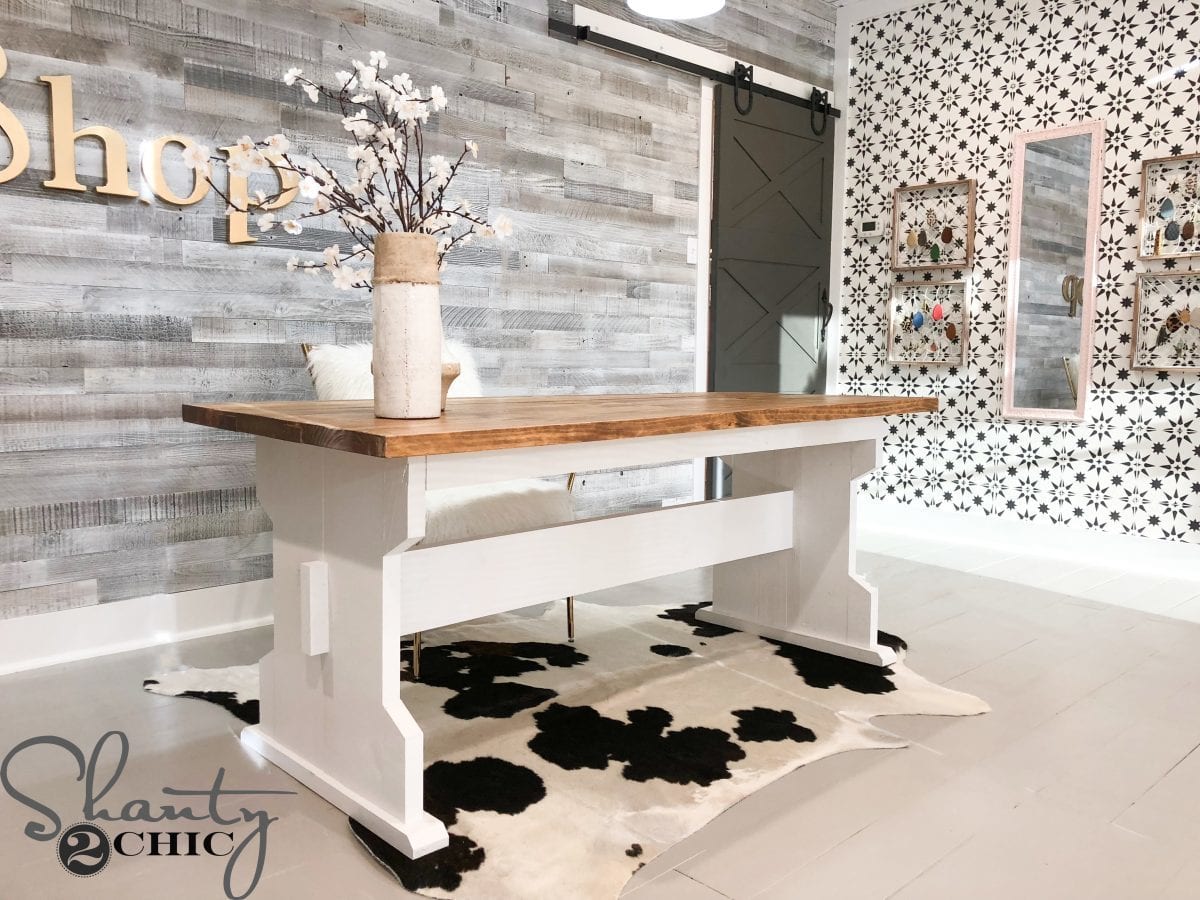 After all, shame on you if 2 warm-hearted and spirited girls can make this table and have fun, while you are still wasting your time hanging around. 

You can also find detailed guidance, including the exact measurements and a full list of instruments you will need by following this link.
6) Rustic Walnut Slab DIY Farmhouse Table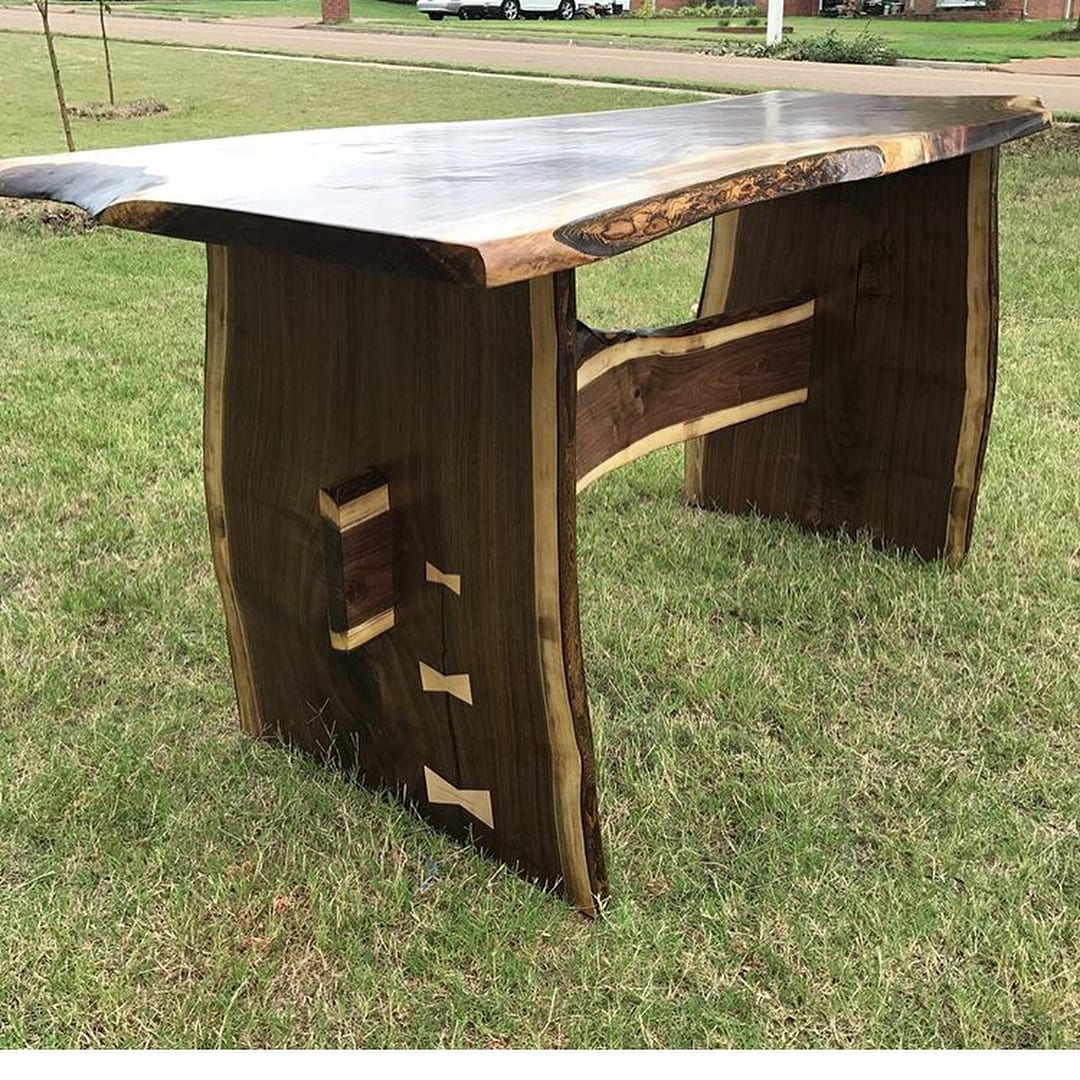 For all the artistic and creative souls out there – this is a table which can't leave you anything less than simply in love.

Whenever I enter a house where the hosts have found a way to make Nature part of the interior, I always feel blessed (and impressed).  This is a table that deserves to be shared with your beloved ones, that's for sure!

Of course, in order to create this Rustic Walnut Slab masterpiece, you absolutely need at least some basic knowledge and experience for working with wood. But then again – nobody is born with the perfect woodworking skills. 

Thankfully, living in the 21st century has made sharing and learning easier than ever before. Don't miss out to check the video tutorial and wake up the woodmaster inside you. 

This is a table which will bring a new sense of beauty and harmony to your home.
7) Industrial Farmhouse Table DIY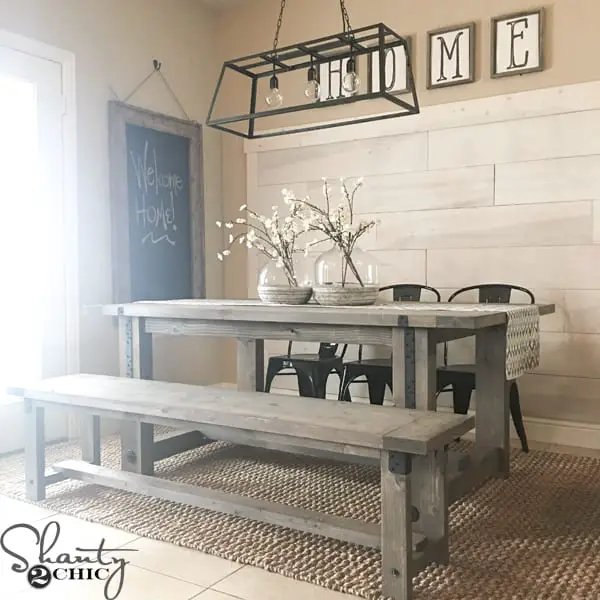 The Industrial Farmhouse DIY Table plan and design by Shanty2Chic is an extremely family-friendly one. 

When mentioning family-friendly, I keep in mind a picture of a big and lively family, including the presence of small children who would love to play and jump, and oh well- sometimes break things. 

That's why I find this particular table not merely very practical due to the big dimensions but also because of its durability.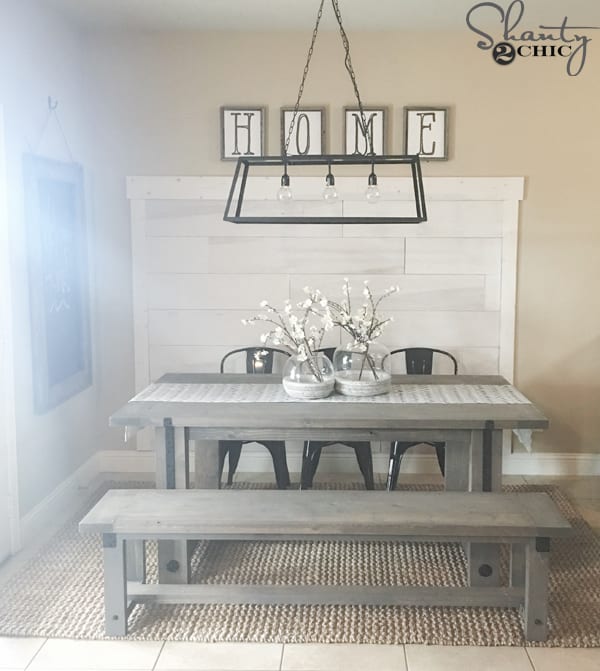 Nevertheless, you can have this beautiful and solid table in your house for less than 75$. 

Yep, it will be worth every single minute you spend crafting it. If you are just a beginner in DIY table plans, though, I think there are much better-suited alternatives than this one. 

As the very name suggests – the industrial style is very specific and requires some experience working with the wood material. For more details and to get a better idea on how to make this table – check out the full video below.

8) DIY Farmhouse Pedestal Dining Table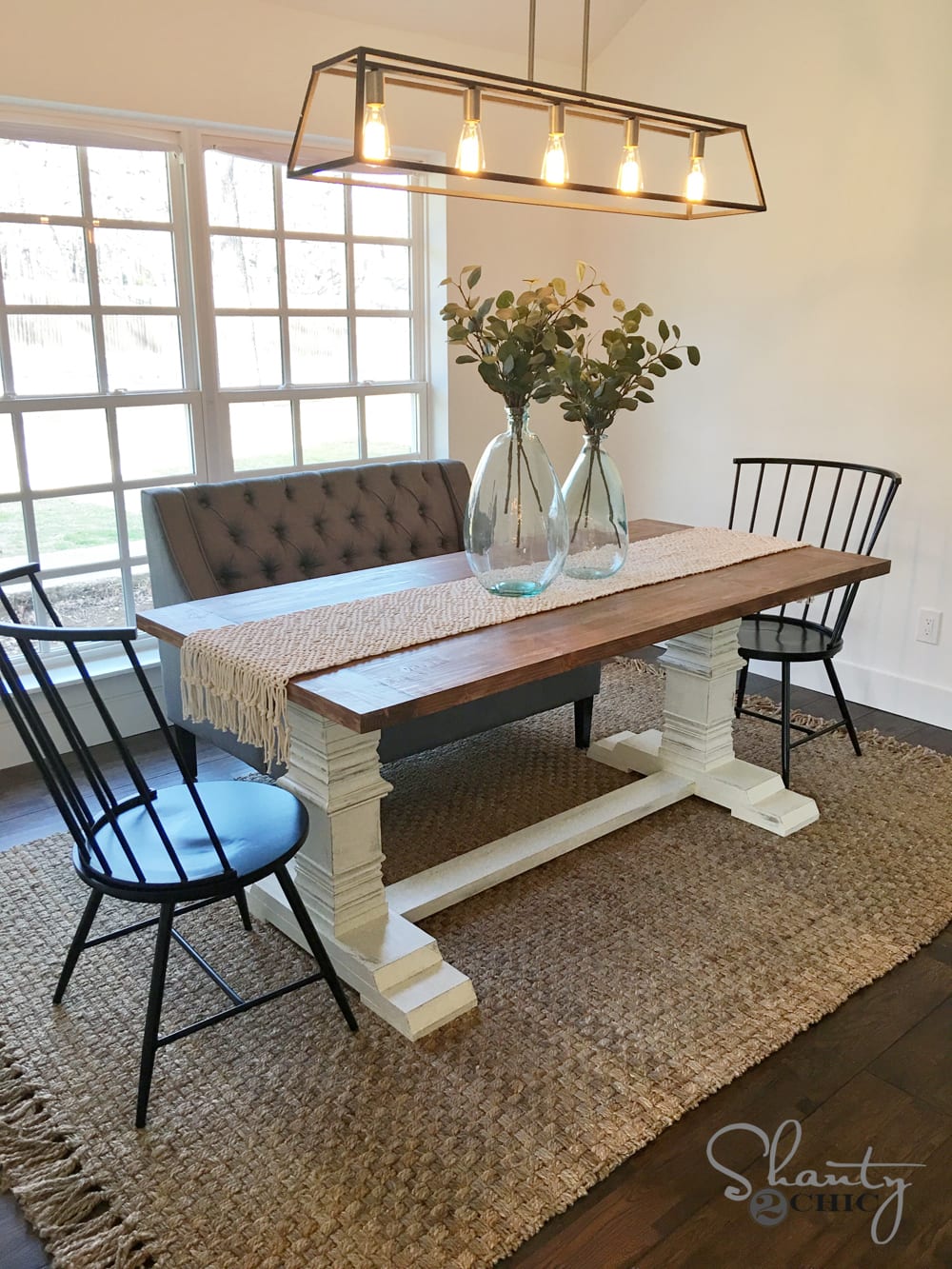 Another stunning wood creation by Shanty2Chic, which will require you to break some sweat while working on the execution plan. 

However, by sharing that you will have to break some sweat, I hope you are not the type who will just give up. 

This table has very exquisite looks which can make any home more vibrant and hospitable. 

Besides, the full video tutorial showing how to make this table all by yourself, combined with the complete list of equipment and measurements you need will shoot you miles ahead.

If you share a passion for those chunky, massive, and admittedly impressive pedestals but don't want to burn a hole in your pocket – this is the DIY table plan you have been looking for. Or at least it will give you enough inspiration so that you can also make your homemade table masterpiece. 

When there is a will – there is a way!
9) Farmhouse Vintage Coffee Table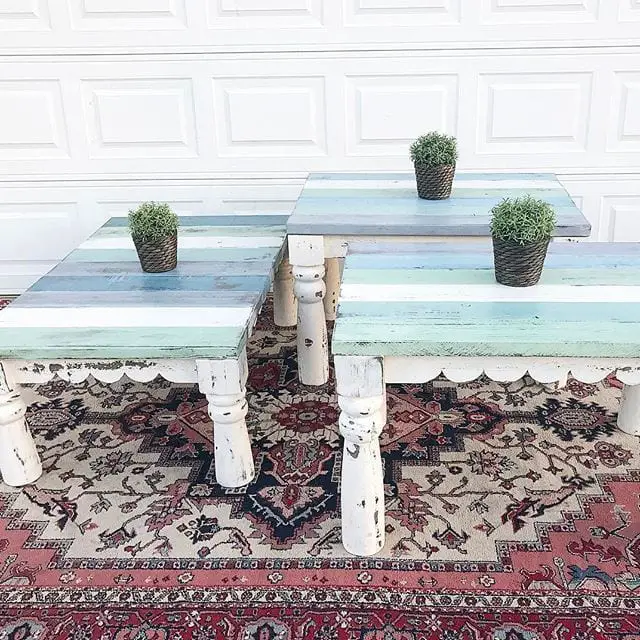 When I first saw this Farmhouse Vintage Coffee Table, I already knew I just had to have one of these in my office. 

Whether I invite clients or friends for a cup of tea or coffee, this table has helped me so much to melt the boundaries and lift up the spirit of the conversation. 

Wondering why? 

Well, since it is not an ordinary table bought from any ordinary store, it's always a cute and easy-going topic to discuss. 

Not to mention that everybody loves it and I can guess many people probably got envious of my woodworking skills. 

Although, the truth is, this table is not that complicated to make yourself. If you are a vintage aficionado – then this might be the new Queen Majestic of your home.

The video tutorial doesn't come up with the full list of measurements you need, so this might be confusing for the newbies.

10) The $50 Farmhouse Table – Easy DIY Project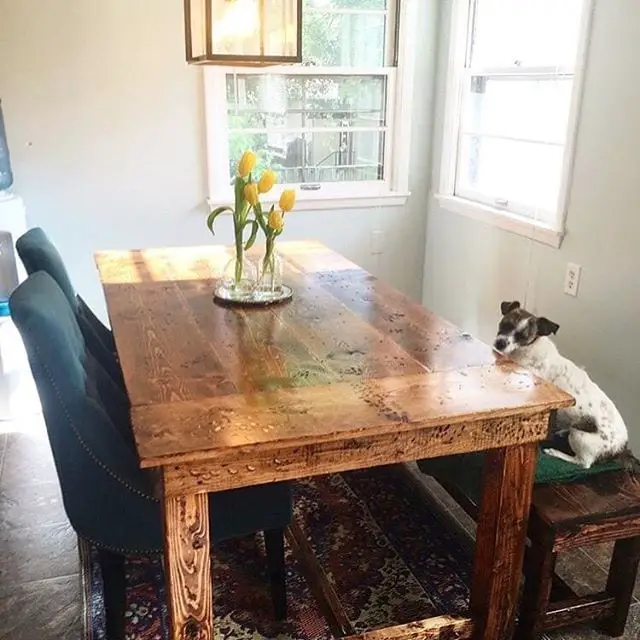 Woohoo, here's to the beginners DIY aficionados who might feel as if we have been ignoring them with the table plans listed so far. 

If you are just getting started exploring the beauty of working with wood, or if you are the type of person who doesn't seem to be very confident in his designing and hand-working skills, you will absolutely love this project. 

Nevertheless, apart from being beginner-friendly, this farmhouse table will not cause you to break the piggy bank. In fact, even if this is your very first DIY project and something goes wrong (we are only human, after all!) – all that you can possibly lose is less than 50 bucks. 

But I can promise you the experience will be worth it. Plus, if you like the end result of building your own $50 farmhouse table, you can also check out the DIY bench tutorial (ah, they truly go hand in hand!)