You'll probably consider this as one of your favorite pallet projects. A pallet couch or pallet sofa is a really nice idea, which is made of reclaimed materials like pallets, pillows, cushions, and fabric. You can use old baby mattresses for cushions and pillows from old pillow material.
A pallet couch is easy to build then you can imagine. It is a beautiful addition to your home décor in your patio, family room, or living room! Let's find out the different pallet couch DIY plans today!
1) Pallet Sofa by dcmginty1 of Instructables
Image Source: https://www.instructables.com/id/Pallet-Sofa/
The first thing you have to do to build this DIY pallet sofa is to collect a bunch of pallets. In this project, the builder ended up utilizing nine average-sized pallets with the best quality ones chosen to ensure longevity. It is a good idea choosing some with stamp or wood burn in the front to add some extra detail.
Cut the pallets so they measure 27.5 inches wide. It is easy to mix and match with this size. Cut straight across the slats, removing a few inches hanging on the side.
The builder reused 2 x 4 and slide it into the gap, and the nails were reattached. You'll make a perfect overall length of 78 x 78 inches. Old baby mattresses were used as cushions and bought some materials to complete the look. The backs were secured using 2 inches screws. The final result is a rustic style pallet couch!
https://www.instructables.com/id/Pallet-Sofa/
2) Outdoor Couch Pallets by Wunder Mum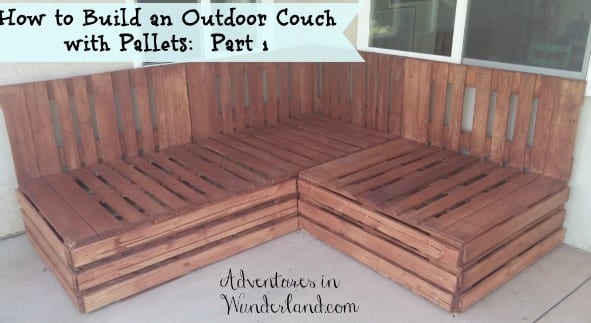 Image Source: https://wunder-mom.com/how-to-build-an-outdoor-couch-with-pallets-part-1/   
Patio furniture is undoubtedly expensive. It is a good idea building your own DIY pallet couch to save hundreds of dollars for a patio sofa. The builder of this outdoor couch pallets built a beautiful sectional couch using pallets.
This project has 2 parts, wherein the first part shows the steps on how to build the pallet couch and the second part is how to cushions and other parts where finished.
The construction plan for this project is very simple.  The total cost for part one is only around $40 , so you just basically have to hunt down some reclaimed pallets.
The materials and tools you'll need to include the following: 13 (reclaimed) pallets, 1 gal of seal and stain, 1 stain brush, wood pieces cut to lengths (1 x 4 ), power drill, 2 to 50 packs flat head Phillips screws (#10 x 1-3/4 inch), hammer, and sandpaper. You'll love the final look and the savings you can get from this pallet couch project.
3) Easy-to-Make Pallet Sofa by Home Jelly
Image Source: http://www.homejelly.com/diy-project-pallet-sofa-makes-for-5-star-naps/
Once in a while, you'll find a project that is so clever, and you want to immediately clip on a tool belt to get started. This fabulous pallet couch ticks all the boxes, building something from reclaimed materials or practically nothing.
This pallet sofa a perfect addition to any apartment, media or game room, or industrial or urban loft. Moreover, if you are in need of extra comfortable napping space, this is a comfortable sleeper that deserves a 5-star rating!
The tools and materials you need to build this DIY pallet sofa include 6 recycled wood pallets (24″ x 24″ x 5 1/2″), 5 sheets of sandpaper (assorted grit), paint, paint brushes, 3 inches flexible foam measuring at 4″ x 24″ x 72″ (high density upholstery), furniture fabric, flat brackets, screws, and hand sander.
It is important to sand the outer surface of the wood pallets and pays attention to the corners and edges. The pallets are painted with the desired color. The final look is stunning!
4) Pallet Patio Sofa Furniture by Place of My Taste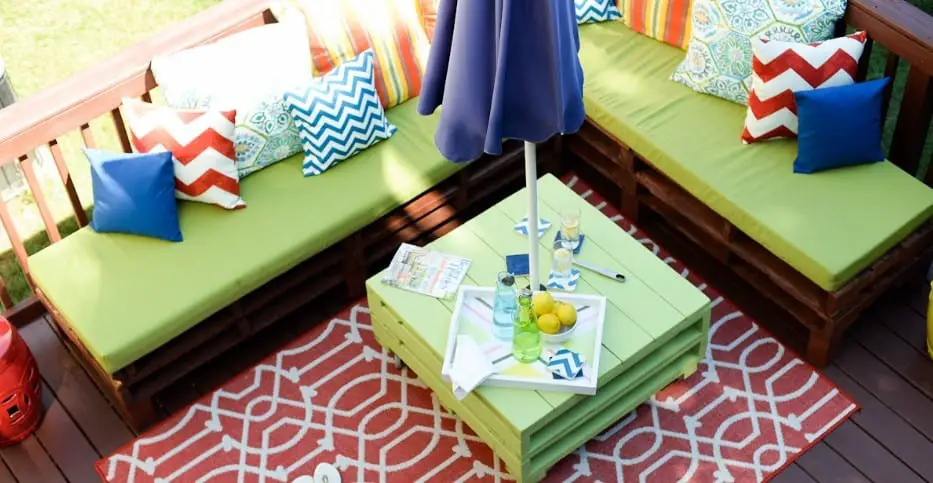 Image Source: https://placeofmytaste.com/diy-pallet-furniture-patio-makeover/
This project is a total pallet furniture including a patio sofa. You'll never imagine how this project was perfectly done because it is so beautiful with a fresh and new look. The furniture was painted matching the color of the owner's deck.
The pallet sofa is stunning using reclaimed pallets. The table was made from pellets as well. An old umbrella was kept and placed on the hole in the middle of the pallet table. The table also got some nice wheels for portability.
When it comes to the cushioning, the foam was covered with an outdoor fabric. Bright colors were chosen to give the patio a bright and uplifting effect, matching the summer theme.
The builder also plans to add additional touches like carpet once the best deals start! You can build your own DIY pallet sofa and furniture set with a little bit of creativity and carpentry skills. You'll love every step of the project!
https://placeofmytaste.com/diy-pallet-furniture-patio-makeover/
5) Pallet Upholstered Sofa by Easy Pallet Ideas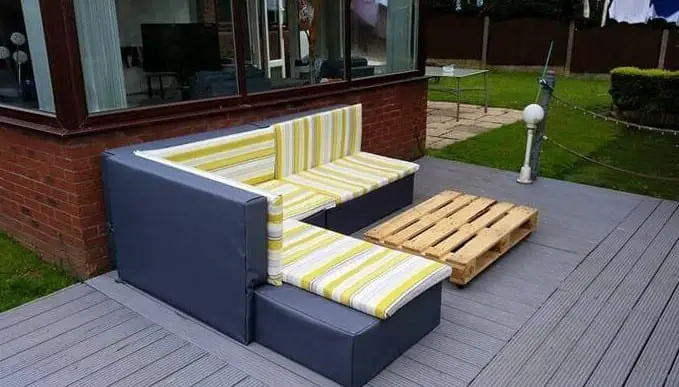 Image Source: https://www.easypalletideas.com/diy-pallet-upholstered-sectional-sofa-tutorial/  
This is a tutorial about building a DIY pallet upholstered sofa. You can choose the durable and sturdy stock of pallets you have available. Soften the edges with the use of fabric stripes so the sharp edges won't pass through the cover.
Cover the entire sofa frame once the edges are softened using a heavy-duty cotton fabric. You can also use a canvas cover for a more fashionable look.
When it comes to making a rustic wooden sofa frame, you need a scissor, some fabrics, and a nail gun. This is a pellet L-sofa that is a perfect addition to your patio or deck. Use a high-density foam and choose the thicker one for superior comfort.
Complete your entire pallet upholstered sofa set with a coffee table also made of pallet boards rectangular shapes. Building your own pallet sofa is easy to do with the right tools and materials at hand, saving you hundreds of dollars over new furniture pieces.
https://www.easypalletideas.com/diy-pallet-upholstered-sectional-sofa-tutorial/
6) Rustic Pallet Sofa by Funky Junk Interiors
Image Source: https://www.funkyjunkinteriors.net/2013/05/a-cool-pallet-wood-chair-anyone-can-make-part-1.html   
If you want something unique, this two full pallet chair is definitely for you. All you need to think of is preparing reclaimed wood pallets and basic tools and materials. You can create a rustic and cool pallet wood sofa in just a couple of hours and enjoy the fresh air on your patio or deck.
For the pillows or cushions, you can use the sacks of burlap coffee beans, which act as giant pillowcases that you can tuck in place. You can find cheap bean sacks at your local coffee roasters or online marketplaces like eBay.
You don't have to conceal the crate markings of the wood, you can consider them as a form of artwork which looks really cool and funky. The builder built each arm differently by using a sign made on a board and cut to size.
This is considered an antique pallet wood sofa with a touch of rustic style. Of course, the size of the pallets you will be choosing will determine the final size of the sofa.
7) Outdoor Pallet Bench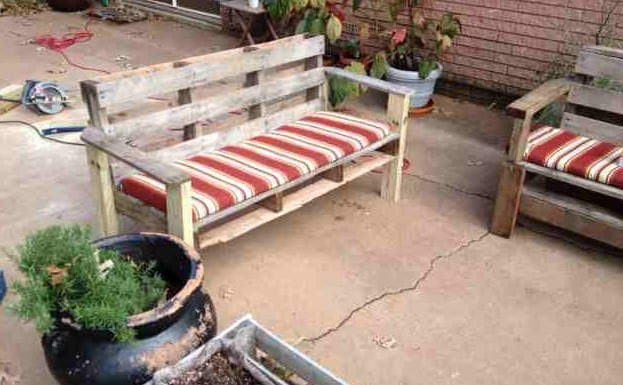 Image Source: http://www.rkblack.com/blog/posts/view/9/5-easy-steps-to-turn-a-pallet-into-an-outdoor-patio-bench  
For a beginner, I chose a wood pallet built of a rot-resistant oak whose slats were at 1/2 inch thick. Remember that the fewer cracks, rot, and splintering, the better.
The materials you need include pallet wood, made of pressure-treated lumber and sturdy oak, 2×4 8 feet pressure-treated, 2 ½ inches deck screws, and a box of star-headed. You'll also need a circular saw or a reciprocating saw, hammer, nail-pulling crowbar, power screw gun, marker, tape measure, and carpenter's square. You don't need drills.
The completion time for this pallet sofa project is 2 to 3 hours. The construction process involves transforming the wood pallet into a bench. The builder chose 48 inches oak pallet.
The seat back measures 17 inches tall. The next step is cutting the pallets and creating the bench back. Next, the armrest and leg supports were made. This DIY rustic pallet sofa is easy to do without complicated cuts. You don't have to possess in-depth carpentry or technical skills to create one.
http://www.rkblack.com/blog/posts/view/9/5-easy-steps-to-turn-a-pallet-into-an-outdoor-patio-bench
8) Modular Sectional Pallet Lounge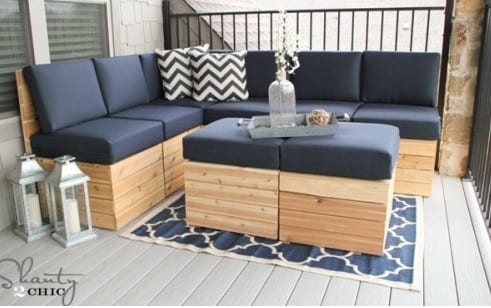 Image Source: https://www.shanty-2-chic.com/2014/11/diy-modular-sectional-corner-piece-plans.html  
The construction of this project has varying measurements from the other pieces. After you attach the back slats, you need to nail the corner to post the other slats and corner post.
You can set up the wood pallets in different ways. You can use leftover pallets and make cushions out of old pillows. You can also buy a cushion at Target.
The total cost to build this pallet lounge is $225-$250 with an ottoman and coffee table included. Really cheap than buying a new furniture set. Even a beginner can build this pallet modular sectional lounge.
It is a great addition to any outdoor space like your deck or patio. If you have a summer house, it is a good idea for building one like this. Furthermore, you can enhance your carpentry skills with a really huge project.
9) Modern Look and Minimalist Pallet Sofa by Scrap Hacker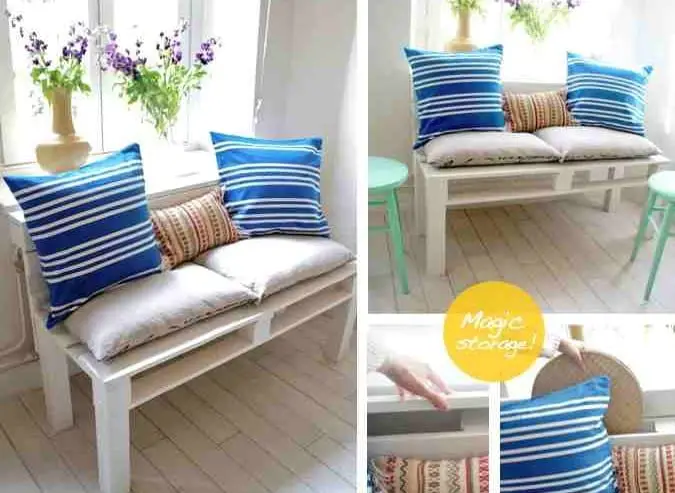 Image Source: http://scraphacker.com/diy-sofa/  
Do you want a modern but cheap furniture? Worry no more because you can definitely make one using this DIY free plan.
To achieve this modern look, the tools and materials you'll need are wood planks, square beams, joining plates, angle irons, hinges, screws, handsaw, screwdriver, sandpaper, paintbrush, filler, paint, wood sealer.
The steps include using a handsaw to divide the pallets, turning upside and adding the legs, fastening legs with angle irons, reinforcing by adding joint plates, attaching the back, and joining the plates.
The final product was sealed and painted white. The result is a modern-looking sofa made of pallet wood. It is easy to build and cheap, plus you can enhance and challenge your carpentry and creative skills. You can use the reclaimed woods or pallet in your garage or storage area. It is fun to learn and build furniture using pallets!
10) Outdoor Pallet Sofa by Ironstone Nest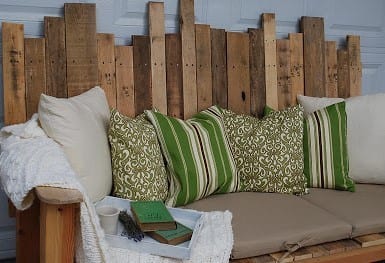 Image Source: https://www.theironstonenest.com/2011/09/transformation-tuesday-outdoor-pallet/
When building a pallet sofa, it is important to ensure that you have enough space to work. You will need to be spread out the pallet wood, discard the junk, and save time.
You can use your driveway. Of course, wear gloves when working on pallet woods they are not always safe. Take it easy and enjoy every process. The builder purchased wood at Home Depot for the frame measuring 3 by 3 or 4 by 4.
Instead of pulling out all the cross pieces of the wood pallets, the builder opted to rip off the ends with the use of the circular saw. The cut-down needs a lot of nail pulling. It helps to keep a bucket to catch all the nails when you're working on a woodwork project.
Ensure comfortable sitting experience by adding some cushions or pillows. Using different tones of wood is a good idea for a more appealing look.