What if there's an instance wherein you need to accommodate guests in your home for a night, but you don't have an extra room that they can occupy? An extra sleeping space sure comes in handy for these occasions.
A good solution for this possible situation is to have a Murphy bed. Think of it as a secret bed frame installed in one furniture that you have at home.
With a Murphy bed, you can have an extra bed frame and even mattress without taking in too much space! That's because it can easily be folded when not in use.
Since the Murphy bed can be useful on many occasions, it's time to have one for your home! We've listed a few Murphy bed DIY plans that you can follow so that you, too, will have that extra space for your guests.
#1. Horizontal Murphy Bed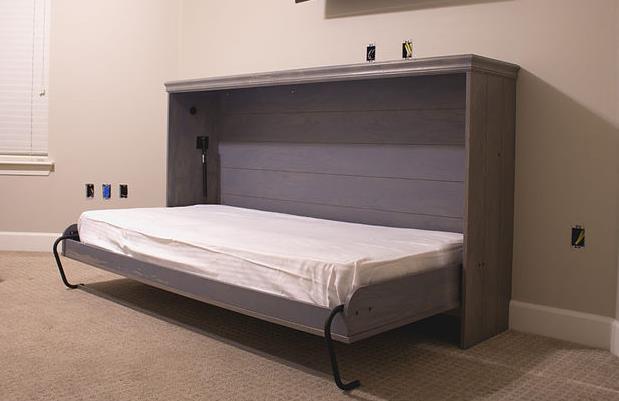 Those who want to learn something new get more motivated to learn more if they start small. This is exactly what this project is about.
The maker of this Murphy bed plan provided instructions on how to make this small and easy to make the hidden bed. The project is challenging enough for beginners to learn about the craft but is not too difficult that they become hopeless when it comes to finishing the project.
The instructions provided on the website are as detailed as possible, which is also a must for those who have no idea about constructing a Murphy bed. He provided all possible details when it comes to the sizes of each wood piece, as this project will certainly involve a lot.
The instructions are also supplemented by a video demonstration. With the use of two different mediums, their tutorial deserves to be presented in this list.
https://www.woodbrew.tv/single-post/DIY-Horizontal-Murphy-Bed
#2. Magazine-style tutorial for making a Murphy bed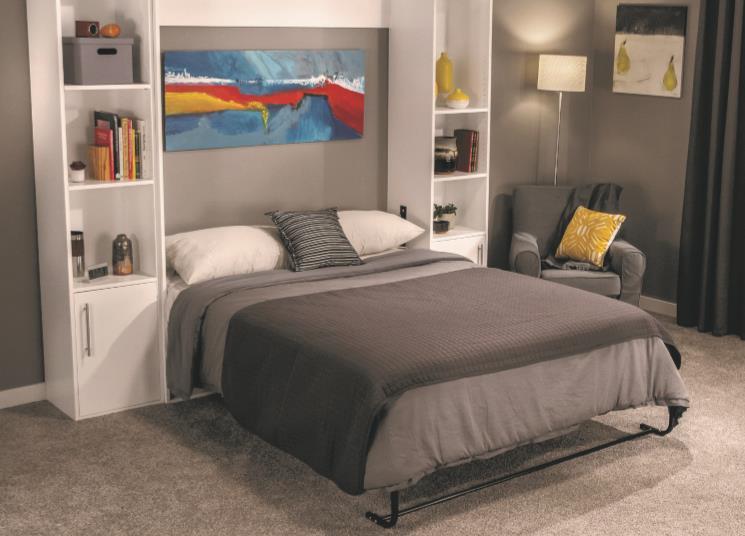 For those who prefer a Murphy bed that has more space, can be hidden vertically and is properly decorated once it is folded down, this bed plan is for you.
In this plan, the bed is hidden inside a closet that has shelves in the side. Now the whole frame of the bed is not only used for storing the mattress – it can also give your home a better look because it allows one to design the shelf however they want it to be.
Another great thing about this project is that unlike a horizontal Murphy bed, this appears to be more spacious. It has enough space to accommodate two people!
The guide is also presented clearly, just like what you'll see in a manual that shows how to assemble something. Beginners will surely find it easy to make and assemble the whole thing.
http://www.rockler.com/hardware/bed-hardware/murphy-beds
http://images.rockler.com/plans/wj-murphy-bed-plan.pdf
#3. Murphy bed for kids and toddlers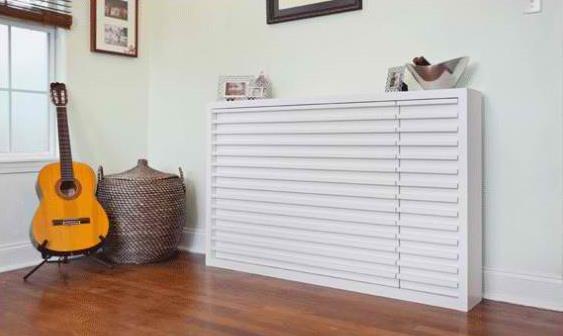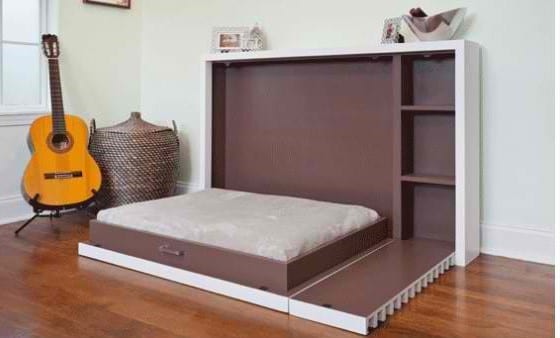 If a bed is high enough, there is a possibility for children to experience a bad fall in case they rolled over too much. But with this Murphy bed design, that possibility is limited.
One reason is that this Murphy bed plan has a very short distance to the floor compared to regular beds. Yes, they will something if they fell from the bed, but they will definitely not get hurt badly.
The size of the frame and the bed also doesn't take too much space. Although adults may have a hard time using a Murphy bed with this size, this is just the right size for younger children.
Once the Murphy bed is opened, it can be seen that there is a small shelf. Those shelves can be used to keep or store something once the bed is closed.
This space-saving plan needs to be part of our list.
#4. Murphy bed with a working desk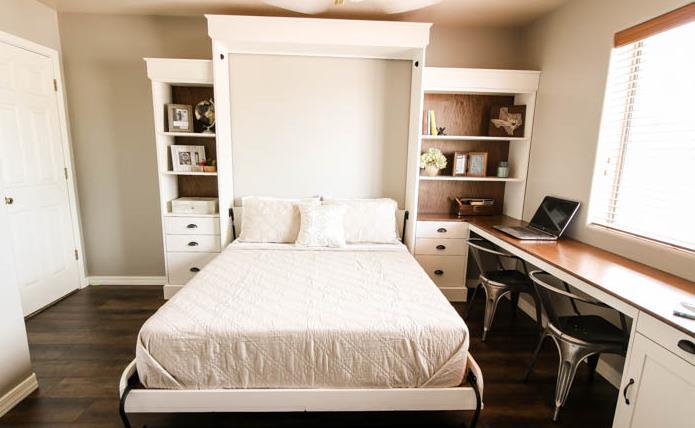 We've seen Murphy beds that made use of the space in the side frame for shelves or anything that can store their stuff. For this Murphy bed plan, though, the maker made full use of the space by adding a desk!
What's great about this Murphy bed plan is that whether the bed is in use or not, one can still work on the desk. The photo shows that there's enough space to pull up the chair and sit on it to work or study on the desk.
The website where the bed plan can be found provided instructions that are easy to follow. The instructions are told as if the maker is telling a story – with the help of the photos, it will be easier for anyone to imagine what the final product should look like.
This innovation to the Murphy bed deserves to be presented in our list.
https://addicted2diy.com/diy-modern-farmhouse-murphy-bed/
https://addicted2diy.com/diy-modern-farmhouse-murphy-bed-how-to-build-the-desk-free-plans/
#5. A simple Murphy bed for the minimalist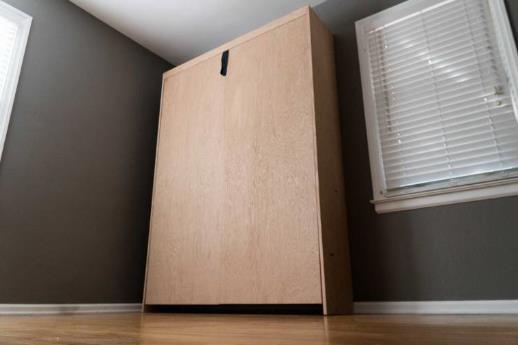 Not everyone prefers to have furniture that is intricately designed. If you are one of those and you are also interested in making a Murphy bed, then this bed plan is for you.
The maker of this bed focused on the process more than the design. Though the Murphy bed looks plain when it's done, the maker ensures that it is able to do what it's supposed to do.
Since the bed isn't designed heavily, a significant amount of time and money can be saved.
Though the website does not provide written instructions for the project, he made up for it by demonstrating how he made the Murphy bed. This is still a good way of teaching, as it actually shows how each step is supposed to be done.
With all of these good points, there's no reason why this should not be part of our list.
https://makesomething.tv/tutorials/how-make-murphy-bed/
#6. Hanging Murphy Bed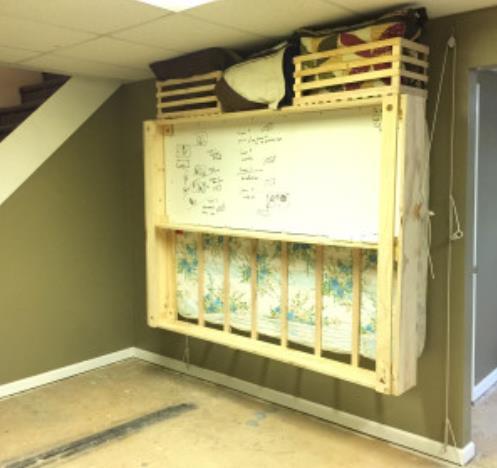 Most Murphy beds are installed in a wall and are hidden inside a cabinet. This Murphy bed, though is different – that's because it is hanged in the wall.
Though the website does not provide written instructions on how the bed should be made, the maker provided a video that anyone can follow along so that they will learn how this was made. The video is far easier to follow, especially since there are other skills used during the whole process aside from woodworking.
The maker integrated knot tying and used a pulley so that the bed can be suspended when not in use. These two makes it possible for anyone to get the bed out of the way when it's not in use.
This unique take on making the Murphy bed is more than enough for it to be included in our list.
https://www.makercise.com/how-to-make-a-low-cost-murphy-bed/
#7. Murphy bed tutorial with diagrams
For those who prefer to see diagrams instead of actual pictures so that you can easily imagine how a project is made, then this tutorial is for you.
In the website where their Murphy bed plan was found, they provided simple instructions and diagrams for each step in the process of making the bed.
What makes this kind of presentation advantageous for some is that it provides the measurement for each wood piece needed for building the Murphy bed. Wood pieces can also be color-coded in diagrams, which further makes it easier for the maker to see which wood pieces should come together.
This Murphy bed plan is also able to provide each step of the process as simple as possible, and the whole plan doesn't take too long to read. This will surely benefit newbies in woodworking, as the instructions are short and easy to understand.
#8. Queen sized Murphy bed with enough shelf space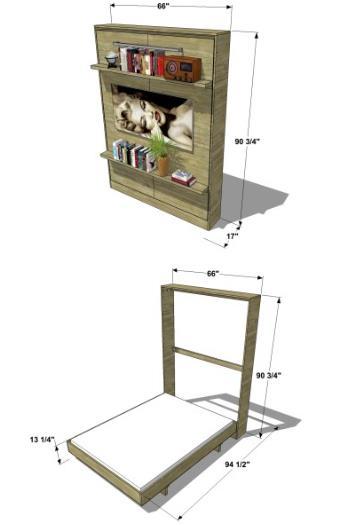 The Murphy bed isn't known for any other use when it's not pulled down for sleeping. But with this bed plan, it becomes possible to use it aside from sleeping on it.
Just from the photo, it can be seen that it has shelves which can be used to store books or other possessions. But when it's brought down, it has enough room to accommodate two sleepers.
Though the presentation of details and instructions are simple, everything related to make the bed is provided.
The instructions are also easy to understand because each step is short and direct to the point. Aside from that, each step is also provided with a diagram that can be used as a basis on how the project should look like before or after following that step.
Its multiple functions and huge size give it enough points for it to be acknowledged in this list.
#9. Building a Red Murphy Bed
Want to have a red-colored bed in your room? Then why not break free from the usual bed frames and use a Murphy bed instead?
For this tutorial, the process of making the bed is shown in the video. This will serve as a great guide for those who want to see how each step is being done, ensuring that the whole process is done correctly.
The website gave another source that serves as a guide in cutting the wood needed for making the bed. The use of a template is an important skill in woodworking, and this project somehow trains one to develop that habit.
Yes, the instructions and the templates are provided in different sources. However, one medium focusing on a single area makes it efficient and easy to understand.
All of these points are more than enough for this to be included in our list.
https://drive.google.com/file/d/0Byv0IjzK8MhveWtOalcyYU9sY2s/view
#10. Roll Out Bed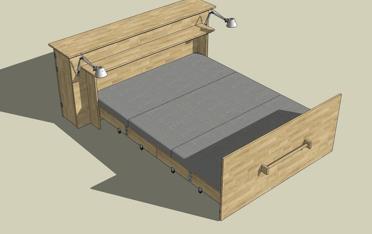 In a sense, the roll out bed can be considered as a relative of the Murphy bed. Their appearance may be different, but they achieve the same goal of providing a place to sleep while saving space.
This roll out bed is different because of its accordion-style body, and the whole bed looks similar to a drawer.
The website and the video may not show much of the process on how it can be constructed, but important details on how it can be made are shown on the PDF file that is provided on one of its links. It provides the size and parts used in its construction, which is key elements so that one can figure out how it can be made.
This bed plan isn't friendly to those who are new to woodworking. But its unique appearance and method of construction deserve to be included in our list.
http://www.homegardendesignplan.com/2015/01/roll-out-bed-smart-bed-smart-furniture.html
https://drive.google.com/drive/folders/0B0CDo6ffOvQLQ0hmb0V5VGowQjA