One of the loveliest attractions in a garden, backyard or outdoor area is a gazebo. It's whimsical, charming and lively. It becomes the focal point of a garden setting. It is where special moments take place: proposals, romantic dinners, weddings, and christenings.
A gazebo can come in different forms, shapes, and sizes. The classic gazebo is a circular or octagonal in the area and has a pointed roof. This has an open design to let light and air in. The design could be country, rustic, contemporary or modern but the way it is built remains the same.
Most gazebos are made from wood but with the advent of new materials and new ways to construct outdoor structures, you may already find gazebos made from hard plastic. You may even find gazebo DIY kits which can help you assemble one in a matter of minutes. But despite the easy way out, builders still love to design and construct gazebos made from scratch. From measuring, cutting and shaping wood to assembling everything, making a gazebo is certainly a project worth trying out.
Whether you are new to making gazebos or you have tried one before, here are updated and very popular plans on how to make traditional, sometimes contemporary-style, and gazebos. You will find these plans loaded with information not just on the gazebo being built but also the materials you need, the tools you need to use and the different steps to take. We know that with these plans, you will be able to make your own gazebo to light up your backyard.
1) The Raised Gazebo Design Plan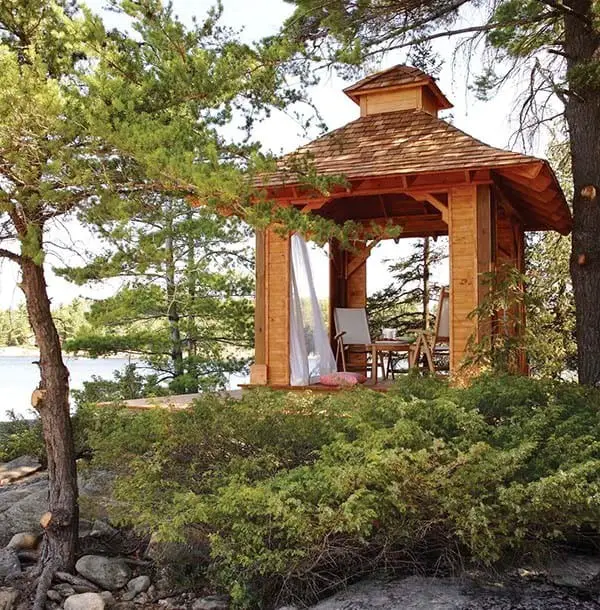 This is an open-air gazebo plan that was built on a hill or an area higher than the usual and overlooking a water feature. The structure has a charming appeal and was obviously made with such care. The posts are huge with intricate braces that support the ceiling. The roof has a triangular-shaped design with a bit of a skirt flowing outward. The cupola has similar material from the roof.
This gazebo does not have balusters to keep anyone away. A few chairs are in the gazebo and even a small table which may be for relaxation. This is a very intricate and interesting project that may not be for the beginner woodworker. You must have at least experience in shaping, measuring and cutting wood using power tools. But otherwise, this could be a project that will challenge you.
http://www.theclassicarchives.com/how-to-guides/free-garden-gazebo-plans
2) The Mighty Helpful Gazebo Plan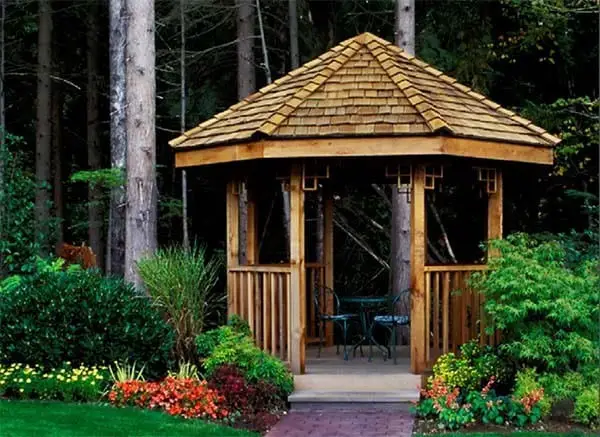 Truly a gazebo with a classic design! You will find this challenging and at the same time very interesting because this gazebo does not have a regular shape. It has an octagonal design and therefore you need to construct this side after side. First, this structure was not merely raised from the ground. The best side was chosen where there were no low lying trees that can affect the gazebo structure.
The ground was cemented and tiled before the layout for the gazebo was started. The structure has narrow yet strong posts that hold the mighty octagonal ceiling and heavy shingled roofing. Balusters line the bottom part of the walls of the gazebo creating a private area to dine or relax.
This gazebo was constructed in the midst of a lovely garden making it the highlight of the area. This is a moderately difficult build and not for a beginner at all.
http://home.melco.com.au/miterplan_pdfs/build_your_own_gazebo.pdf
3) The Shaded Gazebo Design
What a lovely place to relax in! This is an airy gazebo that houses a few chairs and a comfy sofa with soft cushions ready to lull you to sleep. This gazebo was built on a raised wooden deck. The gazebo has an open design but with balusters built around the wall of the structure. The eight narrow posts hold the roof with delicately shaped braces on each side of the posts.
The triangular roof is made of wooden slats; the roof finishes off with a pointed design. This gazebo was stained using a natural wood stain. Hanging flowering plants make the gazebo lively, fun and inviting. This may look complicated because of the triangular roof but it actually is an easy build.
4) The Tall and Airy Gazebo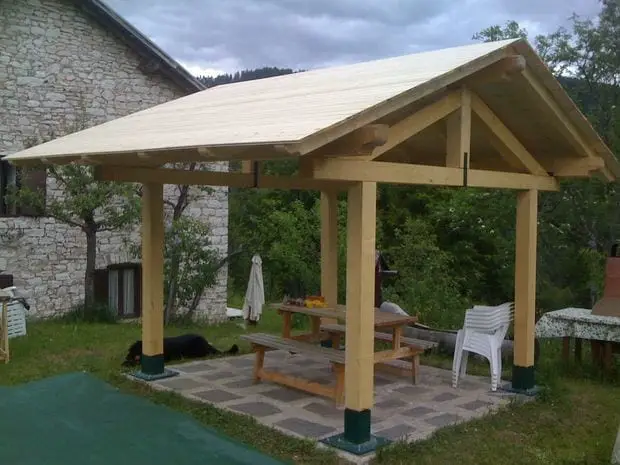 Compared to the previous gazebo designs, this one has a modern touch starting from the reinforced posts, triangular roofing, and very straightforward design. There are no walls and no ceilings for this gazebo.
The posts are tall, reinforced by metal and cement which has been buried deep into the ground. The roof is tall, airy and has a structured design. Every design element here is well-structured and seamless making this an ideal area for relaxation and for special outdoor events.
https://www.instructables.com/id/Build-a-gazebo-from-sketchup-to-reality/
5) The Prefab Gazebo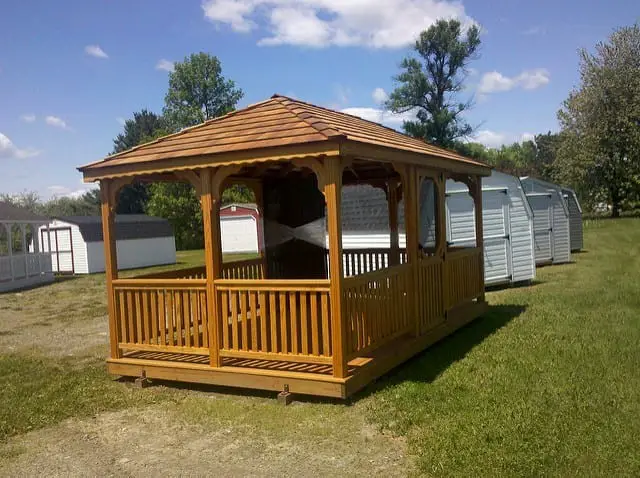 This gazebo is a pre-fabricated model made by a company that manufactures outdoor structures. It has a rectangular design with a raised deck. The walls are open with posts that bear decorative braces on each side. The ceiling is high and is decorated with shingles. This can be easily assembled in just a few hours and with just simple hand tools like a screwdriver, hammer and a drill.
The advantages of using prefab are obvious. It is easy to assemble, it costs less, it won't lose its color and beauty despite years of use and won't fall victim to pests and molds. However, this material is light and may not be a good idea in places where there is high wind. You can purchase a prefab gazebo and have it delivered and set up in just a day.
6) Backyard Sanctuary Gazebo Plan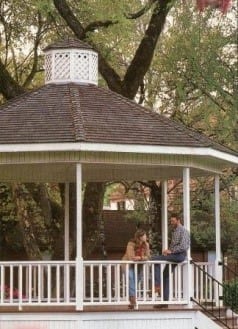 This is another classic gazebo design with an open-air plan that will let the breeze in and the hot air out from the cupola. The roof is charmingly lined with small shingles which may have been painstakingly attached by the builder. The walls are simple with lovely low-lying balusters. This gazebo is on an elevated deck and accessed by a short flight of stairs.
The ceiling beams have also received the TLC as these match the balusters below. This gazebo plan is huge and could be challenging for a beginner. It is a structure for special events such as wedding and proposals or simply a nice place to relax and just take the time off.
https://www.motherearthnews.com/diy/build-a-gazebo-zmaz90jazshe#axzz2NWyhjvaN
7) Octagonal Gazebo Plans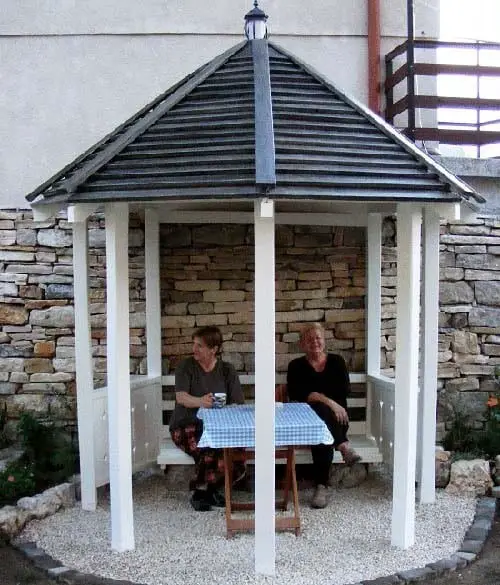 This is an octagonal gazebo design with a modern twist. The gazebo area is very small and it simply fits a small seating area and a foldable table. The most eye-catching feature of this gazebo is its roof lined with lovely wooden panels. Even the ridge caps were expertly designed to hold each wooden slat. The beams for the ceiling extend from the center of the roof to the outer portion of the structure.
The walls of the gazebo are open save for the lower part with a unique wooden paneling for privacy. The posts are not too tall but not too short as well. This gazebo was made on a pebbled part of a yard and alongside a wall or fence. A truly challenging design that a beginner will surely enjoy building.
https://www.buildeazy.com/fp_gazeboimp_0.html
8) Grill and Gazebo in One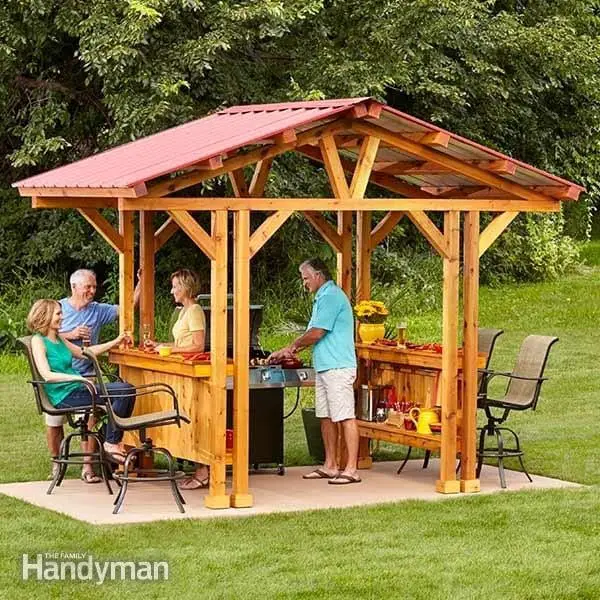 Why not just build a gazebo for relaxing while you can create one to house your grill? This is a clever use of space. The gazebo houses a grill and a backyard dining area as well. Built on a cemented area in a yard or garden, the small gazebo has strong posts and ceilings and has only two walls. Each of the walls was made to hold a small space to hold on to drinks, food and a few ornamental plants.
Bar seats were in place on each outer face of the wall where guests can sit and dine. The tall, triangular roofing of this gazebo can shield the grill as well as the cook and diners from the sun and rain. The roof is made of decorative aluminum sheets so it's very cost-efficient. This is an interesting and functional design that is quite an easy project even for someone new to woodworking.
https://www.familyhandyman.com/garden-structures/grill-gazebo-plans-make-a-grillzebo/view-all/
9) The Redwood Gazebo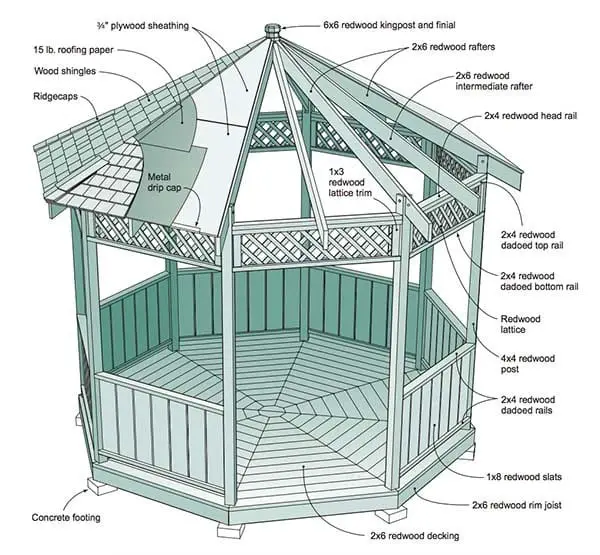 This redwood gazebo plan has eight walls. This is a classic build with expertly measured can cut wooden panels to create elevated flooring, balusters, and beams for the roof. It has an open-air design making it perfect for relaxation. The roof is high and has inner plywood sheathing before shingles were added.
Decorative lattice beams are found along the top of each side which is one of the highlights of this build. The structure is strong and needs weatherproofing to keep the sun and rain from eating the lovely redwood.
As you can see, the plans for this redwood gazebo were expertly made. The plans have a complete list of materials and tools, detailed step by step instruction on how to make this project and some tips, perfect for beginners. 
http://www.calredwood.org/pdf/Projects/Lake+Tahoe+Gazebo.pdf
10) Western Red Cedar Gazebo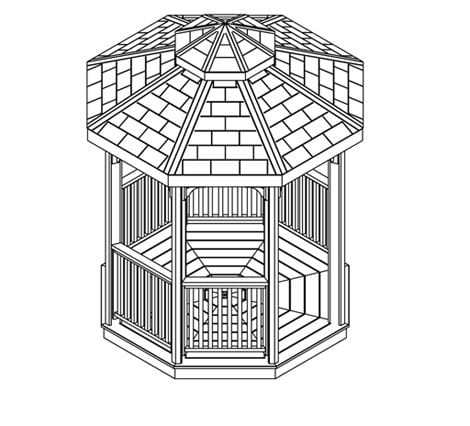 What makes red cedar a good material for outdoor furniture and structures like this lovely gazebo? Red cedar is not just visually-appealing but is strong and will naturally repel insects. It has natural oils that protect it from moisture and is innately resistant to rotting and aging.
Now, this gazebo was made of red cedar with an elevated flooring, balustered walls, high ceilings and shingled roof. A cupola removes hot air that accumulates from the tall ceiling so you will remain cool as you sit and relax. This gazebo is a fairly easy design especially if you have complete materials and basic woodworking knowledge and skills. It could be a good starting point for more intricate projects in the future.
https://www.realcedar.com/wp-content/uploads/2013/06/gazebo.pdf