I believe every DIYer needs a suitable shed. And I also believe you will agree with me on this one. After all, DIY projects do require extra space, and not to mention the fact that with time, your kit of instruments only keeps growing.
Whatever the reason for your interest in exploring our carefully curated list of shed plans, we put all our hard work to come up with a little something for everyone. Before we delve in, we want to wish you a happy shedding, and tons of positive vibes because no shed will build itself for you. The best time to act is today. J
1) Super Solid Shed
We like this super solid shed DIY plan because it is durable and extremely versatile. With that in mind, you can easily adjust the size of this shed to make it a suitable fit for your personal needs.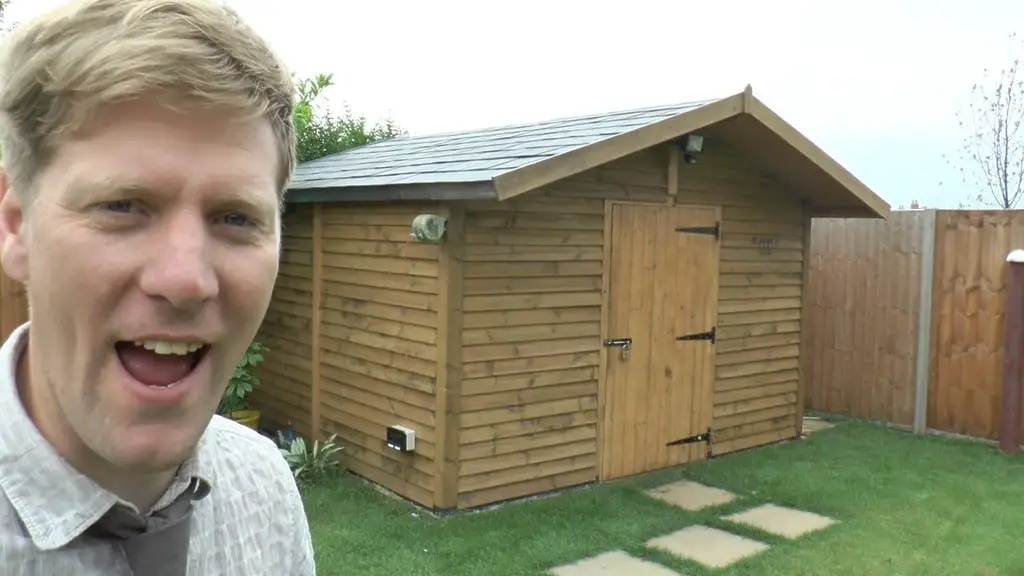 Nevertheless, it is all up to you to choose where to put the windows and doors, if you plan to make these a part of your shed project. My first shed had no windows at all, and I took advantage of a super simple locking mechanism, which also excluded the need to add a door.
However, I am not bragging about this one, as I could have put some more effort and construct a much more useful shed. What I personally highly appreciate about the design of this DIY super solid shed is the sturdy course of bricks, which serve as a base for the shed, making up for extra stability.
2) Sturdy DIY Shed
This sturdy DIY shed is very compact in size, fitting into 6 by 8 foot dimensions. We were very impressed by the full and comprehensive video tutorials for building this shed on your own, as these follow up in 3 parts.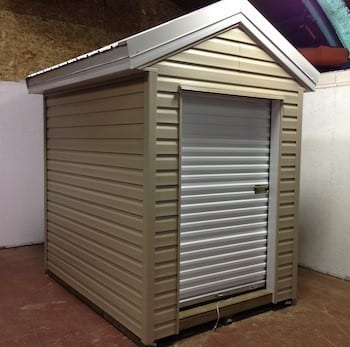 The first one shows you how to construct the solid base, the second focuses on assembling the walls, and the third is dedicated to demonstrating a step-by-step installing of the roof.
Personally, I like the in-depth demonstration of the leveling of the floors as I have encountered some pretty nasty difficulties on that note when constructing my very first shed.
Admittedly, having solid floors is a must. Otherwise, it's much like putting your efforts in vain as the stability of your shed will be very poor, and this is not what any DIYer wants. We also love this sturdy DUY shed tutorial as build plans are also available.
3) 4×6 Shed
As sheds can come in so many sizes and models, it is crucial to get acquainted with more DIY variations before you choose the one which will suit your needs. This 4×6 shed plan does not require fancy materials or tools, and this is exactly why we decided to include it as part of this list.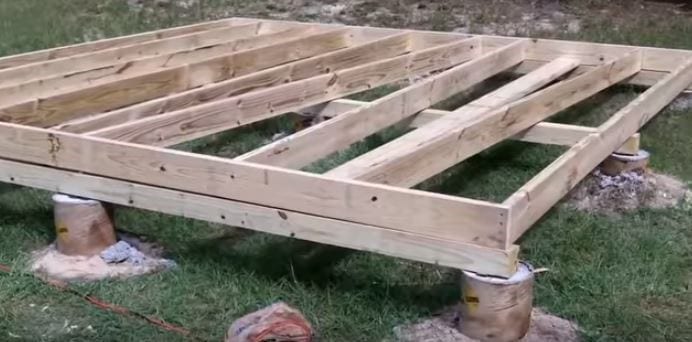 When it comes to the wood supplies you will need, this model makes use of 4×4's, 2×6's, and a sheet of plywood. Mind that both the 4×4's, as well as 2×6's utilized for the construction of this shed are pressure-treated.
The major tools needed to accomplish this shed plan include a miter saw, power drill, a speed square, and a framing square. We find this shed plan suitable for beginners. Plus, additional build plans are available, which is always welcome, but especially if you are the type to enjoy written instructions.
4) Cheap and Easy to Build Garden Shed
This cheap and easy-to-build tiny garden shed is the perfect storage place for tools and extra equipment, which otherwise tend to create such a mess in your garage and/or workshop.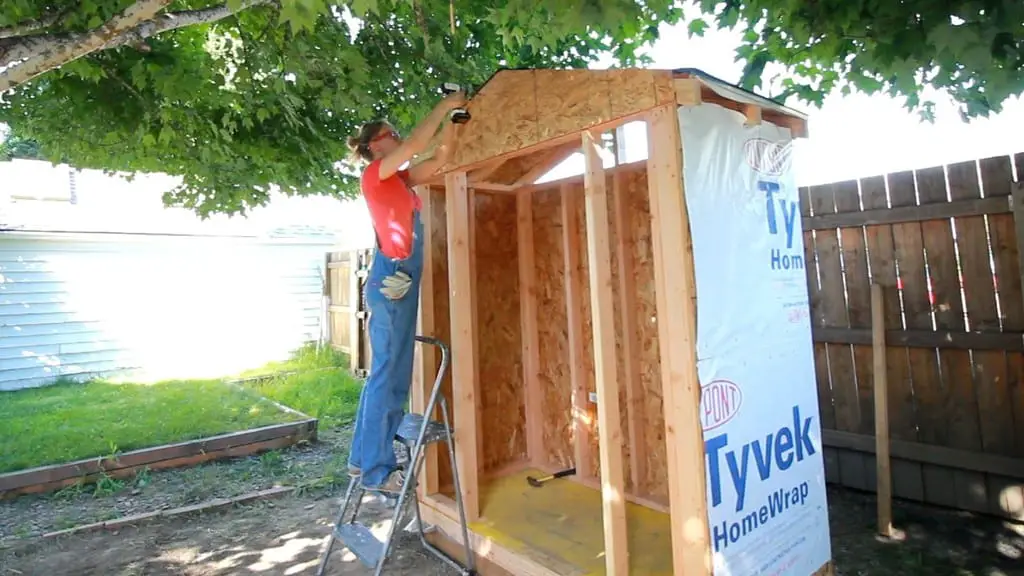 Personally, I love the fact this shed is only 2 by 6 feet, so that it will not take much space in the backyard while simultaneously being extremely helpful to put my instruments into order.
What's more, in the video tutorial created by DarbinOrver, you are guided through all the steps for constructing this shed, so even if you have little experience, it is easy to comply with the plan.
Moreover, we think it is fantastic that the dimensions of this shed are full adjustable, so you can easily customize the plan, according to your needs. And mentioning the plan, there is no build plan available, apart from the video tutorial; however, the video guide is enough to help you get down to work.
5) Simple Shed Plan
This is truly a simple shed plan, which can be effortlessly executed even by complete beginners. On another note, some extra help from friends is always welcome as this will allow you to finish this DIY shed project fairly quick and easy; however, it is also entirely achievable even if you choose to accomplish it all on your own.
For the base, the combination of sand and lightweight concrete slabs makes up for a very cost-effective and straightforward construction. What's more, as concrete slabs are extremely easy to work with, when it's time to adjust any of these as to make an excellent fit for the base, you can cut them with your hand tools without much of a fuss.
Personally, I've had some bad times with my first working-with-concrete attempts, so I highly recommend you do not underestimate concrete as a material and be precise to avoid issues.
6) Budget-Friendly Shed
Honestly, our team has gone through some debates before naming this shed a budget-friendly one. Indeed, it is an extremely budget-friendly option, as you can have it constructed for as little as $250 on an average.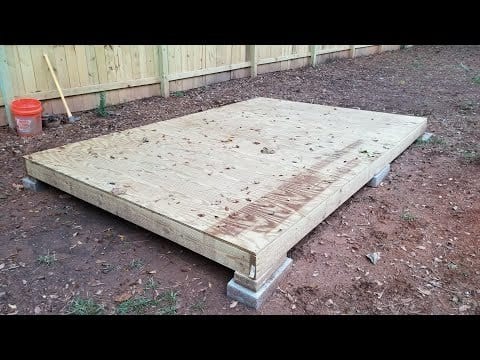 We know this price sounds almost unreal but with the right dose of creativeness and thriftiness, you can easily repeat this successful DIY project, too.
We also find this one suitable for beginners but if you happen to be more experienced with wood working, you might find this shed plan more amateur than what you'd wish to accomplish on your own. But since we are all so different, so are our personal preferences.
Thus, we are certain that many DIYers will appreciate the ease and straightforwardness of this budget-friendly shed plan, even though it is not the best choice of the most stable and durable ones you can build.
7) Backyard Shed
Not all backyard sheds are created equal. If you are looking for a high-quality design, which also comes with full step-by-step printable build plans, then you might find this Backyard shed to be a good fit for your needs.
On another note, if you are just getting started with your DIY wood working attempts, we think this particular plan might seem too complicated for you, as it is best suited for the more experienced craftsmen out there.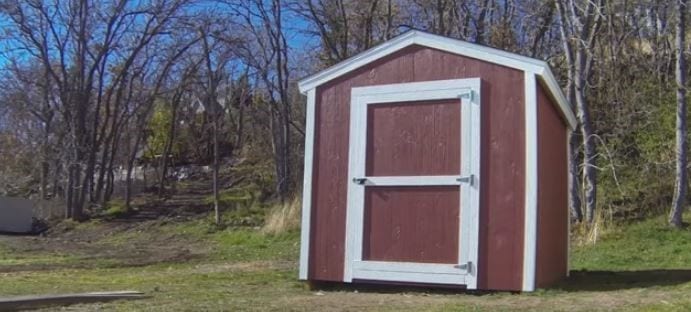 However, this doesn't mean you can't come up with fantastic ideas which you can also apply to your DIY project, even if you are still a beginner. We have all started from somewhere, that's for sure.
This 8×10 shed is extremely durable. Personally, I love the stealthy wall framing. Nevertheless, the roof snow load is a good 40 pounds, which is especially important if you happen to live in a northern climate.
8) Pallet Shed
This easy and super affordable pallet shed plan can be accomplished for as little as $69. That price range is flexible, though, as for this particularly cheap build, reclaimed pallets have been utilized. The budget of $69 is based on having to pay for 2 pieces of OSB plywood, screws, and roofing.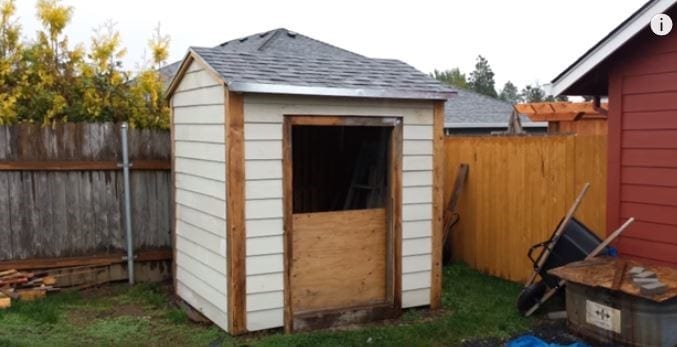 Personally, I highly appreciate the idea of applying heavy duty industrial shipping pallet for constructing the floors. Many newbie DIYers tend to underestimate seemingly simple little details as the origin of the base.
However, this is of utmost importance because no shed plan will work well in the long run if it doesn't utilize a solid and durable base. On another note, pallets make a wonderful beginner-friendly alternative to other wood materials, as they go together very easily. Moreover, pallets are fantastic for their ability to be easily customized.
9) Pallet Wood Shed
Another affordable shed plan which is constructed from pallets, this pallet wood shed is suitable both for beginners, as well as the more experienced ones among the DIYers.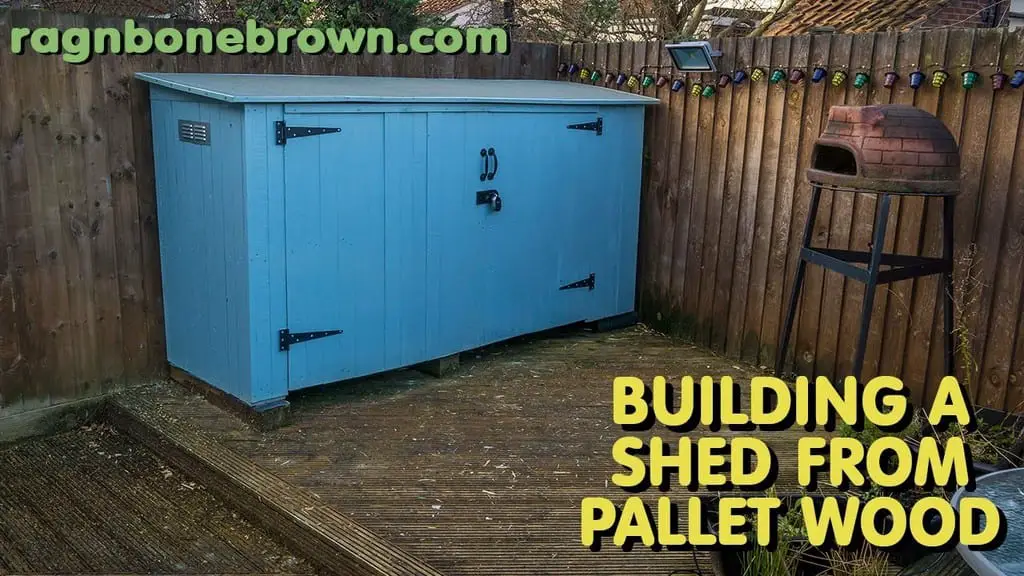 Since pallets keep growing in popularity, it is essential to always keep a few pallet-working tips in mind. For example, when you are choosing the pallets you are about to utilize, don't forget about the importance of picking relatively healthy ones. If the pallets were not stored well, these can easily develop fungus on the surface of the wood, which will affect the quality of your project negatively.
Also, if you have the chance to pick pallets of different size, this is a great plus. Even if you do not implement all sizes of pallets for a particular project, you can easily use these later on with your next building plans.
10) Scavenged Pallet Shed
This scavenged pallets shed plan is 8'x8' in size, making up for a very compact and convenient one. When it comes to working with reclaimed pallets, we are always happy to give huge thumbs up not only because of the affordability of such DIY projects but also because of the mind to the environment.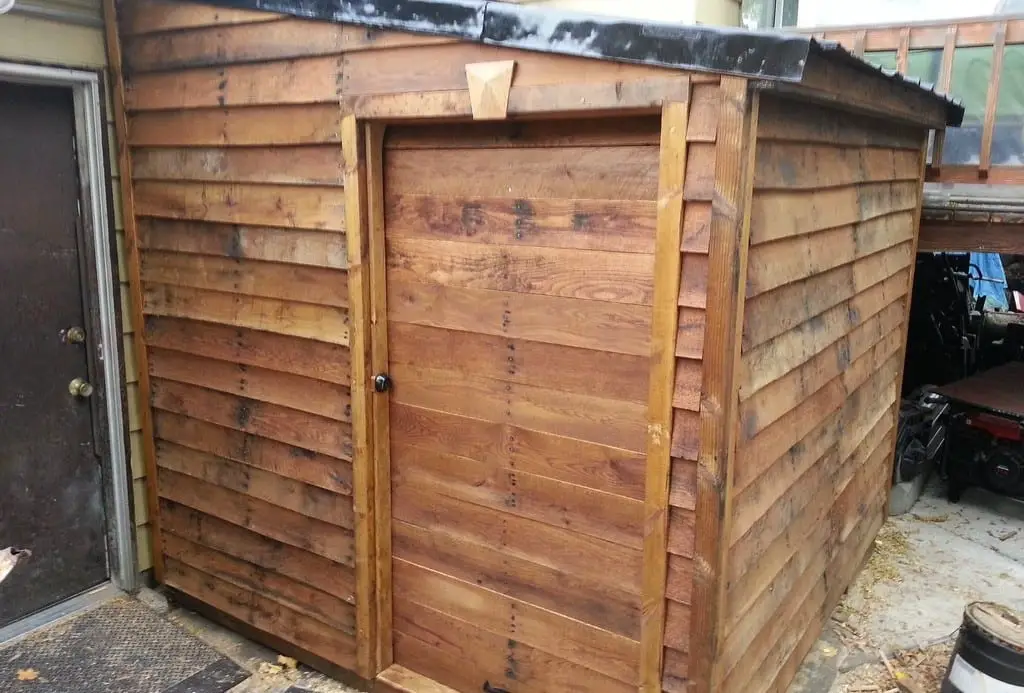 Meanwhile, if you happen to lack experience working with pallets so far, we do appreciate that an additional video tutorial is provided for showing the right way to dismantle pallet safely and efficiently. One of the disadvantages of this scavenged pallet shed plan comes with the fact that no additional build plans are available.
Thus, you will have to rely solely on the video tutorial to gain a proper understanding of the construction process.  But as pallets are not the most pretentious material to work with, we think even beginners can accomplish this plan regardless of the absence of detailed sketches.