Just like Laozi points out so many years ago, "He who knows that enough is enough will always have enough".
Staying true to the philosophy that less is more, the tiny house movement keeps growing in popularity. Nevertheless, more people start to realize the tremendous impact that we all have when it comes to the well-being of our beloved Planet Earth.
The tiny house plans we are listing below are not meant to be a part of just an ordinary article.
We have compiled these for you to get you inspired and to touch your mind and soul. However tiny your house, keep your dreams big, and work to make them happen every single day with a smile.
1) Tiny House Dragonfly-20
The Tiny House Dragonfly-20 can become your perfect new home. It can accommodate up to 3 people in the compact 159 square foot.
And while this dimension might seem as if things can get way too overcrowded in here, the intelligently designed interior makes up for a very spacious feel. Everything is cleverly packed to provide enough space to invite and entertain your guests.
Personally, I am in love with the two skylights on the roof because altogether with the large windows, the rooms get exquisitely abundant in sunlight.
Just picture yourself kissed by the first morning rays of the sun and enjoying the freedom of life in your very own tiny home.
Dreams do come true) it is all up to you. We also managed to find the out the house plans provided by Robinson Plans, which can be of further assistance to help you start creating your stunning variation of the tiny Dragonfly-20 beauty.
2) Tiny House with Incredible Interior Design Built in 40 Days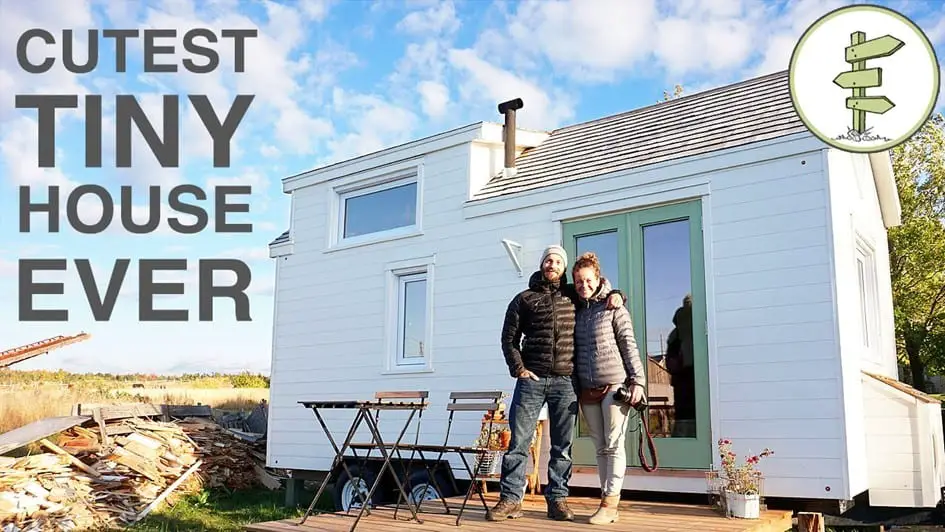 Whenever I am on the search for tiny house plans inspiration ideas, I always look for those smart improvements which people implement in order to save space while still creating a cozy interior.
This tiny house which was built by Pascal and Catherine is the perfect example of space-saving, family-friendly tiny house, where you will not miss a single one of the comforts you enjoy.
For example, the cleverly-designed dining table is hidden as part of the wall until you decide it's time for a meal.
The kitchen is very spacious, as well, allowing the MasterChef inside you to experiment and create amazing dishes.It is not easy to think of a fully functioning kitchen design when your space is limited.
The Instagram page of Exploring Alternatives is also full of tiny inspirations.
Personally, I loved taking a sneak peak at Exploring Alternatives blog and one fantasitc article about the importance of living a life you won't regret.
3) Tiny House Heated with Free Solar Power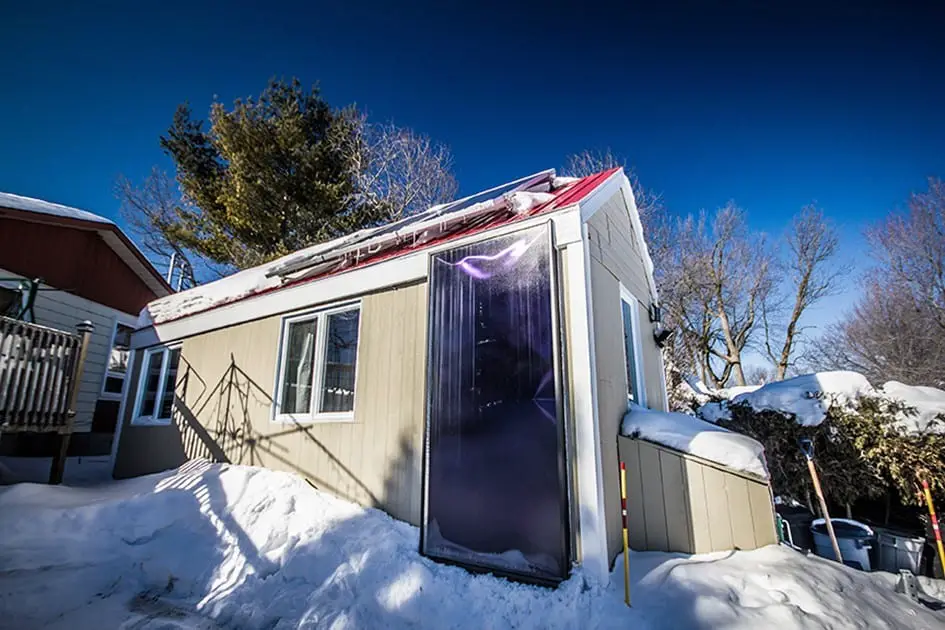 There are many tiny houses running on free solar power, however, this one is rather unusual because of the fact it is located in Canada where the climate is northern, and hence) bloody cold (some)times!
But as you can see by the inspiring story of Gabriel Parent-Leblanc who built this house together with some help from his friends) it's possible to live in a tiny house while saving huge on electricity bills all year round even in the northern climate.
One of the smart designs created by Gabriel is the additional bed for whenever guests come to visit his off-the-grid tiny paradise.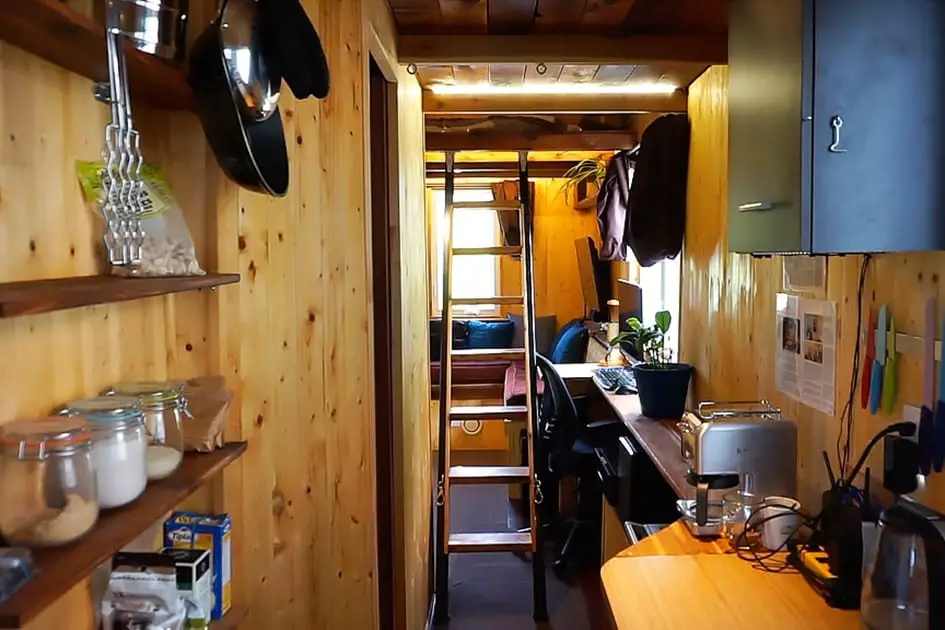 If you are also impressed by this tiny house heated with free solar power and start planning to build your own, just mind that Gabriel also shares one major disadvantage you'd need to fix to avoid discomforts) and that's the small water tank.
The full blog articlecan also give you some cool ideas.
As you can already see from the photos, this tiny house is very stylish and built according to the modern-day best practices when it comes to interior design.
However, there is actually much more to explore about this tiny gemstone.
This house is full of bright and fresh space-saving ideas and creative small designs that simply turn it into a smart mini paradise.
For example, the composting toilet is hidden in a drawer, which is extremely practical. On the other hand, there is a loft designed especially for the stargazers (like me).
Catherine is staying true to her amazing style, and she has also found a way to share her inspirations through her Instagram page, as well as her blog.
We, girls, are not bad at constructing stuff, too.
5) Off-Grid Tiny House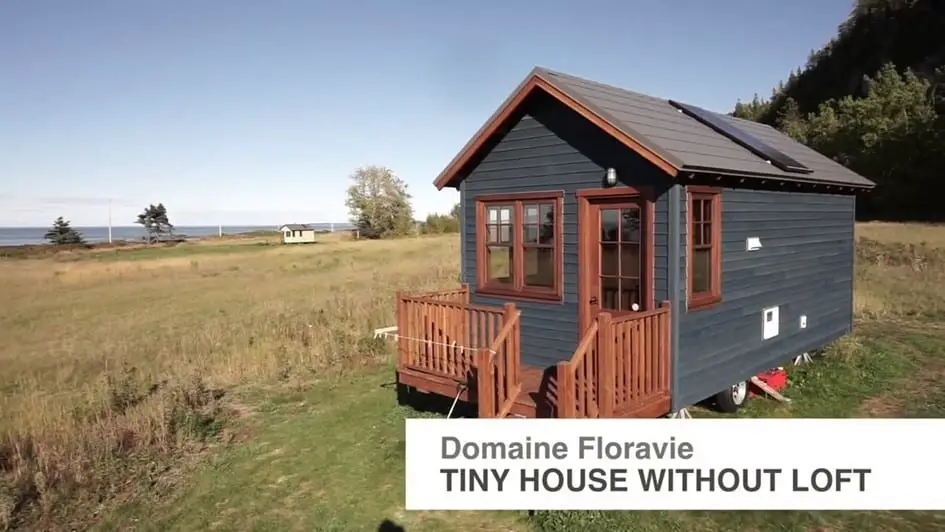 Now, just like my cousin loves to say "If you ask 10 people about the same thing, you will get 10 different answers."That can't be truer when it comes to picking the design of your tiny house. Personally, I am a huge fan of lofts.
However, for those of you who would appreciate their tiny home being loftless, here's a perfect example of such a design. Also, this off-the-grid tiny house is slightly bigger than the average size of tiny houses as it fits into 10 feet width inside.
So if you are still fighting with the idea of whether or not you will be able to live big in a tiny house, then these ones can pretty much inspire you that, after all, nothing is impossible.
These tiny houses are part of the Domaine Floravie vacation rental, which is open for visitors.
6) Super Modern Off-Grid Tiny House
Just take a look at this beauty below. I know, it doesn't at all appear as a tiny house, right?! Well, actually, it is.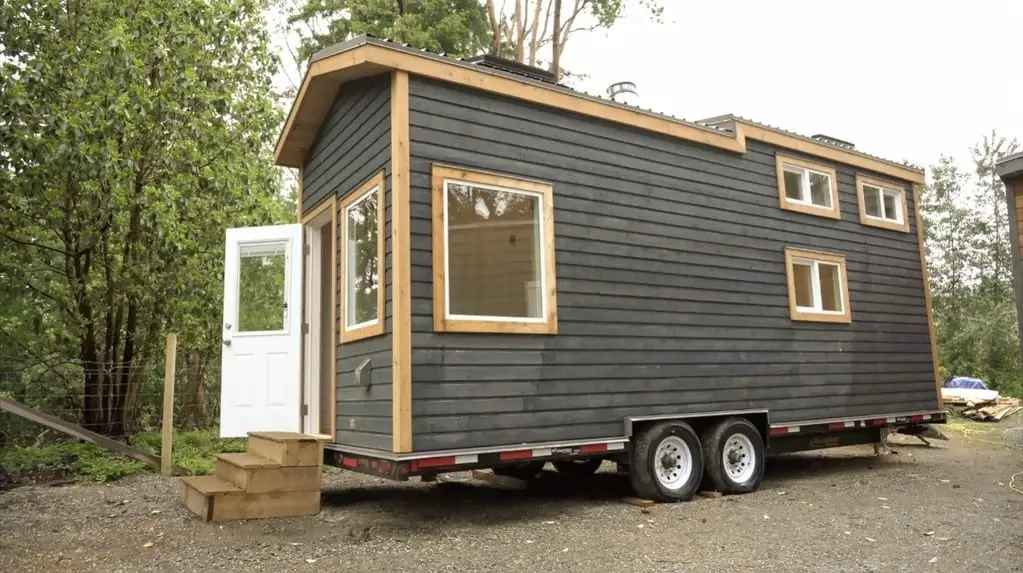 But the design is made with so much mind into every little detail that you cannot possible feel you are in a house where the space is limited.
And how about the interior?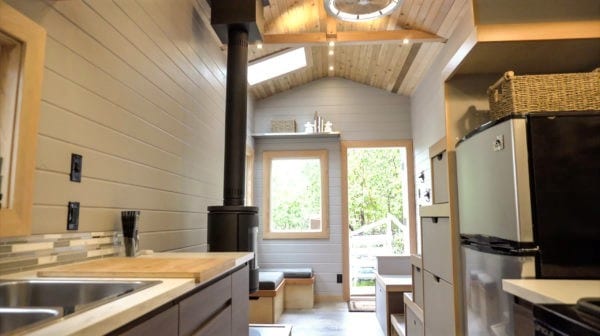 This is a wonderful tiny house you can build if you are a foodie who can't live without a big fridge to store all the wonderful ingredients you use.
But I also think the fireplace is a magnificent addition which will bring so much coziness to those cold winter days.
Rewild's homesare a perfect example of not having to sacrifice modern-day comforts while still enjoying the tiny house lifestyle. When combined with the opportunity to travel the world in your mobile home, I think many of you will adore this off-grid tiny house variation.
7) $24K Tiny House
The tiny house we are featuring below is a very special one.
But that's not simply because of the smart designs you will find inside but because of the amazing story of Mark) the builder of this small treasure.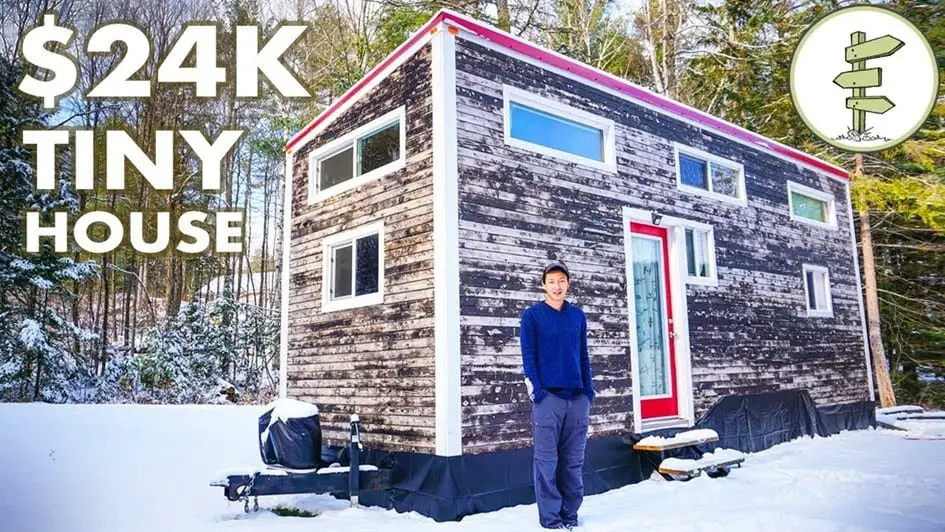 We think this one fits best into the short description of a $24K Tiny House as this is exactly the cost calculated for constructing this tiny home.
But what's more, apart from the affordability, Mark has built this house with 0 experience as a carpenter.
Does this start to sound like you? I know there are so many people out there who are doubting their DIY skills, while they shouldn't.
Mark shares that it took him 8 months to complete this charming tiny house for him and his girl, and he also shares invaluable tips about living off-the-grid in this adorable home full year round.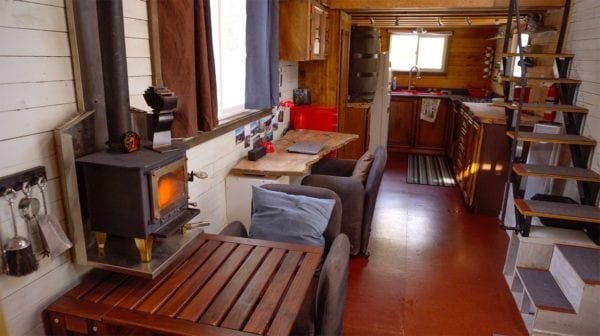 8) The Smallest Tiny House (with all the Comforts of Home)
Why this tiny house deserves to be called the Smallest Tiny House?
Well, surely, you can even go for a smaller one but as for the size of the 16-foot trailer which makes the base of this beauty below, we agree it is small enough to be crowned one of the smallest possible.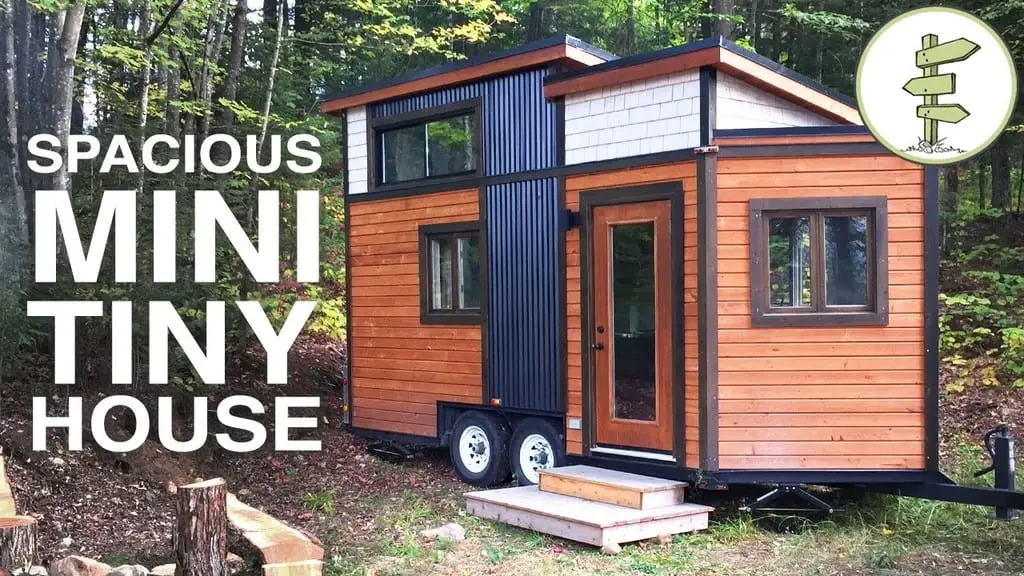 But as you take a look at the interior, this tiny space created by Martin Bisson will charm you with all the comforts you will find available. You can easily make a fit for 5 people in the small dining area by pulling the table close to the comfy sofas.
This tiny princess has grabbed our attention, so we felt as if we could go on and explore more of it for hours, despite the actually super tiny space it covers.
10) Tiny House to Travel the World With (and IN!)
I've always had a passion for those warm-hearting tiny houses which are not leaning on the modern side of design but are all about authenticity and creativeness.
The tiny house to travel the world with below is a perfect example of a home which makes you feel this special atmosphere inside, as if the home owner puts his heart on a plate for you at the very looks of the interior.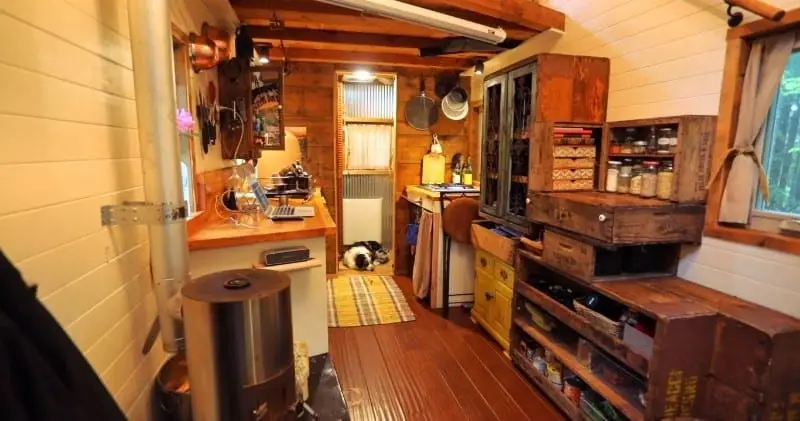 Although, the exterior is no less impressive and inspiring, too.
This house was constructed by Jenna, who decided to call her tiny home on wheels experience the Tiny House Giant Journey. She has somehow managed to create not just an average tiny house but a sparkling example of how far your dreams can bring you.