Pallets are usually overlooked and thrown away or burn in a pile, but what people don't realize is that they can make a good woodwork project out of them.
Pallets can be a great medium to develop your knowledge and skills in woodworking, and we have compiled the best pallet project ideas for beginners to inspire you to start creating your very own first pallet project.
All you need will be a wood pallet, simple tools and supplies, creativity, and willingness to try.
So, let's get started now! Enjoy reading!
1) Easy-to-Do Pallet Fence by Home Talk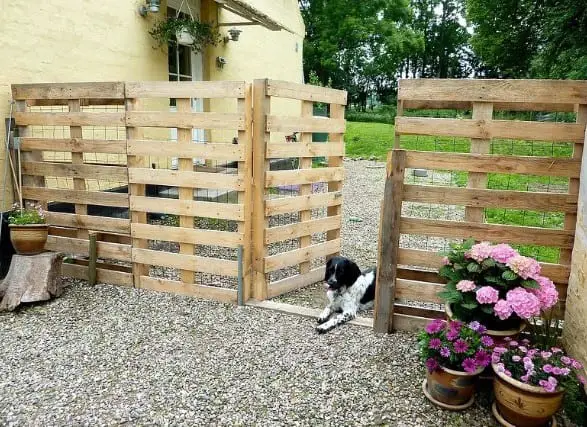 Image Source: https://www.hometalk.com/1924448/pallet-fence  
You can find wood pallets almost everywhere and the great thing about them is they usually come free. This is a very simple pallet fence that you can start with. The fence is made from lightweight wood pallets. It will surely be a great addition to your beautiful garden for a unique and rustic look!
The construction process involves drilling supporting wood pallet to the walls. It should be around 2 to 3 pieces for a sturdy support. So what you need to do is start by drilling the first wood pallet you see to the supporting pallet boards. For the opposite side, you follow the same steps. No worries if there's no wall to attach the fence because you can just find a log as a replacement.
Just ensure it is secure and snug into the ground. On the pallet gate, you need a lock and strong hinges. For additional support, you can also put some small logs or boards in the front or at the back or both to keep your pallet fence very solid.
2) Fold-Up Pallet Desk by Thistlewood Farms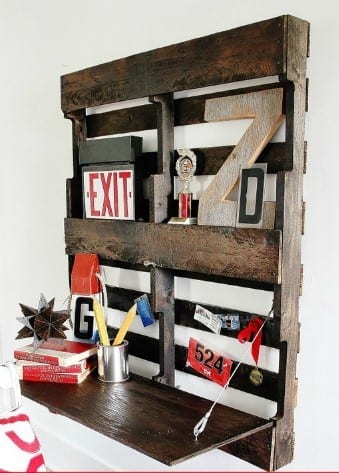 Image Source: https://thistlewoodfarms.com/fold-up-pallet-desk/  
In this project, a standard pallet was used. The builder saw these at a feed store and right there and they knew that they will be a perfect pallet desk. No ripping of pallets apart! The first step involves cutting plywood for the pallet desk.
The back portion is the side of the pallet with numerous boards. The plywood should fit between the two pallet boards. The second step is attaching a piano hinge that can provide your pallet desk the maximum stability possible.
Next, a window sash needs to be attached which is a fun option, keeping your desk closed when you're not using it. The final steps include attaching the cables, threading the eye hook, sanding, and staining the assembled pallet. The builder used a dark walnut stain. This pallet folding desktop project is ideal for small spaces. Build yours today!
3) Gardening Organizer by Our Little Acre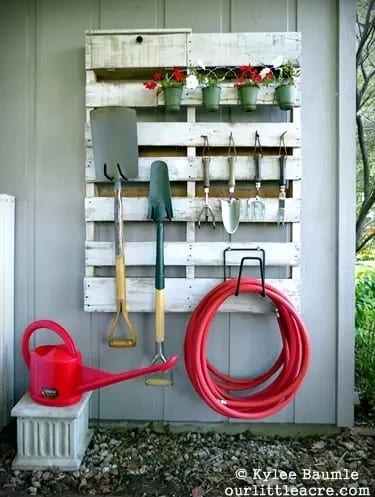 Image Source: http://ourlittleacre.blogspot.com/2012/08/diy-my-lowes-creative-ideas-pallet.html  
Pallets are free discards suitable for creating useful objects. For most gardeners, pallets are used as planters or plant boxes. The builder decided to use pallets to help in organizing and keeping gardening tools handy.
The steps in building this project include making a compartment at the top by cutting the top front pallet board so a door can be made. The hinges were installed and magnetic closures were used. You can also add a knob for the complete look. 
You can brush the pallet using a metal brush so loose splinters and dirt are removed. If you want a weathered and whitewashed appearance, you can use a white primer of your desired brand like what the builder did.
You can buy tool hangers and attach them into your DIY gardening tool pallet holder. This was hung on a backyard using wood screws.
4) Reading Pallet Chair by Kojo Designs
Image Source:  http://kojo-designs.com/2010/12/kojotutorial-reading-chair-made-from-two-wooden-palettes-part-1/
The builder is a huge fan of pallet furniture. In this pallet project, this playroom is made from a wood palette and other reclaimed and recycled materials.
This is a very good tutorial because the steps are broken into 7 easy-to-follow instructions. Generally, there are two parts: building the platform and attaching the sides of the chair.
The things you'll need to prepare before starting this project include wooden pallets, scrap pieces of boards cut into 6 squares, nails, sandpaper, sander, and 3 rolling casters.
First, you need to choose good pallets, those that are sturdy, square, and with close slats. Sand them until the raw wood is exposed. A circular saw was used for cutting the pallet's diagonal line. Reinforce the front edge using leftover wood. Casters are attached for portability.
5) Summer-Inspired Pallet Swing by The Merry Thought
Image Source: http://themerrythought.com/diy/diy-pallet-swing-bed/  
There are unlimited things you can create with pallets. This is a beautiful swing bed which has been on the top list of the builder for quite some time. Swinging is one of the best childhood activity.
It is the builder's favorite. There are different ways to create a swing bed. You can use a simple rope and pallet or you can make a twin-sized swing to fit your mattress for a daybed.
You don't have to worry because this project is simple. The things you need to have are pallets, lumber (2 x 4 inches in 8-foot size), measuring tape, drill, screws, cushion or mattress, and mattress covers.
The first step is measuring the mattress sizes or cushion you want to use to know the number of pallets you'll need. The builder used two pallets and also added extra pieces (12 inches) in the middle for the perfect dimensions. Braid pro-grade solid rope was used to avoid easy breaking and rotting.
6) DIY Pallet Mug Holder by One Little Bird Blog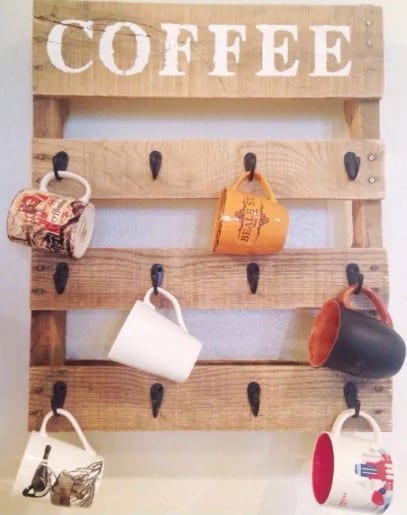 Image Source: http://www.onelittlebirdblog.com/?p=1755 
The builder is so excited to share one of her favorite pallet projects. This is a DIY pallet mug holder. The pallet was found on the off side of the road when they were still living in Springfield. Just imagine the discarded pallet made into a creative and functional piece of art. You can do it within a day! It's easy and simple to make!
The things you'll need are pallet, screws, right angle ruler, sandpaper, tape measure or ruler, circular saw, safety glasses, a screwdriver, and a cordless drill.
It is important to power wash the wood pallet before diving into this DIY project because you will be hanging cups or mugs. It was a nice idea adding the "COFFEE" on top since the top board was wider and longer but this is optional.
Mark the surface of the pallet you want to use using a pencil. Basically, the steps are easy to follow with clear photos of how the builder made it. Always ensure you are safe when working on a project by wearing safety glasses and gloves. You'll be amazed at the final result and happy to drink coffee every time!
7) Pallet Pot Rack by A Green Point Kitchen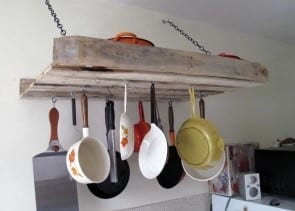 Image Source: https://agreenpointkitchen.wordpress.com/2010/04/12/home-improvements-pallet-pot-rack/ 
The builder literally live in a neighborhood filled with pallets or the so-called "Pallet Row". There are plenty of discarded pallets everywhere that they can use to also create great pieces of furniture.
A pot rack made from wood pallets would be a great addition to your kitchen. You'll realize after working with this project that it is a great space-saver and it's a beautiful way of displaying all your skillets!
The supplies you'll need to accomplish this project include 1 pallet, chicken wire (4 x 4 feet), wire coat hangers (6), staples, heavy chain, bolts with nuts (2 1/4 x 4 inches), washers (4), and S-hooks.
The tools you'll need are a hammer, circular saw, nail puller, screwdriver, drill, staple gun, measuring tape, and wire cutters. Avoid splitting the wood by removing the middle bar with the use of a nail puller or hammer.
The S-hooks are placed on the hanger wire (heavy coated). Now you can hang your pans and pots!
8) Pallet Plant Box by Live Laugh Rowe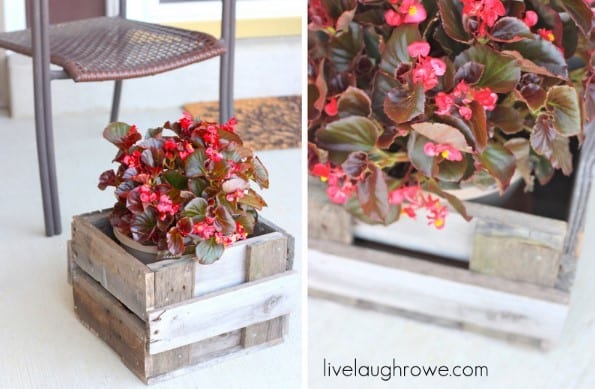 Image Source: https://livelaughrowe.com/diy-pallet-planter-box/  
The builder fell in love with beautiful pallet planter boxes so she decided to make one. This is suitable for beginners because the steps are so easy. You can make a plant box using a pallet wood.
Now, it's time to grab a hammer, miter saw, and nails, and let's start making a plant box!
The tools and supplies you'll need include boards, pallet wood, nails, hammer, and miter saw. A hand drawing illustration is included in the tutorial to help you understand the things you need to do in each step in the construction of the back and front pieces of your planter box.
The instructions are clear and you'll get the best tips from the builder like handling pallet ends that are not weathered using a crafting paint.
9) Pallet Bookshelves by Where the Smiles Have Been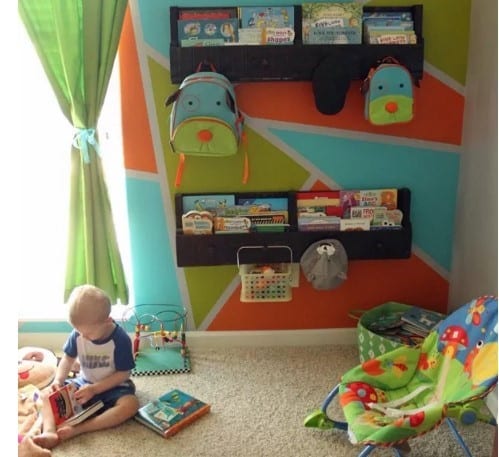 Image Source: https://www.wherethesmileshavebeen.com/how-to-make-and-install-pallet-bookshelves/  
With this DIY tutorial, you will learn how to build a pallet bookshelf with knobs and more storage. The builder wants to update her son's room so this bookshelf is a perfect addition!
His husband bought home free pallets which ignited her creative idea. If you have some lying around, then you can also create this project. It is simple and easy. It's also very cheap.
These are hanging bookshelves, perfect for all sorts of children's books. The tools and materials you need are a free pallet, work gloves, sander, reciprocating saw, disposable gloves, paint brush, polycrylic paint, wood knobs, glue, felt scraps, drill, wall anchors, hammer, and drill.
Power tools will make your life easier. But of course, you can always innovate if you don't have some of the tools listed here. Always stay safe by wearing gloves and safety glasses or goggles.
10) Pallet Bath Shelf by Practically Functional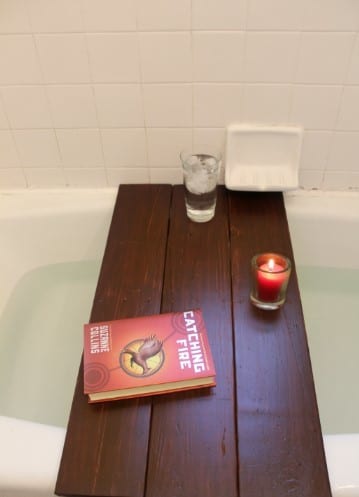 Image Source: https://www.practicallyfunctional.com/upcycle-pallet-into-bath-shelf/  
The pallet used in this bath shelf project was an old pallet sitting in the builder's alley for months. This made a great woodwork project turning it into an elegant bath shelf.
This is huge enough to handle different things like aromatic candle, magazine, or drinks while enjoying a warm bubble bath. It is not difficult to do at all. This will be a perfect bath shelf for you too!
You will need an old pallet, hammer, prybar, wood screws, sandpaper, wood glue, wood stain, and paintbrush. The steps involved in making this project include taking the pallet apart, fixing and cleaning the wood, and making some cleats.
You can use a claw hammer to take the pallet wood apart. You'll need 3 to 4 boards for this project. You can upscale the sizes if you desire to do so. The steps are easy to follow with photos on how to do as well.
Conclusion
Pallet should not be discarded or put to waste. Save trees and save nature by making use of them for your creative DIY projects.
You don't have to spend hundreds of dollars on pieces of home decor or furniture because you can build your own elegant and modern pieces with the pallet.
Start building your pallet wood project using these ideas now! Happy woodworking!