31) Multi-feature Sawhorse Plan by Mother Earth News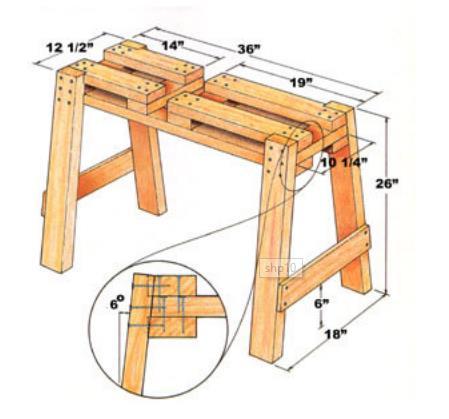 This is an amazing sawhorse design that might appear ordinary initially, but it offers great features not found on traditional or old sawhorses. The final sawhorse is 26" high, 36" wide, and 18" deep with a flush and 3 x 1 feet. Surface. It is perfect for a bench when hammering or measuring. The plan also provides a longitudinal trough, that fits any length perfectly of 2 by 4 boards, preventing the board from slewing when it is under pressure. A second channel is good for easy cutting using a saw.

You don't have to spend much building these sawhorses. They can be made at very affordable materials or the same cost as other DIY sawhorses. This sawhorse plan is very simple and the instructions are very easy to understand. Now, you can build your own simple sawhorse using this plan.
Helpful Link: 
https://www.motherearthnews.com/diy/build-an-economical-sawhorse-zmaz85jazgoe
32) 14-Minute Free DIY Sawhorse Plan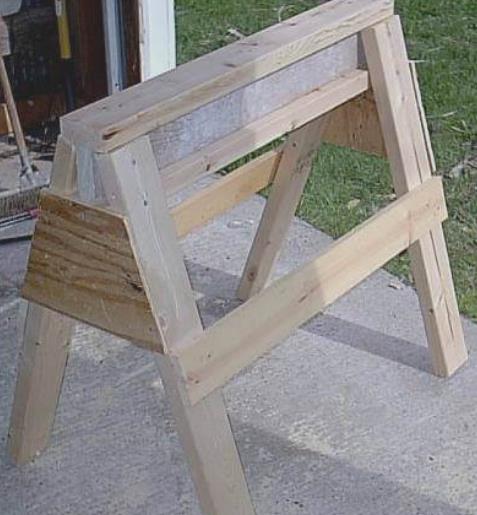 This sawhorse plan consists of five steps. It is a 14-minute DIY guide showing how you can easily build two sawhorses. These sawhorses are very durable and sturdy. The construction process involves cutting of lumber, constructing the beams, nailing the legs, and assembling. The construction guide includes pictures to help you all throughout the process. You can use screws or galvanized nails. Screws are used for sturdier built.

The materials used include eight pieces 2x4s (30 inches), six pieces 2x4s (32.5 inches), 2 pieces 12×12 scrap plywood, and four pieces of 32.5 inches 1x6s or 6 inches wide plywood. You also need 30 galvanized nails or 16D coated nails. This is a free DIY sawhorse plan.
Helpful Link: 
http://shoppingmatchmaker.com/sawhorse.html
33) Scrap Sawhorse Plan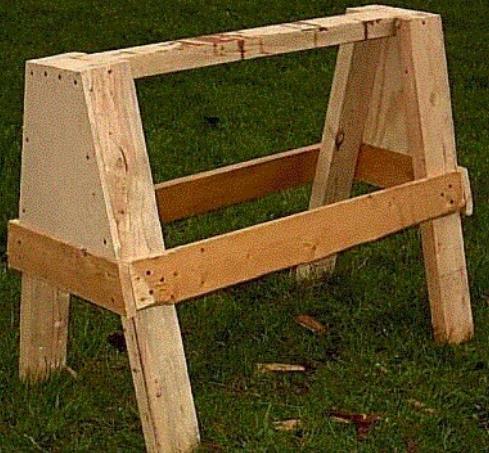 Build this sawhorse using a few tools with the use of scraps that are laying around your workshop. The measurements for this sawhorse plan include 34 inches wide, 26 inches high, and 26 inches deep. You can always adjust these measurements according to your needs and requirements. You may find this sawhorse as the cheapest and ugliest but they are not definitely poor quality. They can work as good as new sawhorses.

The materials you need for building this sawhorse include scrap board, lumber, plywood, and wood screws. The first step is cutting the end panels with the use of ½ inch plywood stock and two squares of 12×12 inches for end support panels. The next step is cutting the stock and then screwing the supporting squares to the top rail. The last steps are attaching the legs, attaching the support rails, and cutting the protruding ends.
Helpful Link: 
http://wayneofthewoods.com/sawhorseplans.html
34) Strong and Collapsible DIY Sawhorse Plan by the Art of Manliness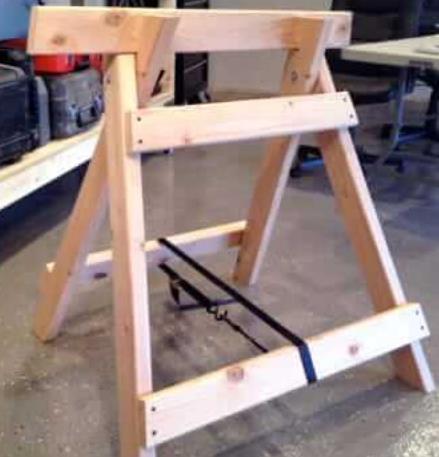 If ever you need a more complex or challenging to build sawhorse, you can take a closer look using this plan, featuring a cool design, that is very portable and collapsible. You'll need a time at first in order to fully understand this folding sawhorse plan. This sawhorse guide will lead you on the entire process without missing anything. This sawhorse design is versatile, unique, and functional. The material list includes a six-foot locking tie down, a cut list for the parts of the sawhorse, and a tool list including a compound miter saw.

Each sawhorse cost about $20. The tools needed include a compound miter saw, drill, jigsaw, and square. The steps to be followed when building this sawhorse include cutting the lumber for the parts, cutting the notch, drilling bolt holes, inserting carriage bolts and washers, attaching cross supports with the use of wood screws, and installing the straps.
Helpful Link: 
https://www.artofmanliness.com/articles/strong-durable-collapsible-and-versatile-how-to-build-a-better-sawhorse/
35) Classic and Stylish DIY Sawhorse Plan by Fine Woodworking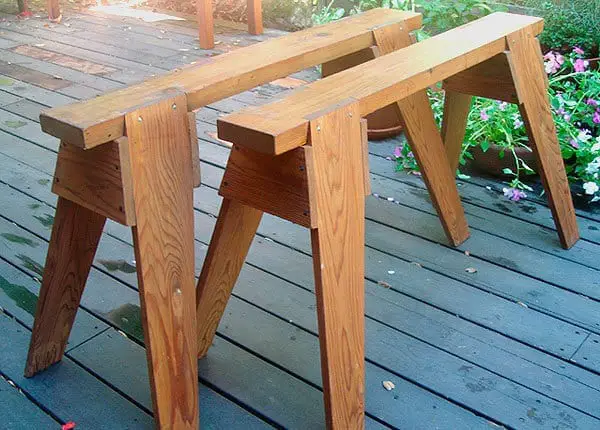 This sawhorse plan is easy to learn. Now, you can make a sawhorse that's stylish, classic, and functional at the same time. This sawhorse plan teaches you how to build a reliable and sturdy sawhorse with good joinery. It is easy to build with the legs splayed at 75 degrees. This will give your sawhorse an unforgettable and unique look. This sawhorse design was published in Fine Woodworking in 1987. The builder, Tim Killen has changed it to suit his preferences. 

In this sawhorse plan site, there's a printable and downloadable template. The detailed plans have measurements, clear pictures, and a step-by-step construction guide. The construction process includes cutting the joinery with templates, producing the oversized legs, fastening the legs to the saddle, fastening the braces to the legs, and trimming the legs.
Helpful Link: 
http://www.finewoodworking.com/2007/01/09/build-a-classic-sawhorse
36) 14-Step Guide Sawhorse Plan by Wikihow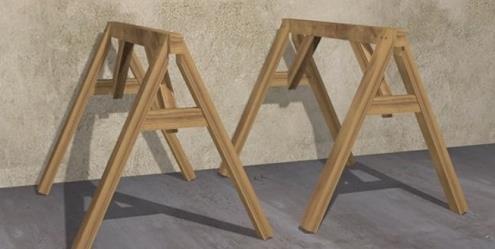 This sawhorse plan uses 2 by 6 yellow pine boards. It is a 14-step guide that shows easy steps to make sawhorses in a unique way. These are made from 2 by 6 lumbers ripped in half. If you will use 2x4s, you don't need to rip the boards. Basically, the steps involve cutting angled cuts and joining the pieces together or assembling. The final product is a durable and reliable sawhorse. However, these sawhorses are not stackable. You'll need a tape measure, a hammer, a circular saw, an angle square, and nails for this project.

When it comes to constructing sawhorses, it is best to purchase lumber that can resist insects and rust to ensure a long-lasting product. Sawhorses can be used for different purposes such as on workshops or construction sites as an instant table or stock tool for boards. They can also be used as supporting structures if you're working on other woodworking projects.
Helpful Link:
https://www.wikihow.com/Build-a-Saw-Horse
37) Two-legged Sawhorses by Conrad Sauer of Lee Valley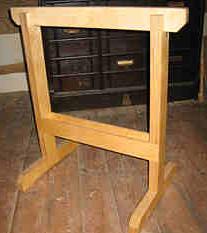 These sawhorses are the perfect workshop companions. They are always there whenever you need them, and you can tuck them out of sight when you do not need them. Create an extra bench space to sort wood, to support carcasses, or act as temporary stands for machinery. When you are alone in the shop and you need to lift a bulky and big item on to the bench, sawhorses can help you out by simply lifting the item on one end at a time onto progressively taller sawhorses until you're able to slide it on the bench.

This is a two-legged sawhorse which is a classic, sturdy, and strong built. It is easy to store because it is compact. Traditionally, sawhorses of this design are made from solid wood. They have mortise and tenon joints. For a truly classic look, you can through-mortised a single stretcher into the legs of the sawhorses with contrasting wooden wedges in the tenons. It is indeed a beautiful design. Plywood cut-offs were used to build the sawhorses.
Helpful Link: 
http://www.leevalley.com/us/newsletters/Woodworking/3/1/article1.htm
38) Sawhorse Reindeer by Hallmark Channel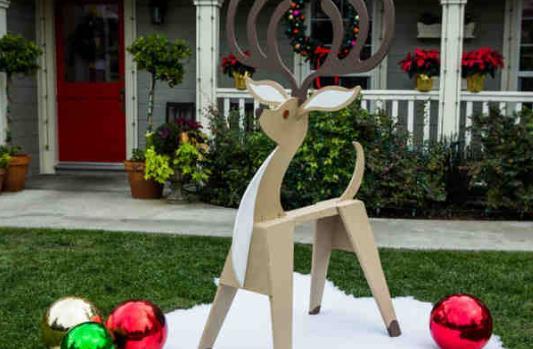 Do you have an old or unused sawhorse? You can actually make your own Christmas décor using them by building a reindeer sawhorse. The tools and materials needed to make this functional reindeer sawhorse include an old or unused sawhorse, paint, paintbrush, plywood, ornament, L brackets, jigsaw, sandpaper or sander. Draw the pattern on a plywood including the head, antlers, and tail of the reindeer. 

For the neck base, just cut the right angle to the reindeer sawhorse. Place the wood against the edge of the sawhorse and trace that corner out. Cut the ears, antlers, ears, neck, head, and tail. Cutting a 2-inch notch is important on top of the head and the antlers and ears. The next steps include sending the sawhorse reindeer, painting all the parts, attaching the screws and L-brackets, and adding additional embellishments as desired.
Helpful Link: 
http://www.hallmarkchannel.com/home-and-family/how-to/diy-sawhorse-reindeer-with-mark-and-anthony-sabato-jr
39) Jackass Sawhorse

The photos and plans make building sawhorses a lot easier. From scrap, you can build your own sawhorses with ease and confidence. If you have scrap lumber, plywood, and screws and nails, you don't have to spend anymore because all you need are basic tools. If you want to test your carpentry skills and get a more challenging sawhorse plan but not so complicated, then the Jackass Sawhorse might be what you're looking for. 

The basic tools in building these sawhorses are jigsaw, circular saw, table saw, drill or screwdriver, and hammer. If you don't have these tools, you can be creative and resourceful enough so you can build your very own sawhorses in a minimum time. It can be a new and fun experience for you as a beginner too, enticing you to create more woodwork in the future. Try this plan today!
Helpful Link: 
http://jackasssawhorse.com/
40) Sawhorse Table by Charles and Hudson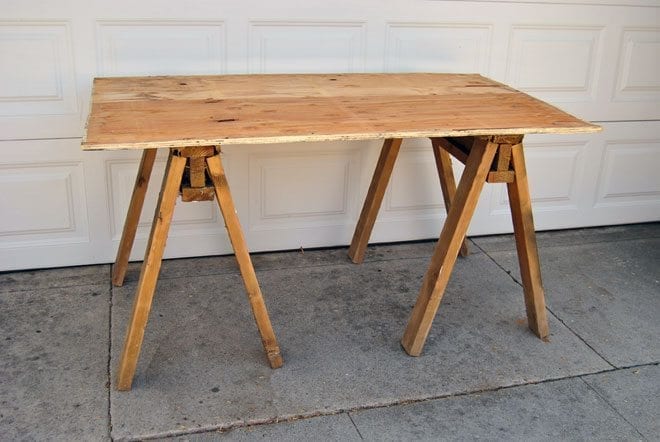 There are many sawhorses sold today and sometimes you may even get one made of scrap or salvaged wood from a hundred-year-old farm. Here is a simple DIY sawhorse project that you can build on your own. This is a sawhorse table and it only takes a couple hours to make it. It can be as affordable and chic as you want it. The estimated time to build this sawhorse table is two hours. The challenge level is average or medium. 

The tools and materials you need in building this sawhorse table include 6 32.5-inch 2x4s, 8 30-inch 2x4s, 4 x 8 ¾-inch plywood, a box of 2-inch wood screws, pencil, sandpaper, drill, measuring tape, and finishing coat. When it comes to the procedures or step in constructing this sawhorse table, you'll be measuring the pieces of the legs, cutting them, sanding to smooth surfaces, removing dust and dirt, and painting a finishing coat for wood care. Make sure to check the balance before using this sawhorse table.
Helpful Link: 
https://charlesandhudson.com/how-to-build-a-sawhorse-table/
Conclusion
Sawhorses are valuable tools needed in construction sites and workshops. Aside from acting as support on woodwork projects or construction projects, they also serve as instant tables and storage for boards and other materials. There are many types of sawhorses from foldable, collapsible, heavy-duty, compact, portable, and a combination of these features. You can build your own sawhorses from scrap materials left in your work area for your future projects, and you can assure that they are durable, strong, and reliable.