One of the best building materials is pallet wood. This material is versatile it can be used to build all kinds of furniture like chairs, tables, shelves and beds to name a few. Pallet wood is also strong. Place pallet wood frames side by side and you have a strong bed frame built for a large mattress. Pallet frames are used to transport all kinds of materials hence these are very strong. 
There is no doubt that pallet wood is lovely. The natural grain of pallet wood swirls darkens and lightens to create beautiful patterns. You can make lovely pallet wood shelves, frames, and other decorative items. 
Pallet wood signs are a decorative accessory that you might find in a rustic or country themed home. Pallet wood signs are made of only a few pieces of pallets and can be of any shape. It can be rectangular, circular, triangular or hexagonal in shape. It can also have no shape at all. You can find pallet wood signs in different colors and of course, different messages can be written, painted or carved on the surface.
What is the craziest or funniest wood sign have you ever seen? You may have seen funny signs, clever signs, bible verse signs, love-signs and more. Now we have 40 of the best pallet signs to check out. Find the right pallet sign design and inspiration that's best for you here.
List
You won't believe how many pallet signs art you can find online. These signs are among the best of the best with cool designs and inspiring messages. You can make these signs easily because these have the simplest designs. You can also make these your inspiration in making better, funnier or more loveable signs for your home or as a gift or keepsake.
1) Inspirational Quote Wood Pallet Art
This is a very inspiring wood pallet art made from four pieces of wide pallet wood and paint. Very rustic, very easy to do. The pallet wood pieces were assembled with fasteners at the back. The wood used here was not treated at all.
The letters in this pallet sign may have been made using spray paint and some stencils because every straight line and the curve is perfect. Make this one be the centerpiece of your hallway or how about a part of your living room or dining area? This is so easy to do and you won't even have to take a day to do this.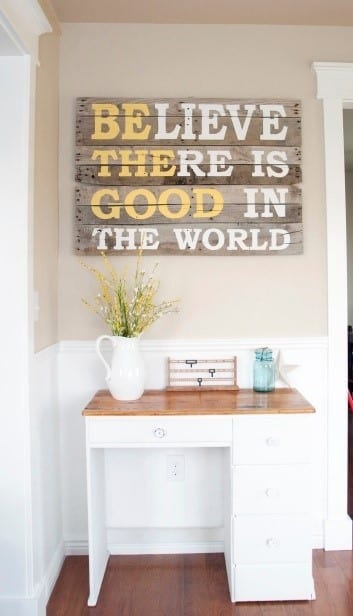 http://www.bloominghomestead.com/2012/09/pallet-wood-sign.html/2
2) Wedding Anniversary Date Pallet Wood Art
This is a simple pallet wood art that you can make in just minutes. This was made of a single piece of pallet wood and was simply painted or stenciled with the wedding date of the owner. The date says April 23, 11 which could mean 1911 or 2011 though.
A single piece of pallet wood was all you need to make this lovely, inspiring and dedicated pallet wood art. You can improve this design by using more pallet pieces, making the sign more colorful and by treating the wood.
3) Rustic Wood and Twine Sign
This is a headboard pallet wood sign made with strings. The designer obviously loved rustic chic décor so much that she even had the same décor in the bedroom. This wooden sign is made from three strong and smooth pallets. The pallets were basically cleaned and brushed smooth before the string was placed.
To make string or twine stick to wood, you need to make it stronger and harder. To do this, you can dip it in cooked cornstarch or white glue to keep it hard and ready for crafts. Once the twine is ready all you need is to arrange this on the surface of the wood. Just arrange it the way you want it to be and then attach it with hot glue.
There are many ways to stick twine and other craft materials on wood. You can use white glue which is also extra-sticky or wood glue instead.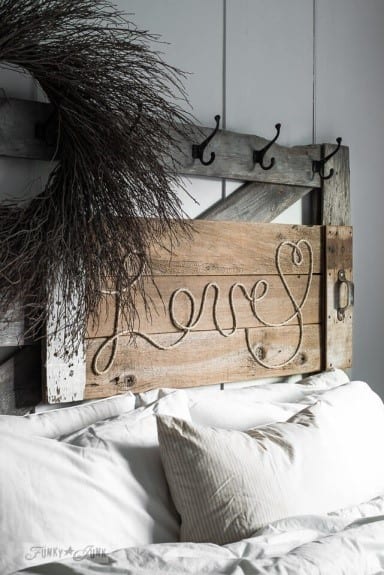 4) Love Story Pallet Art
This is a lovely and romantic pallet art design. This sign says a lot about the creator and certainly describes what he or she feels about her or his partner. The message in a sign usually gives it away. You might want to try out a certain pallet sign design because of the message that you see but you have got to remember that a pallet sign is more than the message.
Now, this particular design is made from four large wood pallets. These pallets were fastened at the back and were treated with a wood stain to keep the natural beauty of wood. Wood stain can also prevent water damage and mold growth in pallet wood. The letters in this sign were hand painted using a small soft brush.
5) Home Sign with a Wreath
This is a lovely home sign that has a meaningful message. This home sign was placed on a porch with a small white stone that says "Welcome." The sign was made of two pieces of smooth pallet wood painted white. The letters were obviously stenciled because every letter is perfect.
This home sign has a loving feeling on it. The fresh wreath on the letter O of the sign can be replaced as well. This is truly a very easy project that you can make in just a few minutes with just basic woodworking skills.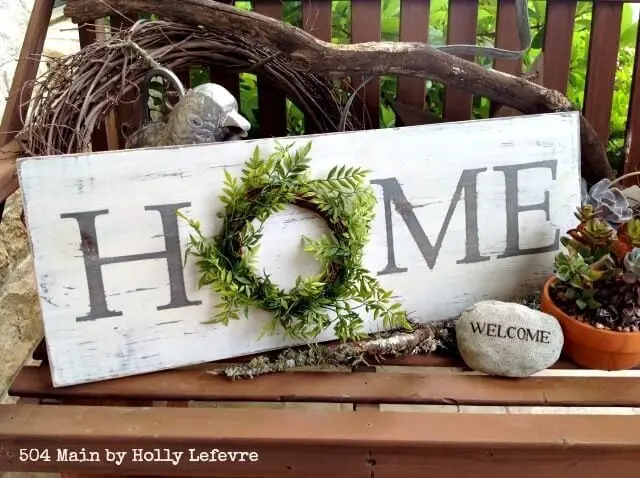 http://www.504main.com/2016/04/farmhouse-style-inspired-home-sign.html?spref=pi
6) Anniversary Spoon Wood Sign
This a special pallet wood sign made from pieces of pallet wood. It was made from small pieces of pallet wood with golden letters and cute little spoons as decoration. This was a gift for a couple who celebrated their wedding anniversary. The sign gives a delightfully funny message though to entertain the couple and their guests.
The pallet wood at the back was stained a dark stain or varnish. You can still see the wood's lovely natural curves from the surface and these imperfections have certainly made its appearance better.
The letters on the sign were made from wood and were painted gold. You can use a stencil and a jigsaw to create this savvy lettering for any surface. And of course, the two spoons are real.
This pallet wood sign is actually very easy to make. You can create one out of scrap wood in your backyard or simply use any recycled wood you have. Cutting the letters could be a challenge especially if you are new to doing this. But if you have jigsaw then you can do this in a heartbeat.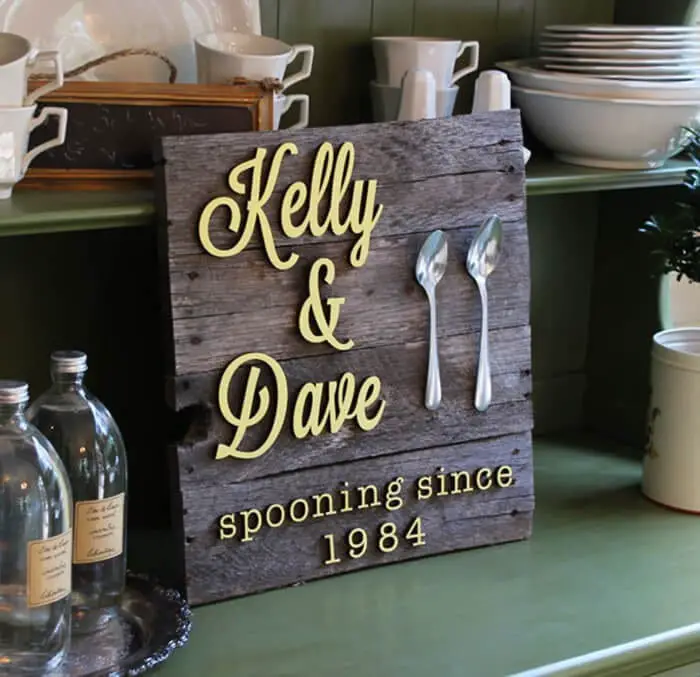 7) Rustic Wood Sign
Why are pallet wood signs very popular? There is a certain rustic charm with a wood sign. It's like anything, any message you place on a wood sign gets instantly read. This is a step by step plan on how to make your own wood sign using only a few pieces of pallets. The pallets here were cut and treated with a dark wood stain. The dark-colored stain makes the natural curves and swirls of wood pop out and this is what most designers look for in rustic signs.
The message placed on this rustic wood sign was added using a pen with white ink. There are a lot of ways to add letters, numbers or symbols on wood. You can use paint and ink or use stickers instead. There are a lot of good ways to stain your wood as well.
Using wood stain is the best option while some use varnish. Still, some don't use stain and varnish at all but instead apply paint according to the color they want.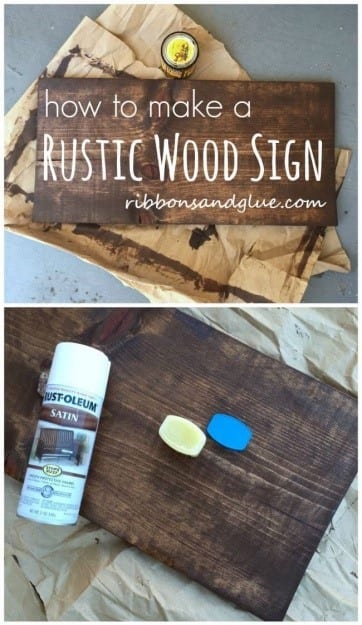 8) Stained and Painted Pallet Wood Sign
Pallets usually come in bright brown colors and there is no problem with using this at all. However, you can make wood look classier, more dramatic and aged by using a few tried and tested techniques. You can use wood stain which is exactly what the builder did in this coffee pallet wood sign. The trick is to apply the first coat, let it dry and apply another coat. This would be enough to make the natural beauty of wood stand out and to protect wood from water damage as well.
Another trick to use is torching which is applying fire on the surface of the pallet wood to make the surface darker. If you have a stencil for images and words, then you can use this to make direct marks on your wood easily. Finally, you can also apply varnish on the wood surface. Varnish makes the wood shiny and despite this, the wood surface may look unnatural and not appealing at all.
Now in this design, the wood sign was made out of three pallets and was simply marked with coffee signs and the word coffee as well. This sign has a straightforward design and you can make this in just a few minutes if you have all the materials with you.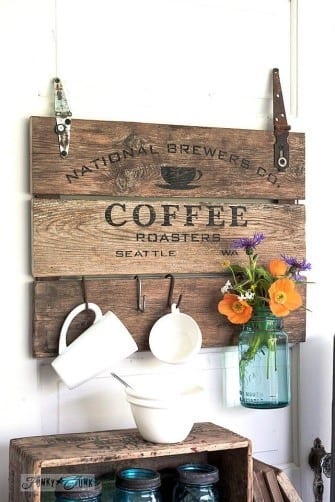 9) Let It Snow Sign
Create a rustic Christmas sign out of a few pieces of pallet wood. The sign here says "Let it snow" with stenciled images of snowflakes here and there. This one was made from a nice piece of the pallet. The surface may have been prepared as well before it was printed with the message.
At this point, you can do only so much on pallet wood to prepare it. First is sanding the surface but not too much to make the wood appear so smooth and unnatural. You can also apply wood stain but not too dark so as not to appreciate the message written on the surface. You can also just brush the area with an old brush or toothbrush to remove debris.
A piece of twine was wrapped on top of the pallet wood sign. It was placed near a miniature tree with a frosted design and some trinkets on the other side. This lovely sign truly brings out the festive yuletide season.
10) DIY Sign from Pallets
This time we are not talking about pallet board signs but rather letters that were made from pallet wood. The E A T in this wall were all made of pallet wood. Two pieces of wood were connected to form a thick, chunky letter.
Making this sign is a big challenge actually. You can either do this the hard way by measuring and cutting wood carefully with a hand saw or metal saw along the intricate edges and middles or you can use a handy jigsaw blade.
With a jigsaw, you can make any letter, straight or curved, and make all sorts of signs. Jigsaws also allow you to cut two or three pieces of pallet wood at a time too which is impossible when you use other types of saws.
And aside from just cutting the wood out, the letters for this sign was stained or varnished to make it look perfect for display. You can also paint this any color for a charming chic effect.