A playhouse is every child's dream. For them, it is like living in an adult world but still young and taking responsibilities in a fun and exciting way. It is a good idea to build a playhouse for your children so they can experience the real world in their own imagination.
They would love incorporating their cookware toys, dolls, stuff toy animals, and their favorite toy collections into their playhouse. Ignite and promote the good values and develop your children's motor skills, creativity, and cognitive skills through building a playhouse for them today!
1) Easy-to-do Playhouse DIY Plan by Jen wood House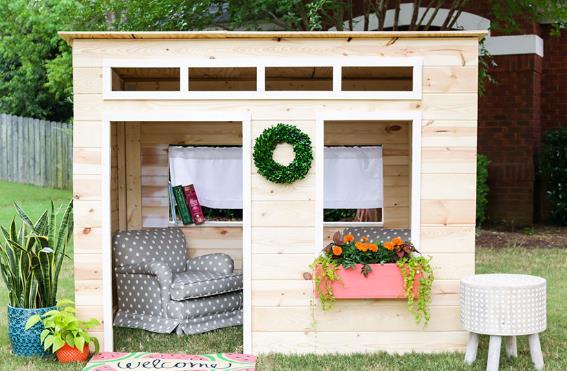 This DIY playhouse was built with mending plates, angles, and tie plates for a relatively easy and very straight-forward project. It was built in two days. The frame was built out of 2x4s. The tongue-and-groove planks were nailed on. Connectors made it so quick and easy so you do not need any fancy tools everything. All you need is a hammer, drill, brad nailer, and a saw and you are good to go.
When it comes to the construction plan, as soon as the playhouse's frame was built, the builder used a brad nailer to nail the planks on. It began at the bottom section, with the tongue facing upwards, then the board is stacked above it which interlocked the tongue and groove. Tongue-and-groove boards were used instead of regular lumber because they have a charming look and relatively cheaper.
Helpful Links: https://jenwoodhouse.com/kids-indoor-playhouse/
2) Simple Playhouse by Instructables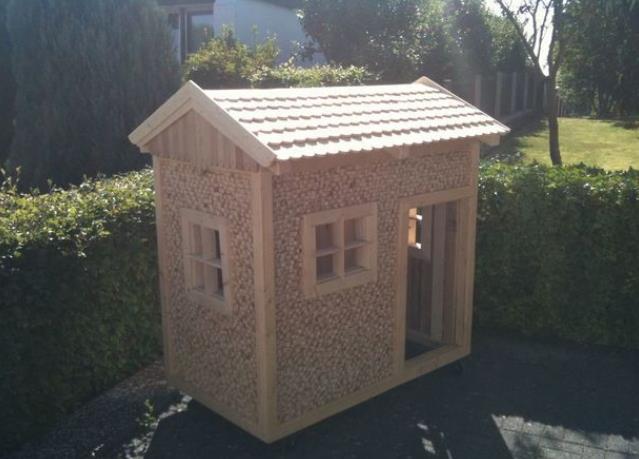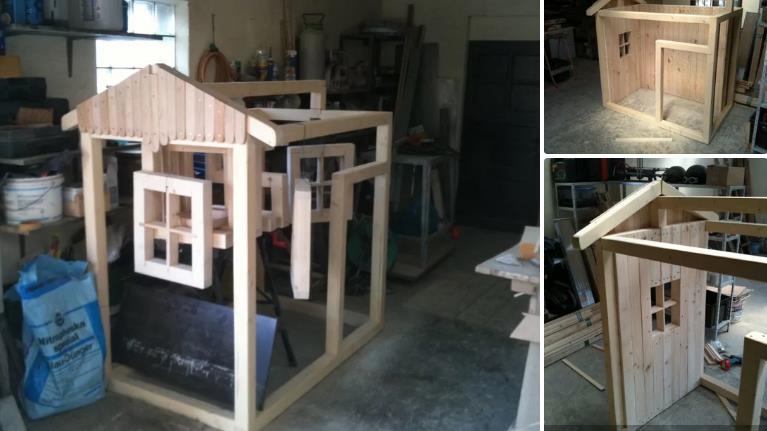 This is an innovative playhouse for those who are looking for a space-saving and low-budget plan. The products used are regular or basic, don't really need to shop for raw materials. This playhouse is appropriate for toddlers, school-age children, and preteen kids because this playhouse is small in size. This plan proves that you don't need to all-new materials to build a playhouse. 
The windows, roof, and doors are easy to build so you don't have to worry about complex or very challenging steps as building this playhouse takes less effort as compared to other plans. The playhouse  designer used a self-made 3D wall that gives a unique look to the final outcome of the playhouse. The builder bought spruce wood  measuring 2 x 2 cm by 150 cm length that was cut randomly into small pieces and sanded every piece half-round. Your small children would definitely love to hang out in this playhouse.
3) Simple Outdoor DIY Playhouse Plan by How to Specialist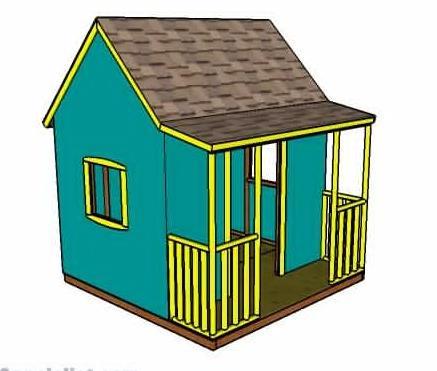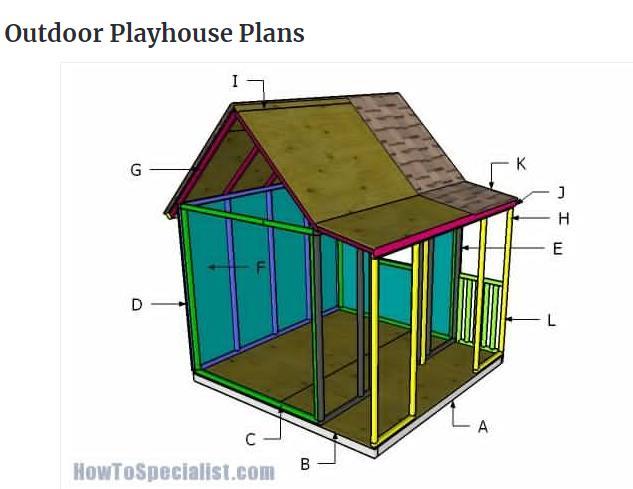 This outdoor playhouse plan is a small 8 by 8 playhouse with a front porch. It will keep your children entertained. It is a sturdy and budget-friendly playhouse that is easy to build. When it comes to the construction of this playhouse, the first step is to build the floor frame. This is done by cutting the joists at the correct dimensions, laying them on a leveled surface. For a neat and better result, make sure that the corners are square.
To assemble the front wall of this playhouse. You need to cut the studs and plates from 2 by 2 lumber by following the instructions in the diagram. Next, lay the parts to the floor frame to assemble the wall correctly. Through the plates, drill pilot holes and then insert 2 1/2-inch screws into the studs, adjusting the door size opening to suit your preferences and needs.
Helpful Links: http://howtospecialist.com/playhouse/outdoor-playhouse-plans/
4) Wendy Playhouse by BuildEazy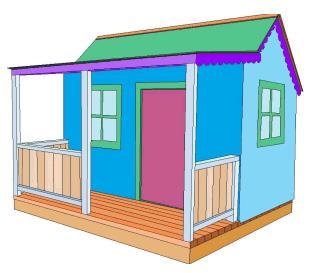 A Wendy house is a playhouse with a feminine touch added. You can create a special and unique environment that can provide your children with pure enjoyment! This is a very beautiful playhouse that children will surely love so they can mimic adult roles like cooking or arrange the house using their toys and their imagination. This playhouse stands 78 inches high, is 92 inches long and 48 inches wide with extra 28 inches wide deck along the front.
The sizes of the lumber are the 'actual' or finished sizes. The floor base of this playhouse is constructed out of 1 ½ by 5 ½ inches treated lumber. The floor measures ¾ by 3 ½ inches deck boards. The alternative size deck boards that can be used include 5/4 by 6 inches or 1 ½ by 3 ½ inches or regardless the size to ensure you have enough boards for covering a 50 square feet area.
Helpful Links: https://www.buildeazy.com/wendyhouse_imp.html
5) Georgia Pacific Traditional Playhouse by Platinum Project Plans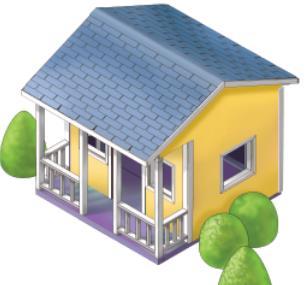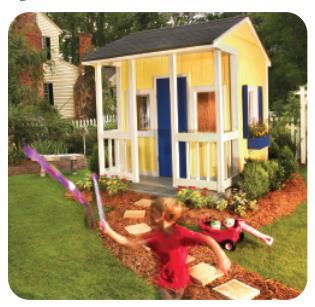 The ceiling and interior walls of this playhouse can be finished with 4 by 8 feet panels (9 panels). The window boxes are optional. Using preservative treated boards is highly recommended. Optional window shutters can be installed. The 4 P.T. landscape timbers were placed horizontally on the ground at 32 inches intervals, serving as the foundation.
Makes sure to check the local building code authority if you have high winds for anchoring requirements. The next step is to frame the floor perpendicular to the landscape timbers. Nail the front and rear and the P.T. floor joists with boards 8 feet long. The sides and intermediate supports are 7 feet and 9 inches long, forming a square that is 8 by 8 feet.  Check the square through measuring diagonally from the corner to the opposing corner. The measurements are the same, adjusting the square as necessary. Your children will love it!
Helpful Links: http://www.todaysplans.net/GeorgiaPacific-Playhouse-Plans.pdf
6) Shed DIY Playhouse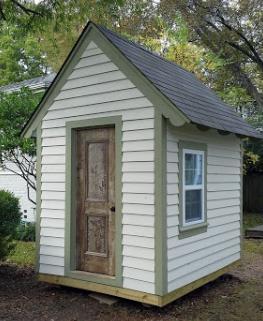 If you have a shed sitting in your backyard and you're not using it anymore, you can convert it into a fun playhouse! This playhouse is an easy plan for somebody who doesn't have any expertise in constructing backyard projects. You can get rid of the mold easily. Create windows using the supplies purchased at a local store. You can repair broken wooden plants, adding a fresh layer of paint, and your playhouse is ready.
Children will surely love this playhouse, keeping them busy when you are doing household chores. It will help develop their creativity and motor skills at the same time, most especially for toddlers and preschoolers. You can create your own playhouse using available resources in your backyard. Start planning your playhouse now and build using your available materials and tools!
Become more confident in building your next woodworking project. This plan uses the basic materials and tools available in your home. You don't have to spend hundreds or thousands of dollars on a playhouse, so you may want to build a dollhouse using your carpentry knowledge and skills, making your kids happy.
Helpful Links: https://www.aplaceimagined.com/free-playhouse-plans.html
7) Pallet Playhouse by Instructables #1

You can collect and break down pallets to create a build playhouse.  You may spend a lot of time creating the double window as well as the diamond-shaped porthole but you can design your own as desired. The tools you will need include a hammer, circular saw, catspaw or crossbar, and cutting pliers. Using a handsaw also comes in handy. You also need to use a sturdy ladder.
A table saw is used to make the siding, helping to build the windows too. When creating the windows,  you need one for the porthole and two for the so-called "ice cream window". You can use old storm windows then frame them using a 1 by 4 pallet wood. Using old glass or plexiglass from sashes is also a good idea or a basic screening material. After finishing this playhouse, your children will surely love using their imagination and enjoy hours of playing! Good luck to your playhouse project!
Helpful Links: http://www.instructables.com/id/Pallet-Playhouse/
8) Pallets Playhouse by Instructables #2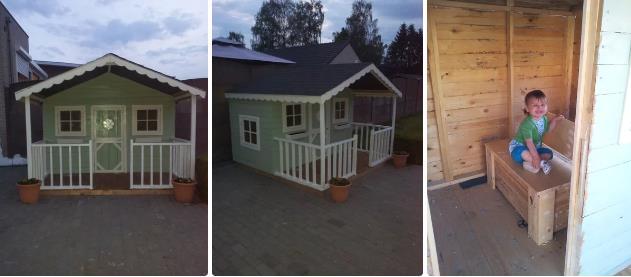 This is a big DIY playhouse project for the builder's little girls. The builder is actually a computer specialist who is very interested in doing DIY projects using old or unused items. The materials bought include roofing, screws, paint and acrylic glass which is safer for the kids. The other materials include  a variety of beam sizes thrown away by factories and  pallet planks. Use your creativity and base your playhouse plan using this resource intended using pallets.
Since this project includes available materials, you can also personalize your materials and tools. You can use your hobby tools and get materials from factories. This playhouse measures 260 by 260 centimeters or 102.4 by 102.4 inches. Surely, your children will also love playing in this very resourcefully-made playhouse. Become more confident in building your next woodworking project. This plan uses the basic materials and tools available in your home. You don't have to spend hundreds or thousands of dollars on a ready-made playhouse, so you may want to build a dollhouse using your carpentry knowledge and skills, making your kids happy.
Helpful Links: https://www.instructables.com/id/Pallets-playhouse/
9) Rustic Pallet Playhouse by Built By Kids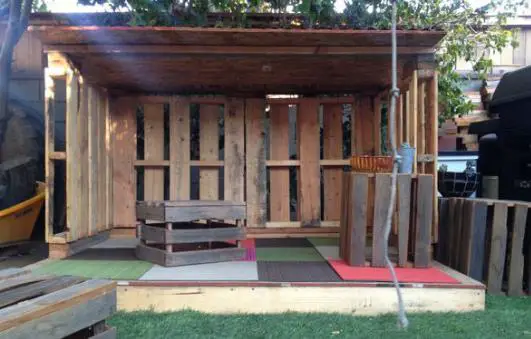 This playhouse was built using available materials so it's a very low-cost project. The builder has an open dirt space measuring 14 by 9 feet that were previously used as a workshop area. It has a lot of shade all throughout the day, that made the owner decide to build a  nice playhouse for the kids. Considering the footprint and design of the playhouse, the sizes of the pellets were pretty much kept the same. This is a double-spaced and open playhouse.
For the construction plan, the half of the OSB and a sheet were placed across the pallets' foundation and the other sheet for the roof. Although the OSB is more challenging to work with, the appearance is nice and the cost is more affordable than its counterparts. Screws were used to secure the panel and to level out the floor. You'll love the final result and so as your kids!
Helpful Links: https://builtbykids.com/how-we-built-our-pallet-playhouse/
10) Naturally Cool Playhouse
The summer season in Central California is dry and very hot. It is so uncomfortable being outside so the builder built a naturally cool playhouse. Because the area is full of clay, adding a cob layer provides a sufficient cooling which is called a living-roof. With this playhouse, it is a cool spot on the house outdoor area during the peak of summer heat. Scrap wood and materials were used so the builder only spent $30.
This playhouse focuses on the cobbing part. The building was spaced out for two months to help the playhouse living roof to dry, harden, settle, and adjust. The living-roof is 5 inches deep with a thin layer of gravel, old cotton rug, and soil. Leftover wood was used for constructing this playhouse. It is important to use a sturdy frame for holding the living roof. It also has a lot of drainage holes to avoid water build-up.
Helpful Links: https://www.instructables.com/id/Naturally-Cool-Cob-Playhouse/