With recycled pallet wood, you can make wine racks of varying size, shape, and design. You can use pallet frames as they are or remove every section and use this individually. Pallet wood is practical and beautiful.
Here are 36 unique pallet wine racks online. Most of these wine rack plans are very easy to make and in fact, can be done in just a few hours.
1) Upcycled Pallet Wine Rack
This is an artistic wine rack that will leave you speechless! This rack has a pallet body that is sturdy and ready to handle three bottles of wine. You might say that this is very inefficient! But wait and see how it holds the bottles in place….
The bottles seem to be held by their necks with this very light pallet rack! It is actually not magic at all but this rack merely balances the bottles from its balance point! The builder used this fact and created a balanced wine rack system.
2) Hanging Pallet Wine Rack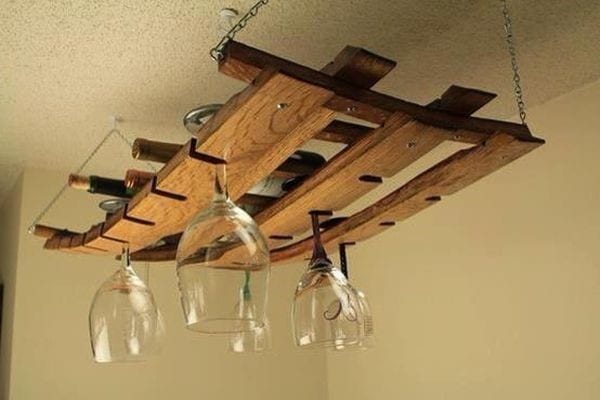 This is a nice way to dry your wine glasses and to decorate your bar at home. This one is actually made of less than six pallet wood pieces and was hung from the ceiling using metal chains. The wine bottles rest on top of the hanging pallet while the glasses hang from the structure.
Although this is very easy to build, it is the most convenient design and not the safest either; it is certainly worth checking out. You must use a strong pallet frame to build this project because you will be hanging the frame and using it as support for wine bottles and glasses. It is a unique design so you must be very careful about installing this in any room.
3) Holes In Pallet Wine Rack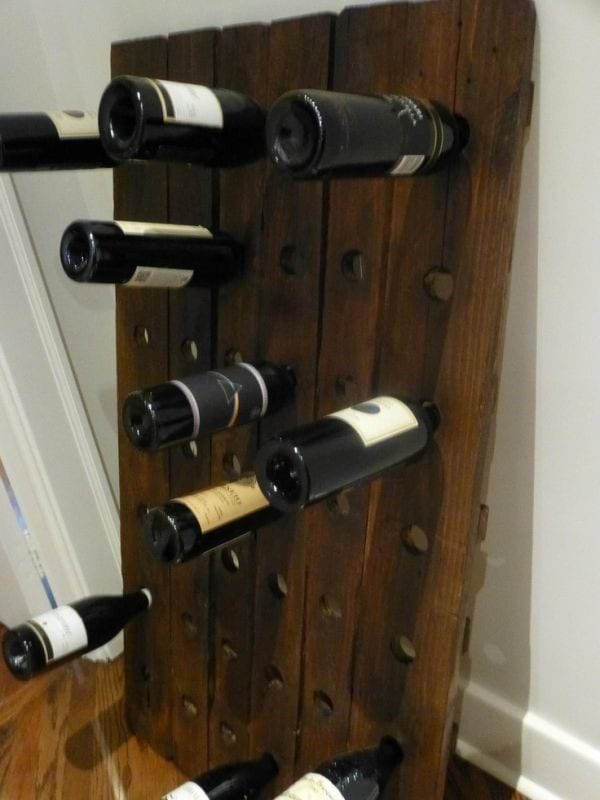 4) Welcoming Wooden Pallet Rack
This is truly a wonderful pallet wine rack that will greet your guests the next time they visit your home. It has all the things you need to share a drink with your friends. It has enough space for a number of wine bottles, on the middle and top shelf. The lower part is where the wine glasses go; ready to be filled with your favorite wine.
You can also further improve this wine rack by painting this the color you want.  Overall, it is a simple pallet rack design that would surely be a good inspiration for your own project.
5) Single Wine and Glass Pallet Rack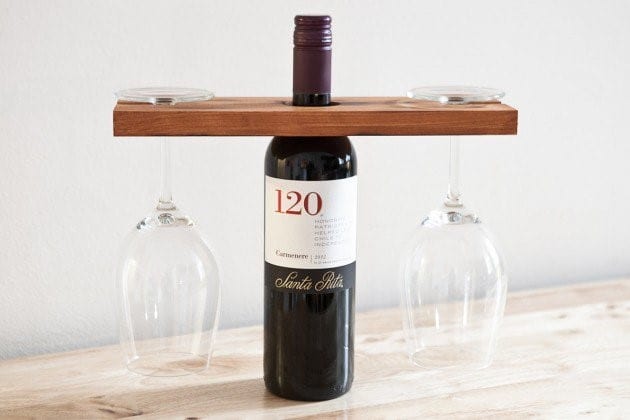 This has got to be one of the oddest wine racks of all! Well, it is not actually a rack that can hold a lot of bottles but a single pallet piece rack that holds two wine glasses instead. Share this bottle of wine with someone you love and see the sparks fly.
This wine and glass wood stand seems to be in a state of perfect balance as the bottle carries the weight of both glasses. The wood is just a small piece of the pallet and was simply cut using a hole cutter and a jigsaw to make the holes for the glass and bottle.
6) Vertical Wine Rack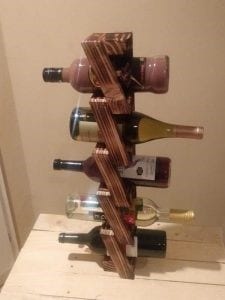 Is this a wine rack or an art piece because it looks very creative! Would you believe that this unique wine rack can hold about five wine bottles without toppling over?  This creative design calls for only a few pieces of pallet wood and an open mind! It just shows that you can stay balanced and focused even if you drink with friends.
You can place this interesting piece on top of a bar, the kitchen counter or kitchen island and be the envy of all your friends and guests. 
7) DIY Pallet Wine Rack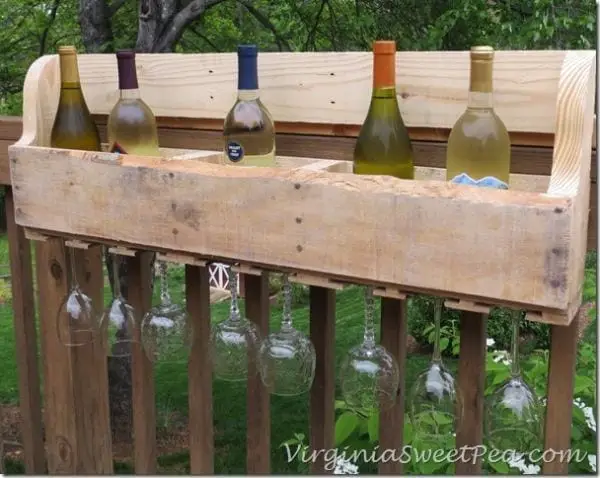 This is a pallet wine rack that looks so easy to make. It has a traditional wine rack design with lots of space for a number of wine bottles and at the same time, it can hold several wine glasses. This design is perfect as your own personal wine rack/bar or as a family wine rack for people who love to wine and dine.
8) Wine Rack Made of Recycled Wood Pallets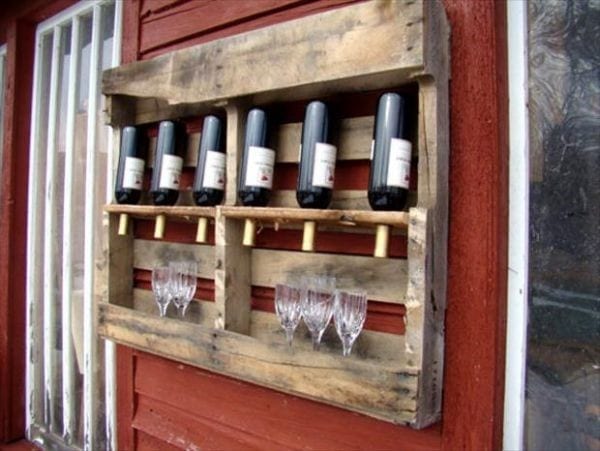 Now here is another unique wine rack idea. The pallet wine rack holds the bottles from their necks! You will store bottles of wine from the neck through holes made through the pallet rack. This seems to be simple enough but when the rack is full, this creates a fantastic sight!
The pallet wine rack is moderately-sized with plenty of room for wine bottles of a certain size only. The bottom part of this rack is where you can place wine glasses so you can be ready to serve your drinks.
9) Dark DIY Pallet Wine Shelf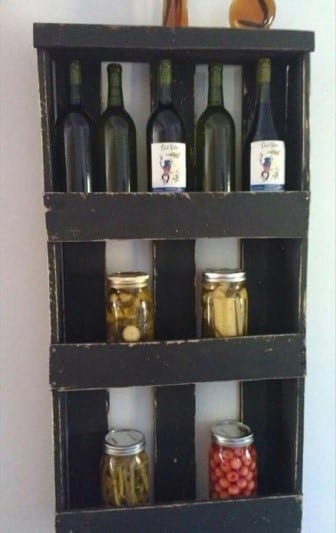 Now, this is more than just a wine rack but rather a wine rack and a wine shelf. This is attached to the wall and has room for items you need for serving drinks to your guests. The wine bottles are at the top while the middle sections are occupied by wine glasses, accessories and more.
10) Eye-Pleasing Pallet Wine Rack Design
This is a wine rack worthy of your attention. Not only is this made from recycled pallet wood but it is also a sight to behold. The rack can hold four upright bottles and four horizontally-arranged bottles. The lower part is for holding wine glasses, ready to pour you a drink.
11) Modern $15 Pallet Wine Rack

This looks awesome in a modern minimalist home. The rack itself was made from strong pallet wood and has several levels, each level holding a bottle of a type of wine. There is a space for reds, whites, chardonnay wine and more. And possibly the most amazing thing about this rack is that it costs only $15 to make.
12) Unique Reclaimed Pallet Wine Rack Design
If you have empty wooden boxes like this one then you now know what to do with them. There's no need to cut the box or dismantle the pallets; simply make a hole a larger size than a wine bottle neck and voila! The hole at the bottom holds the bottle in place from its neck. Have five or more of these lined up and you got yourself a large wine rack.
As you can see there are sections made for wine glasses as well. Take two long pallet box side and jigsaw some grooves for the glasses to side on and you are set. In this design, the builder chose to go natural but you can stain this according to your preference or paint it any color you want as well. 
13) Unique Slanted Wine Rack
This one is a unique and cool wine rack that seems to suspend the bottles carelessly in thin air. What's another great thing about this design is that it has used only a few pieces of pallet wood which means you will do less cutting, assembly and finishing.
Now this rack was made from several pieces of pallet woodcut in a diagonal pattern. A number of wooden pegs were placed in an ascending order and these pegs will hold the wine bottle safely.
This wine rack may be used as a fully-functioning wine storage system but it is not encouraged. You might just consider displaying empty wine bottles here just in case… But all in all, this is a very interesting wine rack and sure to be something that will "break the ice."
You can make this safer by improving the design of the pegs that hold the bottles. And because you are working with wood, you can stain it, apply varnish or paint it according to the color you want. 
14) Upcycled Vertical Pallet Wine Rack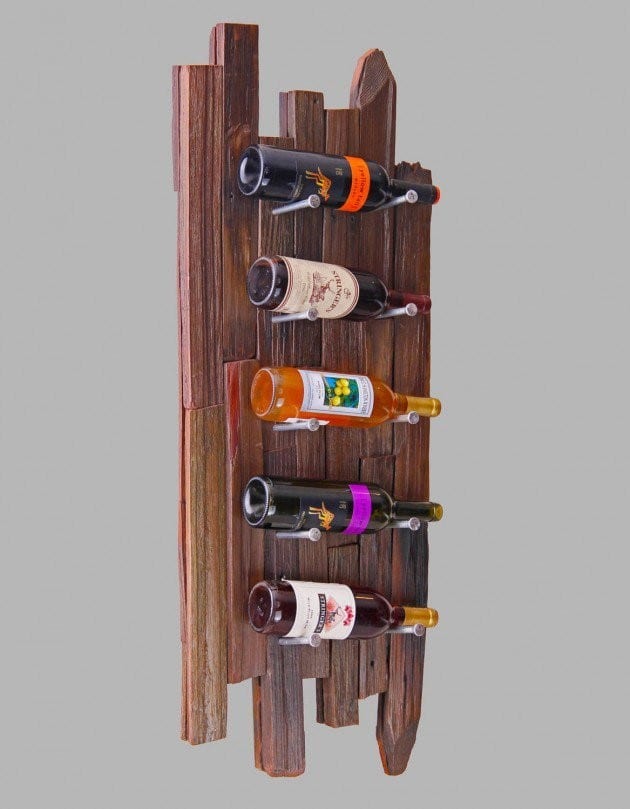 This is a rustic wine rack design made from pieces of pallet wood. The back of the rack was made from pieces of pallet wood with irregular sizes and shapes. Different kinds of hardware like hooks and screws were used to hold the bottles in place and this is definitely something unique.
You can see that the pallets were painted in a dark shade which was done to complement the light wall at the back. The designer has made it seem like the bottles were suspended in air because you can hardly see the screws and hooks that hold the bottles in place.
The design is very simple but can you really imagine using this as a regular wine rack or something you would use every day? This could be a good way to mount a very rare bottle or a souvenir piece instead.
15) Dark Stained Pallet Wine Rack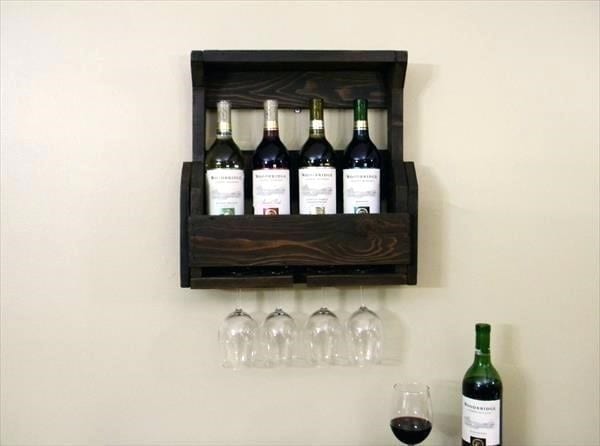 This wine rack may be small but it does its job really well. Slightly larger than a spice rack, this cool wine rack can hold up to four bottles of wine and four wine glasses as well. The wine rack can be attached to any wall just as long as you don't mistake it for a spice rack in the kitchen!
The design is simple and requires only a few pieces of pallet wood to make. The wood has been painted a dark shade of paint and this has made it stand out against a light wall color.
16) Rustic Pallet Wine Rack
Great things come in small packages and this is what this pallet wine rack is all about. It is small but amazing with enough space for at least three bottles. There was even a wine glass holder installed at the bottom to hold four glasses.
Take a look at how the pallets look. The holes, cracks, swirls, and dents on the wood are not at all worrisome but actually gives a lovely, homely glow.
17) Minimalist Pallet Wine Rack DIY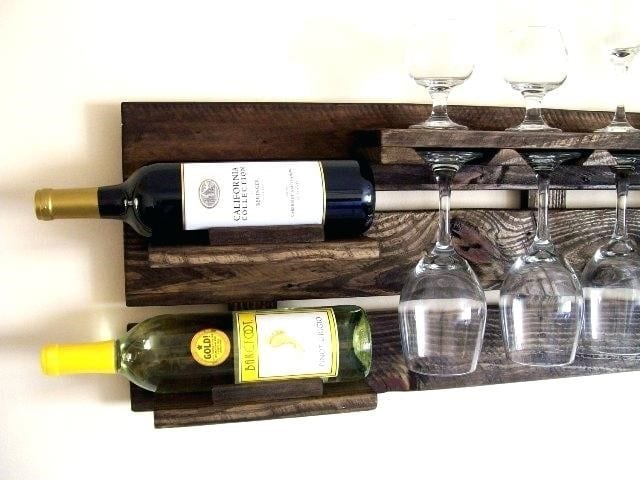 This is a minimalist pallet wine rack with a dark stain. As you see that the back of this pallet rack is made from actual, uncut pallet frames. There were simply sections of wood that were installed to hold a few bottles of wine and several wine glasses.
18) Modern Industrial Pallet Wine Rack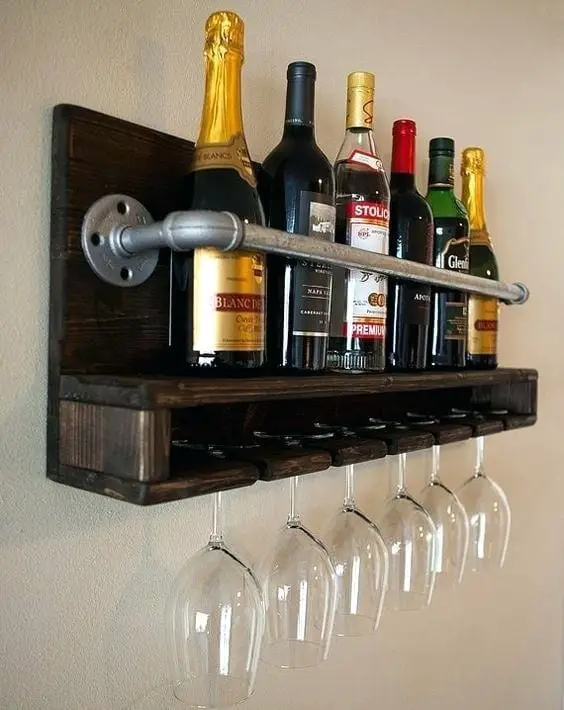 Now, this is a modern industrial pallet wine rack design that makes use of only a few pieces of pallet wood and a metal towel rack. This is a moderately-sized pallet wine rack that can accommodate around six bottles plus six wine glasses at the bottom.
The lovely dark wine rack was obviously stained a very dark, very rich stain. It has made the wood look very luxurious and no doubt classy. The metal towel rack here has made it look modern and stylish.
19) Warm Wooden Pallet Wine Rack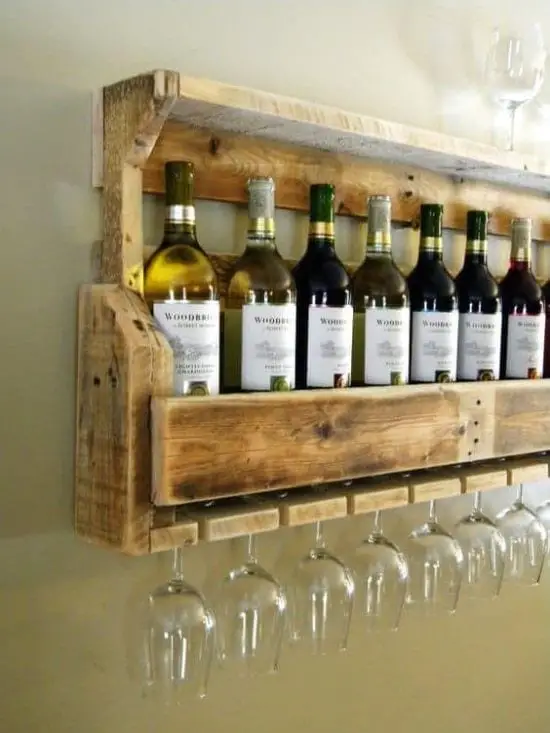 Have you ever wanted to show off your wine collection to guest but can't afford a full sized bar? Show off the best of the best with this pallet wine rack found on Etsy. This is a lovely wine rack with a warm wooden glow. The wood used for this rack was obviously treated with a lovely coat of varnish.
This can accommodate up to 8 bottles of wine and a number of wine glasses which were fitted at the bottom of the wine rack. The rack was obviously from the bottom half of the pallet frame and therefore you can count on this to be a very easy design.
20) Acceptable Wooden Pallet Wine Rack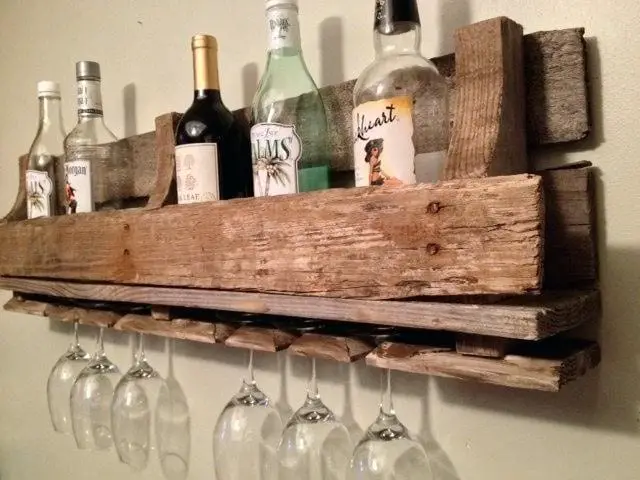 Wood pallets are very versatile this is why it is more preferred than other building materials for making furniture and accessories like this wine rack. The builder used the bottom part of a pallet board and simply stained the wood to make it look rustic.