Introduction
Miter saws have been considered as a vital tool for intermediate, as well as professional woodworkers. Some DIY fanatics and amateurs, on the other hand, maybe somewhat hesitant, thinking that their skill level may not match the tool at hand. However, most experts recommend using miter saws, because they are generally more user-friendly, and easy to learn compared to other advanced power tools.
With this in mind, getting a miter saw would mean that you no longer have to go back using circular saws or table saws anymore to accomplish a specific task. There is a dilemma attached to this though. Not getting the ideal miter saw for your needs may cause some issues rather than convenience.
In the power tools industry, there are a number of companies manufacturing miter saws. Each of these manufacturers has something to offer in terms of quality and performance. Two of the most recognized options brands today are Hitachi and Dewalt. These brands have been in the industry for quite some time already, and they have already proven their worth.
Hitachi Miter Saw vs DeWalt Miter Saw
| Product Details | Hitachi Miter Saw | DeWalt Miter Saw |
| --- | --- | --- |
| Year Founded | 1910 | 1924 |
| Price | Depending on the model | Depending on the model |
| Quality | High | High |
| Types of Miter Saw | Single Bevel Compound Miter Saw | Compound Miter Saw; Double Bevel Sliding Compound Miter Saw |
| Price | Check Lowest Price | Check Lowest Price |
Buyer's Guide
How to pick the right product
The primary challenge in getting a miter saw is making sure that you are only getting the best one for your money. In order to do so, understanding the primary features of a miter saw, additional features, as well as unique benefits offered, will help you find that one saw that will perform the job that you want every time.
Things to Look for When Selecting a Miter Saw
The blades determine the height or depth of the cut. Generally, miter saws come with 8, 10 or 12-inches blades. Quite obviously, the bigger the size of the blade is, the longer or deeper the cut will be. Also, there are different types of blades that can be used in cutting various materials or styles, including those that are considered as multi-materials, or multi-purpose. There are also blades that work well with wood, mild steel or aluminum. As a rule of thumb, the more teeth a blade has, the finer finishing cut you can expect.
As suggested by the name, miter saws are designed to cut miters, otherwise known as angled cuts. These saws are typically preset in order to adjust to different angles, including 45-degrees for right angle joints. There are certain saws designed to miter to just one side alone, while most can miter to the right or left, thus making it easier and quicker to use.
The sliding action during cuts can allow you to cut wood pieces with bigger widths. Just like the blade size, it is also recommended to look into the specs of the saws that you are planning to purchase, in order to see the cutting capacities of the saws. If you are planning to cut dado mainly, you may not need to slide too much, which means that the cutting capacity required will also be less. On the other hand, if you are planning to cut thicker materials, such as fencing posts, you may need a bigger cutting width capacity and bigger blade, which means that you may want to choose a sliding miter saw.
If your miter saw is beveled, it means that it can cut through an angled bevel right into your wood, thus enabling you to cut two angles simultaneously. With this, the saw head tilts to the side, while rotating on the saw tables. There are miter saws that are single bevel, while some are double bevel, which means that they are capable of tilting left or right. The wood, therefore, no longer needs to be turned depending on the actual angle that you will cut. This action enables for complex angled cuts to be done in certain tasks such as furniture making or crown molding.
Some modern miter saw models also incorporate additional features as a strategy to attract the attention of users. For example, some miter saws come with lights which are very convenient when working in a location with bad lighting condition. Some also come with some built-in laser lines which shows a red line on the wood where the blade will be cut. This is convenient when lining up with the pencil cutting line.

Most miter saws also come with extension arms, adjustable rear fences, as well as workpiece clamps. These features are very effective in providing support to your wood while making sure that your hands are safe from the blade. Newer models of miters saws even come with a variable speed dial, thus allowing you to set the speed of the motor that best suits the type of material to be cut.

Aside from these primary features, modern miter saws also come with a range of accessories. Some are included in the package, while others need to be purchased separately. As mentioned earlier, you can find various types of blades. When choosing one, make sure that you select the right blade diameter for your saw, including the right bore size (or the hole located in the middle).
How do we compare Hitachi Miter Saw vs DeWalt Miter Saws?
Both Hitachi and Dewalt brands offer outstanding quality in their product models. The Hitachi model, in particular, is powered by a 15-amp motor, which means that it is highly capable of providing intense power to complete even the toughest cutting jobs. In terms of use, it also comes with a horizontal handle, and an Elastomer grip that reduces vibration, adding control and comfort at the same time.
The Dewalt model, on the other hand, is a compound miter saw, ideal for woodworking. It features a 15-amp, 5,000 RPM motor that offers extended durability and power. With its machined base fence support, fence perpendicularity with the blade is maintained, thus ensuring cutting accuracy.
There is not much difference in the price of these two models. However, the Hitachi model is a little less expensive compared to the Dewalt model.
The weight is also quite similar between the two models, though the Hitachi model is also a little lighter at 33.6 pounds, compared to the 35 pounds of the Dewalt miter saw.
1) Hitachi Miter Saw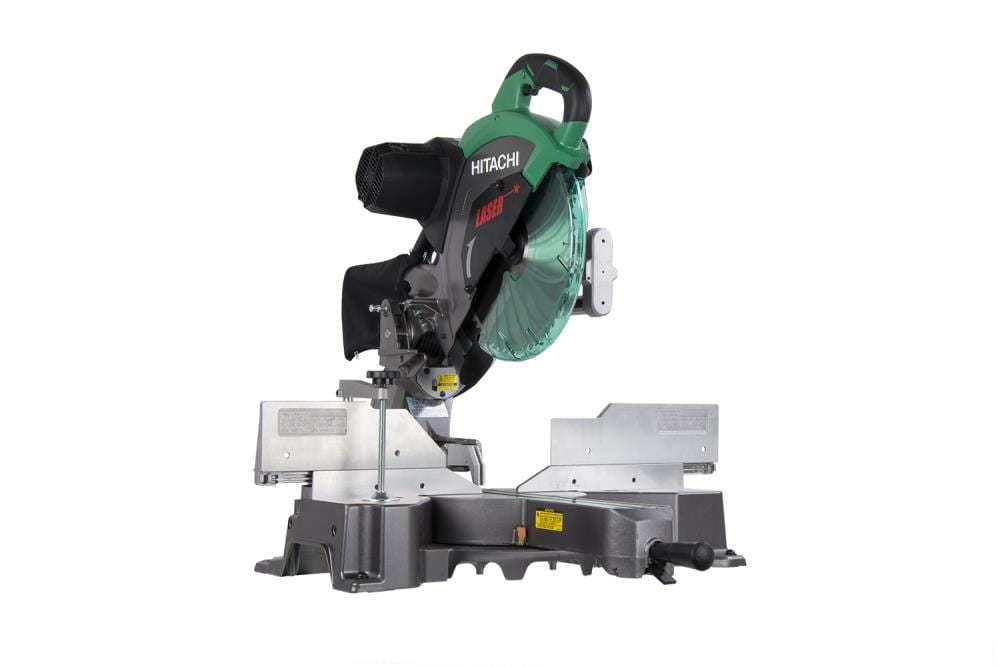 Why Use Hitachi Miter Saw and Who is it For?
Quality wise, the Hitachi miter saw is ideal for those who are looking for a miter saw that offers smooth and accurate miters and crosscuts in different workpieces. This model can be used on wood, plywood, soft fiberboard, decorative panels, aluminum sashes, and hardboard. This miter saw also features flexible miter angles, along with its compound cutting capability, offering versatility right on the job. As such, this is the tool that is ideal for trim carpenters, woodworkers, and framers who require reliability and precision.
Main Features
45 Degree Bevel
Thumb Actuated Positive Miter Stops
Dust Bag
Elastomer Grip
5-Year Warranty
15-Amp Motor
0-52 degree miter angle range
0-45 degree bevel range
Horizontal angle
Q&As
What is the largest size of lumber that can be mitered at a 45-degree angle?
It can miter up to 6 inches in width. It may be able to cut through several inches more, though when you do so, such as when cutting an 8-inch wide laminate flooring, it will only cut through the first 6 inches, and then just flip the piece in order to cut the remaining 2 inches.
Does this miter saw model come with a detent override?
Yes, it does. There is a plastic knob sticking out of the front of this saw. This tightens at specific angles. Looking at the back, there is a black metal thing which is a thumb pushbutton. By pushing this, you will disable the detents, tightening a 46-degree angle.
Does this model come with a clamp and a carrying bag?
This model has a clamp, but no carrying bag.
Pros
Intense power for tough cutting jobs
Increased flexibility
Precision cuts
Reduced vibration
Comfort and control
Better material support
Quick miter adjustments
Cons
Carrying bag not included
2) DeWalt Miter Saw
Why Use DeWalt Miter Saw and Who is it For?
This compound miter saw from Dewalt is powerful, offering a 15-amp motor, offering up to 5,000 RPM, which translates to durability and extended power. It also features a stainless steel miter detent plate, along with a cam miter lock, offering durability and repeatable accuracy with easy adjustments. It also offers tall sliding fences supporting 4-1/2 inches of crown molding that is nested vertically. For portability purposes, this model comes in a lightweight design.
Main Features
Precise miter system
11 positive stops
0-50 miter capacity
45-degree bevel cuts
10-inch compound miter saw
Tall sliding fences support
Machined base fence support
Q&As
Does this miter saw come with a LED cut line?
No, it does not have.
Will this saw create a straight cut on a 2 x 4?
Yes. You just need to ensure that the blade is positioned 90 degrees to the bed. This is because there is a possibility that the adjustments are changed in transit, and they might be handled roughly. Instructions to adjust the angle also comes with the model.
Does this miter saw come with a LED light or Laser guide for alignment?
No, it does not.
Pros
Extended power and durability
Repeatable accuracy
Jobsite durability
Cutting accuracy
Lightweight in design
Built-in carry handle
Cons
No LED light
No Laser guide included
Alternative Choices
1) Homecraft H26-260L Compound Miter Saw
The Homecraft line is under the Delta brand and was introduced to the market as a line that is budget friendly. One thing that you will notice right away with this model is that it is very easy to assemble. It only comes in five pieces that require assembly. Miter saws that need minimum or zero assemblies are often appealing if you are not that fond of reading manuals. The design in itself also makes it very easy to mount on any miter saw stand. It comes with four mounting holes that enable you to mount it on your table, stand or another work surface.

This model also features a laser guide system which emits a red laser light, illuminating your cut line clearly. It also comes with five miter stops, which means that the degrees used for locking in angles are easy to read and very clear, creating bevel cuts up to 47 degrees. This miter saw is ideal for any DIYer who needs to complete tasks in various areas, thanks to its overall portability. Since it is also lightweight, moving it around and storing it away is hassle-free. One thing to notice, however, is that since this model uses a carbide blade, it may not be well-suited for woodworking tasks that need a fine finish.
2) DEWALT DWS780 12-Inch Double Bevel Sliding Compound Miter Saw
This model features a useful sliding function, with a double bevel, allowing you to cut bevels without the need to flip your workpiece. It is also designed to provide precise cutting jobs that range from deck building to fine woodworking. With its 15-amp motor, it has the capacity to cut through the wood at up to 3,800 RPM speeds. If you are working on various woodworking projects, this versatile miter saw is what you need. It can cut through up to 16 inches at 90-degree angle. One of the impressive features of this model is its capacity to cut vertical bevels and horizontal miters at the same time. It makes complicated cutting jobs more manageable and much faster. With its sliding feature, the cutting width is also enhanced.

The manufacturer of this model has also designed it to feature an ultra-bright LED light with its XPS crosscut alignment system. This system works by casting a shadow of the blade to the work surface, allowing you to see exactly where the saw blade will cut. This feature is innovative enough to be considered as better compared to a laser guide system. Unlike an actual laser guide system, it does not need recalibration when changing blades.
3) Makita LS1040 10-Inch Compound Miter Saw
One thing that is obvious about this compound miter saw is that it is designed to offer precision and speed combined. Since it is lightweight in design at 27.3 pounds, while still offering 15 amp motor, this is no doubt an interesting feature. What makes the motor of this model a standout feature is that it pushes the saw blade at speeds that reach up to 4600 RPM. The motor is somewhat big but still runs smoothly and quietly because of its built-in soft start technology.

Since precision is one of the most essential factors that need to be considered when selecting a miter saw, you will find this model a good one. It comes with 9 positive miter stops at the most common preset angles. When creating miter cuts using this model, you can use the blade either right or left, for better speed, efficiency, and accuracy. While this saw may only cut bevels on a certain side, you can just change the position of the piece you are working to complete the job. You also have the option to achieve precision bevel cuts through the dual post compound pivot arm, locking-in your desired bevel angle. As a bonus, you can also use the fluorescent light to illuminate your area.
4) Makita LS1221 12-Inch Compound Miter Saw Kit
No doubt that Makita is one of the most respected brands in the power tools industry. One of the loved features of this model is its large cutting capacity, cutting through material 3-7/8 inches x 6 inches at 90 degrees. Considering its size, this capacity is impressive enough. Its direct drive motor also comes with a 15-amps, rotating the blade at a speed of up to 4000 RPM to cut thicker pieces easily. It also uses an electronic speed control to help in keeping the speed of the blade constant as you work.

Another interesting feature of this model is its capacity to cut through aluminum extrusions as fine as it does on wood. If you cut aluminum, it is recommended to use cutting lubricant on the blade so that the material does not build up while cutting. For safety purposes, this model also comes with a standard blade guard, with a lock button, preventing the machine from unintentionally starting. As claimed by the manufacturer, this model features a 40 tooth micro-polished blade, ideal for projects that need fine finishes such as framing, furniture making, and cabinetry. Overall, this model is unique with its large cutting capacity, and capability to cut through aluminum.
5) Bosch GCM12SD Glide Miter Saw
One thing that makes this model interesting is its patented axial glide system, offering better control when creating precision cuts. This system does not use the usual traditional rail set up, which means that it does not take as much area compared to other miter saws. The design folds the back using its articulated arm flush. This axial glide system can help you to be better balanced, maintaining more control as you create smooth precision cuts.

The flexible capacity of this miter saw is also amazing. It offers a large capacity, cutting up to 15 inches horizontally, and up to 6.5 inches vertically. This can be used in cutting crown up to 6.5 inches as well. This capacity allows you flexibility and freedom to create a wide variety of cuts, which is more than what usual 12-inch miter saws can accomplish. This model also features quick release square lock fences which do not need adjustment and are always accurate.
6) SKIL 3317-01
This model is perfect for beginners, as well as those who are looking for a portable option which makes this model easy to store away at the end of the day. Aside from offering portability, it also comes with several other features, such as a laser cutline guide, as well as the carbon tipped blade. Another thing is its lightweight design. At a 25 pounds weight, it is easy to carry around, making it very manageable.

This miter saw also comes with a table extension with both left and right extension rails, offering stability as you work with bigger material pieces. As you do so, it is also good to use a clamp in holding the wood right in place. This model uses a horizontal clamping system which holds your workpiece securely against the fence as you cut, so there is no need to worry about the wood being far from you. The blade is also easy to change compared to other miter saw models. It features a blade changing mechanism which allows you to change hassle-free.
The Final Cut
Overall, there are a number of reliable models and brands that can give you the miter saw that you need for your task. Regarding the two models that we reviewed under the Hitachi and Dewalt brands, you can expect both quality and performance. They belong to the same class, and as such, you can expect that both size, weight, and even price are somewhat similar as well.
The final decision as to the model that you choose depends on your purpose of use, as well as your personal preferences. You may also want to take advantage of several additional features unique to every model.