When I was just a little child, my father would bring the whole family together for crafting beautiful birdhouses. We would then place our creations and watch the feathery fellows play and sing.
I grew up as an enthusiastic DIYer, and I will be forever grateful to my dad for waking up this passion inside me.
While we were compiling the list of bird feeder plans, we were excited to search for as many variations as possible.
From simple plastic bottle bird feeders through incredible wine cork bird feeder designs to some of the most beautiful wooden birdhouses plans, there's a little something for everyone. Let's get straight to work and make birds happy.  
1) Simple Homemade Birdfeeder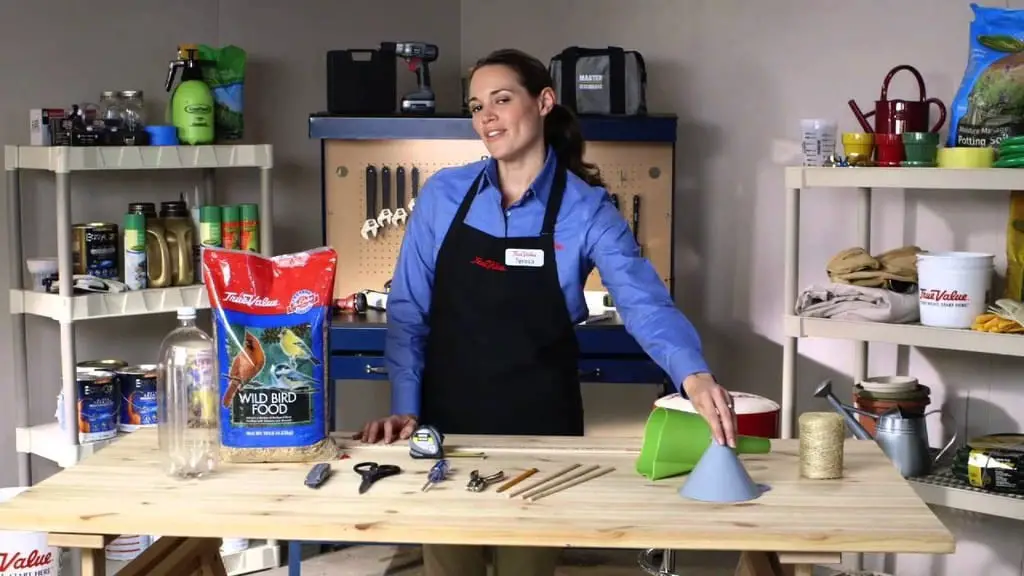 We decided to start our list of DIY birdfeeder plans with this super simple homemade variation, which is made entirely from common items you already have available in your household.
All you will need is a plastic bottle, scissors, screwdriver/hole punch. Besides being an affordable and extremely beginner-friendly option, this birdfeeder does not lack efficacy when it comes to attracting the hungry birds to your yard.
The major downside that we find to this DIY project is that, after all, we are true aficionados of wooden birdfeeders for both their beauty and durability.
But who says you have to limit yourself to just this simple homemade birdfeeder plan? We say) the more, the better.
With this in mind, we think this particular DIY bird-friendly project is a cheap and uncomplicated option for an extra birdfeeder in your house.
2) Small DIY Bird Feeder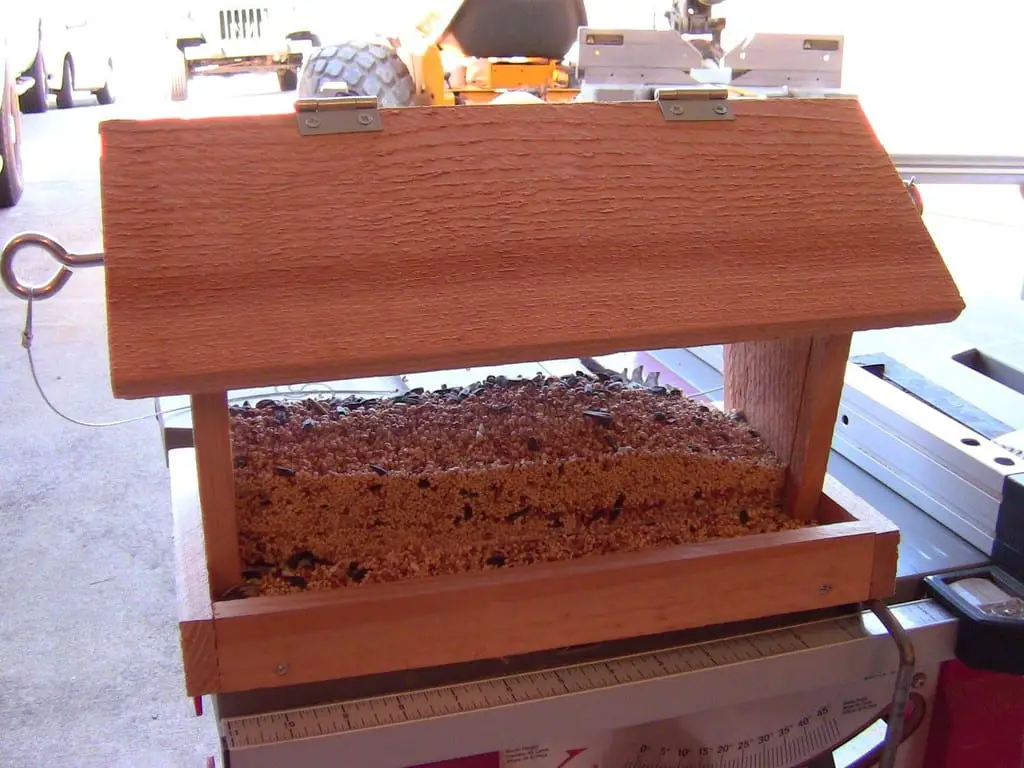 This small DIY bird feeder is another beginner-friendly option we have proudly made a part of this list.
We love the fact that it can be accomplished with the use of a simple fence board, which is easily available at any hardware store.
Moreover, we also appreciate that this DIY project is quite versatile, giving you plenty of freedom to let your imagination run wild and adjust it according to your needs and personal preferences.
For example, the maker has utilized a cable for hanging the bird feeder outside but one can prefer to make use of a simple rope or chain, depending on what you have handy.
Nevertheless, you can also choose to mount it wherever you wish in the case you are not a fan of hanging bird feeders at all.
3) Bottle Bird Feeder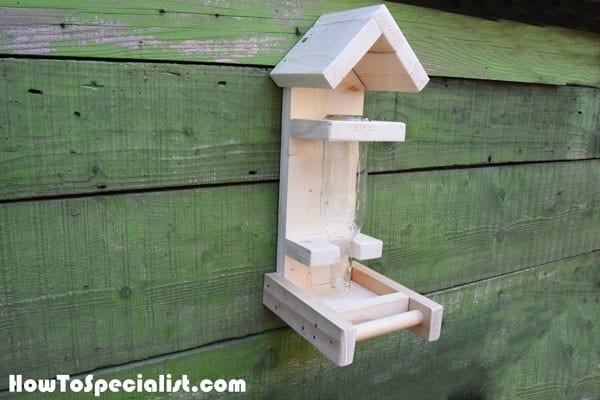 Does a bottle bird feeder ring a bell with you? We think this is one of the most popular options out there, and there's a good reason for that.
Above all, this type of bird feeder is very durable and it doesn't require a complex maintenance.
Instead, once you build this one, you simply hang it outdoors, loading the bottle with sweet treats for the hungry birds, and enjoy the view.
Plus, we like that it is easy to mount.
Personally, I've had issues with my first bird feeder because of the place I have decided to hang it. The birds didn't like the location and only came every now and then.
So keep this extra tip in mind if you stumble across a similar problem. On another note, we appreciate that free step-by-step build plans are also available for this DIY project.
4) Automatic Bird Feeder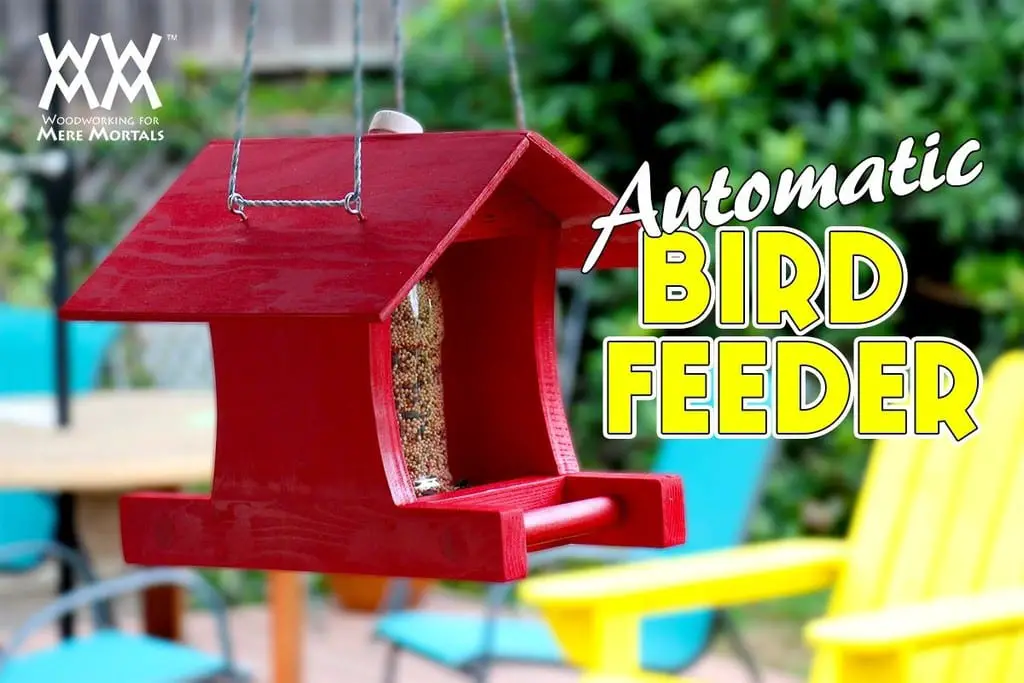 If this is just your very first DIY bird feeder project, you might not be that intrigued about having to spend time crafting this automated variation.
However, in the case you have already stumbled with some of the challenges for maintaining an already existing bird feeder, then you can already feel why we love this DIY plan so much.
Maintaining a bird feeder by having to fill it regularly with suitable bird snacks can be a tedious task.
What's more, in the case you happen to place the bird feeder in a place you do not visit on a daily basis, a self-filling bird feeder would be a priceless option.
Another reason why we enjoy this automatic bird feeder project is that it can be made entirely from scrap wood, so it is both affordable and environmental-friendly. And nonetheless, free build plans are also available.
5) DIY Bird Feeder from Recycled Bottles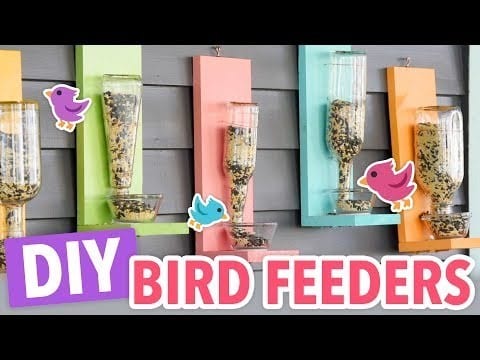 Although we have already listed a DIY bottle bird feeder, this one differs significantly.
We find this DIY bird feeder from recycled bottles a much easier alternative to the previous one we have shared above. That means even newbies can accomplish this project with ease, and involving your kids in the process can also be a wonderful idea.
The design is simple but beautiful. We can't help it but adore the colorful appeal of this bird feeder, as well.
Apart from being used for the furry friends flying around, it can bring additional charm to your house, as you can easily customize the colors to fit your taste.
In fact, this bird feeder is so adorable that we can easily call it a wall décor. When it comes to the wood material you will need, this project makes use of cheap scrap wood and no complex instruments are involved.
6) Tin Can Bird Feeder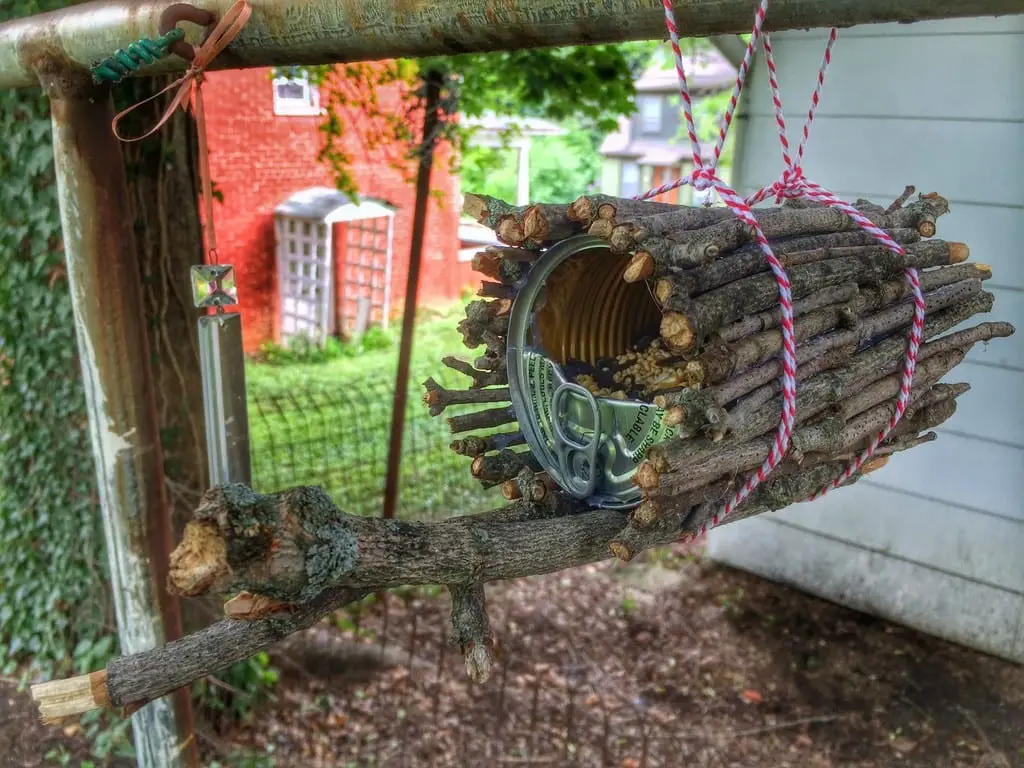 Just like we started this list of DIY birdfeeder plans, we continue by adding multiple models you can create with your hands.
Yes, we are not limiting ourselves to utilizing only wood as a suitable material, even though it is our top favorite option. But then again, the more alternatives we have) the better.
Personally, I am very fond of this tin can bird feeder because it brings about memories of my childhood. This was the first bird feeder my father made for the family.
I guess he was attempting to see if my sister and I were serious about taking care of the birds around before putting more efforts and time into crafting a wooden bird feeder for us.
After all, the tin can birdfeeder did a wonderful job of attracting the hungry birds in the neighborhood. So why not make use of the tin cans you have instead of throwing these in the trash?
7) Teacup Bird Feeder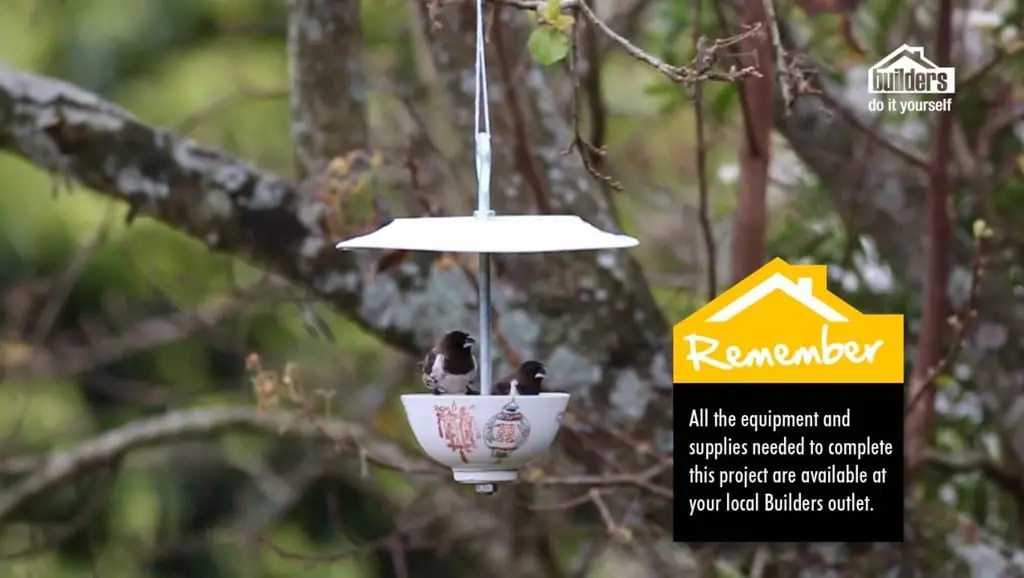 If you are on the search for an easy, fun, and extremely cute DIY bird feeder, we think this teacup bird feeder might give you the exact gulp of inspiration you need.
Admittedly, we also appreciate that all the materials you will need in order to craft this bird feeder are already available in your household, or in the local store.
When it comes to the list of tools you will want to utilize, these include a drill, pliers, spanner, and tile drill bit. Also, if you don't have a teacup and a saucer handy, you can always use an old bowl and a side plate.
All in all, your imagination has a lot of room to go wild with this DIY project. I have created a similar one some years ago, and I decided to turn the bird feeder into a mini mushroom, as I painted the old bowl and plate in red, white, and green.
8) Terra Pot Bird Feeder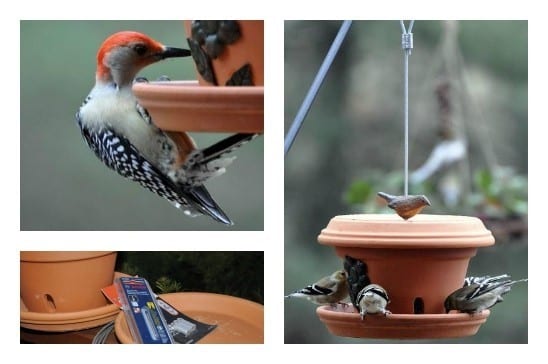 As DIYers, we are constantly looking for various materials which can be utilized as part of our projects. The beauty of working with different materials comes with the fact that you learn new skills.
Moreover, this gives you the freedom to possibly make use of materials which would otherwise get left behind or thrown away.
That's why when we stumbled across this terra pot bird feeder, we knew we had to share it with other DIY enthusiasts out there.
You don't need any complex tools or techniques in order to construct this particular bird feeder. We do have an extra tip for you, though.
If you dislike the hanging design, you can easily place this terra pot bird feeder in a suitable wooden construction, mount wherever you find it a good fit. Plus, your kids can have tons of fun painting the terra pots for their feathery friends.
9) DIY Bird Feeder from Recycled Materials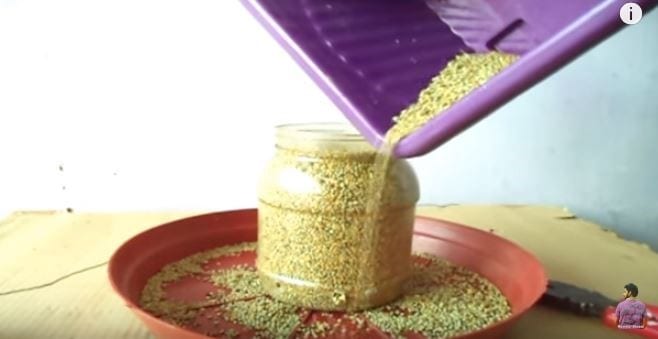 This DIY bird feeder from recycled materials is so easy to make, that it almost hurts my brain. I can confidently say that even a kid can craft this in no time. We think this is a suitable DIY plan for those who want to make use of the useless plastic pots and jars in the house.
This type of bird feeder can be your go-to if you happen to be a peanut butter lover, who regularly has to throw away the empty plastic jars, for example. Okay, you got me here) the peanut butter lover I am mentioning is someone I have to live with for years (Me!).
Apart from the simple materials, the tools you need are just as straightforward. Just make sure you get equipped with a few screw bolts and a suitable instrument for poking the wholes, which can be a knife or scissors, among others.
10) Compact Bird Feeder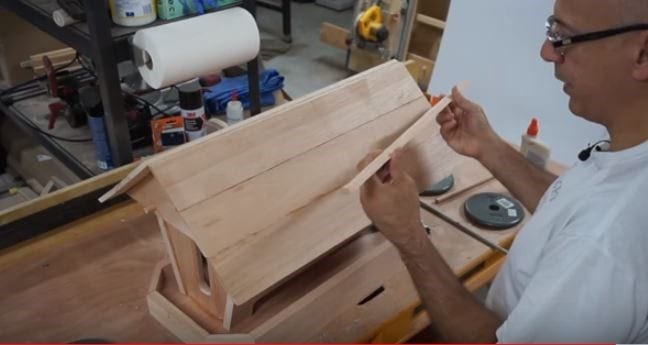 This compact bird feeder is not only nice-sized but it is also very well designed. However, before attempting to make this particular model, we want to send you a kindly reminder that this is not the most suitable DIY project for the newbies.
That's not because of the complexity of the design itself but mostly because of the instruments being utilized.
On the other hand, if you are truly into craftsmanship when it comes to working with wood, we bet you would love to challenge the carpenter in you with this compact bird feeder plan.
Anyway, we also think this is not the most complex DIY project, so we don't want to discourage even the novice DIYers of giving it a try if you believe it can make a fine fit for your preferences.
After all, the only way to upgrade your skills is none other but constantly trying to craft new stuff.