Wooden pallets are among the most versatile construction materials. You can make anything from pallet wood including furniture and it can also be used as construction material.
You can make different indoor and outdoor furniture with pallet wood including chairs, tables, beds, and cabinets. When used as construction material, you can make pergolas, gazebos, sheds, garages, and porches with pallet wood.
Pallet wood is also easy to find and in fact, it can be sold in hardware stores or it can be given for free in some stores. It is also one of the most inexpensive because most pallet wood can be acquired for free. You just have to find the best places to get the best quality pallet wood or recycled pallets for your home project.
One of the most interesting furniture pieces that can be made from wood pallets is a pallet bar. If you love to drink and so does your friends, then there's no reason not to make your own pallet bar at home.
A pallet bar is made of wood pallets, has storage sections to hold liquor, wine or any kind of drink, ingredient or condiment that you add to your favorite drinks. It may have an area to store ice or to chill drinks like an ice bucket or it may have taps to pour out beer for your guests.
A pallet bar is an inexpensive alternative to purchasing hardwood liquor cabinets and bars. You can construct one for your home or you can make a full-sized bar for a business like a restaurant or a bar.
There are many pallet bar designs to check out. There are small, two –pallet styles while there are large ones that may have bar stools to seat you and your guests. Some pallet bars are made for the outdoors and can be a part of your porch or poolside décor.
You can make a full-sized outdoor bar for a party or how about a tiki hut bar for a tropical motif for a party. And no matter what kind of design you choose, we have the best ones here for you.
List
Here is a collection of the top 105 pallet bar DIY plans to inspire you. Most of these are small-scale projects that won't take too long to make. You can even construct a basic pallet bar in a few hours tops when you got complete materials and the right tools to use.
Also, most of the plans here have traditional designs, therefore, you won't find it hard to follow the steps at all. Use these plans as they are or use these as inspiration for your next woodworking project.
1) Classy Epic Pallet Bar Design
You come home, tired, wasted and totally beat up. Only a drink can make this day right. And what a better way to greet you home than this lovely and classy epic pallet bar! This bar is made from stained pallets so it looks natural but a little darker than usual.
This bar has an L-shaped design and a flat, polished top so you can easily slide drinks to your guests. And speaking of guests, this classy bar is the perfect place to hold a mini party with your friends or family.
This pallet bar also has a lot of storage at the back so you can place liquor bottles, glasses, shot glasses, ice buckets, and other party accessories. Cheers to this fantastic design!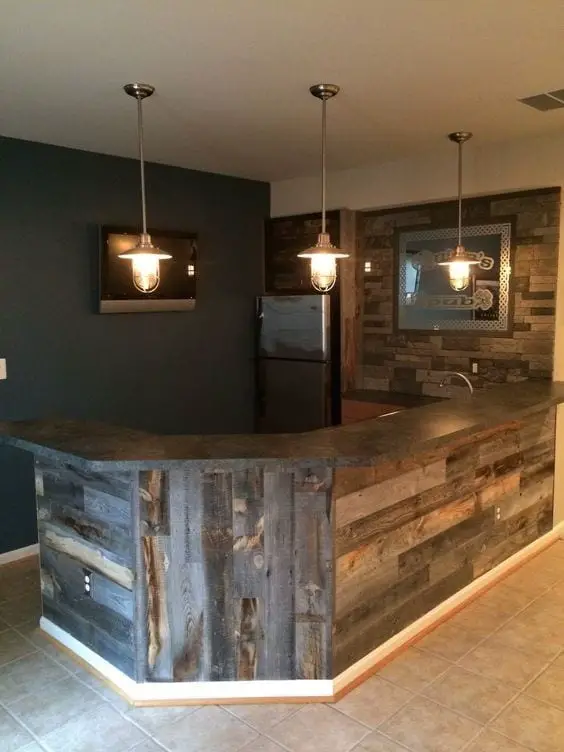 2) Epic Pallet Bar Design
What a festive sight! This pallet bar may be small but it has all the works! It has adequate space for storing liquor bottles plus a wide area on top where you can mix drinks, serve it up and place snacks as well.
This is a pallet bar design that's perfect for a small apartment or home. With its size, it can be placed indoors or outdoors. And when it comes to the step by step plans on how to build this epic bar, you will find this very easy to follow. You can build this kind of bar in just a few hours or just in time for your next party.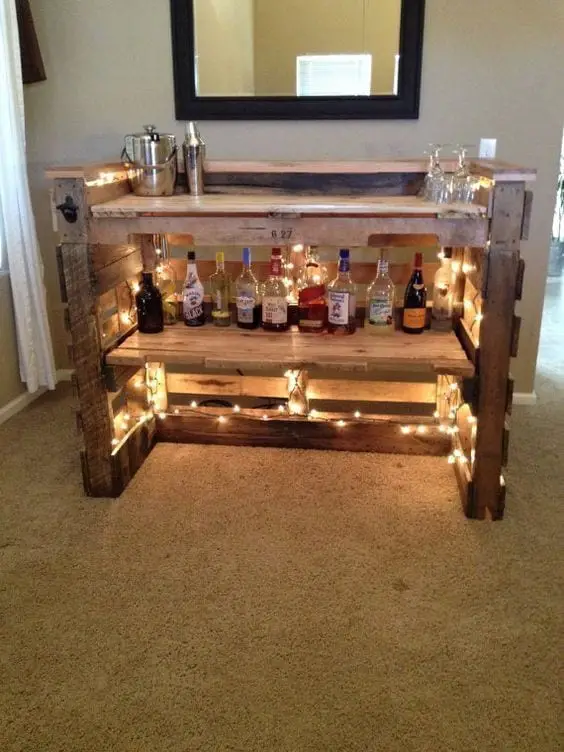 https://www.etsy.com/listing/214438932/oak-pallet-bar
3) Attached to the Wall Bar Design
Now is the time to give you a good example of a basic pallet bar that is attached to the wall. Like a spice rack, this pallet bar has room for 8 or more bottles of wine or any liquor you love. It can accommodate a number of glasses along its inverted wine glass storing system at the bottom of the rack.
This is a very basic design, therefore, you can make adjustments depending on your needs. You can make the rack larger and wider, with more storage area for other kinds of glasses. Use wood with natural stain or paint this according to the color you want.
And because this is a very basic design, you can build this in a few hours.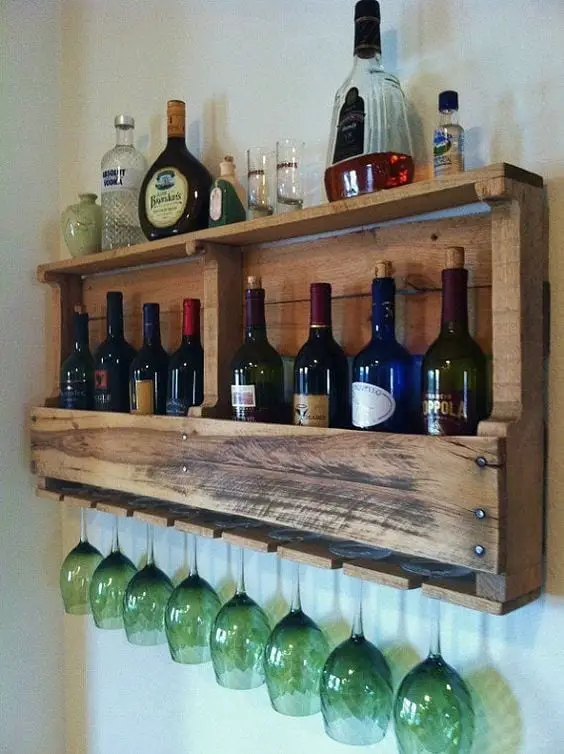 https://dengarden.com/interior-design/Furniture-made-from-pallets
4) Simple Pallet Bar Design
This pallet bar has one of the most basic designs which is why it is one of the most common designs as well. This is made of lovely pallets that have been stained in a darker shade. The builder used a horizontal pallet pattern on the front to make the bar unique plus it has a moderately-large area at the top where drinks are served.
It is not seen in the photo but the back has a lot of storage room. You can place several bottles of wine or any liquor and glasses here. This bar looks like it has its own section in this living room or man cave so the back may be improved by adding more shelves to store and display wine and liquor bottles.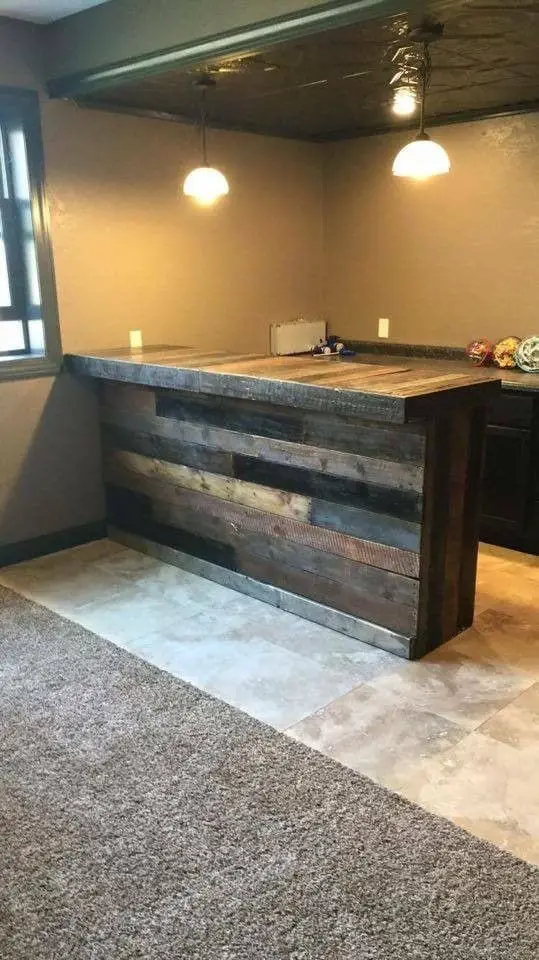 5) Pallet Bar Design in a Few Minutes
This is a plan that will show you how the inside structure of a basic pallet bar is made. As you can see, it's not just a matter of stacking pallets this time but you must reinforce your bar especially along the corners to hold a heavy wooden top.
You can also see from the photo how the structure is arranged to make room for the storage area found at the back of the table. This was actually a plan to make a very basic pallet bar as well which can be possibly done in just a few hours.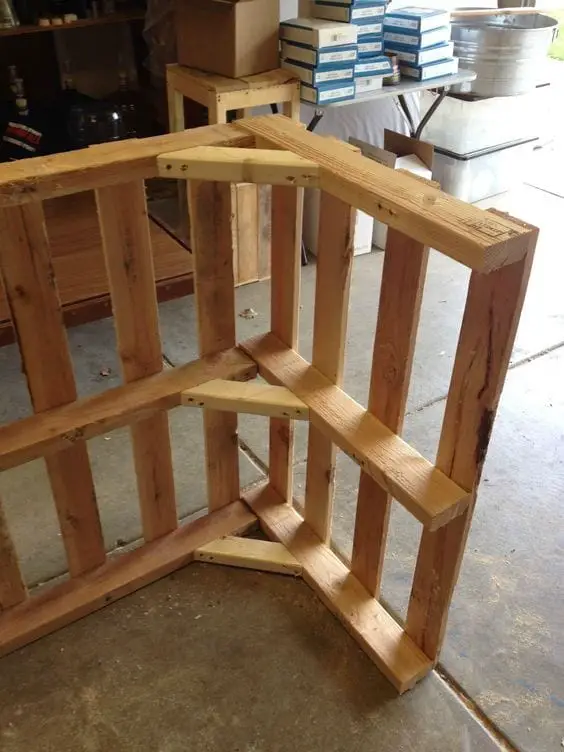 6) Smart and Classy Pallet Bar
This is a gorgeous pallet bar that's set to serve guests at a backyard event. This bar has lovely pallet wood which has been treated for shine and smoothness. This design features a wonderful-looking front, a flat and smooth top and some storage at the back.
The top part of the bar is lovely and can accommodate your guests well. This is where you'll serve your drinks and weird creations too. The storage at the back is amazing with enough room for bottles, glasses, and coasters. And this design is perfect for a home bar or for a patio or backyard.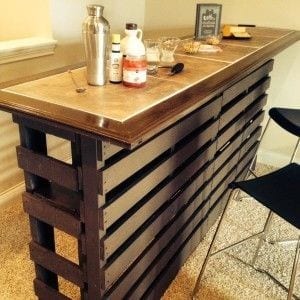 7) Outdoor Pallet Bar Designs
Take a look at all the space from the back of this basic pallet bar furniture. There's a lot of space to serve drinks and food, to store liquor and wine and to hold glasses, coasters and other tableware.
This is an outdoor pallet bar that may have been meant for an outdoor event, party or gets together. And since this design looks very easy to do, you will surely be able to finish this in a day.  You may also use this photo as your inspiration for your next outdoor party.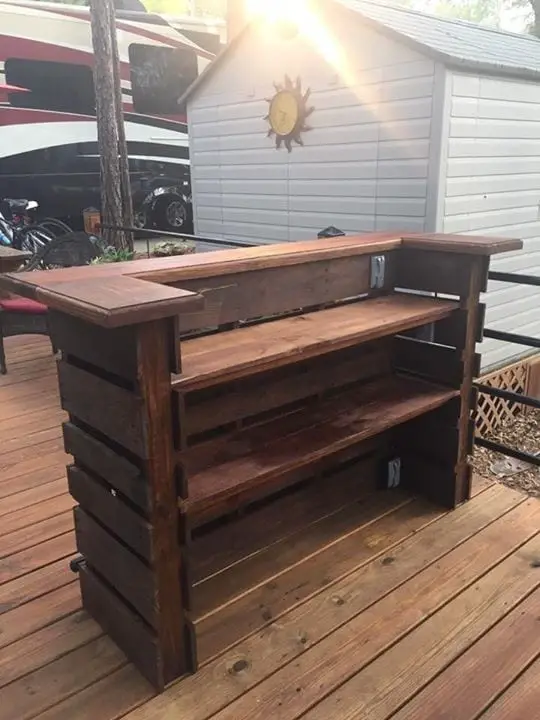 8) Basic Pallet Bar Design
What a terrific pallet bar. This has a very basic design that will let you entertain guests with drinks and snacks. The bar is moderate –sized and therefore can accommodate at least three guests. The table top offers a place not just for drinking but also for dining and dealing with guests.
It is large and smooth which is very important when you are serving food and beverages. The front of the bar has bar stools to seat three guests. You may add more stools if you need or if you are expecting more guests.
The back of the bar is a large space where food and drinks are kept. This is also where tableware, ice buckets, bottle openers and table napkins are kept as well. Having a large storage area helps you keep your bar neat and clean at all times.
This design is fairly easy to follow and with the plans here, you will be able to construct this in just a weekend.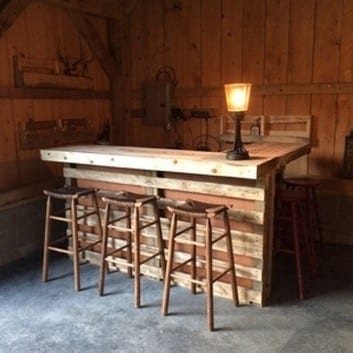 9) Man Cave Pallet Bar Design
This is also another basic pallet bar design that will surely fit your newly constructed man cave. This has more than an adequate top that can hold drinks and some drink. Take a look at the spacious back with plenty of room for bottles of wine, wine glasses and more.
You can further improve this design by adding more shelves at the back to hold more drinks and bottles. Adding some wheels to this bar can help you take it anywhere you wish to party.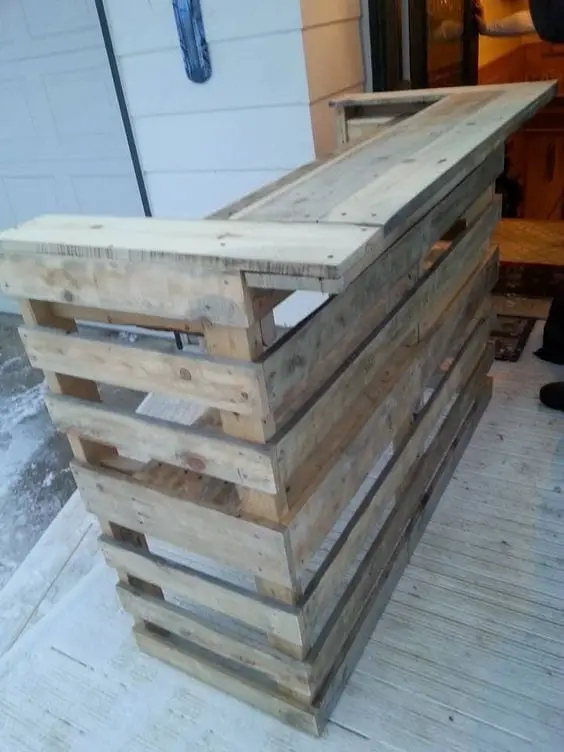 10) Very Sturdy Pallet Bar Design
Now, this is a very large pallet bar which has a very long and smooth top where drinks are served. Celebrate or party with your guests and have a great time at the bar. You will find a large storage section at the back where you can place all the things you need conveniently. This large pallet bar can be for a home or for a patio or backyard event.
And aside from the function of this bar, you can stain or paint this according to the color you want. In this design, the wood was treated with a dark stain to make it look dramatic and very warm to the eyes. This is an easy design and does not require expert woodworking skills and talents.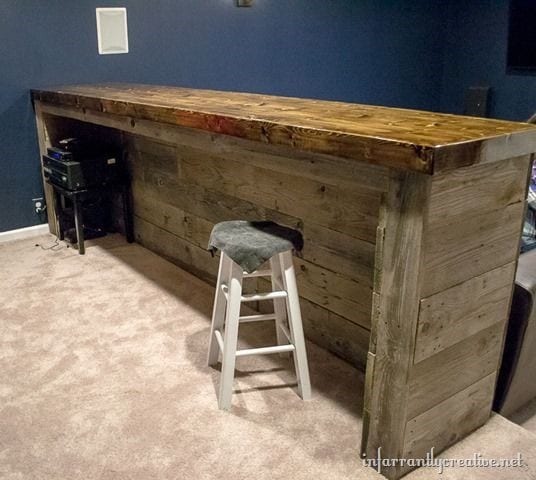 https://www.infarrantlycreative.net/man-cave-pallet-bar/