Going outside, even if it's just outside your house while looking at your lawn and garden, could feel relaxing. After all, nature has a way its own way of "recharging" people just by being exposed.
This is when a porch swing in your garden or lawn becomes truly useful. It gives you an area where you can enjoy the view while being relaxed.
If you think store-bought porch swings do not appeal to your taste, why not make one instead?
We've listed some porch swing plans that you can try making on your own and customize based on your liking.
#1. Basic porch swing for beginners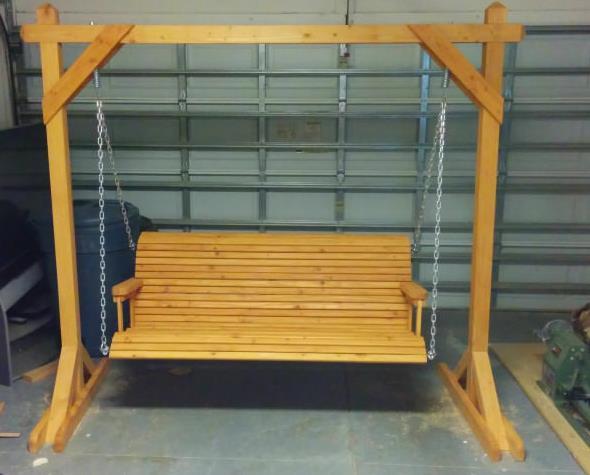 Those who are just starting out (or would like to start) in making a porch swing will find this guide beneficial. That's because of the complete details that it provides to those who want to replicate this project.
The porch swing needs a lot of wood pieces. On the website where the porch swing plan for this project can be found, you'll find the sizes for each wood panel, all materials needed, and the instructions that should be followed.
The tip that was given at the end of the porch swing plan on how to take care of the wood that is used for the project is also appreciated. This will surely extend the life of the wood and the project significantly.
It's because of those benefits that made them take the top spot in this list.
#2. Cheap but sturdy Porch Swing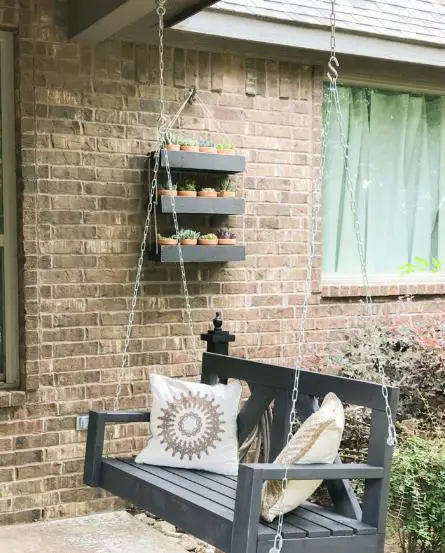 Thinking of spending a couple of dollars for a porch swing? Why not make it instead for just $40?
This is exactly what the creators of this porch swing is telling us. You can make your own porch swing even with just a few bucks!
What we liked about their porch swing plan is that they were very generous with the pictures for each step of the construction process. This is very helpful for beginners, as they have some photo reference and check if they are making the product correctly.
The use of the pictures also makes it easier to understand any instructions that they've written. Again, thanks to the photo reference, one can focus on making their work look like what they see.
For those who are more concerned with the details, they can still find the exact measurements or any detail that is needed to still work on the project even if they can't look at the photos often.
#3. Make your porch swing with the help of two mediums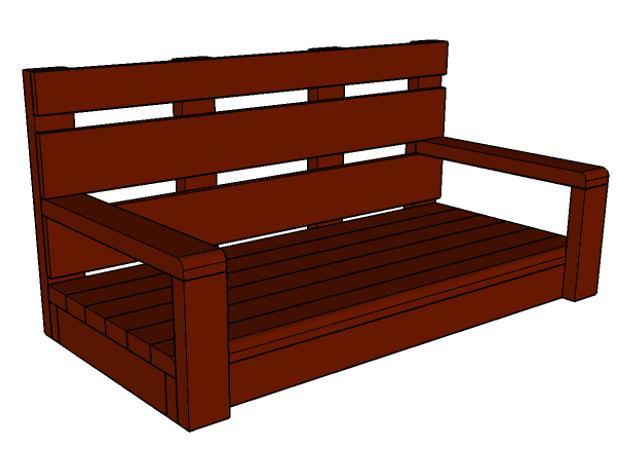 In this porch swing plan, the creator did not provide instructions in the PDF guide found on his website. He simply provided the exact measurement for each wood panel that will be used for the project.
But even if he lacked in details in the PDF guide, he made up for it by making a video showing how to actually made the porch swing.
A demonstration is a powerful tool for teaching something to someone. This is especially true for DIY projects such as this.
By having a video demonstration, it will be easier for anyone to follow how the whole porch swing is made. It's as if you're with the actual creator of the project and receiving instructions from him!
What he lacked in his written material, he made up for with his demonstration. This deserves a spot in this list.
http://bigredfishdad.com/wp-content/uploads/2017/02/2×4-Porch-Swing-Plans.pdf
#4. Porch swing in as little as 5 hours!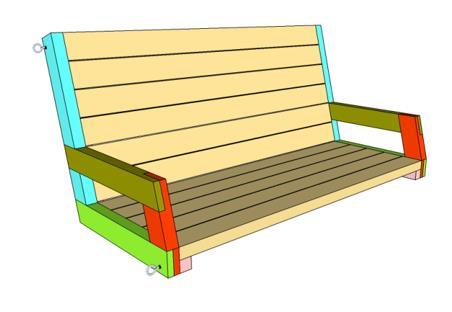 Many people do not consider getting into DIY because they have to spend time working on the project. Some projects are more time-consuming than others, making it more appealing to just buy what they need.
With this plan, though, you can make your own porch swing if you can manage to spend 5 hours in it. Just half a day's work and you have a porch swing that significantly costs less!
The website where the plan can be found provides direct instructions that are not difficult to follow. It even provides diagrams so that the project maker will be more guided during the process.
Another thing that we liked about the diagram is that it's color-coded. This is useful for cutting the wood and eventually assembling all the pieces.
As a porch swing that can be made in a short amount of time, it has to include in this list.
#5. Pallet Porch Swing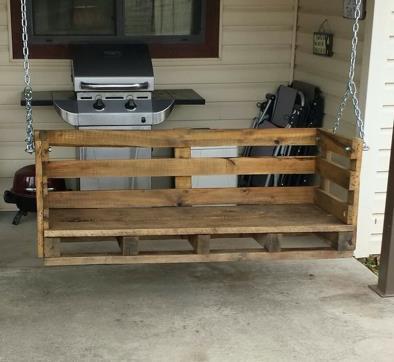 Want to get started with making a porch swing but you don't have enough money to buy the needed wood?
Don't worry! You can further drive the cost of making your own porch swing by making use of pallet wood!
Not only is it, well, wood, but the material is already cut for you. Now you can save on both money and time!
The video tutorial shows how the whole process is made, especially in securing the whole porch swing so that it will remain in its position and cause injuries while being used. Since pallet wood is heavier compared to what can be bought in the store, there is a tendency for it to stumble.
This project could easily get anyone involved with making porch swings. Not only is it cheap, it also helps in recycling wood.
These points are enough for it to be part of this list.
#6. A sexy, curved porch swing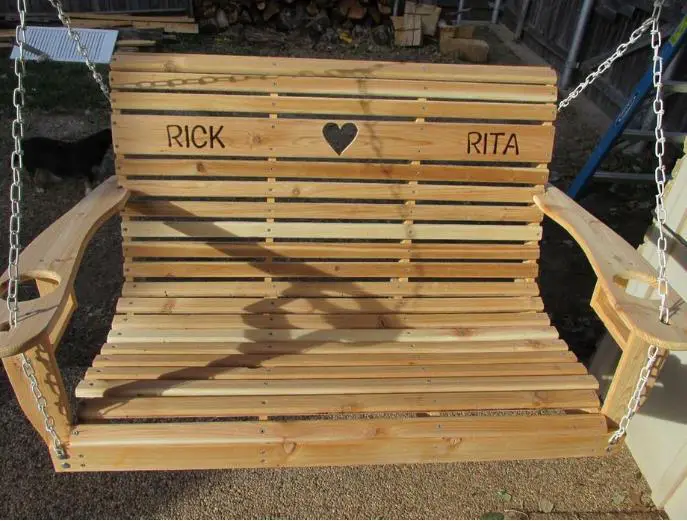 Want to add a little style to your porch swing? Why not consider making the whole body curved instead?
In this porch swing plan, the maker deviated from the usual square-like shape of the swing and modified it so that it has curves in it.
This may sound complicated because this could entail some additional work, but it sure is not. The maker gave specific instructions on how this porch swing can be made, allowing even beginners to follow and create it on their own.
What's great is that the website where the porch swing plan is seen already has the video in that same page. Whether you follow the video or the written instructions, you'll surely be able to create this on your own.
And did you notice the side handles have holes in it? Use them to hold your drinking glass or mug close to you, making it easy to take a sip when you feel like it.
https://www.instructables.com/id/DIY-Porch-Swing-Free-Templates/
#7. Porch swing with a cup holder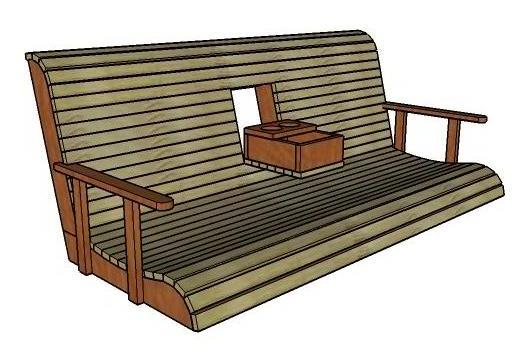 Yes, the porch swing sure is nice and all, especially if you have someone by your side while having a sip of coffee or your favorite drink. However, it can be difficult to bring your cup while on a porch swing.
With this porch swing plan, now that is possible.
The maker of this porch made some modifications with the body. Once you are able to make a curved body porch swing, a few alterations will give it you a porch swing with a cupboard.
Though the only new thing about this porch swing plan is how to make the cupboard, the instructions on how to make the porch swing itself are highly appreciated.
While one of the videos only shows how to make the body, the alteration can be found in the website where the plans are laid out. Regardless of what you want for your porch swing, just follow any of those sources.
#8. Porch swing in a fire pit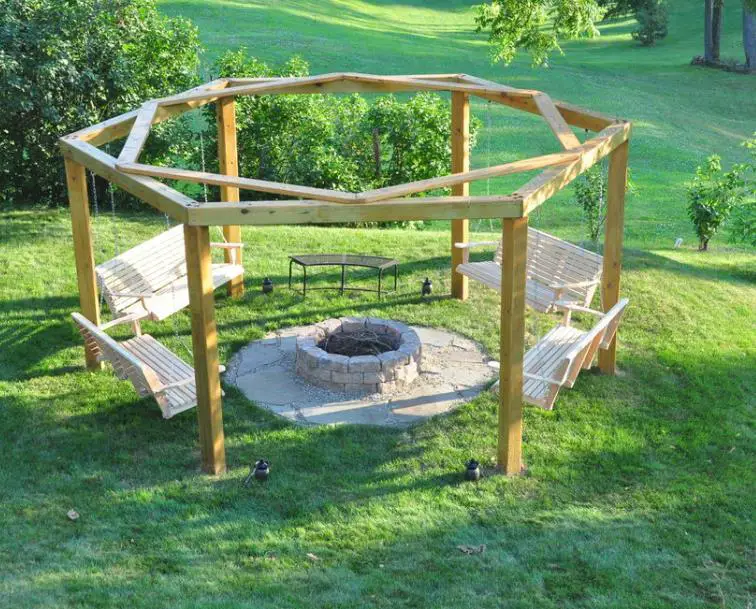 Are you planning to upgrade your home and make a fire pit outside? Why not be generous with the improvements and install a porch swing as well?
For those who have plans of having a fire pit installed, this is a great addition to that improvement. Not only does it aesthetically improve the look of the garden, it's also a great meeting place for the family regardless of the day.
In this porch swing plan, you'll be required to install columns and multiple porch swings surrounding the fire pit. It will entail a lot of work but is sure worth it once everything is complete.
Even with such a huge project, the creator of this plan made sure that anyone can follow his instructions. For those who want to further improve in DIY and woodworking, this is a huge and challenging but equally fulfilling project.
This is more than enough for this to be included in our list.
https://www.instructables.com/id/Hanging-Fire-Pit/
#9. Southern Pine Style Porch swing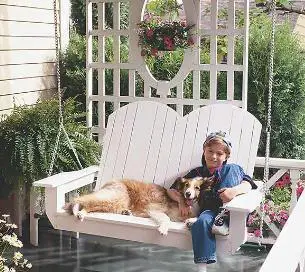 Although making this porch swing is the same with those that were previously included in the list, this plan still has something unique to it. That's because its backrest has a different appearance.
The challenge for this kind of project is how you can make it possible for the wood to have a perfect curve. After all, the backrest is composed of wood pieces that are attached vertically.
The website provided instructions on how to make this project, and guides makers directly so that they can nail that tricky backrest right the first time.
The video also took it slowly while providing instructions on how to make the whole porch swing. Those who prefer this method will surely be able to follow those.
#10. A complete guide for that pallet porch swing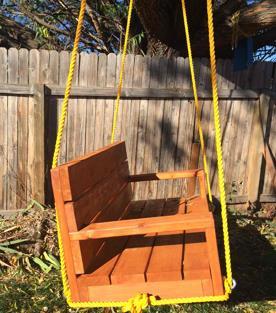 It's true that any DIY projects require money to be spent. After all, no materials will only translate to not being able to do anything.
If you want to get your feet wet in making a porch but can't spend that much, why not try using pallet wood instead? You can buy these for low prices, or you can even just ask companies who have it to give it to you!
In this project, minimal cutting of wood will be needed. This will free up a significant portion of your time, allowing you to work on the project as early as possible.
Another good thing about this project is the downloadable PDF guide provided by the website of the maker. This will allow you to work on the project without going back and forth to your computer.
These points are enough for this to be part of our list.
http://www.ana-white.com/2016/04/DIY_furniture/pallet-reclaim-swing