Do you have some pallets lying around? Rather than throw them away, why not turn them into something that is worthwhile and functional?
There are different furniture options for you to choose from. Among them are making pallet benches.
A DIY pallet bench will give you more freedom in terms of creativity and artistic features. If it is your first time to create a pallet bench and have no idea where to start, you have come to the right place.
Here we have compiled 24 pallet bench ideas for you to replicate, or alter according to your personal taste and preferences.
1) Modern Pallet Wooden Bench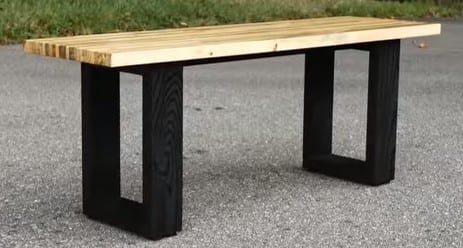 What makes this pallet very enticing is the fact that despite the fact that it is made out of wooden pallets, it still looks highly elegant and designed with a modern appeal. The bases are painted black so that it will further emphasize the color of the bench pallets.
They are also designed in a unique way. Unlike other bench designs in this list, this pallet bench does not come with a backrest, making it very easy to build. This is perfect for an outdoor garden or yard, or even an indoor space.
2) Kids Pallet Reading Nook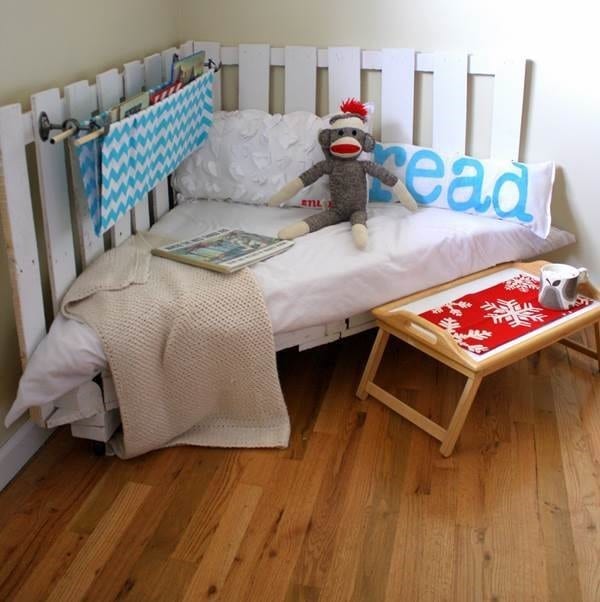 If you want to encourage your child to get interested in reading, why not create a pallet bench for your beloved one and install it in their room? This can be a great partner to a pallet bookshelf that you can also place in your child's room.
Rather than create a bench with a simple design, why not create a corner bench that will also not consume too much of the room's space.
You can add a comfortable cushion as well to further make the area more inviting. This bench should have enough space where your child can also lay down while reading their favorite book. Your little angel will certainly love you even more because of this.
3) Floral Outdoor Pallet Furniture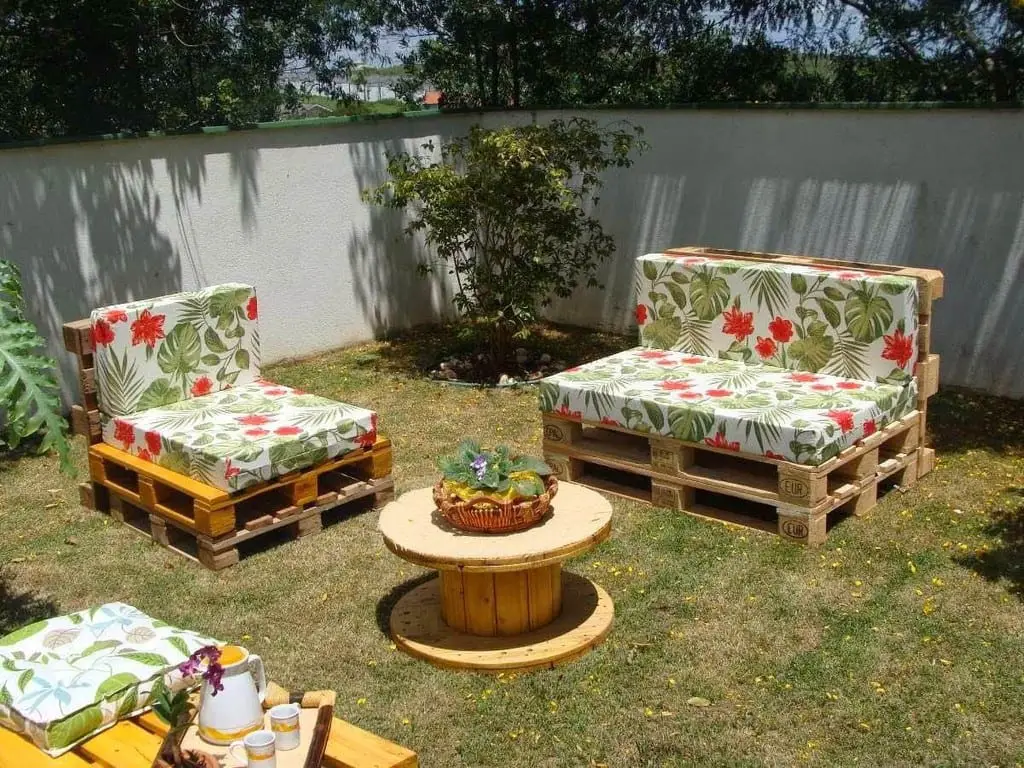 Why not spice up the appearance of your yard by adding these beautiful and floral patterned pallet benches? By choosing floral styled, thick cushions, this seating area becomes efficient for a summer afternoon spending under the heat of the sun while sipping your favorite drinks.
4) Indoor Pallet Bench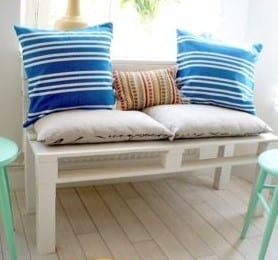 A lot of people are fond of multi-functional pieces of furniture. Beds with cabinets, tables with shelves, and a whole lot more. If you have already tried creating some pieces out of wooden pallets, it is now time for you to take your artistic impulses a level up by trying to create this pallet bench with a storage feature.
5) Double Chair Bench with Table
6) Pallet Bench With Wheels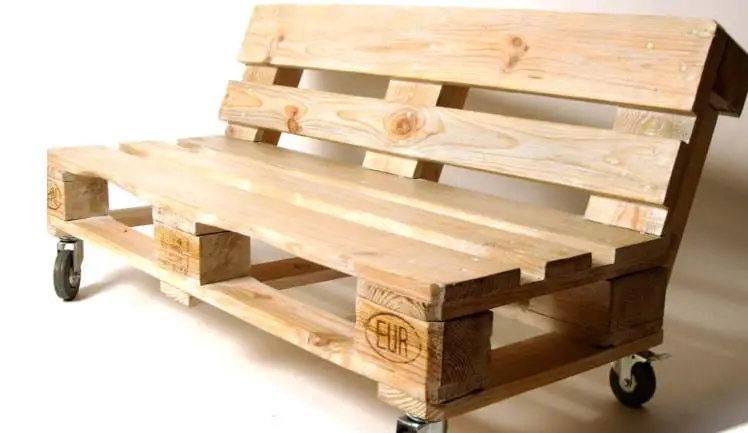 This pallet chair is wheeled for easy transportation and portability. It is a perfect addition to your backyard patio. The wheels that are added allow it to be mobile, allowing you to move it from one place to another according to your needs.
7) Rustic Bench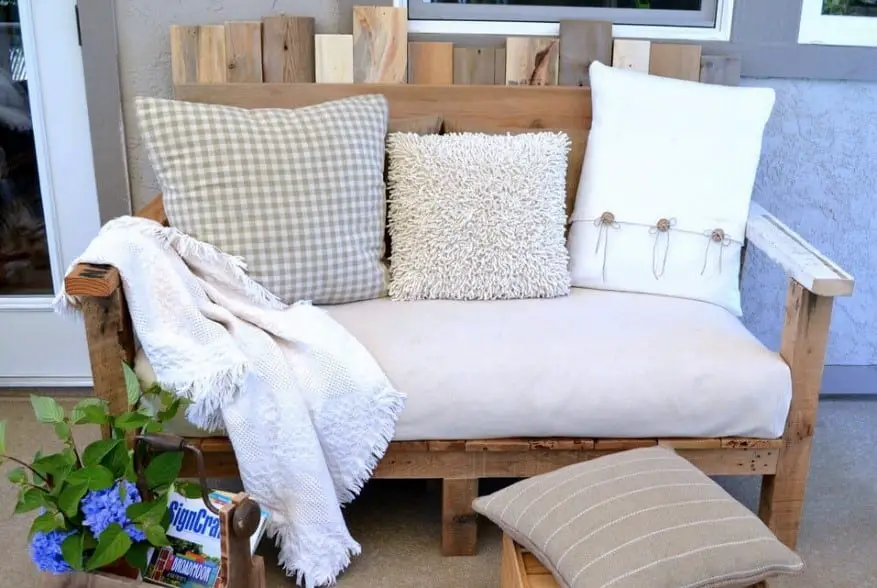 This rustic style bench is a comfortable piece that will perfectly fit your patio or pouch. This piece of furniture is created with pallets, which makes it affordable while being functional at the same time.
All that you need for this couch is a plush and large cushioned seat, with some adorable pillows in order to come up with a cozy feel and a striking appearance that will easily bring you to a different dimension, making you forget that you are in your very own backyard. This will also be perfect for an indoor setting as well, giving any area that cozy ambiance.
8) Expressive Pallet Bench
If you are the expressive type of person, why not let it show with the art pieces that you make?
Of course, you can choose whatever art décor you would like to add, allowing you to customize it according to your preferences. You may choose to paint the main pallet bench itself, or just leave it the way it is for a natural and pleasing appeal. Start expressing yourself with one of these pallet benches and explore on your creative side.
9) Luxurious Pallet Bench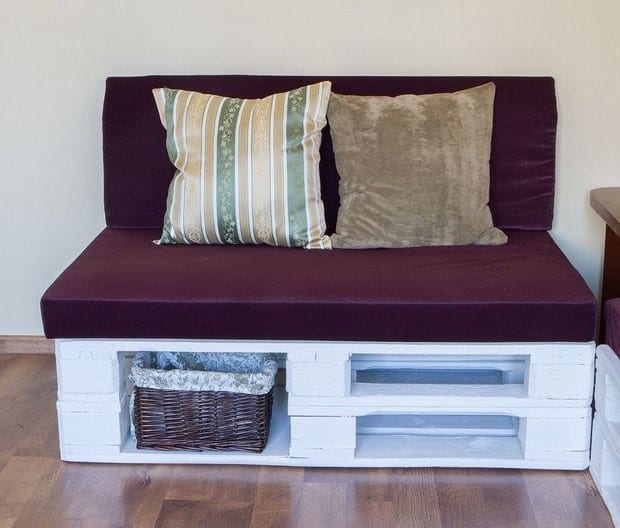 For this specific DIY wooden project, the design is assembled to form the bench that it is. Basically, the pallets are placed on top of the other to form the base. To complete the look, a cushion is added on top. Spice it up even further by adding a couple of pillows.
This pallet bench also doubles as storage space where you can place some of your items, and reduce the clutter in your living room. Choosing the white color for the base further emphasizes the color of the cushion used for the assembled pallet set.
10) Blue Outdoor Pallet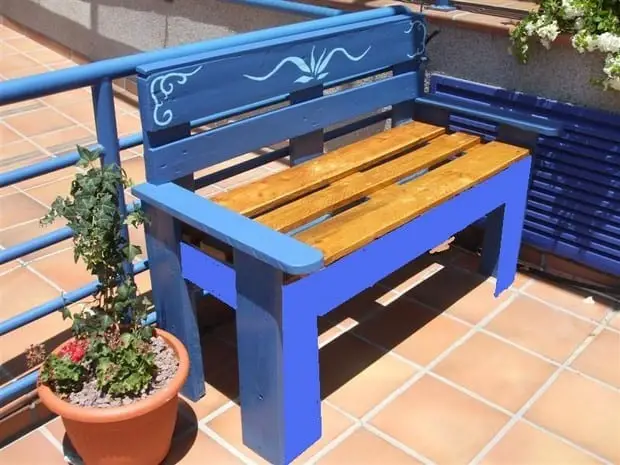 Nothing is more peaceful to look at than a furniture piece in blue color. This bench is perfect for your outdoor yard, allowing you to rest under the warmth of the sun. The DIYer of this project chose to leave the natural color of the main seating bench to create a striking contrast between the two colors. You can also paint some designs on the backrest of the bench to customize this pallet bench even further.
11) Wooden Lounger Pallet Bench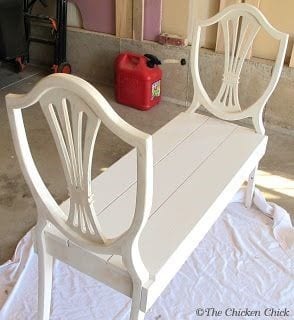 If you want to start your own upcycling project, why not start with this wooden lounger? This project is made out of wooden pallets and is not designed as a usual bench. Rather, it comes in the form of a lounger with the 'supposed' backrests placed on the sides.
It is elegant in terms of design, especially when you paint it with the color white, which shows its elegance and simplicity. It will easily suit any furniture motif that you may have for your home. You can add pillows later on to complete the overall look of this interesting furniture piece.
12) Long Outdoor Bench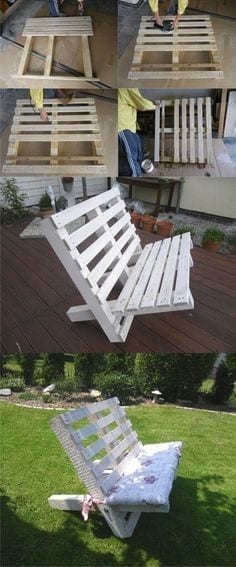 A single pallet bench may be good enough, but a longer one will invite other people in. Painting it with white even makes it more elegant when left outside under the refreshing light of the sun. Rather than throw away those extra pallets, turning them into something that is a combination of being creative and functional is a good idea.
13) Simple Pallet Bench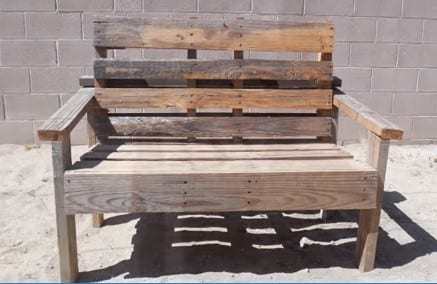 What makes this pallet bench a simple one is that it is made out of one pallet that is cut in half. That's it. This means that this project is very simple to build, and is perfect if you consider yourself as a beginner in the DIY woodworking world.
14) Wood Pallet Corner Bench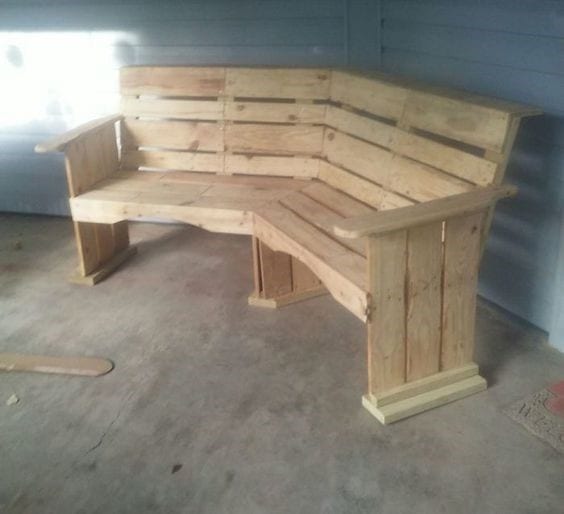 If you have enough pallets to create something into an interesting furniture piece, why not try this corner pallet bench instead? It is big enough to host a number of friends, and it can also be painted with any color of your preference.
15) Reclaimed Pallet Bench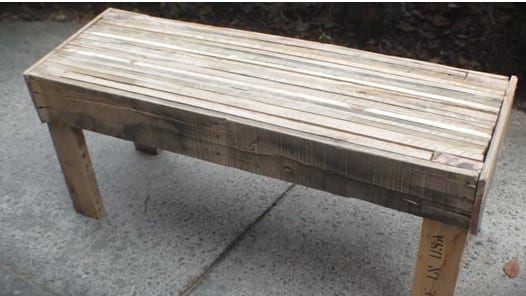 This pallet bench design is a simple one, as it does not come with a backrest. You can start with this project if you are looking for an easy to build wooden pallet bench.
16) Outdoor Partner Benches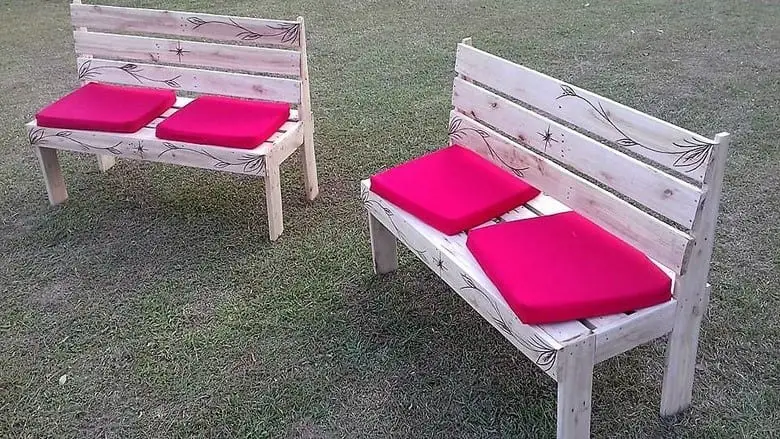 This couple of pallet benches will surely make your day an amazing one outdoors. What makes this project a very elegant and attractive one is that the DIYer who created this project added some artistic touches by incorporating branch figures all over the benches, both in the seats and the backrest.
As an additional feature, you can also add some pillows to it. Selecting pillows of a striking color will certainly create a contrast against the color of the benches. This pallet woodworking project is not just for outdoor use, but will also spark up your living room indoors.
17) Complete Pallet Bench Set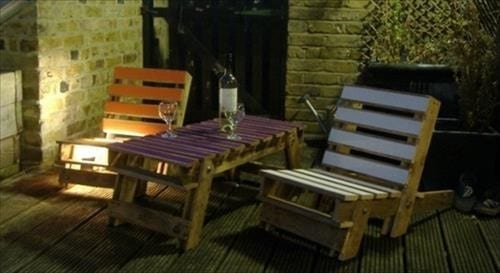 Looking for an interesting way to spice up your evenings outdoors? Why not create a complete bench set so that you can enjoy your time outdoors drinking your favorite beverage or wine, and enjoy the ambiance outside. Two pallet benches and a table will complete the set.
18) Comfortable Lounge Pallets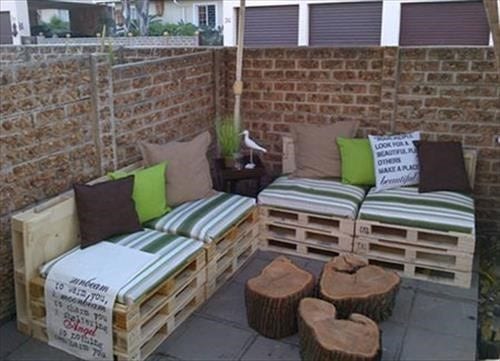 If you have a big family, or if you always anticipate your friends coming over, why not create a space for them in your home? An indoor living room will do, but create a space outdoors will surely make you enjoy the ambiance that is so comfortable enough for talking and cheering each other up.
19) Wood Pallet Deck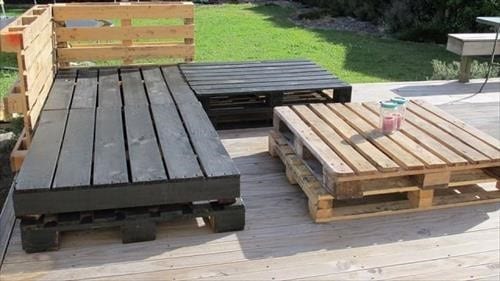 A sofa and table set will certainly create a very comfortable ambiance for your outdoor space at home. Nothing is better than having these pieces of furniture outside, than in an indoor place. After all, wooden pieces look perfectly under the sun, giving more elegance to the area.
Pallet decks can easily be piled together to come up with tables, sofas, chairs, and other furniture accessories. The use of upcycled wood can offer a lot of benefits. Painting them, or even adding some artistic touches will even make the entire project come out more differently.
20) Garden Pallet Bench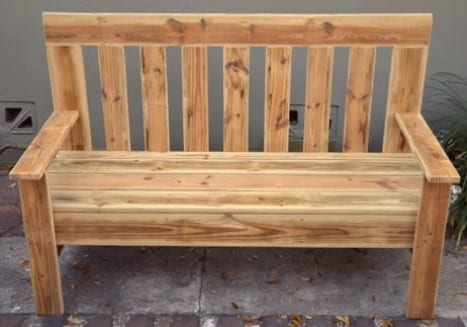 As basic as this pallet bench may be, making it can give you a huge sense of accomplishment. If you have already started with more basic and simpler pieces of furniture, then moving up to bigger pieces such as this DIY woodworking project will not be a problem for you.
21) Pallet Garden Furniture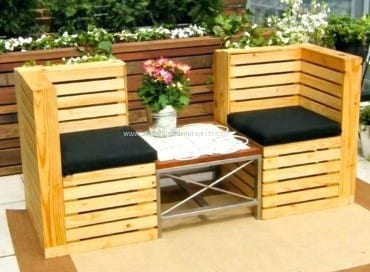 Are you looking for an elegant wooden furniture set that you can easily fit into your garden or yard? This piece is no doubt an artistic one. It looks like a long pallet bench, cut into half, with a table in between. This is not just functional, but highly artistic at the same time.
This will certainly prove to be an attention grabber in your home, and a conversation starter at the same time. Choose the right color for your pillow or cushion and come up with an elegant piece of furniture that is also functional at the same time.
22) 3-Pallet Wood Bench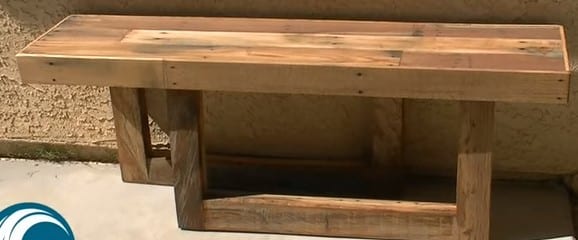 23) Basic Pallet Bench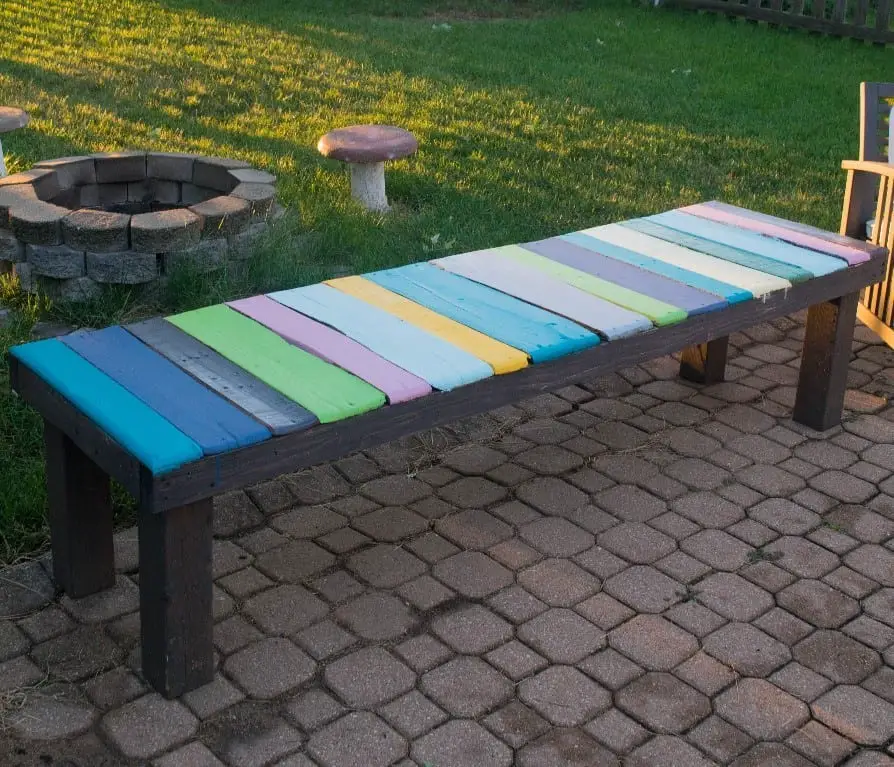 One thing that you may have noticed about this project is that unlike others, it does not come with a backrest. Despite being as basic as it is, it is still highly elegant to look at. The DIYer who created this project also decided to paint every pallet with a different color, but deciding on a prominent color – blue, making it a very artistic piece of furniture.
24) Creative Pallet Furniture Set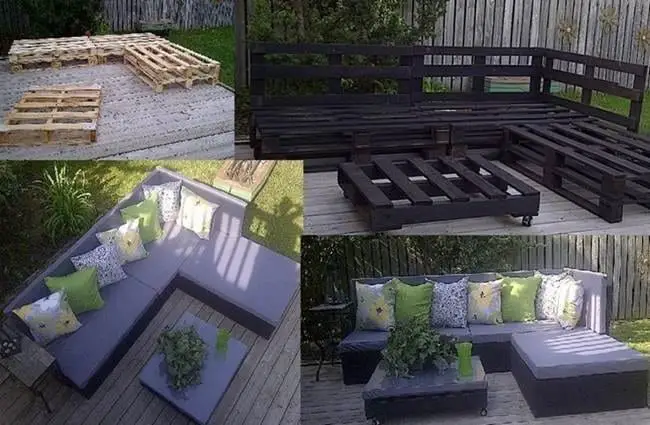 If you have already tried basic and simple wooden pieces of furniture using wooden pallets, you can now take things a notch higher by making this complete creative furniture set. The DIYer of this specific project chose to paint it black in order to further heighten and emphasize the color of the cushion and the pillows that are used to decorate the sofa.
Place the set in a place with a corner and it will make the area even more inviting and appeal at the same time. To even complete the look, you can also add a pallet table to add as a centerpiece.
Conclusion
Start honing your artistic side by exploring these pallet bench ideas. These pallet benches are not just perfect as a furniture, but also ideal for your decorative needs. Whether they are placed indoors or outdoors, what you will have is a piece of furniture that will serve as a conversation starter for your family and friends.