There are many reasons to build a pallet house. It is a great way to hone your woodworking skills, the pallet is widely available and very cheap (sometimes free!), and a pallet house is very useful. You can use it as a cabin, a nook, a playhouse, a shop, and a lot more.
To further inspire you, we put together x pallet house plans that you can build in the next several days. We ourselves are more than thrilled to construct these, and we sure hope that you feel the same.  
1) Shed-Type Pallet House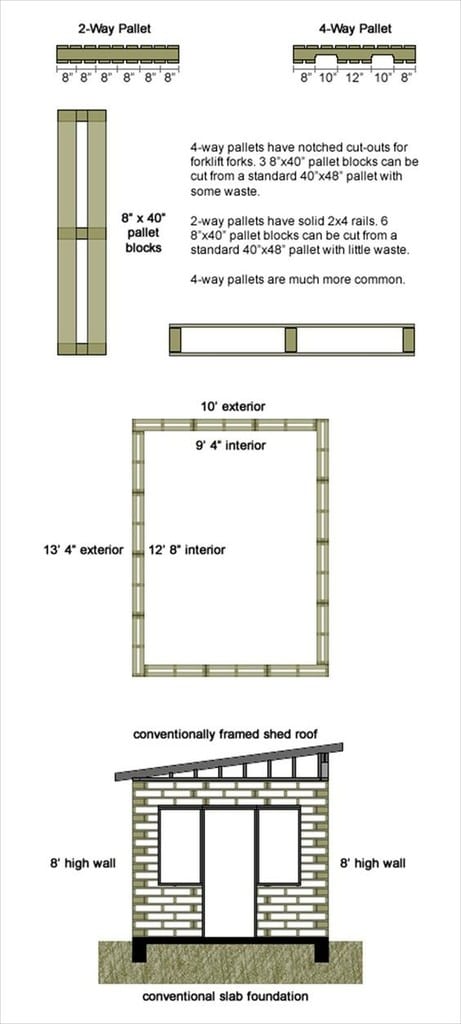 Don't you just love how simple this looks? This plan was originally made for a pallet shed, but what's keeping you from adjusting those measurements and turning this into a full DIY pallet house? This will look great regardless of whether you attach it to your home or not.
Due to the size and the simplicity of the design, this pallet house should not take too long or consume too many resources to build. If you are an experienced woodworker wanting to up your pallet game to structures of this scale, we think you will not find this too challenging.
Everything about this pallet house is very traditional, including the overall look, the foundation, and the roof. It may not look flashy, but nothing can possibly be better than a cheap but beautiful house you built with your very own hands with free wood!
Plan: http://www.99pallets.com/pallet-houses/tiny-pallet-house-plans/
2) Conventional Pallet House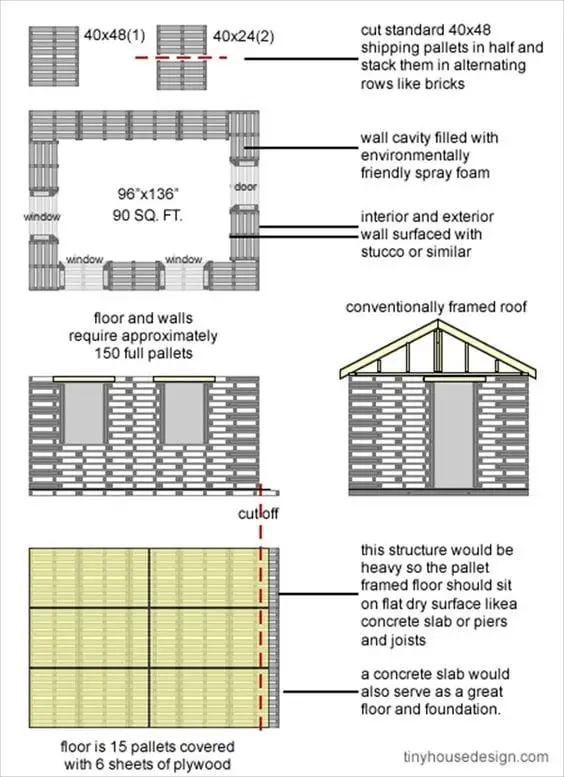 You can never go wrong with traditional. The design of this pallet house is very conventional, from the style of the roof, down to the wall, and finally the foundation. The original plan features an area of 90 square feet, and the structure comprises full pallets, plywood, and other materials like foam and stucco.
The base is quite heavy, so provided a stable area, this should be able to withstand a lot of wear and tear. This pallet house will be a reliable shelter where you can stay in nearly any weather condition.
As shown in the photo, there are various materials involved in building this structure, so you may want to reserve this for when you have sufficient home-building and woodworking experience.
Plan: https://www.99palletideas.com/pallet-houses/tiny-pallet-house-plans/
3) Narrow Pallet House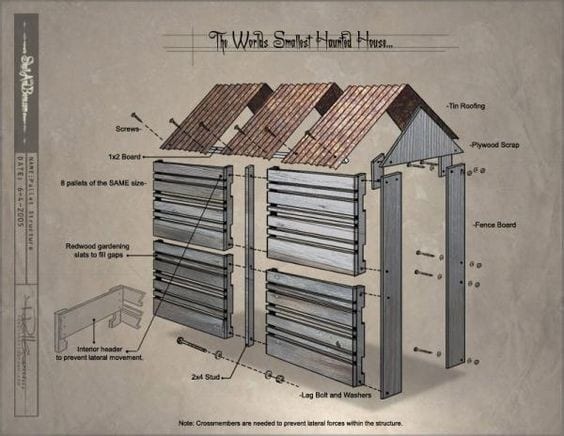 Originally intended as a Halloween house, this pallet house is an ideal project if you are looking into building something relatively simple and small. This is a great option for single-person households as well.
The uncomplicated design makes this an easy build even if you are new to large-scale woodworking. It also does not need too many pallets, and it should not take too long to put up. The entire structure should be quite stable too if reinforced well.
Interior design for small spaces is always challenging, but we think you will enjoy sprucing up this tiny pallet home. It will bring out your creativity and ingenuity in maximizing space while keeping everything aesthetically pleasing.
Plan: http://www.halloweenforum.com/general-halloween/96862-halloween-yard-haunts-displays-3.html#post948202
4) Basic Pallet House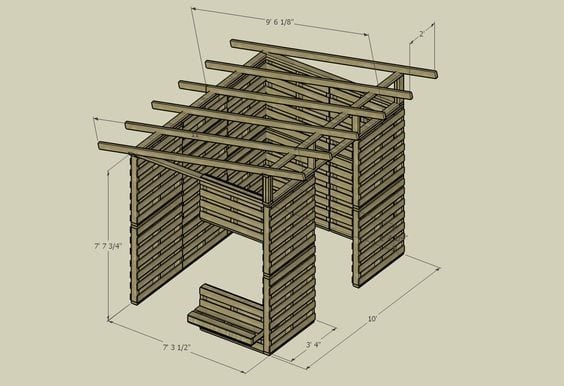 Originally meant as a shed, this pallet house is ideal as a nook, playhouse, hobby room, and the like. This should be reliable enough for light activities. It is all pallet wood, so it should be quite cool inside during cold and windy weather.
This design is also a good option if you want to practice your pallet woodworking before moving on to more complex house projects. You get to learn all the basic techniques involved in building with pallet wood, and this will prepare you for bigger, more challenging designs.
As shown by the dimensions, this is an ideal pallet house for the backyard where you can spend some time to rest, relax, or maybe do your hobbies. There should be enough room for a bed, a small pantry, and other basic home furniture and appliances.
Plan: http://shelter.inthekoots.com/category/building-the-exhibit/
5) Pallet "Teenager" Cabin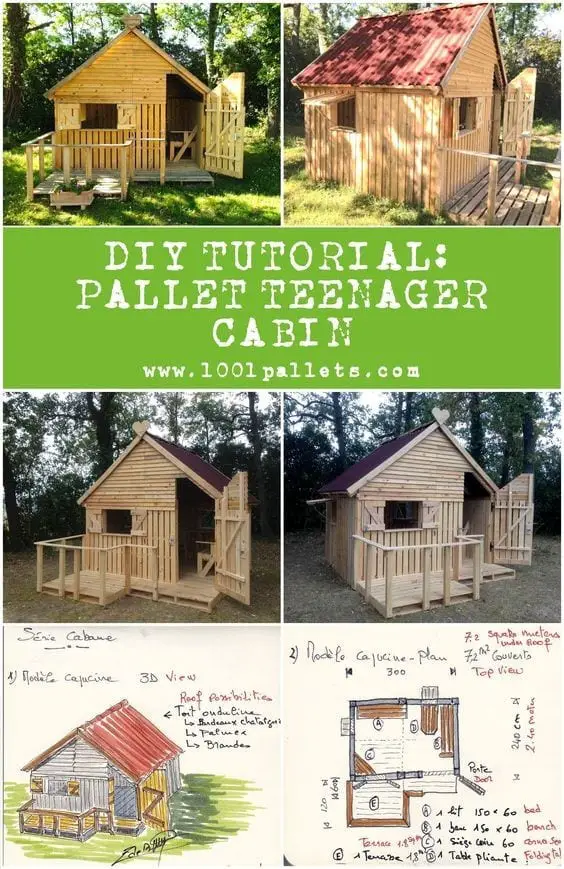 This pallet house is officially named "teenager," but it is perfectly suited to adults of all ages. This is a lot bigger than the previous pallet houses on this list and thus a more appropriate "home." There is enough room for a living area, kitchen, bedroom, and bathroom.
The walls are all pallet and the window is quite spacious, so the interiors should be cool enough even in summer. The photo shows only one window, and that is in front beside the door. However, you are always free to add more to improve ventilation and let in more natural light.
We think this is a good pallet house project for a beginner and experienced woodworkers alike. The structure is big, but the design and the construction themselves are relatively simple in nature.
Plan: http://www.1001pallets.com/2016/01/diy-tutorial-pallet-teenager-cabin/
6) Traditional Pallet House With Side Windows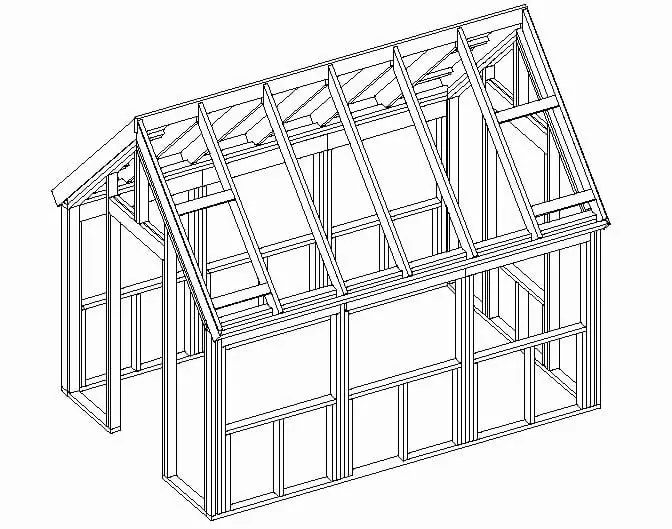 This is another conventional pallet house, but it is a lot bigger than the basic ones we have listed so far. There is a lot of provision for windows, so you can take advantage of natural light and air flow.
A pallet house plan like this is easy to work with because you get a lot of flexibility in terms of interior design. You can place the bathroom, kitchen, and dining at the far end of the house and the bed and living area on either side of the door.
Conversely, you can do it condo-style and put the kitchen and dining nearer to the door than the living and bed areas. In terms of difficulty, we would say this is an easy to moderate build.
Plan: http://orai.us/free-pallet-house-plans.asp#
7) Simple Pallet House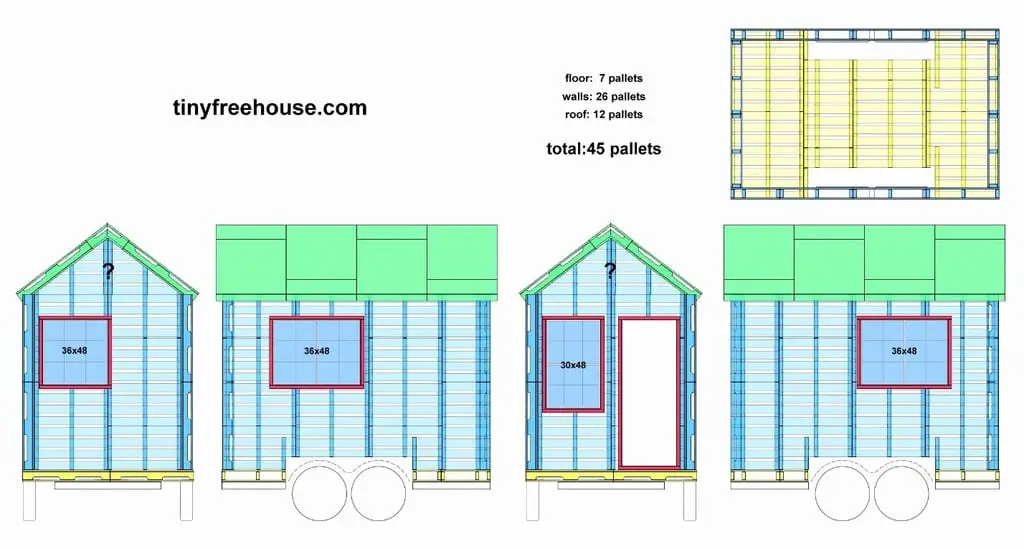 This is a very simple pallet trailer house you can build with just a few pallets. But of course, you are free to adjust as needed, following the proportions stated. We think this design is very simple and practical and this perfect for the on-the-go pallet house owner.
The construction is also fairly simple, so you do not need to be an advanced woodworker to ensure that the whole structure is stable, sturdy, and durable. From the photo alone, you can easily see how everything is put together.
It is also quite simple in appearance, which is mainly why it looks very nice at the same time. Despite the lack of an intricate or complex design feature, this pallet house is quite appealing.
Plan: https://www.27thscvi.org/wp-content/uploads/2018/07/pallet-house-plans-of-i-beam-design-42-fresh-pallet-house-plans-pdf-of-pallet-house-plans-of-i-beam-design.jpg
8) Two-Story Pallet House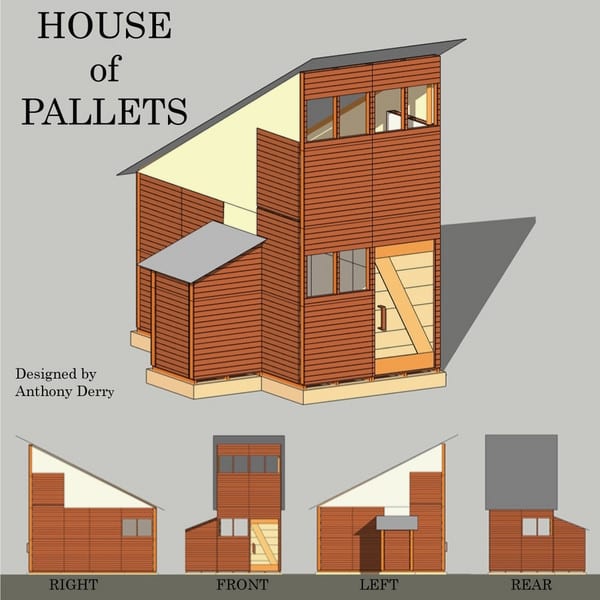 Feel like building a unique and striking contemporary house out of pallets? Before you even say that it's not possible, take a close look at this pallet house plan. The roof angle is practical and aesthetically appealing. The layout of the windows and the door, plus the room attached to the side, gives the entire house a unique appearance.
Unlike most of the other items on this list, this is a two-story pallet house. The design of the plan allows for ample space inside, so you can bring everything you need to make the inside as home-like as possible.
The design of the home should also make it hold up well against harsh weather, so you will definitely find this pallet house very reliable.
Plan: https://www.thewbba.com/i-beam-design-pallet-house-pdf/i-beam-design-pallet-house-pdf-lovely-pallet-house-plans-i-beam-design-pdf-free/
9) Pallet House On Wheels

This is the bigger of the two pallet trailer homes on this list. As seen in the photo, it is very spacious and provides a lot of ventilation. It is, however, a little more complicated in terms of construction, so there is some experience needed to put it together.
This should be a good pallet house for multiple persons. If only one person is occupying it, there should be enough room for the typical parts of a house plus a small office and a few other extras.
The entire structure is very iconic in terms of style, combining traditional and modern elements together in one compact package. It looks fairly simple but not boring because it is plain and detailed in just the right places.
Plan: https://www.thewbba.com/i-beam-design-pallet-house-pdf/i-beam-design-pallet-house-pdf-inspirational-pallet-house-plans-of-i-beam-design-pdf-free-archives/
10) Pallet Cabin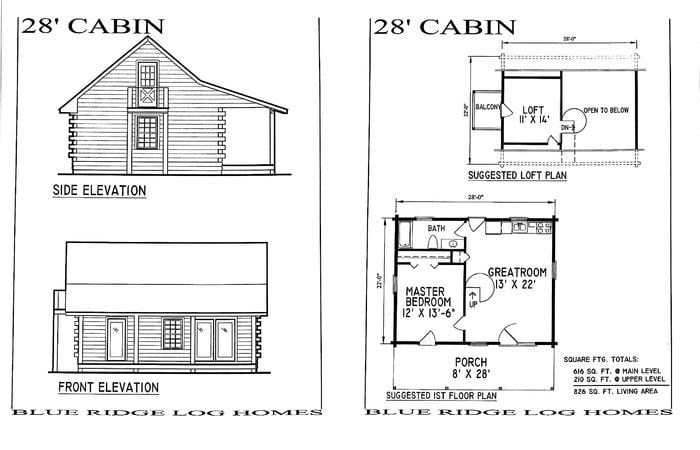 Who says you can't make a luxurious log cabin out of pallet wood? This huge DIY pallet house plan is great for serious woodworkers who have been longing for a private, intimate space in which they can relax and enjoy nature in peace.
As you can see from the measurements in the plan, there is a lot of space for all the essentials plus some added features. Hence, this pallet cabin should be able to house even your entire family while still providing enough space for a big lounge.
Needless to say, this is a fairly ambitious project for a novice woodworker. Consider this a next-level project if you are still in the process of honing your building skills.
Plan:http://rockmountfc.com/tiny-pallet-house-plans/tiny-pallet-house-plans-new-cabin-plans-tiny-cabins-plan-house-wheels-floor-interior-inside-2/
Conclusion
These are just some of the nicest DIY pallet homes that you can busy yourself with over the next few weekends. Feel free to tweak the designs so that your pallet house is very much uniquely yours. Let us know what you think in the comments, and to share this with friends who want their own pallet houses too!