If you are the type of person who loves books, we would not be shocked by seeing your place teeming with books of different kinds and shapes. If you feel that your books are going out of hand, perhaps it is time for you to get a bookshelf.
True, it is quite easy to find a bookshelf because all you have to do is to buy one from your favorite school supply store. However, looking for one that will satisfy your personal requirements and preferences may turn out to be challenging.
One solution to this problem is making a DIY, customized bookshelf. Out of what material, you may ask? You do not need to look elsewhere. Have you found pieces of pallets that are just lying around in your house? Why not use them for your pallet bookshelf DIY project! The best part about this project is that it is affordable and very easy to make.
However, if it is your first time to make these types of project, you may be hesitant where to start. You are in the right place! We have compiled 31 pallet bookshelf DIY plans for you to get ideas from. Why not start your very own woodworking project now, and see how fun it is!
1) No Bracket Floating Shelves
There is no doubt that floating shelves can significantly enhance any area. Rather than use up some space on drawers and ground shelves, why not make your own shelf? This project is pretty much affordable because you basically need to gather some used pallets, and other stuff to use for hanging and assembling the shelf.
While this project comes with a dimension of 31 x 7.25 x 1.5 inches, you can alter it to meet your preferred requirements. You can leave the natural color of the wood, or paint it just the way you like it.
2) Recycled Pallets DIY Bookshelf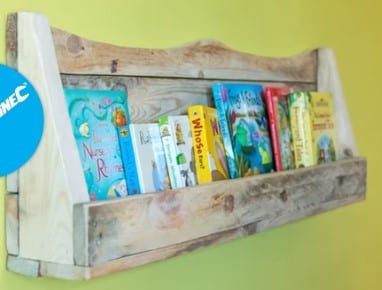 If you are still new to DIY woodworking projects, this pallet bookshelf is a good start for you. In fact, it is so simple that you can also opt to use it, not just for your living room, but it can also serve as a pallet wall shelf, pallet wine shelf, bathroom shelf, or other ideas that you may have.
It will certainly look amazing especially if you are also interested in making other pallet furniture and projects. The good thing about these pallet projects is that you can easily customize them according to your taste, paint them to your favorite color, or opt to enjoy the natural appearance of the pallet wood.
3) Easy to Make Pallet Shelf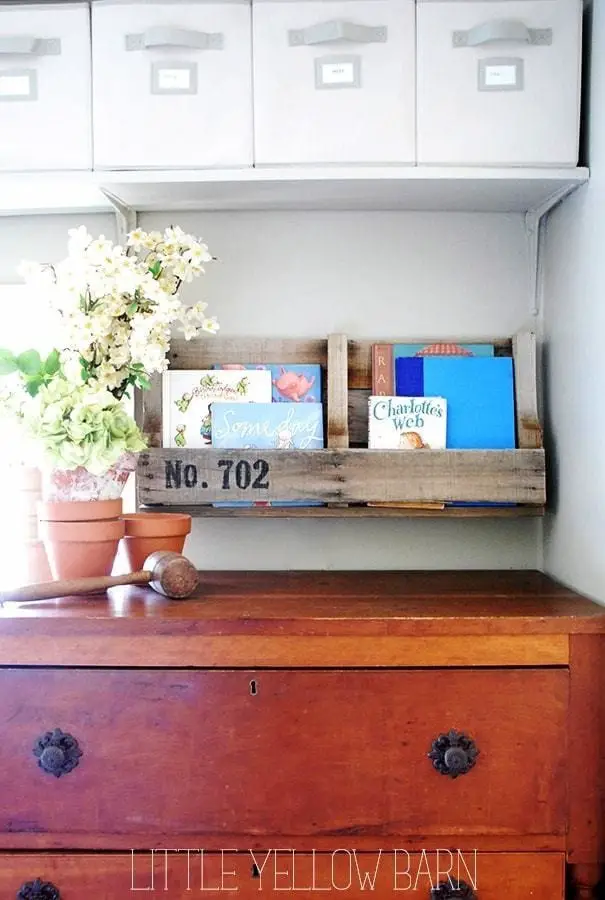 Image URL: https://i2.wp.com/www.thesawguy.com/wp-content/uploads/2018/03/PALLET-3.jpg?resize=605%2C900
If you do not really need a big pallet shelf, but just a simple one where you can store some of your small books, or leaflets perhaps, this easy to make pallet shelf is a good project for you to start with.
All you need to do is to perform some cutting and sanding, and that's it! You can already have your very own homemade pallet shelves. Check the guide out to see how you can replicate it for your own woodworking project.
4) Pallet Bookshelf DIY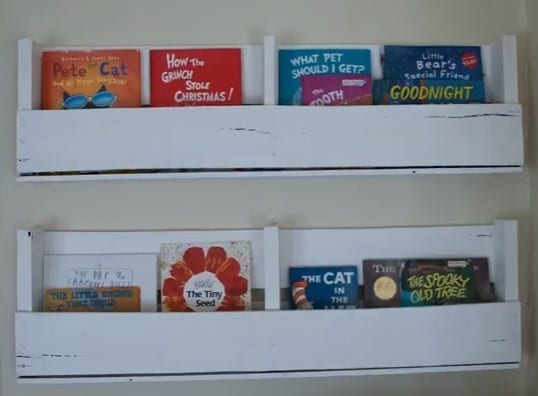 Old pallets are usually thrown away because we often think that there is nothing else to use them for. Think again. Why not create a pallet bookshelf and start organizing your books at home? This specific project is designed as a bookshelf for a child's room.
You can alter the dimensions of the pallet, and choose any color that you think is good for the room. This project uses white, as it easily matches with any color motif of the room, and enhances the visibility of the books that are being arranged in the shelf. Before you throw your used pallet, why not come up with a project and recycle them!
5) Single Layer Book and Magazines Pallet Shelf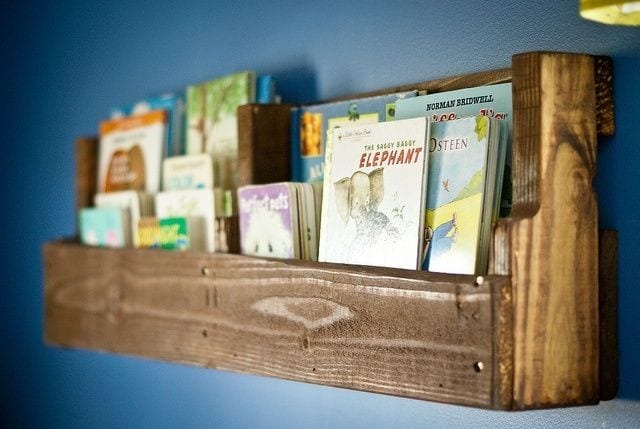 Image URL: http://palletfurnitureplans.com/wp-content/uploads/2013/09/pallet-bookshelf-13.jpg
This shelf is mounted on a wall, which means that it is a good option to consider especially if you need to save up some space, or if you only have limited space in your house. You can create it and attach along the wall of your room.
For this project, you may need some pallet planks that can easily be fixed along the wall, allowing you to keep your magazines, books, novels, or even periodicals neat and organized.
The planks can be attached to the wall using steel clippers. To even make it more attractive, you can also choose to paint these shelves, matching the color with that of the color of the wall.
6) Multi-Layer Pallet Bookshelf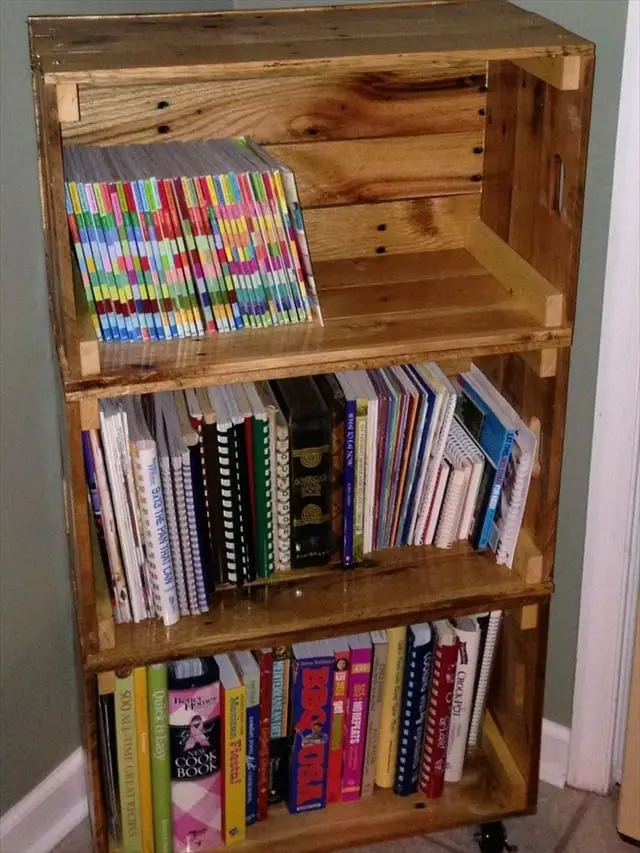 Image URL: http://palletfurnitureplans.com/wp-content/uploads/2013/09/pallet-bookshelf.jpg
If there's a number of books that you need to stack, you definitely need more than one or two layers of shelves. This DIY plan for a pallet bookshelf is the perfect one for you. Notice the way how the pallets were arranged to form the boxes forming each layer of the shelves.
You can choose to paint the final output, or just keep it the way it is with just some wood furnishing in order to retain the natural appeal of the project. The best thing about this project is that it is quite obvious how stable and sturdy it is, compared to plastic bookshelves.
7) Standing Pallet Bookshelf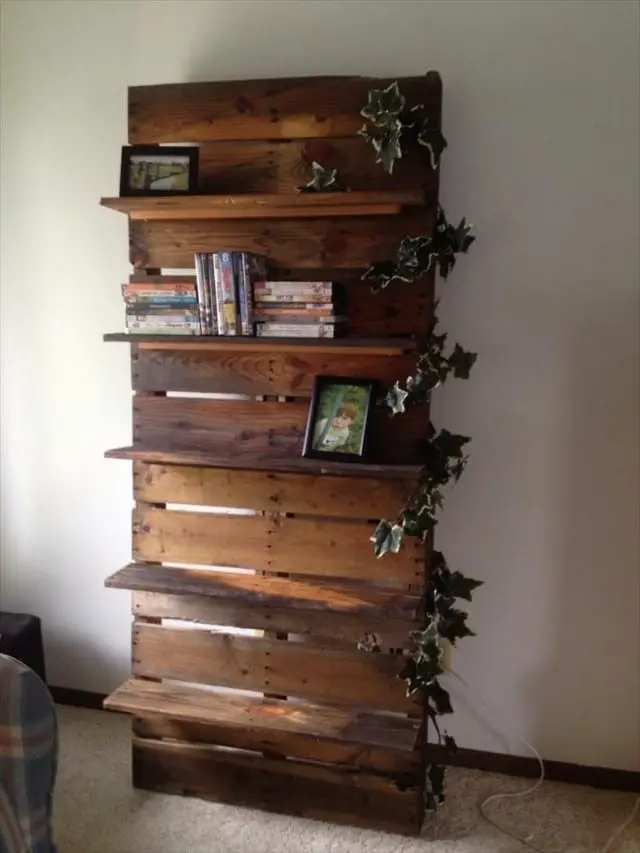 Image URL: http://palletfurnitureplans.com/wp-content/uploads/2013/09/pallet-bookshelf-3.jpg
If you have enough space and height in your house, this tall, standing bookshelf will surely satisfy your preferences! You can either fill it with your favorite books or not worry that it will collapse, because the fact that it is made out of wooden pallets suggest that it is a sturdy piece of furniture.
On the other hand, if you do not want to fill it completely with books, what you have is a project that will also double up as a beautiful décor for your home. Nobody would be able to tell that this standing piece of furniture is made of unused wooden pallets which are too precious to throw away.
This very interesting and artistically created project will surely catch the attention of your guests at home.
8) Rustic Pallet Bookshelf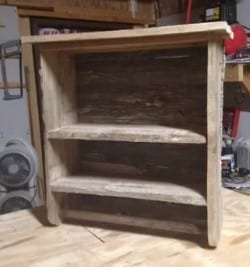 Interested in making your room oozing with a rustic appeal? Why not try this rustic pallet shelf? The main purpose of this DIY project is supposedly for a bathroom shelf and a towel rack in one.
However, this can also serve as a good pallet bookshelf as you can simply change the dimensions to ensure that the books will fit the layers of the shelf.
To keep the natural appeal of the wood, you can treat it and give it a rustic look. This project is perfect if you want to create a bookshelf while thinking about your budget. You can simply pick up some pallet and scrap woods which may be laying around, and it them into a rustic masterpiece.
9) Cute Children Pallet Bookshelf
Image URL: http://palletfurnitureplans.com/wp-content/uploads/2013/09/pallet-bookshelf-4.jpg
If you want your little one to develop a love for reading, while also encouraging him or her to be organized with books, this project is no doubt a good option to take into consideration.
All you need to do is to make sure that you are painting your bookshelf using the color that is the favorite of your child.
This will not just look appealing, but will also encourage your child to keep it tidy and neat. You can then display your child's favorite books, while also making this piece a good décor for your home.
It is a project that is easy to do. In fact, you just need to attach together wooden pallets in a way that looks organized and pleasant.
10) Wooden Pallet Bookcase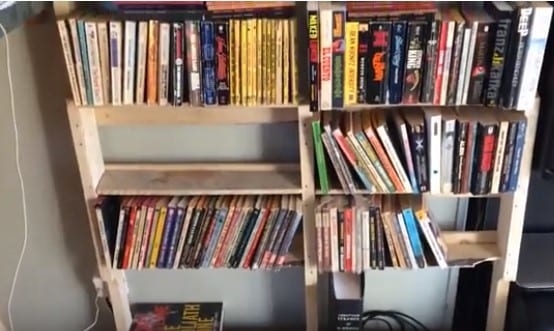 If you notice your books starting to pile up inside your home, it may be time for you to get a bookshelf. However, if you do not want to spend a lot of money on purchasing one of those commercialized bookshelves, why not create a DIY pallet bookcase project?
This project is made out of pallet lying around, which means that the only investment that you have are for the nails and a certain amount of skills and creativity. This design is pretty simple.
All you have to do is to create a number of layers for the shelves, depending on the number of books that you have. With this affordable bookshelf, you can finally organize your stuff at home.