One of the easiest ways to recycle used pallets is building shelves. Turning these seemingly useless pieces into something functional is not just affordable, but also convenient. Who does not need shelves these days?
We need them for our indoor and outdoor spaces, making sure that all of our stuff at home stay organized. Aside from its primary function, shelves can also prove to be beautiful additions to your wall area, serving as decorations that can attract the attention of your guests and friends.
If you are planning to create your very own pallet shelf, you have come to the right place! Here, we have listed 12 pallet shelf ideas that will surely get your creative side rolling!
1) Floating Pallet Shelf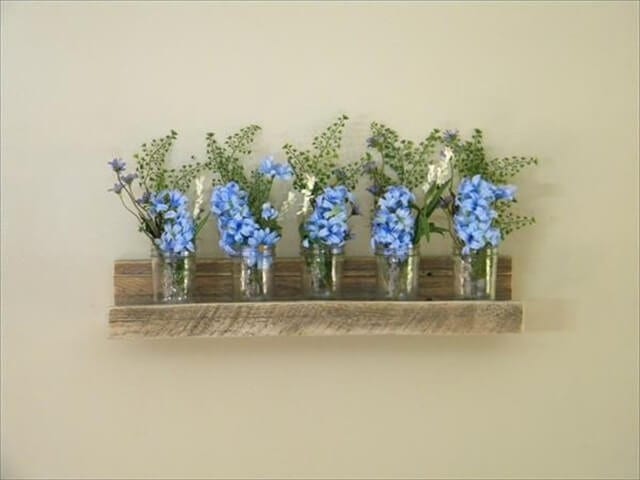 True, creating a shelf out of pallets is very efficient and convenient. However, if you do not have enough space at home, this can be quite daunting as well. Rather than finding a space somewhere low, why not experiment on your shelves by creating a floating one?
In this way, you can save some space, and at the same time, create a space to organize your stuff in a very creative way. You can choose the size of the pallets to use, and color it just the way you like it. Some DIYers create shelves that match the color of their space.
2) Towel Rack Shelf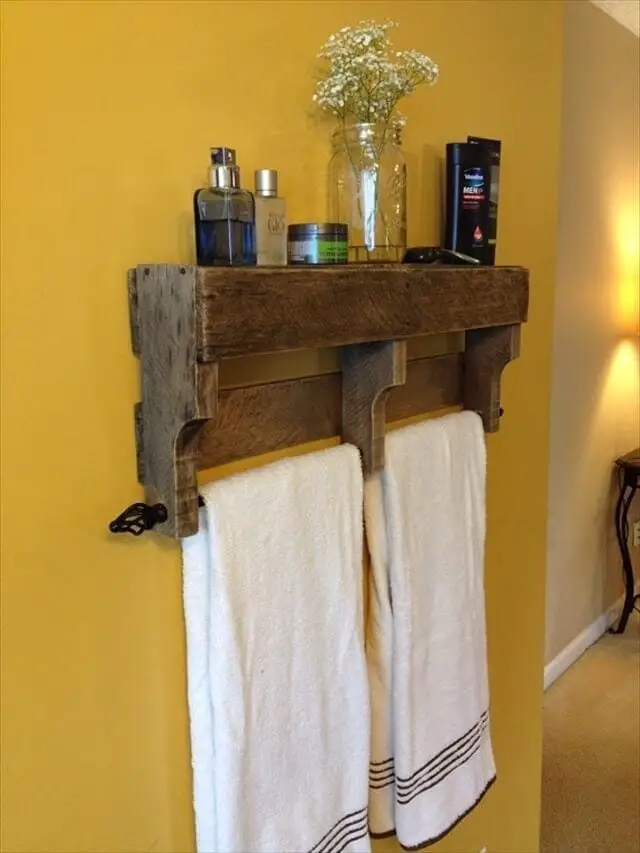 This bathroom towel rack is very easy. You can start by choosing some rough pallet plywood, modifying it into a fashionable piece of art, possibly by using a brand-new wood grain shine. Especially if you have a rustic themed bathroom, this item will easily become your centerpiece.
You can also turn it into a towel rack and shelf in one, and place some pots and plants, or a few books on top. There is no need to use a lot of pallet wood for this project, as a few of them will suffice, depending on the actual size and pattern that you would like to make.
3) Shelf and Coat Rack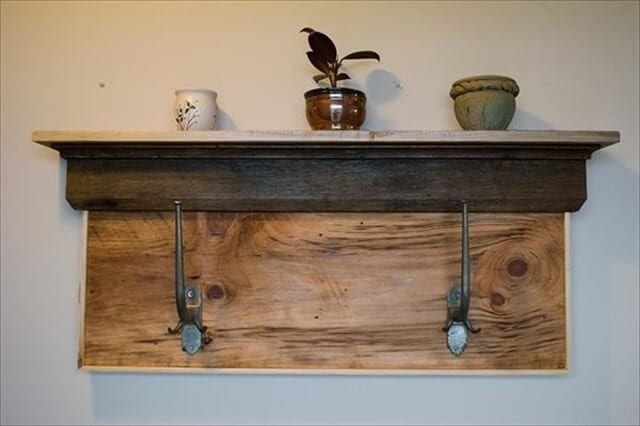 Everybody needs a hanging space where we can organize and sort out different items and accessories such as jewelry items, coats, scarves, bags and key rings. In order to meet your specific hanging needs, why not make your own shelf and coat rack out of wood pallets?
For one, this can turn out to be a cheaper project. At the same time, the output can become a customizable piece of art. You can also provide this DIY pallet shelf with the more functional width so that you can creatively play more on space where you can add wall arts and decors.
4) Storage Pallet Shelf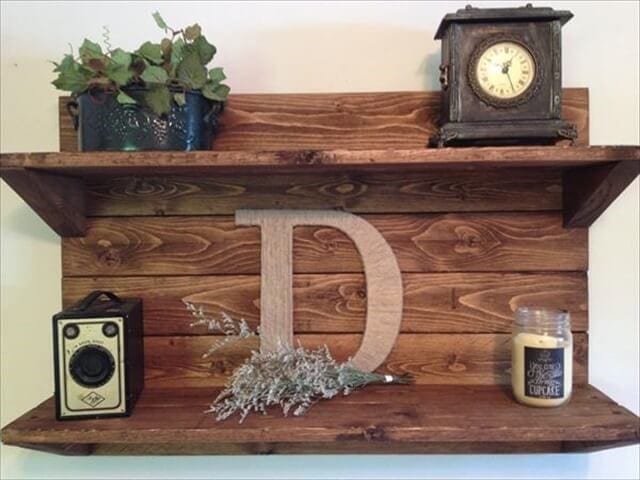 This DIY project is a perfect way to lift up the mood of your home wall. All you have to do is to mount some attractive shelf art patterns, and you're good to go! One of the most convenient options for this project is pallet wood, primarily because you can secure this material free of cost.
In fact, you can just grab some pallet wood scrap neglected somewhere, and turn it into something useful. This storage shelf can offer you an amazing display area for both ordinary, as well as decorative stuff for your home. To strengthen the wood, you can make good use of stain, and seal the wood using polyurethane wooden treatment.
5) Bathroom Rack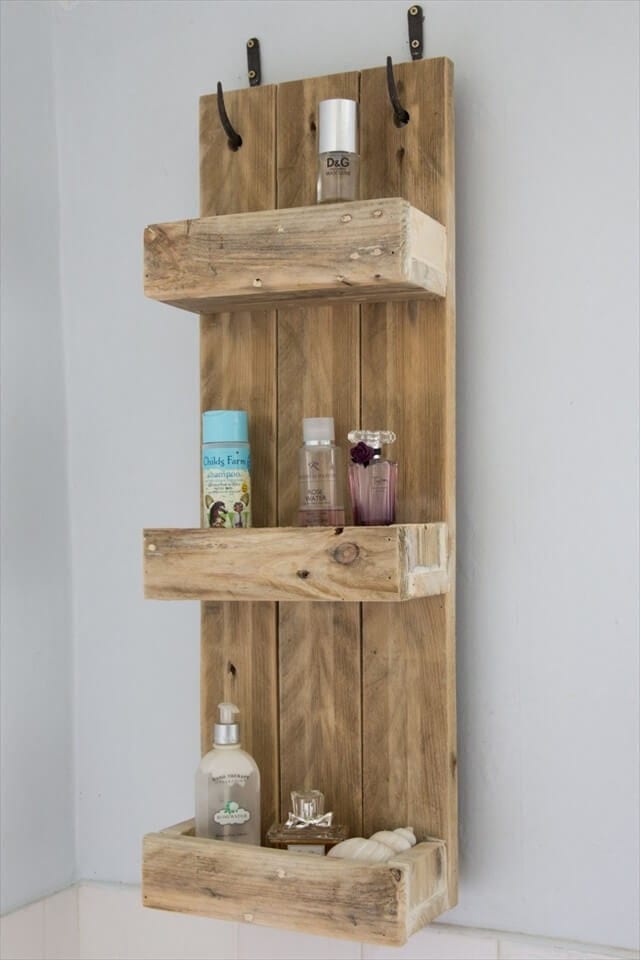 If you love having a rustic patterned bathroom at home, why not introduce some wooden fixtures to complete the picture? True, it is more convenient, and definitely time-saving, to simply purchase a shelf for your bathroom, but there is something about DIY projects that make them extremely appealing and interesting.
Making this set will definitely make you feel satisfied, knowing that you can get what you need right where and when you need it. You can choose to have the natural color of wood or enhance it a little further by painting or treating it. The design can also be customized depending on your preferences.
6) Pallet Kitchen Shelves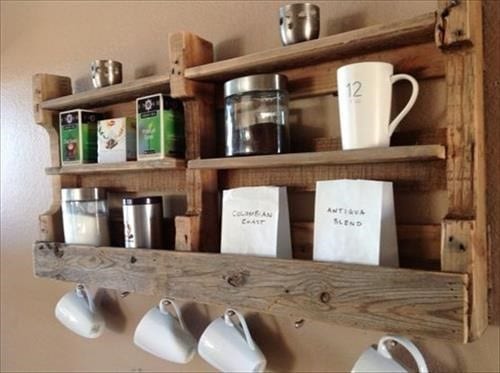 Some homeowners prefer having the usual plastic storage shelves in their kitchen. Art inclined ones, however, prefer a more creative approach – using wood pallets for creating a kitchen shelf. The best part about these customized versions of these fixtures is that they are generally customizable, which means that you can design it just the way you like it, and ensure that the output that you have will fit your needs and preferences.
You can design the number of panels to use, the number of rows, the hooks that you like, everything according to your need. With this project, you can also choose to color the wood panel, or keep it natural, just the way it is.
7) Tea and Coffee Wooden Shelves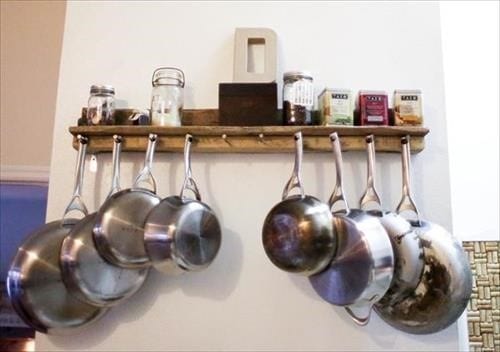 This is an interesting piece of art that you can add to your collection of fixtures inside your kitchen. Rather than store your coffee and teapots on a shelf somewhere, why not hang them in a very artistic way by creating a shelf that can hold them.
Aside from the basic hooks, you can also add some storage areas where you can place other kitchen items, as well as other decors that can further add to the beauty of this kitchen fixture. You have the option to keep it as basic as you want it to be or add some other items for decorative purposes.
8) Kiddie Book Shelf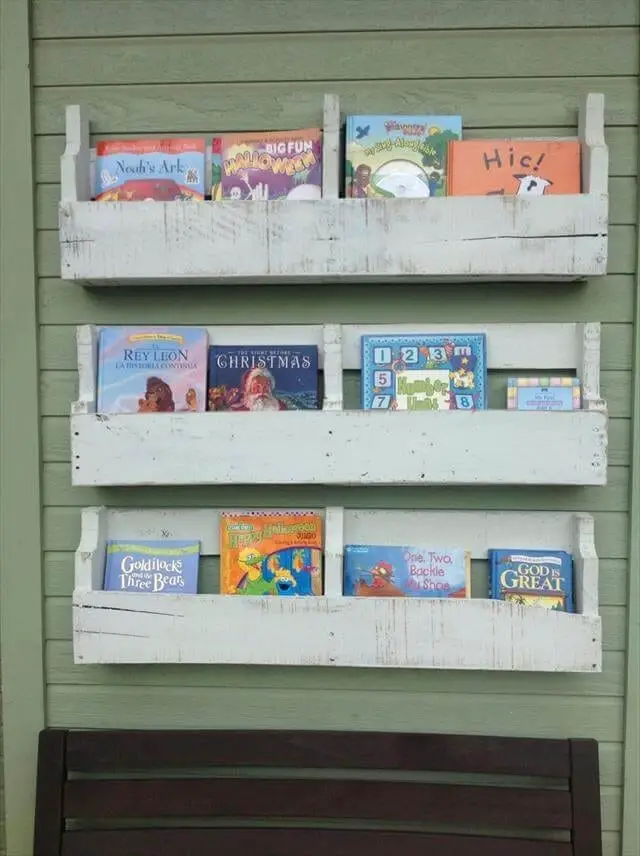 If you want your child to learn a lot of things by reading, giving him or her books to read is the best way to start. This means that you need to have a shelf to store your books. Rather than using just any other shelf, using a creative piece will even make reading for your beloved child more interesting.
This will also teach your little one discipline and responsibility because you can simply teach him or her to properly store the books away after reading.
9) LOVE Shelf Design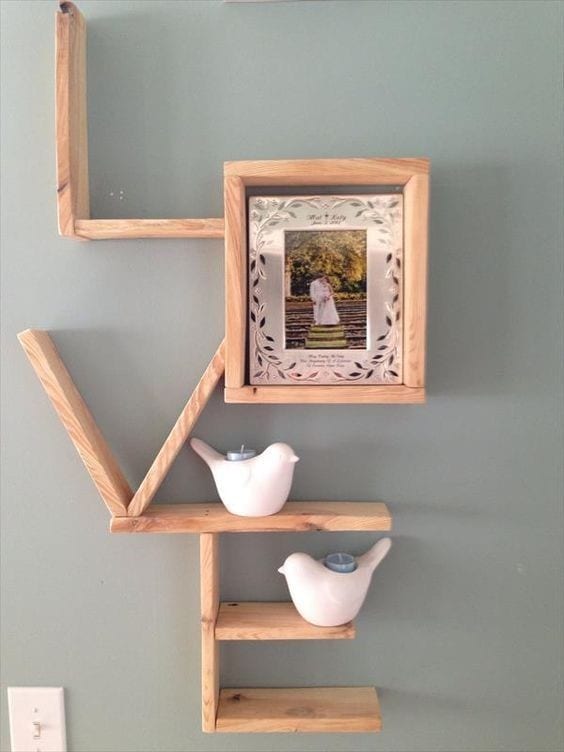 This adorable design for a shelf is not just attractive to the eye but also satisfying to make. This is also easy to do. All you need to do is to cut your wood pallet into small pieces, arranging them to form the word that you desire. In this particular example, you can use the word "LOVE".
You can also decide to place some ornamental pieces and items in order to add more style to your wooden project. This shelf can serve as your storage for some cute items, as a frame for your pictures, or other purposes that it could serve.
10) Spices Storage Shelf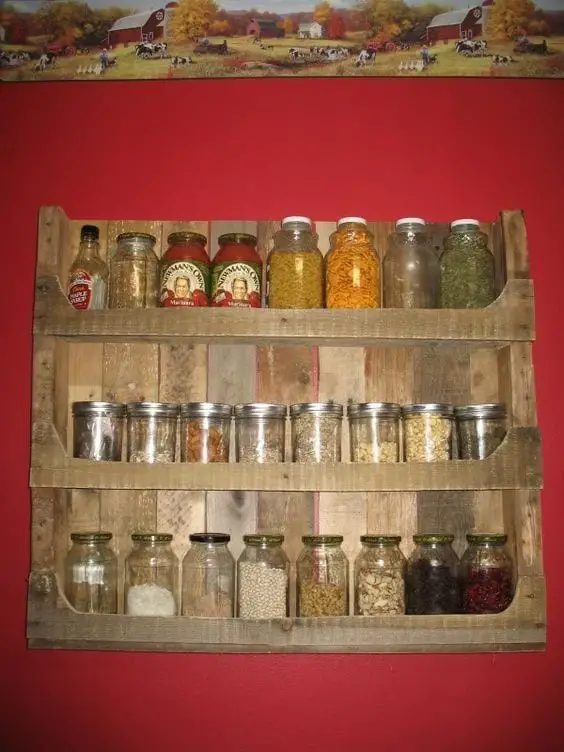 Need to find a way to better organize your herbs and spices inside your kitchen? Why not prepare a handy spices storage shelf made of wood pallets. This DIY project will not just help in making sure that your kitchen stays organized, but it can also allow you to show off your creative side.
You can even opt to put more creative touch on this project in order to further maximize the function of the shelf. The number of rows on the shelves can also depend on the number of bottles that you have, or you can even add some more in order to accommodate some that you may want to add in the future.
11) Wine Rack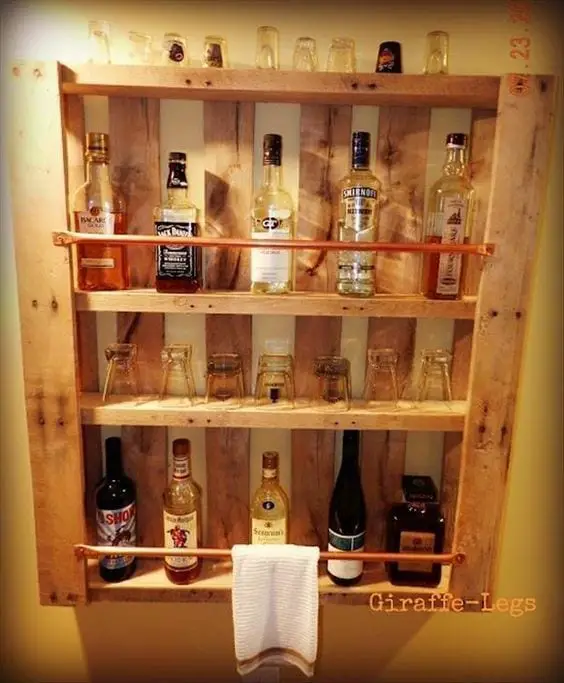 If you have a mini bar at home, why not start creating a wine rack with some dose of your personal creativity? This project is quite easy. All you have to do is to cut the pallet into the size that you need, removing a few extra slats required for the top shelf, and another one for the holder of the wine glass. You can then attach to the studs in your wall using heavy duty hooks attached on the back.
12) Gardening Shelves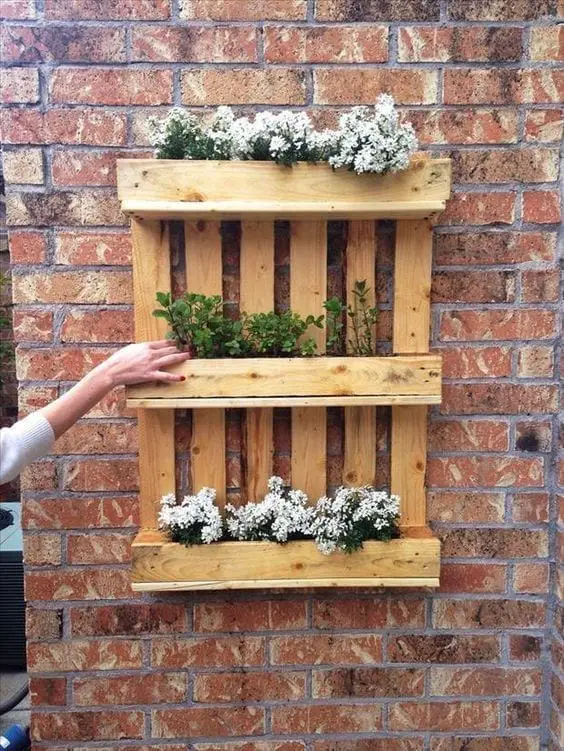 Another way to make good use of your leftover or unused pallets is to make garden pallet shelves. Aside from using wood pallets for decoration, book or storage purposes, you can also use it for vertical gardening. This will further add creativity to your garden space.
You may also opt to use a glass jar as your planting pot, and use another jar to put a lamp, thus creating quite a stunning artistic effect on your garden wall shelf.
Conclusion
Creating a pallet wall shelf is no doubt a very interesting and creative project that you can do by yourself at home. True, buying some furnishings and fixtures for your home is the more convenient, and at times, the easier thing to do, but creating something out of a thing that we oftentimes considered as useless is extremely satisfying, to say the least.
The list above mentions 12 pallet wall shelf ideas that you can work on as your personal project, but there are still more than you can actually come up with, given that you allow your creative mind to explore some ideas. Why not try one right now!